Hi guys! Hope you have all thoroughly enjoyed the holidays!
I just wanted to pop in and thank all of you for an amazing year on the blog! I get to stay home and work in my pajamas creating cookie recipes as a job because you people are always nice to enough to stop by to visit and share my recipes on your social media accounts. It means the world to me and I could not be more thankful!
I thought it would be fun to continue my little yearly tradition of sharing the top ten recipes from the year with you guys! (Go check out the top recipes of 2015, 2014, 2013, and 2012!) It's no surprise to me that you guys love these recipes as much as I do. They're definitely some of my favorites on this blog!
We'll count down from ten to one, just to keep a little suspense in the air. 😉
THE 10TH MOST POPULAR RECIPE OF 2016: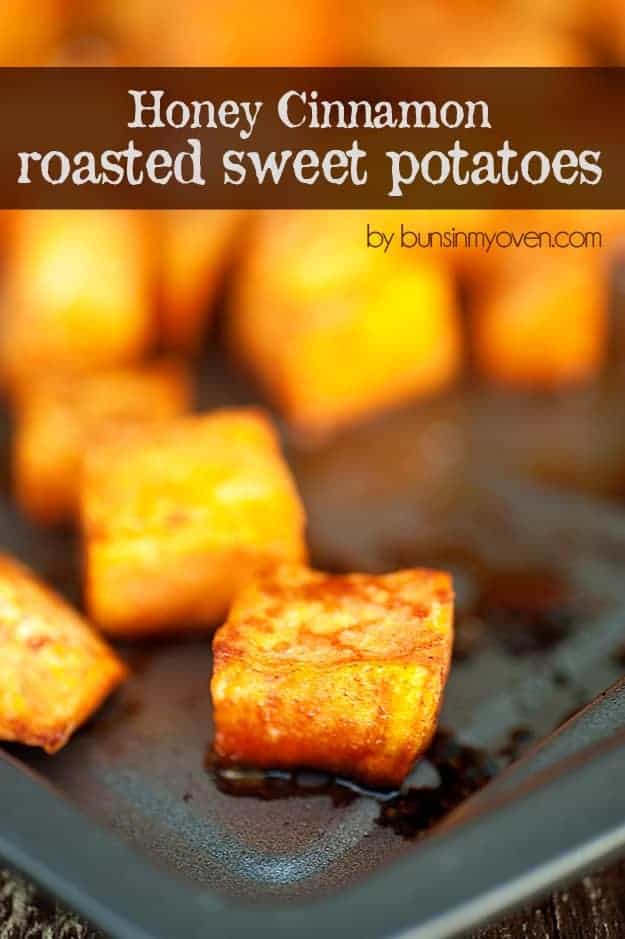 Okay, I'm always shocked at how popular these roasted sweet potatoes are, not because they aren't AMAZING (they are), but because they are so darn simple! Also, they're a vegetable and y'all usually go for the not so healthy parts of this blog. 😉
THE 9TH MOST POPULAR RECIPE OF 2016: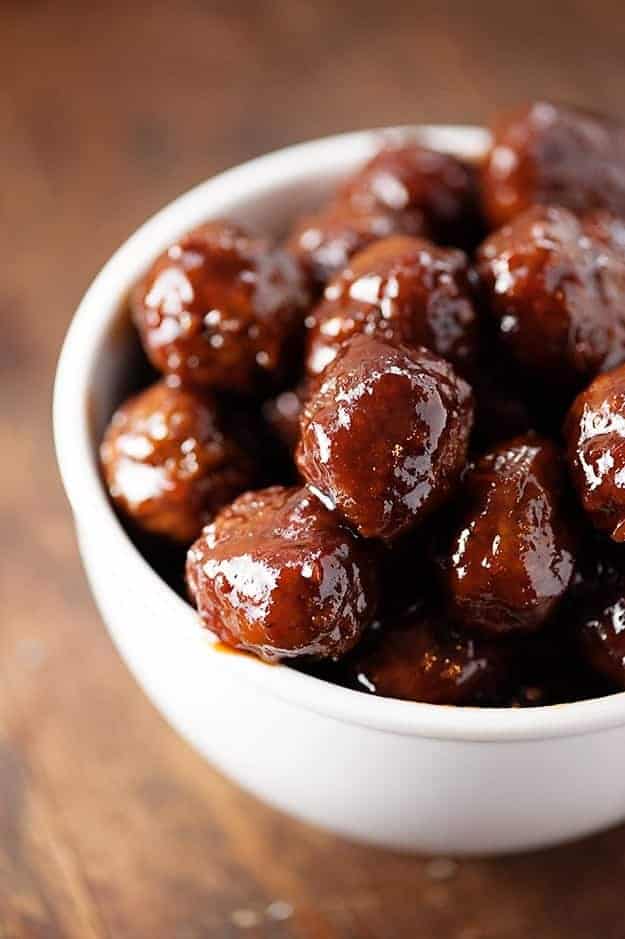 I was so happy to see these grape jelly meatballs in the top ten, because they are one recipe that I make just about every time we have a crowd over. It's kind of a strange recipe (but just three easy ingredients!), but it's just always a crowd favorite. Have you tried them yet?
THE 8TH MOST POPULAR RECIPE OF 2016: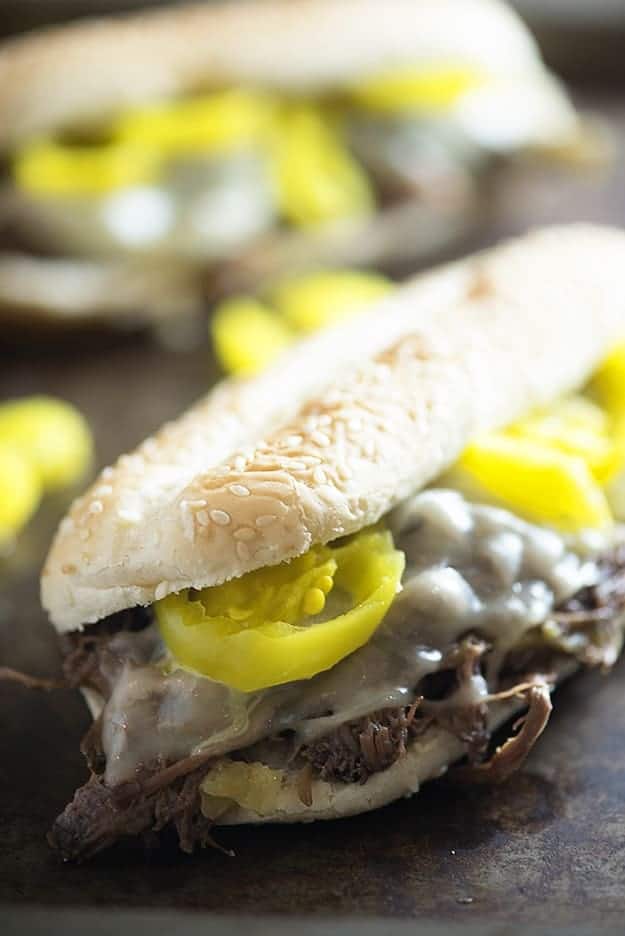 This Italian Beef is such a lifesaver on busy days or when you're feeding a crowd. My whole family eats them enthusiastically, which is always nice. Though I do have to tell my daughter that "they taste like Arby's" to remind her she likes them every. single. time. Spoiler: They don't actually taste like Arby's. We moms do what we gotta do.
THE 7TH MOST POPULAR RECIPE OF 2016: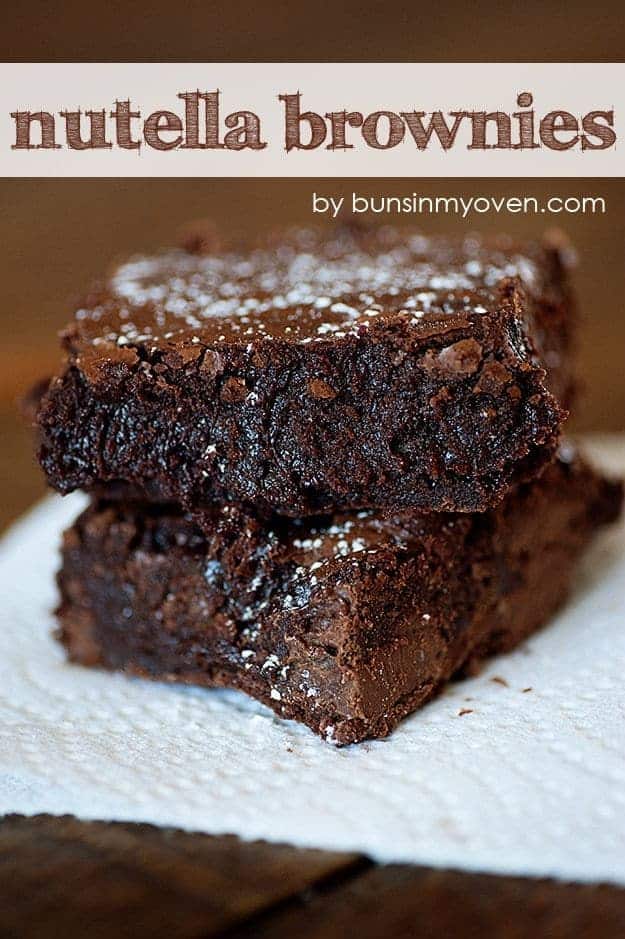 Why am I not surprised to see these Nutella Brownies make an appearance? Oh, right. Because they are ALWAYS on my top ten recipe list! You guys have loved these since the minute I shared them and I totally understand why. They are the one perfect brownie recipe you need in your life!
THE 6TH MOST POPULAR RECIPE OF 2016: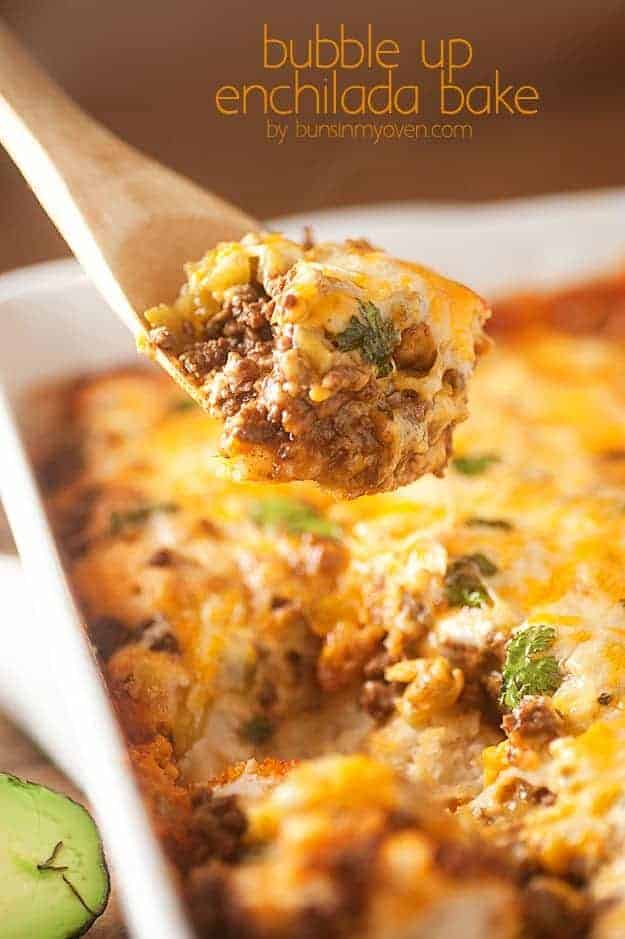 I was actually a little surprised to see this enchilada casserole make the list this year! It's an older recipe that sort of got left behind in the archives for a long time. I made a little video of it to share on Facebook because I knew you'd all like it if you just tried it! And I was right! It's now in the number 6 spot for the whole year!
THE 5TH MOST POPULAR RECIPE OF 2016: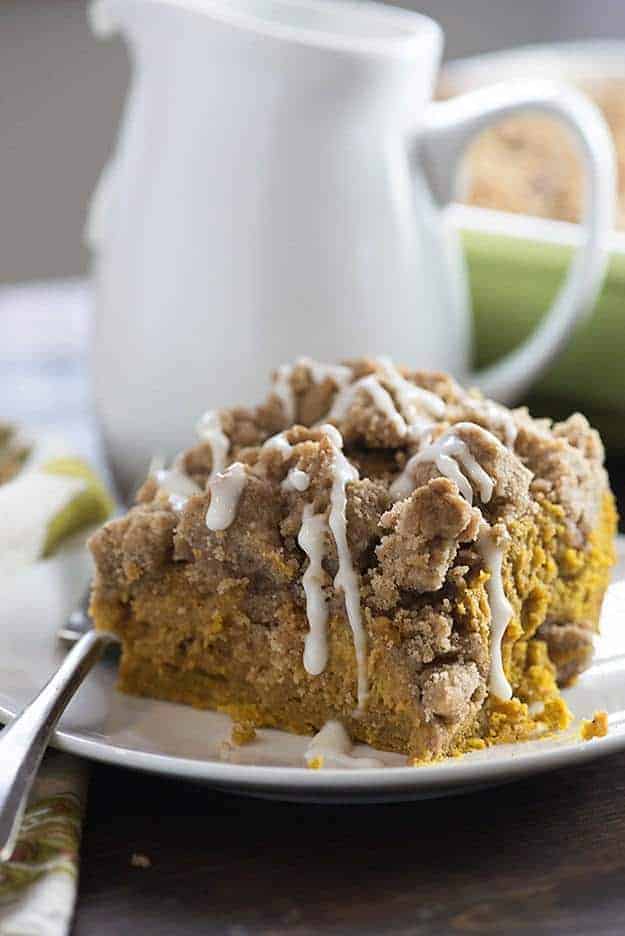 So, this pumpkin coffee cake is literally one of my favorite things on the planet. Yours too, it looks like. The crumb topping is huge and delightful. The cake itself is this weird hybrid between a pie and a cake – super dense, fudgy, moist, heavenly. Then it's all topped with a little glaze and ready to be devoured. I need to go bake another one right now.
THE 4TH MOST POPULAR RECIPE OF 2016: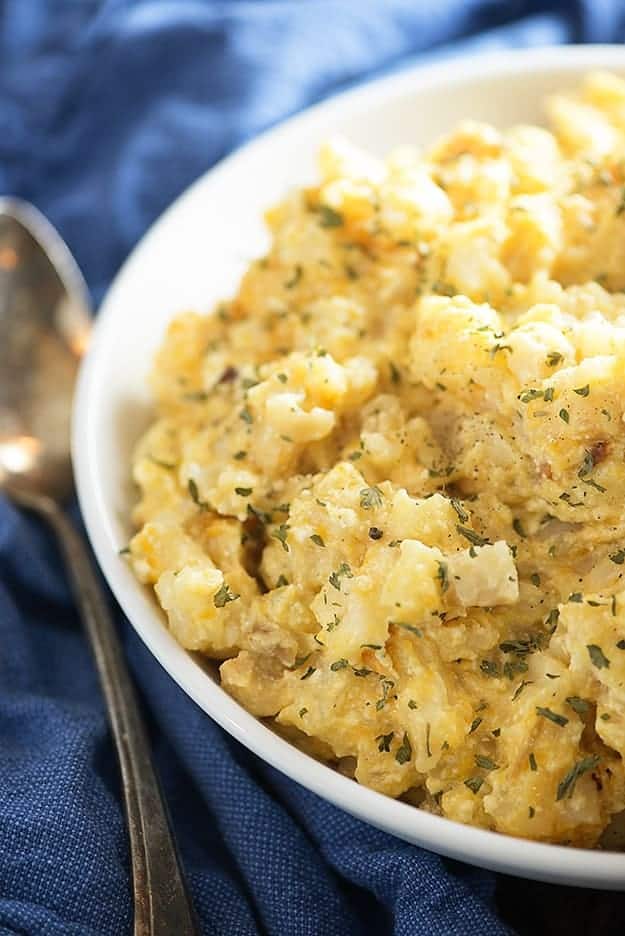 This crockpot hashbrown casserole is a no brainer. I mean, it's cheesy potatoes that are super simple to make in the slow cooker. It's perfect for family get togethers and did I mention that it's CHEESY POTATOES IN THE SLOW COOKER?
THE 3RD MOST POPULAR RECIPE OF 2016: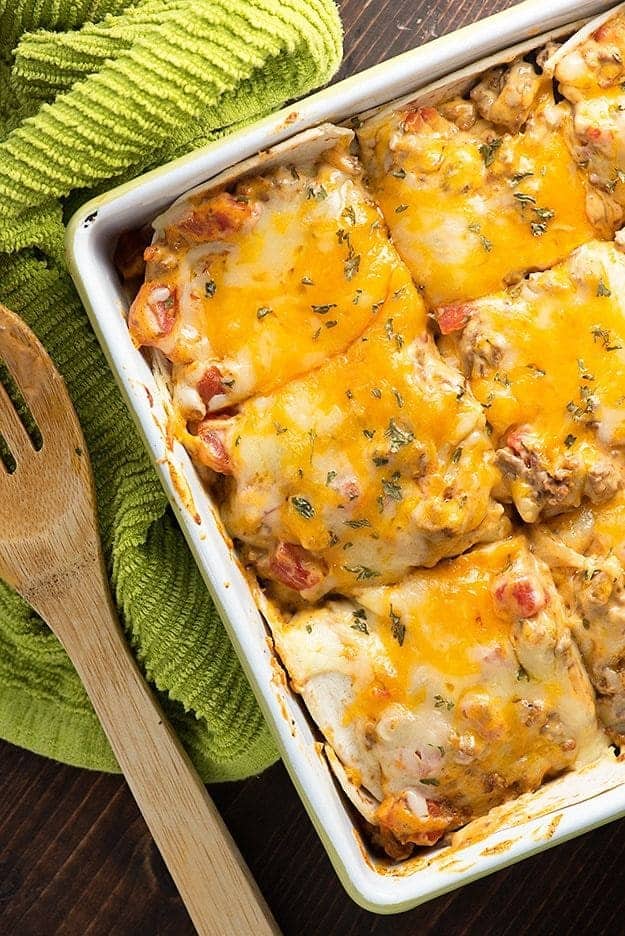 This taco lasagna is one of those recipes that people love to hate! It's a mish-mash of both Mexican and Italian which always creates a little tension from the purists. It uses canned soup, which people have rather strong feelings about, and it's not actually a taco or a lasagna, what have I done, how dare I, etc. etc. 😉 Whatever. This recipe is GOOD. It's easy, the kids absolutely love it, and it's full of cheesy taco meat.
THE 2ND MOST POPULAR RECIPE OF 2016: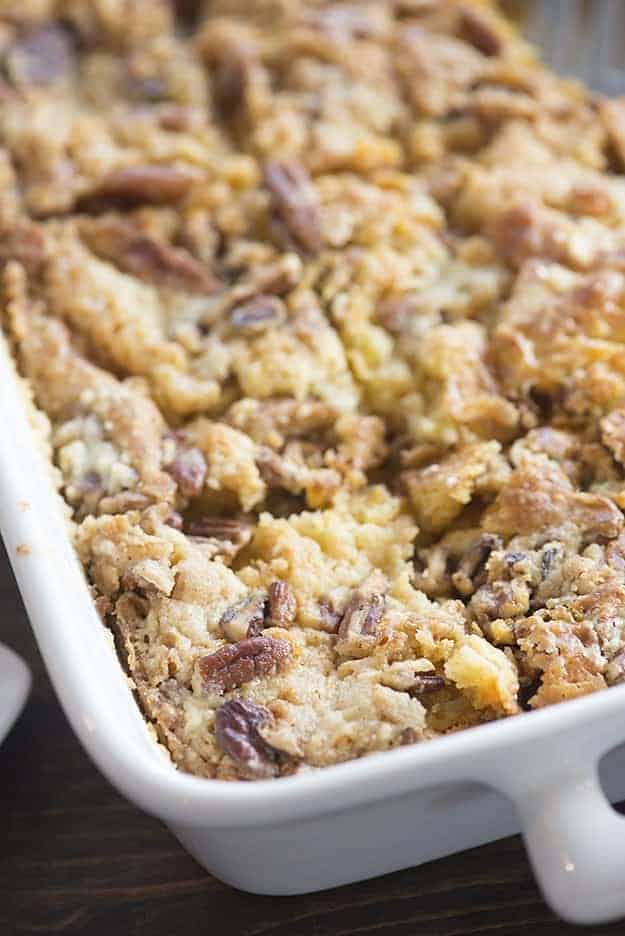 I'm so excited to see this pumpkin crunch cake in this list, especially so close to the top. It truly is a favorite of mine and just about everyone who tries it. The bottom of this cake is like a pumpkin pie, the top is a slightly salty contrast to the sweet bottom and it has just the right amount of crunch. This cake is just a winner in every way.
THE MOST POPULAR RECIPE OF 2016: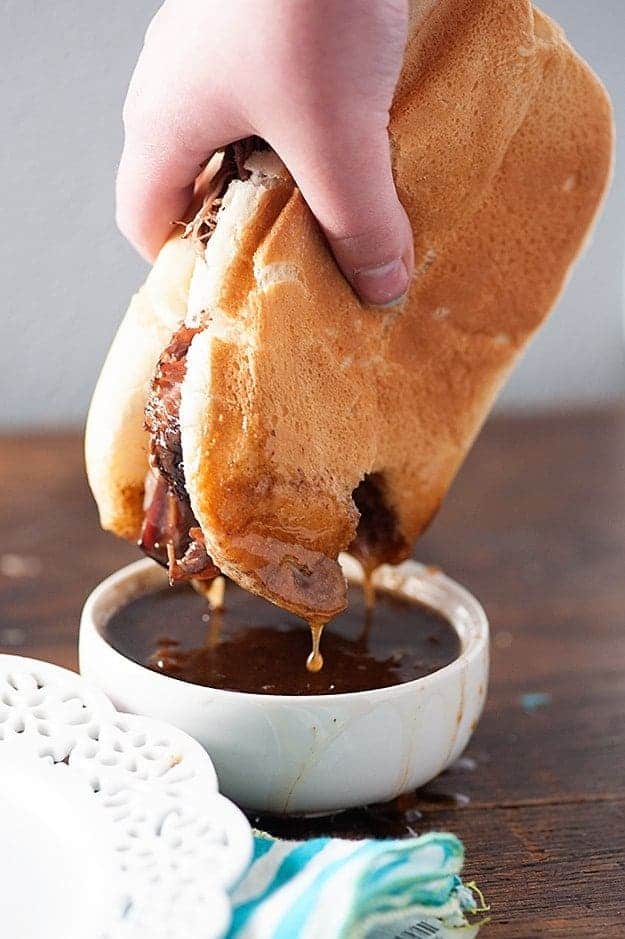 Dun dun dun! This actually isn't even a little bit surprising to me. My French Dip Sandwich took Facebook by storm when I posted the video, racking up millions of views in a super short amount of time. Y'all crashed the site rushing to get the recipe! But, we're obviously back up and running and it still remains in the number one spot. I think it'll stay around for awhile, because it's such an easy dinner and it's seriously good!
Thanks for reading! I can't wait to see what the new year brings! 🙂