I love this time of year! Sitting back and reflecting on all of the wonderful things that have happened over the year, thinking about all of the excitement for the coming year, and of course, going through my blog stats and seeing what your favorite recipes were! What? Don't you all do that too? Haha!
I've pulled together all of the posts from 2013 and compiled the top 10 most viewed recipes for you! I'm super excited about the results, because a lot of these are recipes that I would count as favorites myself, so it's nice to see that we agree! Sometimes my favorite recipes are the ones that go unnoticed by most of you, so it's nice to see that change a bit this year!
Ready for the breakdown?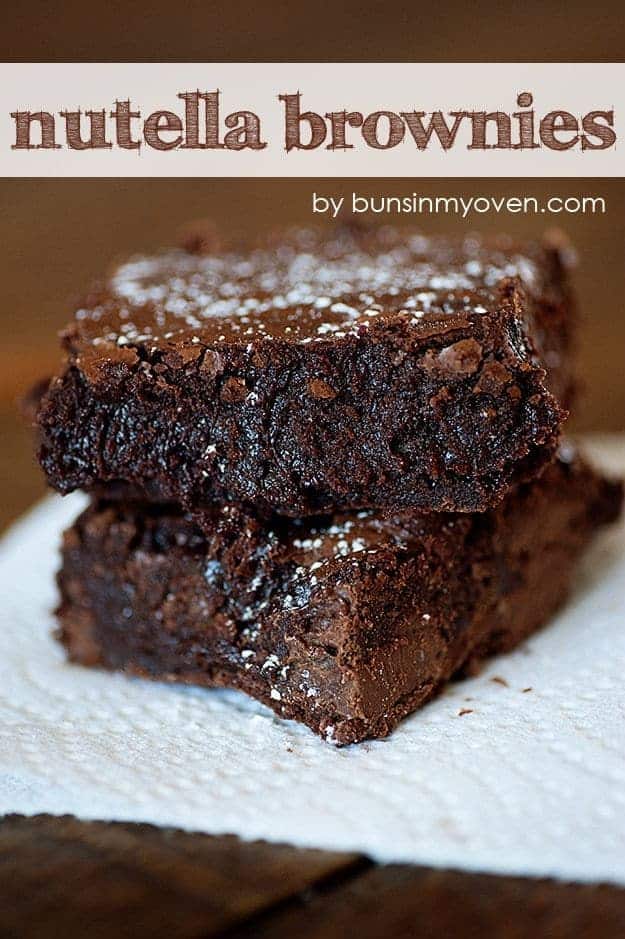 The number one most viewed recipe for 2013 were these Nutella Brownies! Not only that, but they made it on to Pinterest's Top Pins for 2013! Holy cow…what an honor! These brownies are fudgy, chocolate heaven. Make 'em. I insist.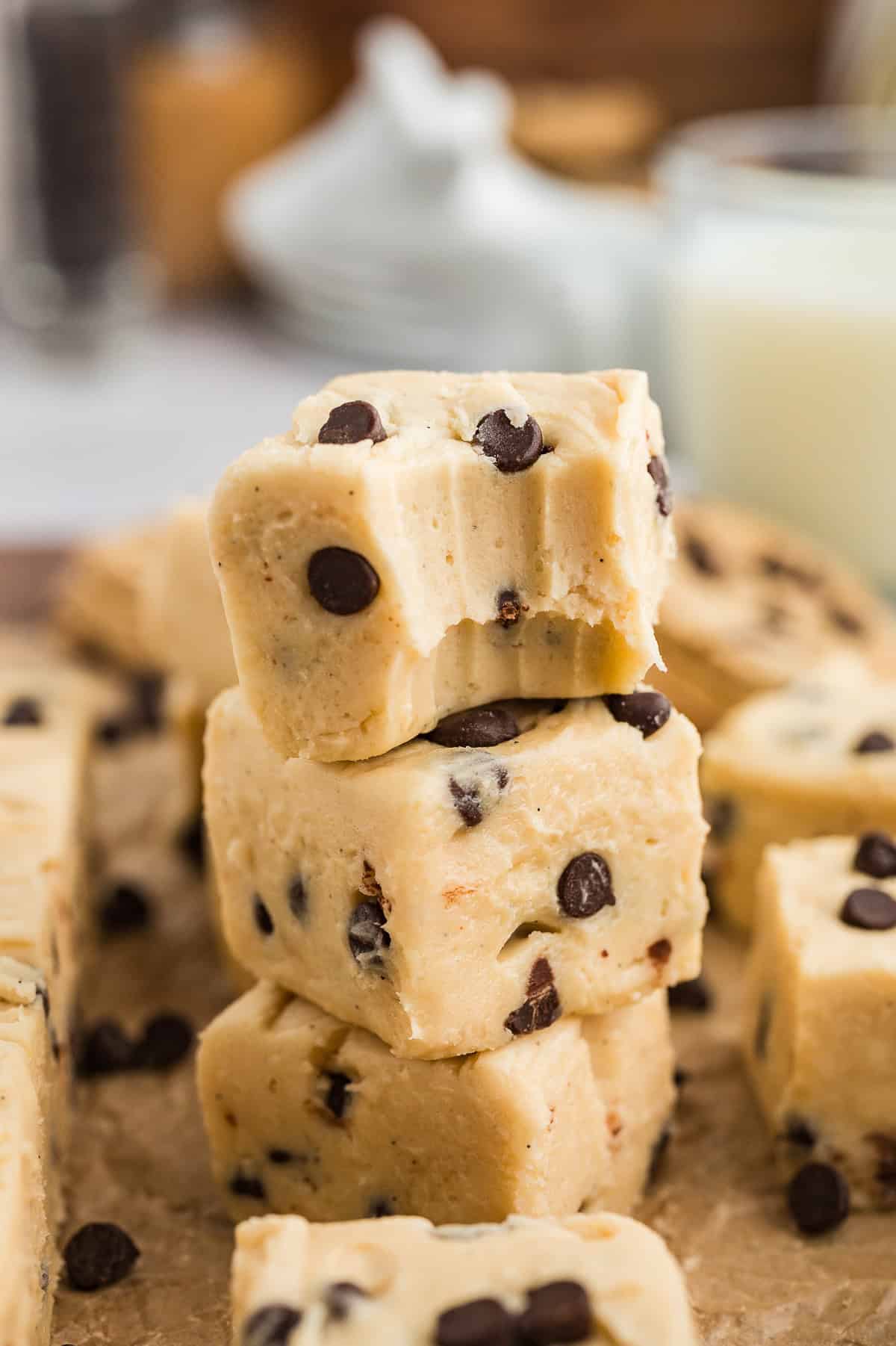 Up next, we have this sweet Chocolate Chip Cookie Dough Fudge. So good…hope you made some for Christmas, but if you didn't, you can always make it for Valentine's Day, right?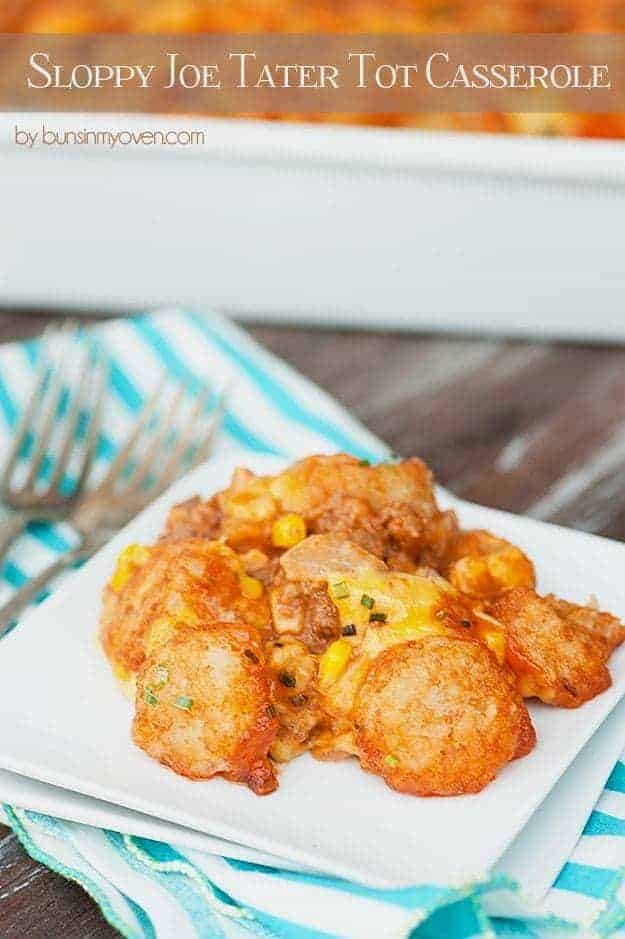 In the number three spot we have this Sloppy Joe Tater Tot Casserole! I had no idea you guys loved casseroles so much, but every time I share one, it blows up. You can expect more casseroles in 2014, because they also happen to be a favorite of mine!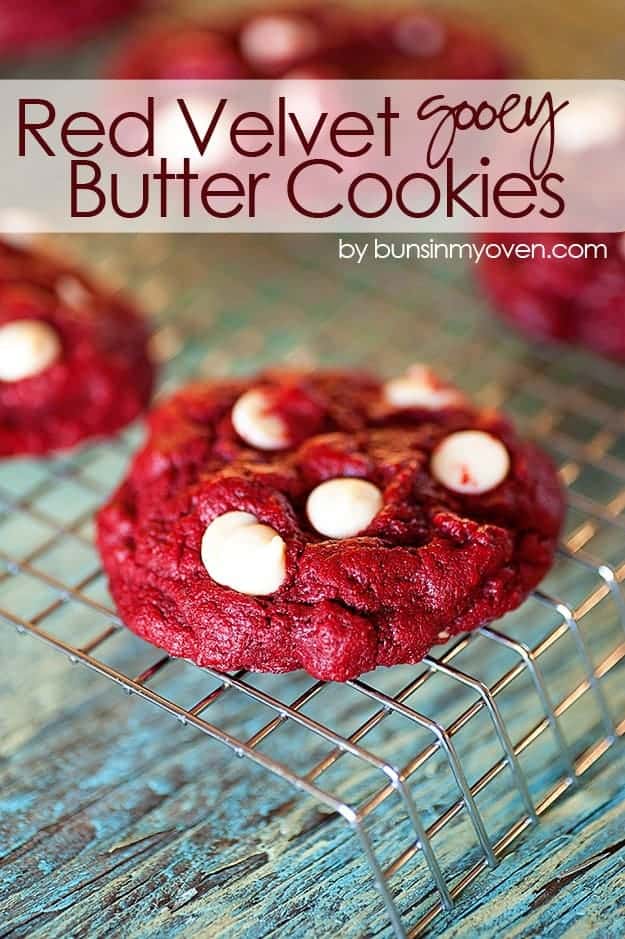 Cookies! Because, of course you guys love cookies! These Red Velvet Gooey Butter Cookies start with a box of cake mix and some cream cheese, so you know they're gonna be good!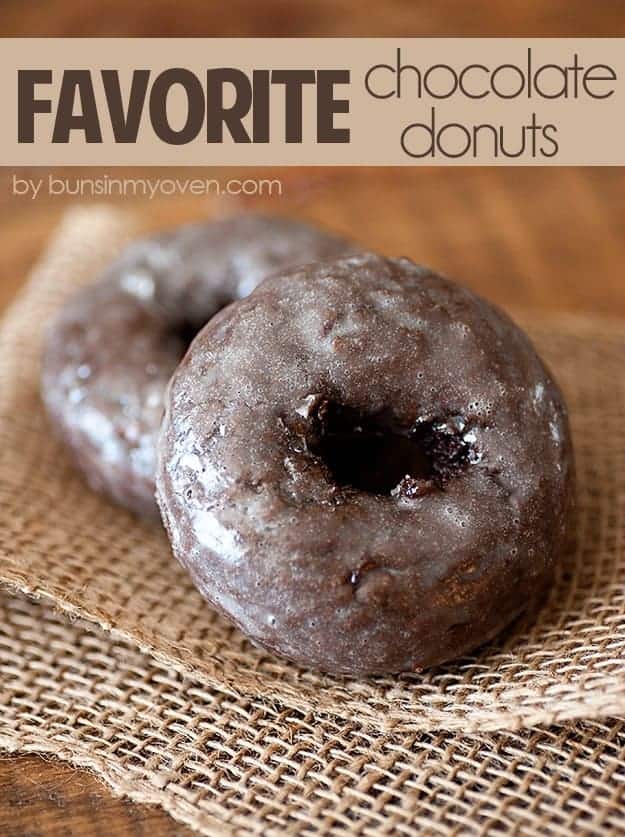 It's a good darn thing that donuts made the list, considering that I seem to share a new donut recipe at least once a month around here! These chocolate donuts are just amazing! No donut pan? You can get the the same one I use for less than ten bucks at Amazon!
Coming in at number 6 is probably the number 1 recipe I make in my house. Everyone loves it which means that I make it quite often. It feeds a crowd which is nice too! Have you tried this Creamy Baked Spaghetti yet?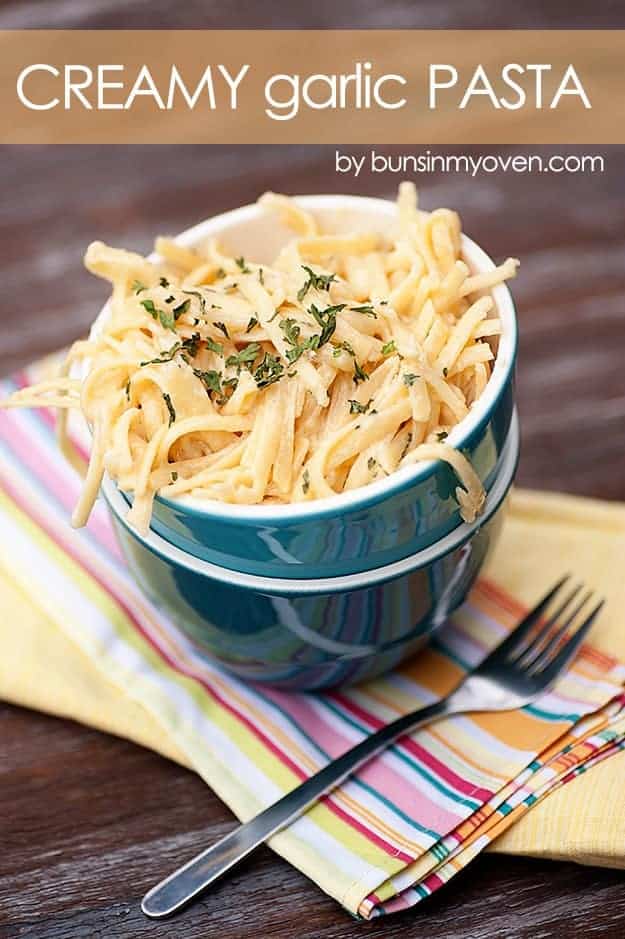 The number 7 spot is even more pasta, which is always good. Who doesn't love pasta, especially this Creamy Garlic Pasta? It's slightly healthier than Alfredo so I eat it all the time without feeling bad. I mean, it could be worse, right?
More cookies, because duh. Everyone needs these Peanut Butter S'mores Cookie Cups in their life. The peanut butter base is perfectly soft and the filling just takes this over the top!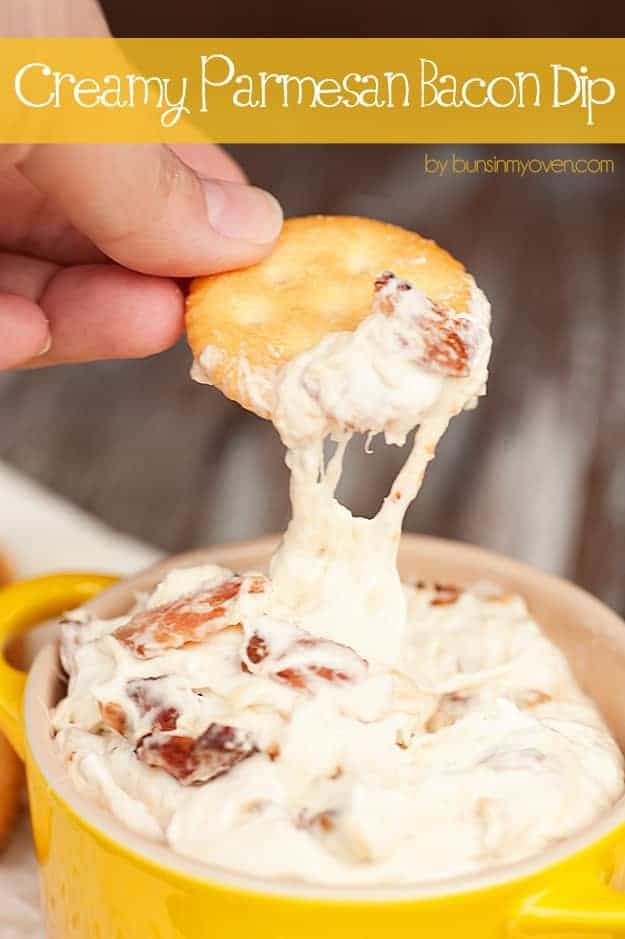 Creamy Bacon Parmesan Dip…which makes three recipes in the top ten that have the word "creamy" in them. Either I need to start titling all my recipes that way or I need to find a new descriptive word. Either way, this dip would be perfect for New Year's, but I like it all to myself while watching television, too.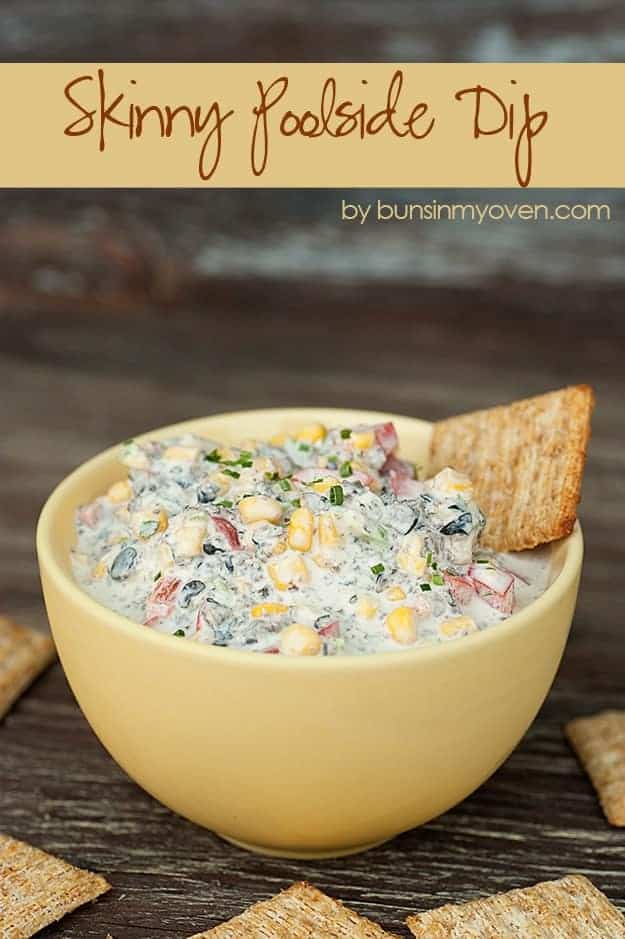 And, to round things out, we're coming in with another dip in the number ten spot! This Skinny Poolside Dip is perfect for a hot summer day (the cool crunch of the veggies is fabulous!), but I certainly don't mind gobbling it down in the middle of winter either.
Now, that was the ten most viewed recipes of 2013, but just for fun I thought I would share my FAVORITE recipe from the year. Any guesses what it is?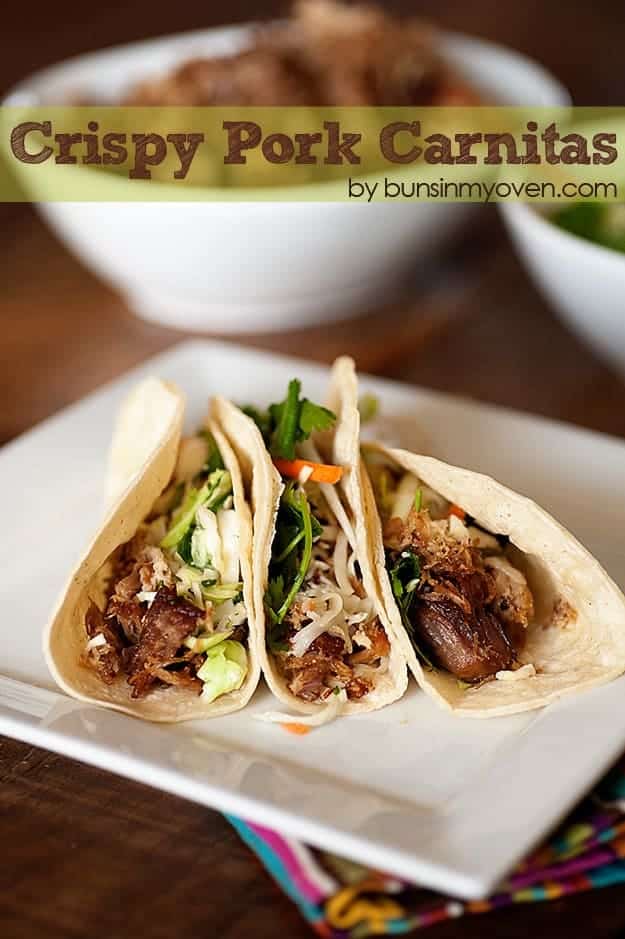 Mexican, obviously. These carnitas are such a hit with my family. I make them when my parents come for dinner and my dad spends the whole evening picking the blackened chunks out of the bottom of the pan after dinner. He loves the crunchy bits! I love the way the rich meat is brightened up with the citrus for a perfectly balanced taco. The slaw is pretty darn amazing too. I put it on all things Mexican.
What was your favorite recipe of 2013? What are you hoping to make in 2014? Any recipe requests for me?