This Heavenly Chicken recipe makes flavorful baked chicken that tastes divine! Made with Ritz crackers and bakes in 30 minutes!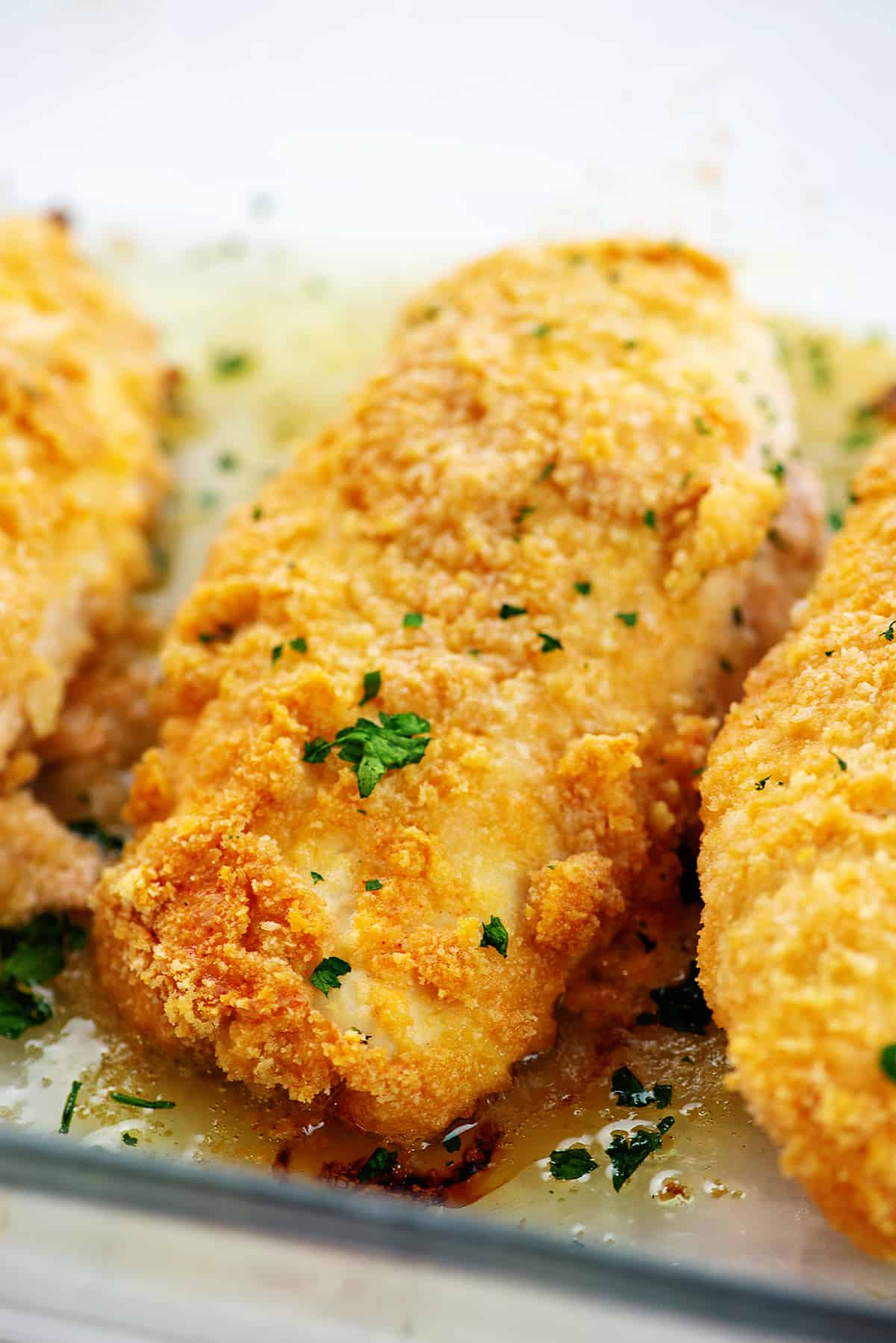 You know those family recipes that don't really have names? This is one of them.
A friend served us this and we quickly fell in love and asked what it was.
"That one chicken with the Ritz crackers," is what they always called it.
She gave me her recipe, which we made just a couple days later (hey, it is GOOD), and then I did a little googling and came across a few various names for this heavenly chicken recipe – Sour Cream Chicken, Ritz Cracker Chicken, and a few people calling it Heavenly Chicken.
We're calling ours Heavenly Chicken because yeah. It really is heavenly. So moist and buttery with a delicious cracker crust coating the chicken breasts.
This one is hard to beat! We like to serve it with our favorite green beans with bacon and onions and roasted sweet potatoes. Of course, the kids love when we serve it with this broccoli mac and cheese too!
Ingredient Notes: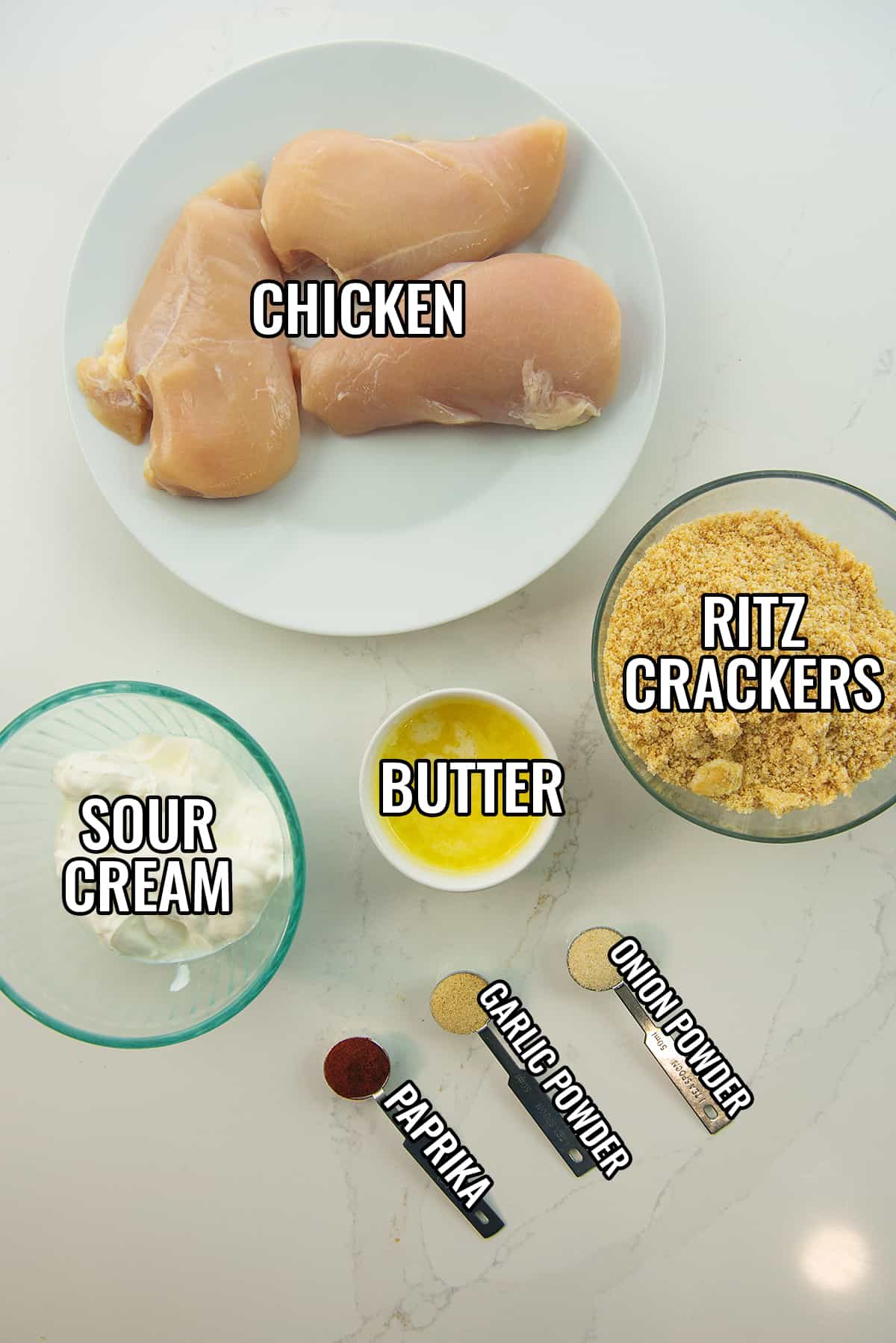 Chicken – Our family prefers chicken breasts, but this recipew will also work with thighs.
Sour Cream – Makes the chicken so moist and heavenly! 😉
Seasoning – Garlic powder, onion powder, and paprika add a bit of flavor.
Ritz Crackers – A heavenly chicken recipe with Ritz Crackers is definitely the way to go! Bread crumbs would also work, but we love Ritz crackers here.
Melted Butter – This gets drizzled right over the chicken.
What We Love About This Recipe!
This chicken is so moist thanks to the sour cream! The Ritz cracker breading is buttery and flavorful and the chicken turns out tender. We make this one about once a week – it's so good you won't get tired of it!
How to Make:
Coating: Stir together the sour cream and all of the seasonings in a shallow dish. This is what makes the heavenly chicken so heavenly as it really packs in the moisture!
Add the crushed Ritz crackers to a second shallow dish.
Chicken: Dredge the chicken first in the sour cream and then in the crushed crackers. Make sure the crackers are fully coating your chicken.
Helpful Tip!
Pound your chicken out with a meat mallet between a couple of sheets of plastic wrap to get them an even thickness. This will help them to bake evenly, so you won't end up with bits that overdone while you wait for the thicker parts to cook.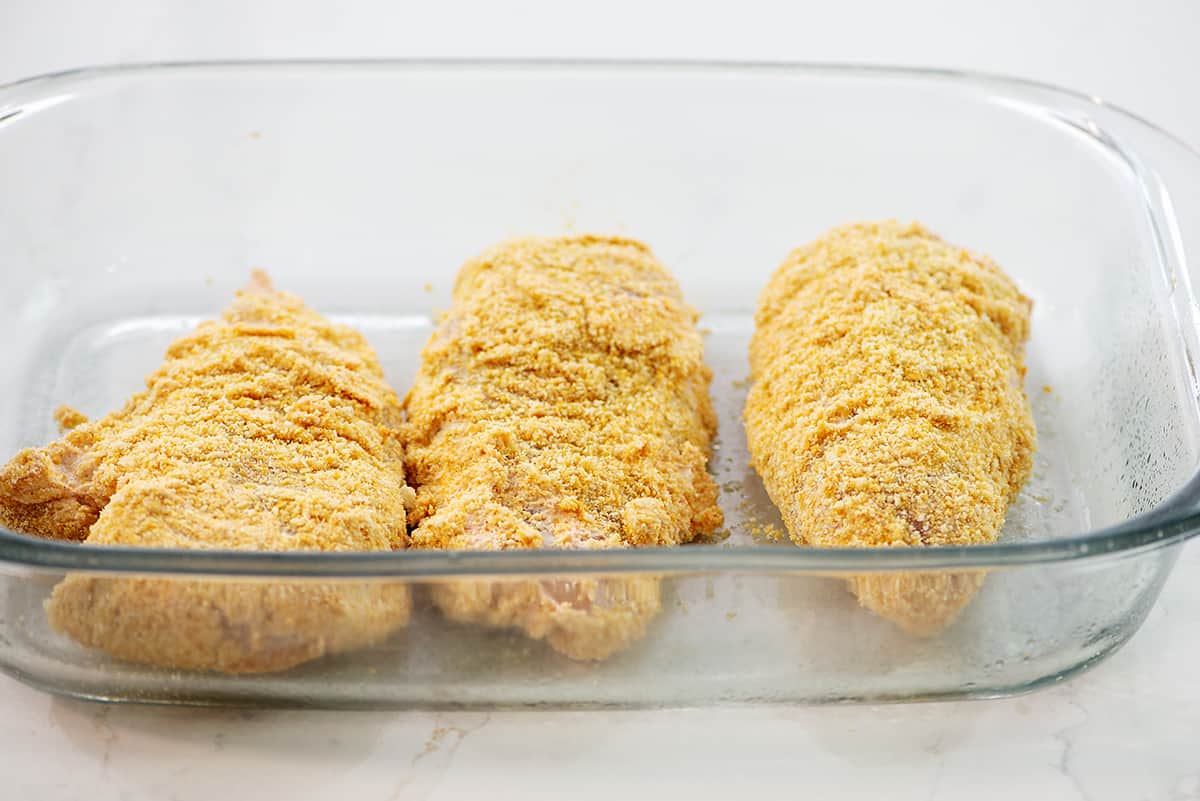 Drizzle: Melt some butter in a small bowl and drizzle it right over the tops of the chicken breasts.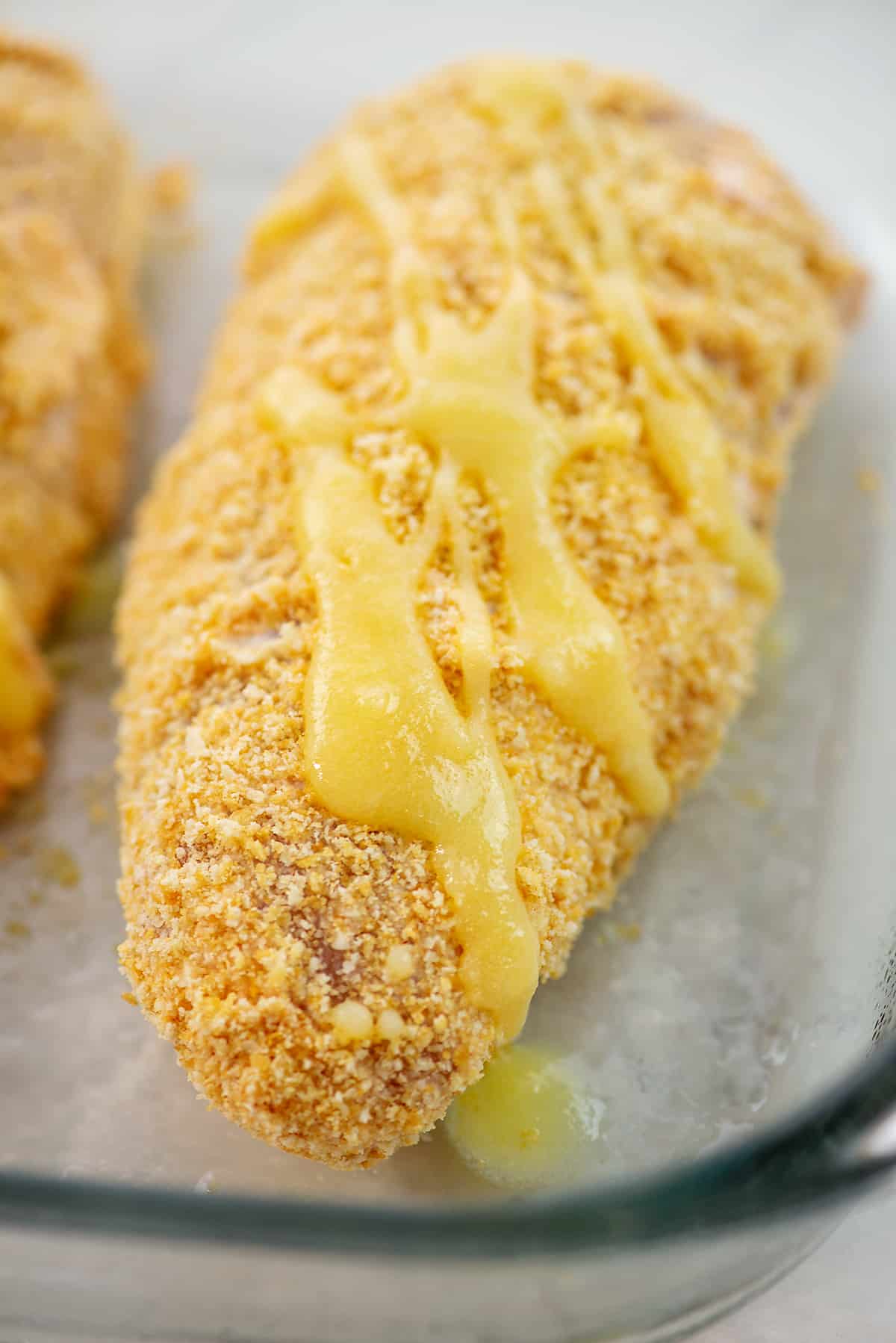 Bake: We're baking this sour cream chicken at 375 degrees for about 30 minutes or until a meat thermometer reaches 165 degrees. We like to let our chicken rest a few minutes before we serve.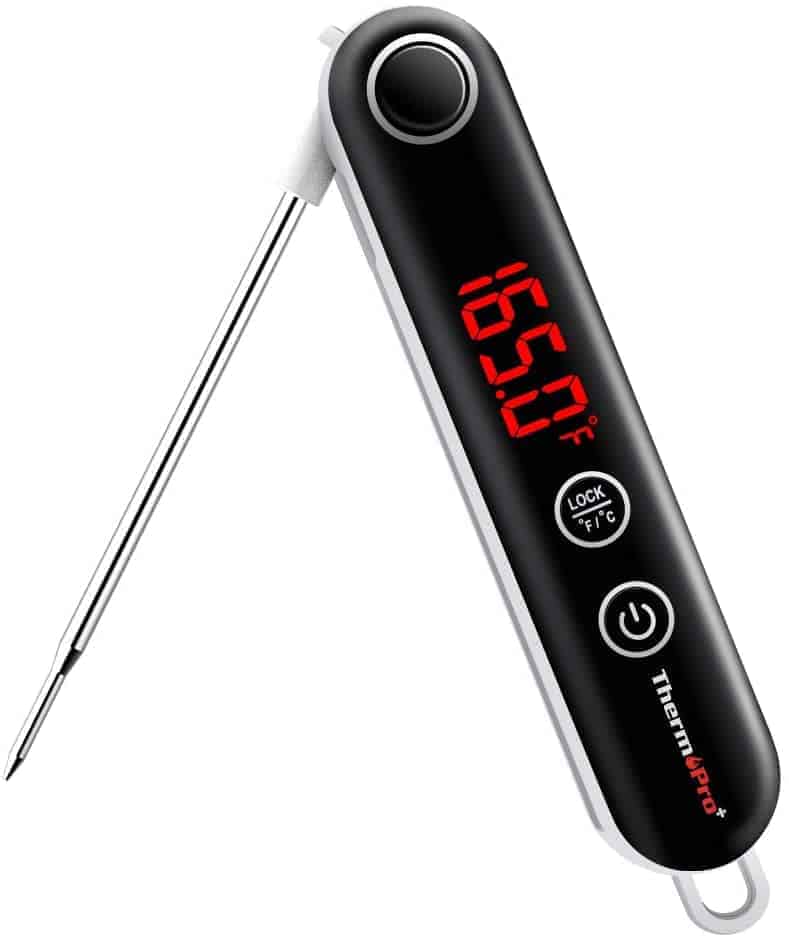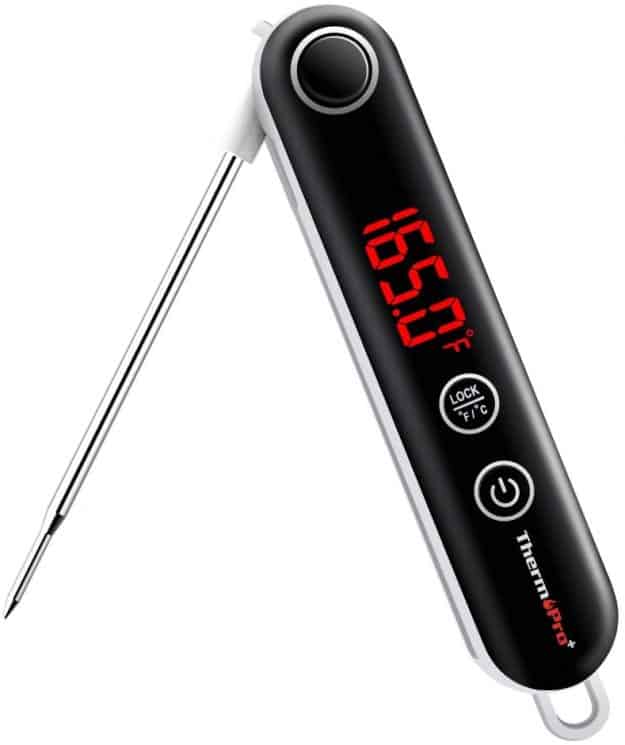 I love using this meat thermometer for making sure the meat is fully cooked! Easy for beginners & absolutely worth the low cost.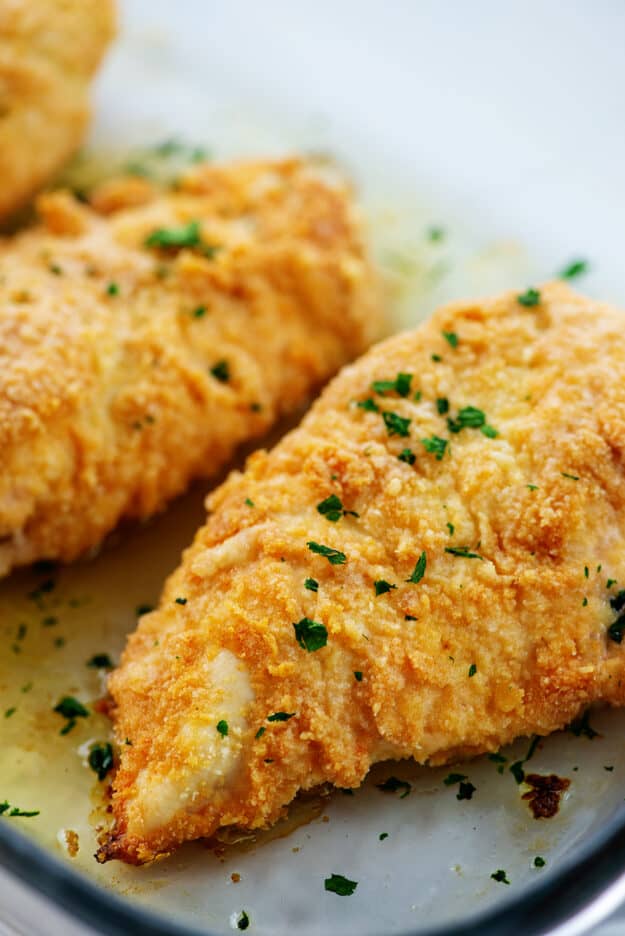 FAQs:
How to store baked chicken?
This heavenly chicken recipe will last for 3 to 4 days in the refrigerator if kept in a covered container or wrapped well with plastic wrap.
Can I make this in an air fryer?
To make this heavenly chicken in the air fryer, cook at 380 degrees for 10 minutes or until a thermometer reaches 165 degrees.
Why is it called heavenly chicken?
Because it tastes divine! The seasoned sour cream mix and the crushed Ritz Cracker breading turn regular baked chicken into something extra moist and flavorful that practically melts in your mouth.
Does this taste like sour cream?
Nope – you'll have no idea the chicken was coated in sour cream once it's baked. It just adds loads of moisture and helps keep the meat tender.
MORE favorite CHICKEN RECIPES!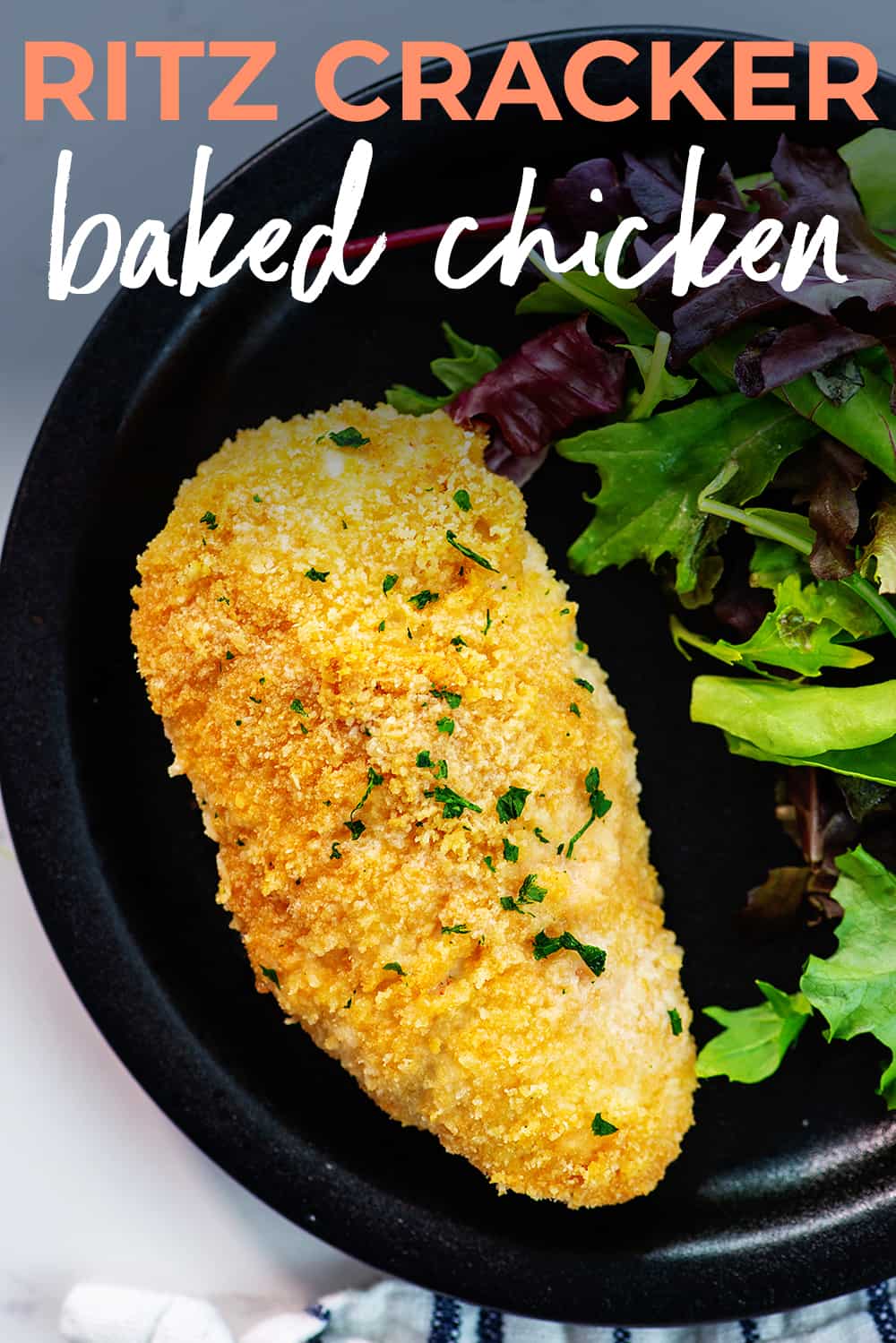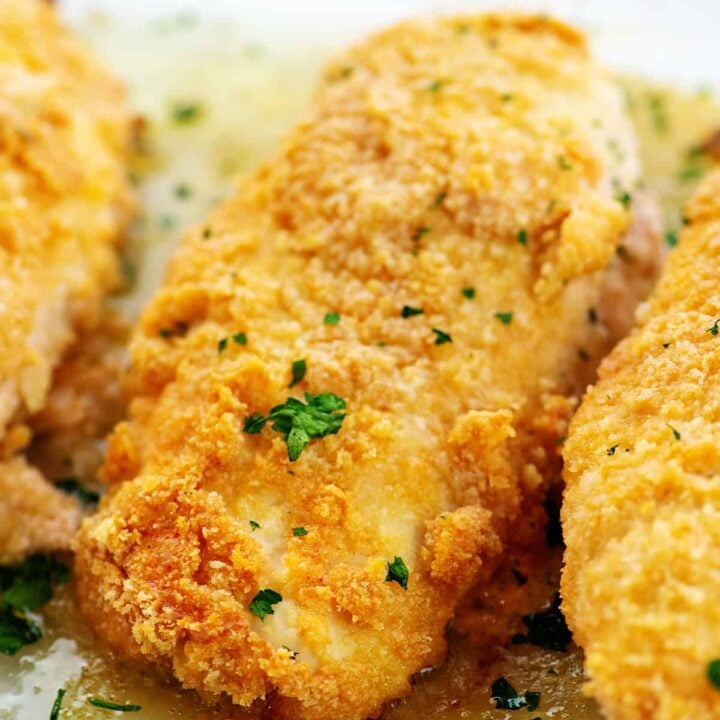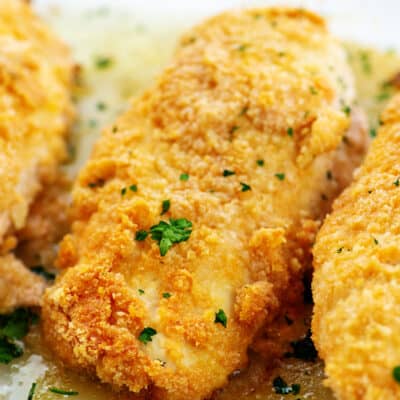 Heavenly Chicken
This chicken goes by a lot of names, but we chose Heavenly Chicken because it's just so perfect! Super moist and tender thanks to the sour cream, and loaded with rich, buttery flavor thanks to the butter drizzle and crispy Ritz crackers.
Prep10 minutes
Cook30 minutes
Total40 minutes
Ingredients
4 boneless, skinless chicken breasts
1 cup sour cream
2 teaspoons garlic powder
1 teaspoon onion powder
1 teaspoon paprika
1 ½ cups crushed Ritz crackers
2 tablespoons melted butter
parsley for garnish
Instructions
Preheat oven to 375 degrees. Spray a 9×13 baking dish with nonstick spray.

Pound the chicken breasts to an even thickness.

Add the sour cream, garlic powder, onion powder, and paprika to a shallow dish and stir well to combine.

Add the Ritz crackers to a second shallow dish.

Dredge each piece of chicken first in the sour cream and then the cracker crumbs, pressing the crumbs into the chicken to coat.

Place chicken in prepared baking dish and drizzle with the melted butter.

Bake for 30 minutes or until chicken reaches 165 degrees.

Let chicken rest for 3-4 minutes before slicing and serving.
Tips & Notes:
Chicken thighs may also be used, if preferred. Ritz crackers are already quite salty, so we don't add salt to this dish. Feel free to add it, if you feel like it's needed. Ritz crackers can be substituted for bread crumbs. If using plain unseasoned bread crumbs you'll want to add 1 teaspoon of salt to bread crumbs.
Nutrition Information:
Serving: 1chicken breast| Calories: 491kcal (25%)| Carbohydrates: 15g (5%)| Protein: 51g (102%)| Fat: 24g (37%)| Saturated Fat: 11g (69%)| Polyunsaturated Fat: 4g| Monounsaturated Fat: 7g| Trans Fat: 1g| Cholesterol: 182mg (61%)| Sodium: 514mg (22%)| Potassium: 955mg (27%)| Fiber: 1g (4%)| Sugar: 3g (3%)| Vitamin A: 758IU (15%)| Vitamin C: 3mg (4%)| Calcium: 94mg (9%)| Iron: 2mg (11%)