Skillet lasagna is the answer to busy weeknight dinners! I use frozen cheese ravioli in place of lasagna noodles to keep things extra cheesy and easy.
In my family, we are all about the easy dinners. I mean, I obviously do a lot of cooking in my day to day life, creating recipes for this blog (and my low carb blog, too!). However, I can't always plan that time spent cooking around dinner.
Sometimes I'm cooking dinner recipes at 8am and breakfast recipes at 3pm and by the time dinner rolls around at 6pm, I'm done.
I don't want to make an elaborate meal.
I don't want to find something to serve alongside the random recipe I created that morning.
I just want EASY. I want QUICK. And, obviously, I still want delicious and family-pleasing and fresh.
Hello, time for pasta. Isn't pasta always the answer in situations like this?
This time around we're starting this easy lasagna recipe with frozen cheese ravioli in place of the lasagna noodles. More cheese is more better, if you ask my family.
Skillet lasagna is one of our go to meals on nights when I'd really rather not cook.
How to make easy lasagna:
Start by browning a pound of ground beef. Stir in some diced onions and minced garlic.
Next, add a jar of your favorite pasta sauce to the skillet along with a little water.
Dump your frozen cheese ravioli into the skillet and give it a stir. Cover the pasta in the sauce as best you can and bring to a boil.
Cover the pan and let it cook for about 8 minutes.
While the pasta cooks, stir together ricotta cheese, more garlic, Parmesan, mozzarella, and parsley.
Remove the pan from the heat and spread the ricotta cheese over the top. Sprinkle with a bit more mozzarella and pop the lid back on to melt the cheese.
Sprinkle with fresh parsley just before serving.
This skillet lasagna is seriously simple and it's such a hit with my kiddos.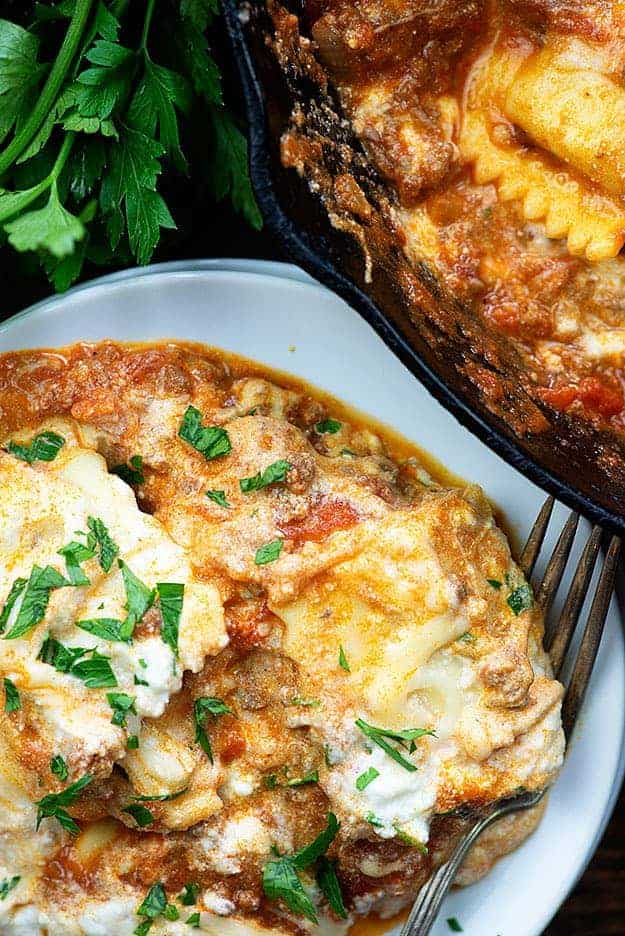 More pasta recipes you might like:
One Pot Spaghetti: You dump everything into one pot and cook it all together! No boiling the pasta separately!
Alfredo Sauce: Serve this homemade Aflredo over fettuccine and you've got a restaurant quality meal!
Homemade Hamburger Helper: Skip the box – this is better.
Baked Spaghetti: If I had to marry pasta, I'd marry this one. 😉
Chicken Florentine Pasta: Chunks of juicy chicken, pasta, and sun-dried tomatoes, all cooked in one skillet.
Shrimp Alfredo: My husband loves this one and swears it's better than what he orders from restaurants.
I hope you'll give this recipe a try and let me know what you think! For more easy, family friendly, weeknight dinners be sure to follow me on Pinterest!
Skillet Lasagna
Skillet lasagna is ready in about 20 minutes and it's so cheesy! Always a hit with my kids.
Prep5 minutes
Cook20 minutes
Total25 minutes
Ingredients
1 pound ground beef
1 sweet onion diced
3 cloves minced garlic divided
24 ounces marinara sauce
1/3 cup water
18 ounces frozen cheese ravioli
2 cups ricotta cheese
3/4 cup grated Mozzarella divided
1/4 cup grated Parmesan
1/4 cup minced parsley
Instructions
Heat a large, deep skillet over medium heat. Add the ground beef and break it up as it cooks.

When meat is mostly cooked through stir in the onion and 2 cloves of garlic. Continue cooking until meat is cooked through. Drain fat and return to pan.

Add the marinara, water, and cheese ravioli to the skillet. Stir to submerge the ravioli in the pasta sauce.

Bring to a boil, cover, and simmer for 8 minutes or until the pasta is tender.

Stir together the ricotta cheese, Parmesan, 1/4 cup mozzarella, remaining clove of minced garlic, and parsley.

Remove the skillet from the heat and drop spoonfuls of the ricotta mixture over the pasta. Spread to cover the pasta. Sprinkle with remaining 1/2 cup of mozzarella.

Cover the skillet and let sit for 5 minutes to melt the mozzarella. Sprinkle with additional parsley before serving, if desired.
Nutrition Information:
Calories: 1079kcal (54%)| Carbohydrates: 73g (24%)| Protein: 62g (124%)| Fat: 59g (91%)| Saturated Fat: 27g (169%)| Cholesterol: 231mg (77%)| Sodium: 2094mg (91%)| Potassium: 1144mg (33%)| Fiber: 7g (29%)| Sugar: 14g (16%)| Vitamin A: 1755IU (35%)| Vitamin C: 21.5mg (26%)| Calcium: 583mg (58%)| Iron: 18.3mg (102%)