This veggie packed one dish pasta recipe is ready in just 30 minutes! Big thanks to Smithfield for sponsoring this post!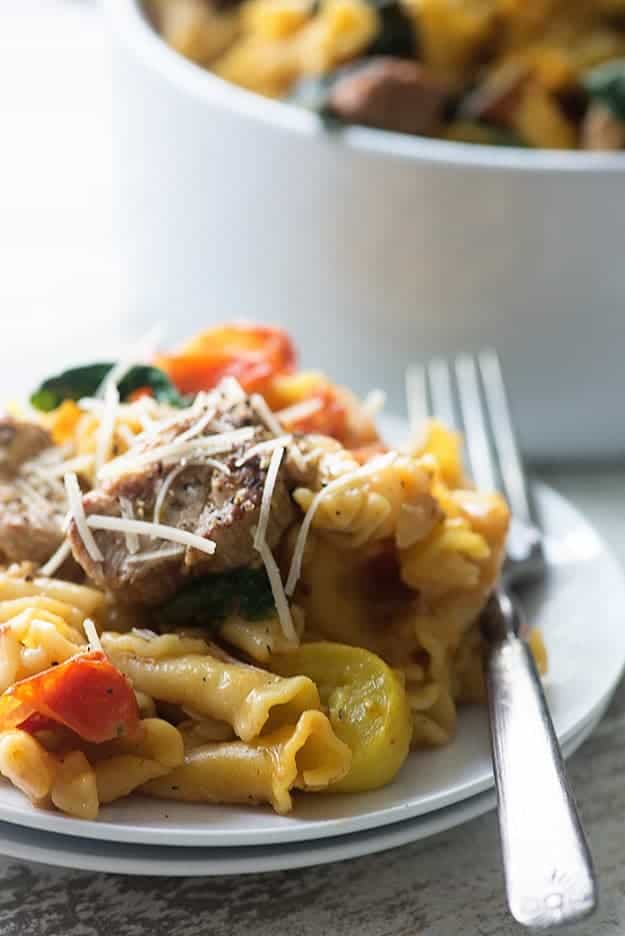 The other day my kid asked me for vegetables.
I died, came back from the dead to screech "For real? You want vegetables?"and then promptly died again.
You see, the kid loves hibachi vegetables. You know, the kind that a funny guy in a big chef's hat prepares in front of you at the hibachi restaurants? She loves those vegetables and that's basically a miracle of epic proportions.

So, I did my hibachi thing – grilled zucchini, carrots, broccoli, peppers, and onions. I had tons of zucchini in the fridge though, so we didn't use it all up on our hibachi amateur hour.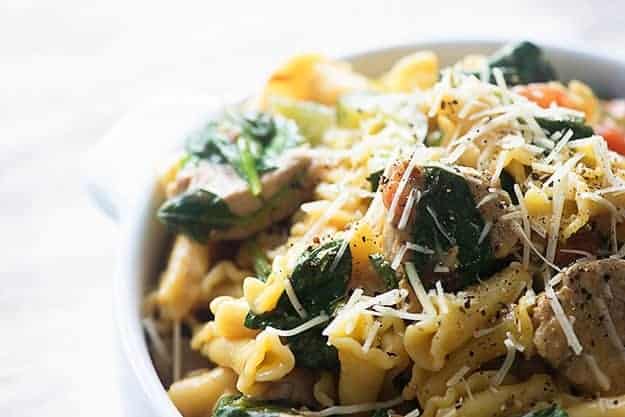 And since my new mission in life is to create recipes that contain those same vegetables and say "This is kind of like hibachi vegetables! Try it! You'll like it!" I had to make this pasta. I'm happy to report that my kid DID like this one. A mom win, for sure.
I've been working with Smithfield this year and they stocked me up with a good selection of their marinated fresh pork. I grabbed the Steakhouse Mushroom Marinated Fresh Pork Loin Filet and decided to make a one dish dinner that was loaded with flavorful pork, creamy pasta, and loads of vegetables. You're going to love this one!
I diced up the pork so that it would quick extra quick. I love 30 minute meals and Smithfield makes it easy since their products came all marinated and ready to go!
After browning the pork in a dutch oven with some onions, I threw in some fresh cherry tomatoes, a zucchini and a summer squash, and a good bit of garlic. In goes the pasta and some chicken broth and everything cooks together. When the pasta is done, you drizzle in just a touch of heavy cream to make things extra good, along with some Parmesan cheese. Toss in some fresh baby spinach and you're good to go. Dinner in 30 minutes!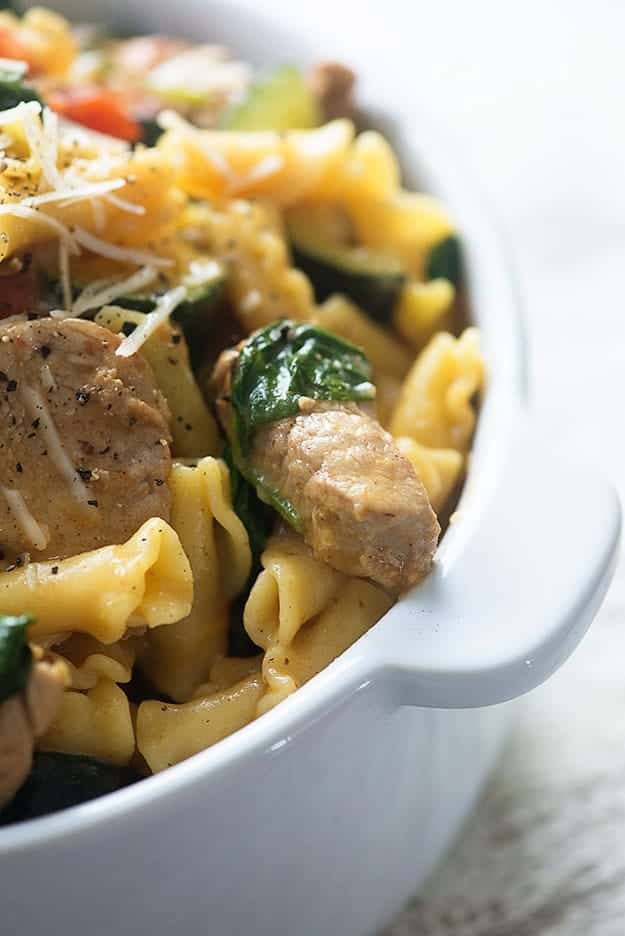 This dish looks like it takes forever to make and tastes like you were slaving away all day, but it's the perfect 30 minute weeknight dinner that you can feel good about serving your family.
For more product information and recipe inspiration, visit www.SmithfieldRealFlavorRealFast.com or www.Facebook.com/CookingWithSmithfield.
Be sure to also check out this video for Smithfield Smoked Bacon and Pork Alfredo! Looks so good!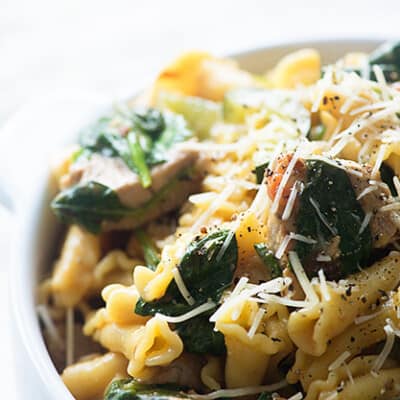 One Pot Pork and Veggie Pasta
One dish dinner alert! Such an easy and hearty dinner.
Prep10 minutes
Cook20 minutes
Total30 minutes
Ingredients
1 package Smithfield Steakhouse Mushroom Marinated Fresh Pork Loin Filet
1 tablespoon olive oil
1/2 sweet onion diced
3 cloves garlic minced
10 ounces cherry tomatoes cut in half
1 zucchini diced
1 yellow summer squash diced
1 pound Campanelle pasta
4 cups chicken broth
1/4 cup heavy cream
1 cup grated Parmesan cheese
6 ounces fresh baby spinach
Instructions
Heat a large dutch oven over medium heat. Add the oil to the pan.

Meanwhile, cut pork loin filet into bite-sized pieces. Add to the hot pan along with the onion and cook, stirring often, for 5 minutes or until well-browned.

Add the garlic, tomatoes, zucchini, summer squash, and pasta to the pot. Pour in the chicken broth and stir to combine.

Bring to a boil over high heat. Reduce to a simmer and continue cooking for 9 minutes, stirring occasionally.

Add the cream and Parmesan cheese to the pot and cook for 1 minute, stirring to combine.

Stir in the spinach and continue cooking 2 minutes or until the spinach has wilted.

Serve immediately.
Nutrition Information:
Serving: 6people| Calories: 615kcal (31%)| Carbohydrates: 71g (24%)| Protein: 34g (68%)| Fat: 21g (32%)| Saturated Fat: 9g (56%)| Cholesterol: 67mg (22%)| Sodium: 555mg (24%)| Fiber: 5g (21%)| Sugar: 9g (10%)