This Sheet Pan Meatloaf Dinner features roasted potatoes and broccoli alongside mini meatloaves topped with a sweet and savory sauce! Our meatloaf recipe is moist and flavorful and that sauce on top is hard to resist!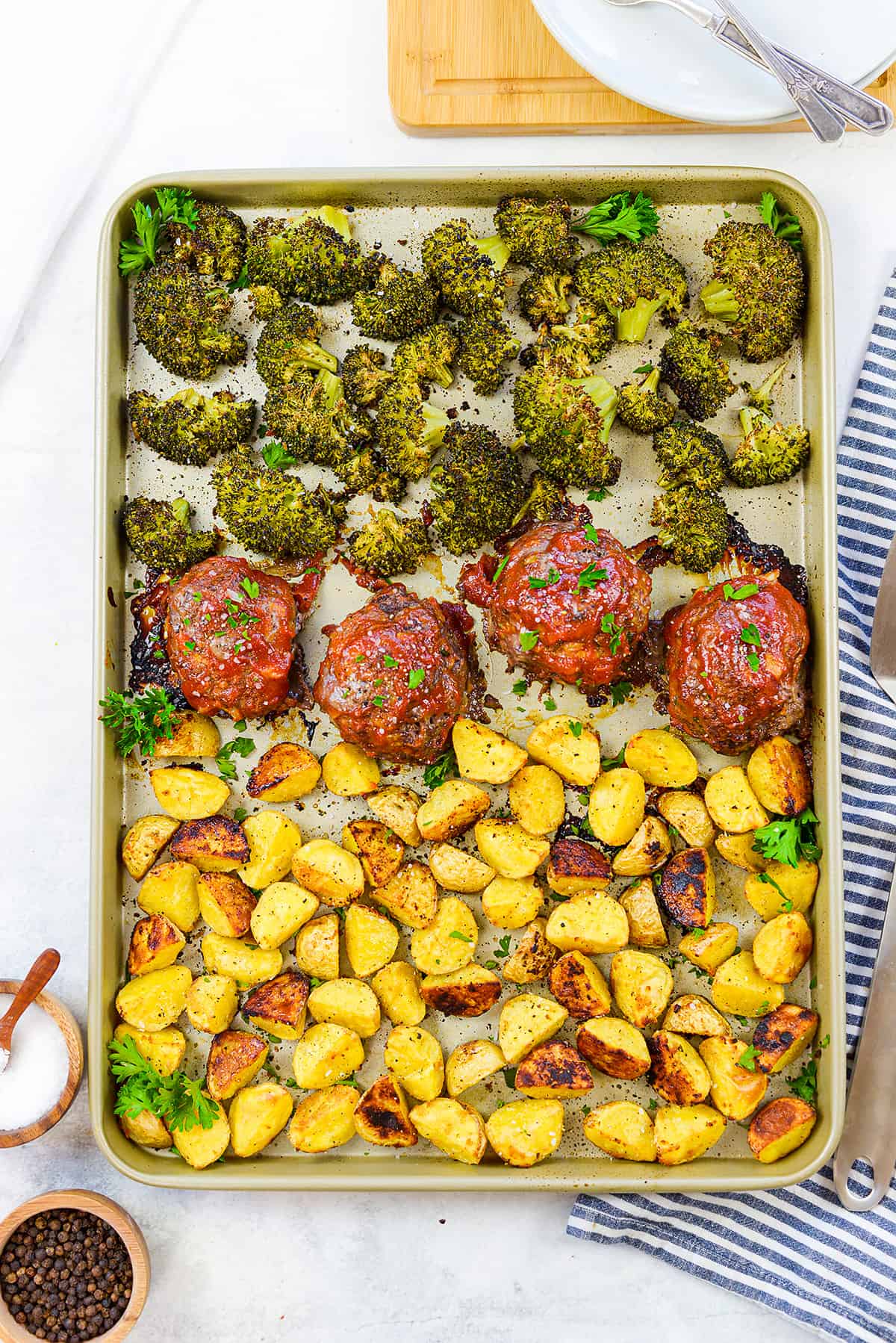 I grew up in a house that did not eat meatloaf, and honestly, I'm not sure I'll ever get over it.
Tender beef, seasoned veggies hiding inside, and a sweet and tangy sauce dripping off the top? Why would my parents deprive me of that goodness?!
Now I make some version of meatloaf pretty regularly, whether it's our turkey meatloaf or our cheeseburger meatloaf.
We especially love this one, because it bakes up quickly thanks to the small size of the loaves and because it's a whole dinner on one pan! Love a quick and easy clean up!
Ingredient Notes:
This post contains affiliate links. As an Amazon associate and member of other qualifying programs, I earn from qualifying purchases.
For the meatloaf:
Ground Beef – Use a lean ground beef for this so there isn't as much grease to worry about. I like ground chuck or ground sirloin!
Italian Breadcrumbs – We're using pre-seasoned breadcrumbs, but you can buy plain and season them yourself, if you prefer.
Milk & Egg – To mix with the ground beef and breadcrumbs. This is what will bind all the ingredients together into a meatloaf!
Onion – You don't need a lot of onion, and you'll want to mince it well. I leave this out when we have picky eaters around.
BBQ Sauce – This is as easy as using your favorite store bought BBQ sauce or a homemade sauce like my bourbon BBQ sauce recipe! You only need a little to go into the loaf. You'll separately prepare a meatloaf sauce.
Worcestershire Sauce – I love the savory flavor that this adds to pretty much anything. It doesn't take a lot either. We almost always mix this in when using ground beef to enhance the beefy flavor!
Parsley – Some freshly minced parsley goes well with the flavors in this meatloaf recipe.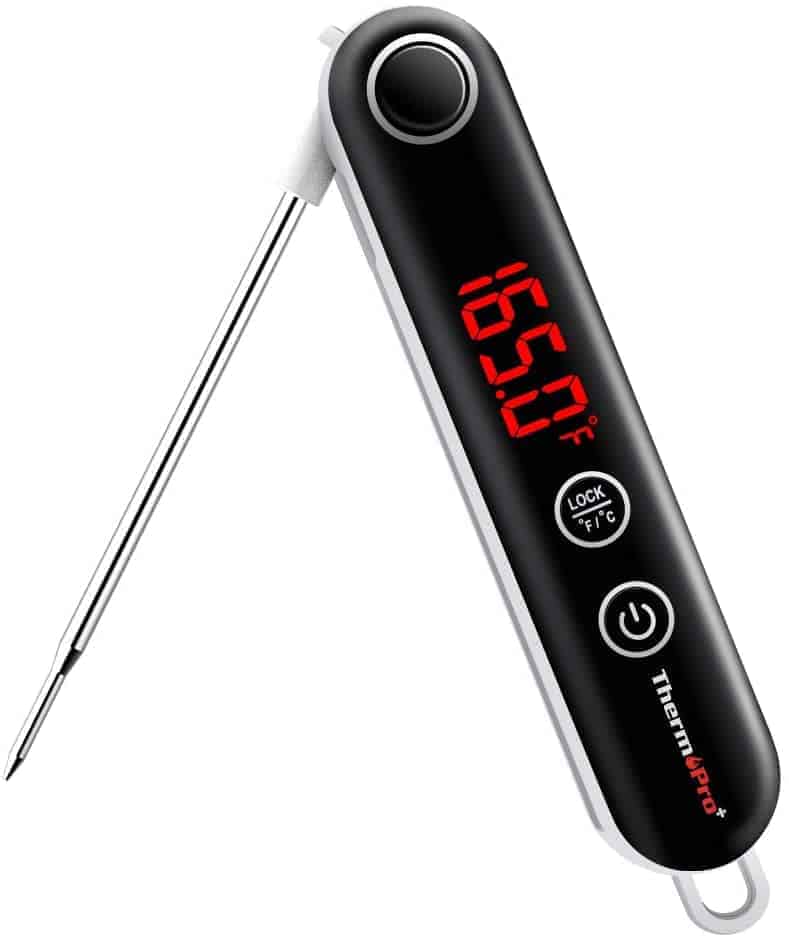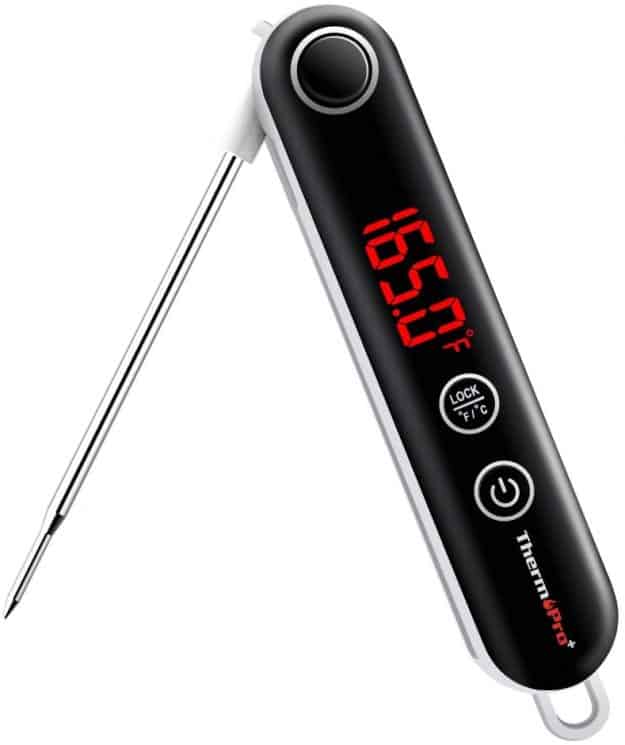 I love using this meat thermometer for making sure the meat is fully cooked! Easy for beginners & absolutely worth the low cost.
For the meatloaf sauce:
Ketchup & Mustard – Simple! Just mix together your favorite brands of ketchup and mustard.
Apple Cider Vinegar – This will add great tangy flavor to the sauce. If you like it extra tangy, splash in a bit more.
Brown Sugar – This will sweeten things up a bit and it'll help to thicken the sauce. If you like it extra sweet, add a bit more.
Seasoning – Just some garlic powder, onion powder and salt.
For the veggies:
Potatoes – I'm using baby yellow potatoes, but red potatoes or other varieties would work too! Just dice them up so they cook at the same rate as the rest of the meal.
Broccoli – Fresh broccoli florets are definitely the best for roasting. Frozen broccoli will also work, but fresh is best.
Seasoning – Just some garlic powder, onion powder, salt and pepper!
Olive Oil – For roasting the veggies!
What We Love About This Recipe:
We love pretty much any simple sheet pan recipe! This makes a complete meal with a main dish and sides all at once for easy cleanup.
The meatloaf is moist and flavorful while the veggies are roasted to perfection.
You can swap out the broccoli for asparagus, green beans, or Brussels sprouts if you want to change things up!
How to Make Sheet Pan Meatloaf & Veggies:
Potatoes: Quarter the potatoes and add to a mixing bowl. Drizzle them with oil and season them with the garlic powder, onion powder, and salt and pepper. You'll want to roast these for about 10 minutes before adding the broccoli and meatloaf as they take a bit longer to cook.
Broccoli: Drizzle the broccoli with oil and sprinkle with the remaining seasoning.
Meatloaf: Take all of the meatloaf ingredients, add them to a large mixing bowl, and stir it together with your hands until it is well combined! Don't be shy about getting in there and mushing it altogether.
Helpful Tip!
Not a fan of mixing ground meat with your bare hands? No problem! Just put it all in a stand mixer and let it do the work. Just be careful not to overmix or you'll end up with tough meatloaf.
Shape: There should be enough of the meatloaf mixture to make 4 separate mini meatloaf shapes! Once you've shaped the loafs place them on the remaining open half of the sheet pan.
Bake: Return the pan to the oven and continue roasting the potatoes with the broccoli and the meatloaves for another 10 minutes.
But you aren't quite done yet! The meatloaf needs some sauce!
How to Make Sauce for Meatloaf:
Sauce: Whisk together all of the sauce ingredients in a small bowl until it is well combined.
This savory sweet sauce is part of what makes meatloaf so popular! When the meatloaf has baked for 10 minutes remove it from the oven and brush the top of each loaf with the sauce!
Finish: Give the potatoes and broccoli a good stir and then finally return the sheet pan to the oven for 15 more minutes to finish it all off.
The sauce will thicken up and the potatoes and broccoli should be perfectly roasted and tender! Make sure the meatloaf has reached a safe internal temp of 165 degrees before serving.
If you enjoyed this simple sheet pan meatloaf dinner then I'd encourage you to try out this air fryer meatloaf recipe! It's just as easy and just as tasty!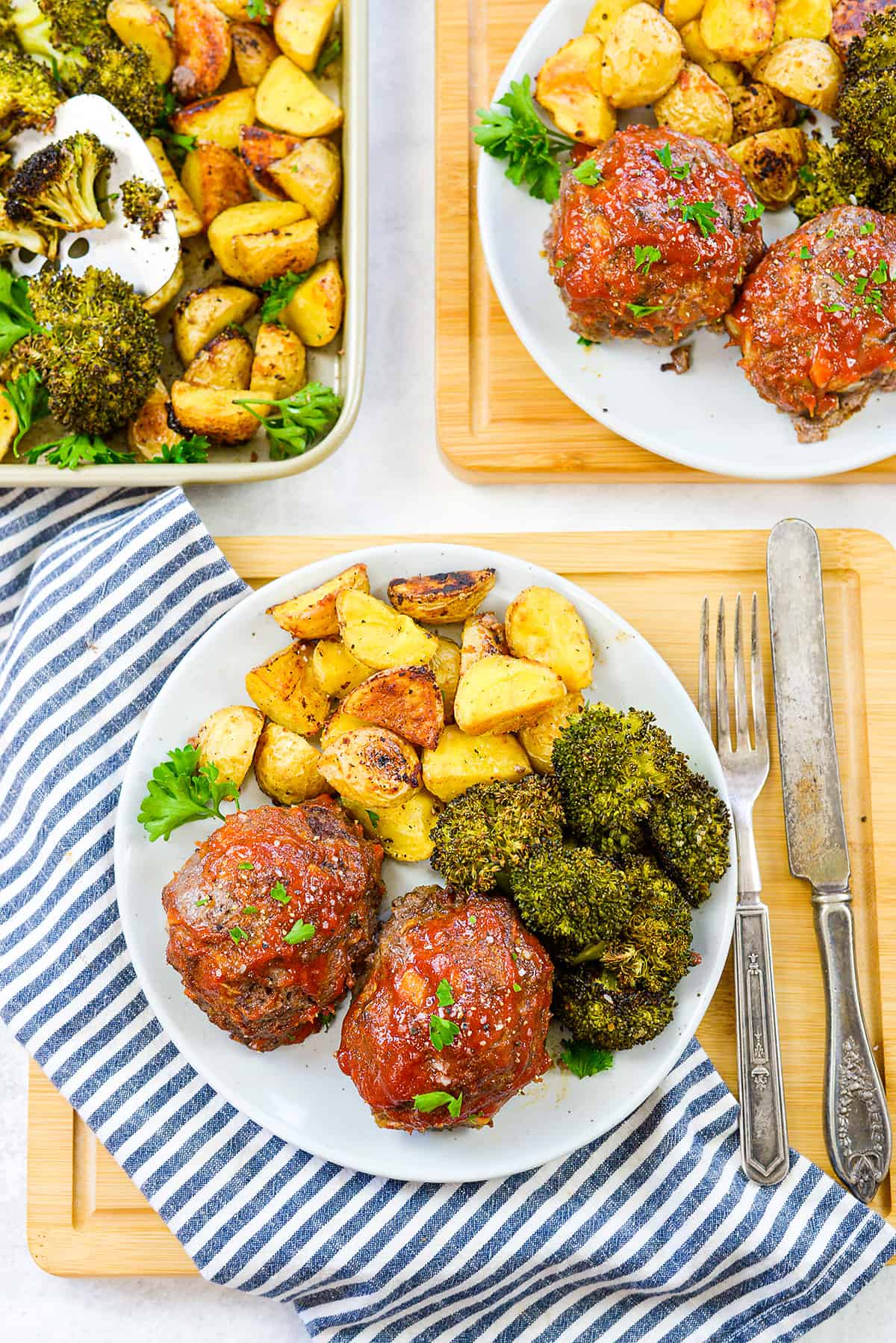 Karly's Tip!
Double the Meatloaf!
This recipe makes 4 1/4 pound mini meatloaves, but that doesn't leave a lot of room for leftovers! Feel free to double the meatloaf and cook them separately on a second sheet pan. This way you'll be sure to get that meatloaf sandwich (extra mayo on mine, please!) for lunch the next day!
FAQs:
How to store leftovers?
Store leftovers in the refrigerator for up to 5 days. Reheat in the microwave. This recipe is great for meal prep – just portion into small containers and grab and go.
Sheet Pan Meatloaf Dinner
Meatloaf, potatoes, and broccoli all in one! This sheet pan meal is pure comfort food and a fun way to get dinner on the table.
Prep20 minutes
Cook35 minutes
Total55 minutes
Ingredients
For the Veggies:
1 pound baby yellow potatoes
2 tablespoons olive oil divided
2 teaspoons garlic powder
2 teaspoon onion powder
1 1/2 teaspoons salt
1 teaspoon cracked pepper
12 ounces fresh broccoli florets
For the Meatloaf:
1 pound lean ground beef
1/3 cup Italian breadcrumbs
1/3 cup milk
1 large egg
1/2 small onion minced
1 tablespoon BBQ sauce
1 tablespoon fresh parsley minced
1 teaspoon Worcestershire sauce
1 teaspoon salt
1 teaspoon pepper
For the Meatloaf Sauce
½ cup ketchup
1 tablespoon brown sugar
1 teaspoon mustard
1 teaspoon apple cider vinegar
½ teaspoon garlic powder
½ teaspoon onion powder
¼ teaspoon salt
Instructions
To make the veggies:
Preheat oven to 400 degrees. Spritz a rimmed half sheet pan with non-stick spray.

Quarter the potatoes and add to a mixing bowl with 1 tablespoon of oil.

Add the seasonings to a small bowl and stir to combine.

Sprinkle about three-quarters of the seasoning over the potatoes and toss to coat.

Arrange the potatoes on the prepared baking sheet.

Bake for 10 minutes.

While potatoes are baking, toss the broccoli with the remaining oil and seasoning.

After 10 minutes, remove the potatoes from the oven and stir. Push potatoes to the side and add the broccoli to the pan. Arrange the vegetables along one half of the pan, leaving space for the mini meatloaves.
To make the meatloaf:
While the potatoes are roasting, combine all of the meatloaf ingredients in a bowl and stir with your hands to combine.

Shape into 4 mini meatloaf shapes.

Place the meatloaves in the open space on the baking sheet.

Return to the oven for 10 minutes.
To make the meatloaf sauce:
While the meatloaf is cooking, whisk together all of the sauce ingredients in a small bowl.
To finish:
After meatloaf has baked for 10 minutes, remove from the oven and top with the sauce.

Carefully stir the vegetables and return to the oven. Continue baking for 15 minutes or until the internal temperature of the meatloaf reaches 165 degrees.

Serve while hot.
Tips & Notes:
You can swap out the broccoli for Brussels sprouts, green beans, or asparagus if preferred. If you'd like extra meatloaf, double the recipe and cook the mini meatloaves on a separate pan.
Nutrition Information:
Serving: 1| Calories: 470kcal (24%)| Carbohydrates: 51g (17%)| Protein: 34g (68%)| Fat: 16g (25%)| Saturated Fat: 5g (31%)| Polyunsaturated Fat: 2g| Monounsaturated Fat: 8g| Trans Fat: 0.4g| Cholesterol: 119mg (40%)| Sodium: 2222mg (97%)| Potassium: 1389mg (40%)| Fiber: 6g (25%)| Sugar: 15g (17%)| Vitamin A: 908IU (18%)| Vitamin C: 102mg (124%)| Calcium: 140mg (14%)| Iron: 6mg (33%)