Sheet pan dinners are so simple to toss in your oven on busy nights and this one comes out super flavorful thanks to a little garlic butter. I've used low carb veggies and Smithfield Marinated Fresh Pork for a dinner that's just 6 net carbs. Big thanks to Smithfield for sponsoring this post!
Lately, I've been on a major sheet pan meals kick.
I am obsessed with the simplicity of tossing random items on a sheet pan, popping it all in the oven, and walking away.
Who doesn't love a dinner like that?
I'm starting with a Smithfield Roasted Garlic and Cracked Black Pepper Marinated Fresh Pork Tenderloin. This is 100% fresh pork seasoned up to perfection with no artificial ingredients and loads of protein.
You can find many flavors of Smithfield's marinated fresh pork at Walmart and other grocers nationwide.
The veggies here are all low carb – radishes and green beans.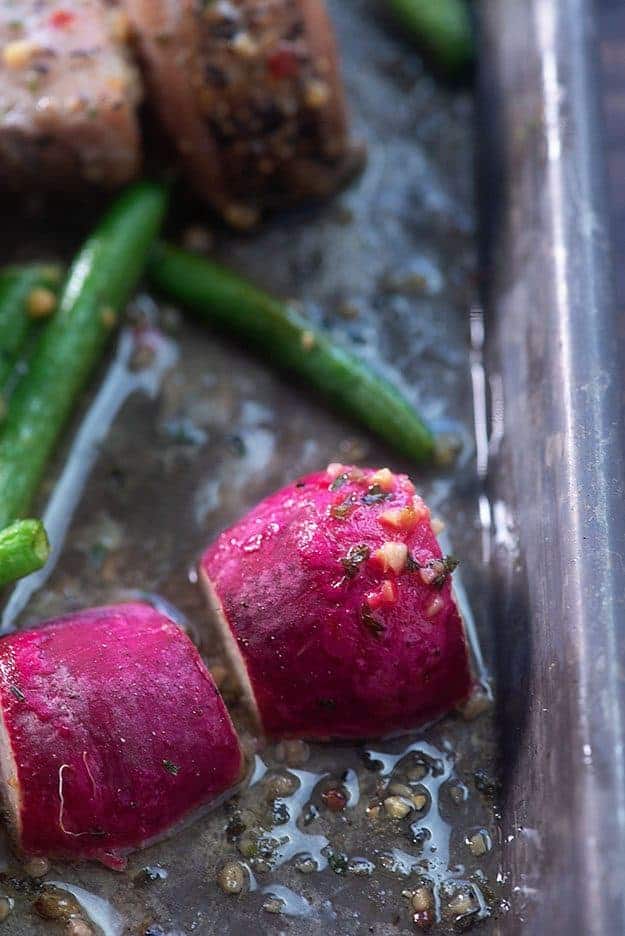 If you've never tried radishes roasted, I highly recommend it! They lose the bite and come out mellow and tender, very similar to a potato.
I've got low carb on the brain as we head into the holidays. If I'm going to eat 43 kinds of Christmas cookies after dinner, then dinner probably better be low carb. 😉
My low carb recipes seem to be the most popular ones on this site, but I haven't shared many lately since I started a second blog dedicated to low carb. Go check it out after you snag this recipe, if you're interested. You can find it at thatlowcarblife.com.
How to make this sheet pan dinner:
To start, you'll want to dice up that Smithfield pork tenderloin so that it cooks a bit faster. This is a 30 minute recipe, friends!
Toss that chunked up pork on a sheet pan and surround it with some vegetables.
You'll also toss on some fresh green beans.
Isn't this sheet pan dinner so pretty and colorful?
Whip up some garlic butter – this is just melted butter, fresh minced garlic, onion powder, and a little parsley.
Grab your husband to be your hand model and then…
Drizzle that garlic goodness over everything and pop it all in the oven.
How much easier could this get?!
This will bake up in about 25 minutes and what comes out is flavor-packed pork and veggies.
Your family is going to gobble this one up.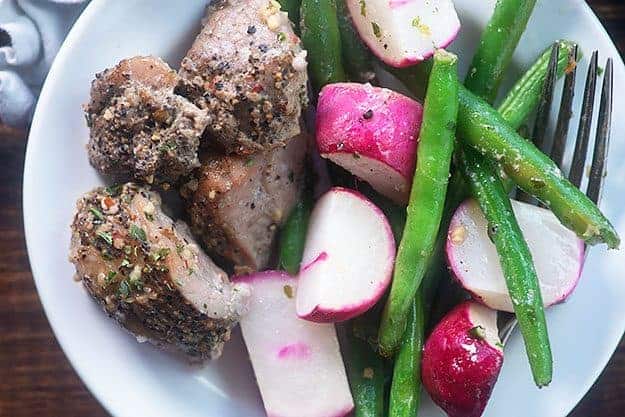 More low carb dinners you'll love:
Egg Roll in a Bowl: One of the most popular recipes on my site and for good reason!
Chicken Casserole: Cheesy chicken, broccoli, and cauliflower rice!
Cheeseburger Casserole: It's packed with bacon. 😉
Low Carb Breakfast Casserole: Bacon, Sausage, and all kinds of goodies.
Garlic Shrimp: Because GARLIC. 😉
Sheet Pan Pork, Radishes, and Green Beans
This low carb sheet pan dinner is so simple to toss together and the garlic butter takes it over the top! Just 6 net carbs per serving!
Prep5 minutes
Cook25 minutes
Total30 minutes
Ingredients
1 pound fresh radishes halved
12 ounces fresh green beans trimmed
6 tablespoons butter melted
3 cloves garlic minced
1 tablespoon minced parsley
1/2 teaspoon onion powder
1/2 teaspoon salt
1/2 teaspoon cracked pepper
Instructions
Preheat oven to 375 degrees. Spray a sheet pan with non-stick spray.

Chop the pork tenderloin into bite-sized pieces and place on the sheet pan.

Add the radishes and green beans around the pork in a single layer.

Add the melted butter, garlic, parsley, and onion powder to a small bowl and mix well to combine.

Drizzle the garlic butter over the pork and vegetables. Sprinkle with salt and pepper.

Bake for 25 minutes or until pork is cooked through and vegetables are tender.
Nutrition Information:
Calories: 744kcal (37%)| Carbohydrates: 10g (3%)| Protein: 96g (192%)| Fat: 33g (51%)| Saturated Fat: 16g (100%)| Cholesterol: 339mg (113%)| Sodium: 726mg (32%)| Potassium: 2234mg (64%)| Fiber: 4g (17%)| Sugar: 4g (4%)| Vitamin A: 1195IU (24%)| Vitamin C: 29.2mg (35%)| Calcium: 96mg (10%)| Iron: 5.7mg (32%)