These grilled pork tacos are ready in less than 30 minutes and packed with big flavor. Big thanks to Smithfield for sponsoring this post.

When I was a kid, I wanted to grow up to be a secretary.
That's a true story.
I mean, sure, most kids want to be astronauts or doctors or firemen, but I wanted to be a secretary. Not that there is anything wrong with a secretary, it's just not something that children usually dream about, you know?
I thought that my mama was a secretary and since her office always had fresh bagels and cream cheese, I pretty much wanted to be her. She wasn't actually a secretary, but she worked in an office behind a desk and so I just assumed. I mean, a lady in an office job? Must be a secretary to my little 8-year-old brain.
However, I am happy to announce that I grew up to be something that I believe is pretty rad. A taco photographer.
Yes. I photograph tacos for a living. Not just tacos, of course. But, tacos are probably one of my favorites.
Mostly just because after the photo shoot, I get to eat my subject. And eating tacos is the best. Amen.
So, anyway, I wanted to create a 30-minute meal for you guys to get you through back to school season. Ain't nobody got time to be spending hours over the stove right now. I got you.
You're going to need a Smithfield Mesquite Pork Loin Filet for this recipe. I love how quickly these grill up. They're already perfectly seasoned, so you literally just rip open the package and throw it at the grill. Gently. You gently throw it at the grill. Or on the grill. Either one. You be you.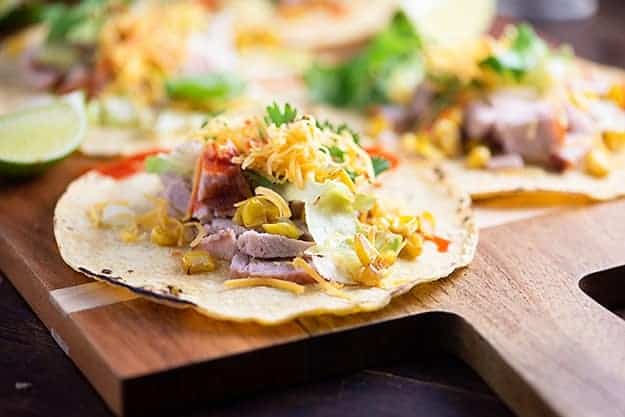 Of course, I wanted things to go even faster than fast, so I sliced my pork loin filet in half to make it a bit thinner which made it cook even faster. Because I'm the most impatient person in the world when it comes to tacos, ok, quit judging, I just really like tacos.
While the pork is grilling, toss some corn up on there too. It'll get all smoky and charred and fabulous. Put that on your taco, because everybody knows that charred corn on a taco is legit.
When the meat is done, you'll just dice it up and add it to a warmed tortilla with the corn and all your usual taco fixings. Dinner. In less than 30 minutes. No hot kitchen to deal with, either.
Mesquite Grilled Pork Tacos
These grilled pork tacos are ready in less than 30 minutes and packed with big flavor. Big thanks to Smithfield for sponsoring this post.

Prep5 minutes
Cook15 minutes
Total20 minutes
Ingredients
1 1/2 pounds Smithfield Mesquite Pork Loin Filet
2 ears corn on the cob
16-20 corn tortillas
Taco toppings of your choice: shredded lettuce, cheddar cheese, lime juice, hot sauce, sour cream, etc.
Instructions
Preheat the grill to 400 degrees.

Slice the pork loin in half, lengthwise, to make the filet thinner so that it will cook quicker. Place both halves on the grill over direct heat.

Shuck the corn and rinse. Wrap in foil and place on the grill. Cook for 15 minute, turning halfway through.

Cook for 6-7 minutes and flip over. Continue cooking for 6-7 minutes or until a thermometer reads 145 degrees. Remove from the grill and let rest 5 minutes.

While the pork is resting, place the tortillas on the grill and cook just until warm and pliable.

Chop the pork into bite sized pieces.

Slice the corn kernels off the cob.

Add a spoonful of pork and corn to each tortilla and top with whatever taco toppings you prefer.
Nutrition Information:
Calories: 195kcal (10%)| Carbohydrates: 21g (7%)| Protein: 18g (36%)| Fat: 4g (6%)| Saturated Fat: 1g (6%)| Cholesterol: 42mg (14%)| Sodium: 54mg (2%)| Potassium: 380mg (11%)| Fiber: 2g (8%)| Sugar: 1g (1%)| Vitamin A: 35IU (1%)| Vitamin C: 1.2mg (1%)| Calcium: 37mg (4%)| Iron: 1mg (6%)