This easy cranberry bread recipe is loaded with fresh cranberries for a sweet and tart quick bread that your whole family will devour. Big thanks to Feed A Bee for sponsoring this post.
When I was a kid, we always had that ubiquitous can of cranberry glop on our Thanksgiving table. As far as I can recall, no one ever actually ate the perfectly round slices of goo, but someone put it out every year anyway. Traditions, man.
This led to me growing up never having had a cranberry. I associated them with the glop and I just couldn't bring myself to try them. Until, one day, someone made homemade cranberry sauce sweetened with maple syrup and I just put on my big girl pants and gave it a try.
Y'all. Cranberries are life.
Tart and sweet and heavenly. I love them in this apple cranberry pie and my white chocolate cranberry oatmeal cookies.
Anyway, have you heard of the Feed A Bee initiative? They're working hard to plant forage for bees across all 50 states by the end of 2018. They've already distributed over 3 billion wildflowers over the last two years! But, as I'm sure you've heard, the bees still need help.
Bees need diverse food just like we do. They eat nectar and pollen from flowers – and one of the biggest challenges facing bees today is finding enough food. The good news is, you can help them! By planting pollinator-attractant plants and gardens around the country, everyone can help feed the bees.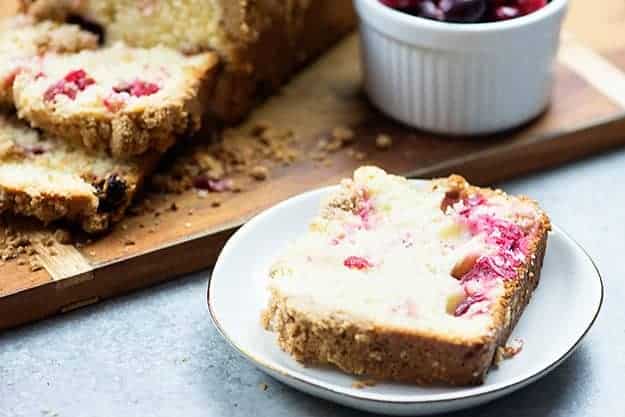 What do cranberries and bees have to do with each other? Well, believe it or not, a lot (like A LOT) of our favorite foods are pollinated by bees! They play a major role in pollinating strawberries, coffee, apples, pumpkins, squash, onions, and so much more!
So, I created this cranberry bread to help celebrate bees!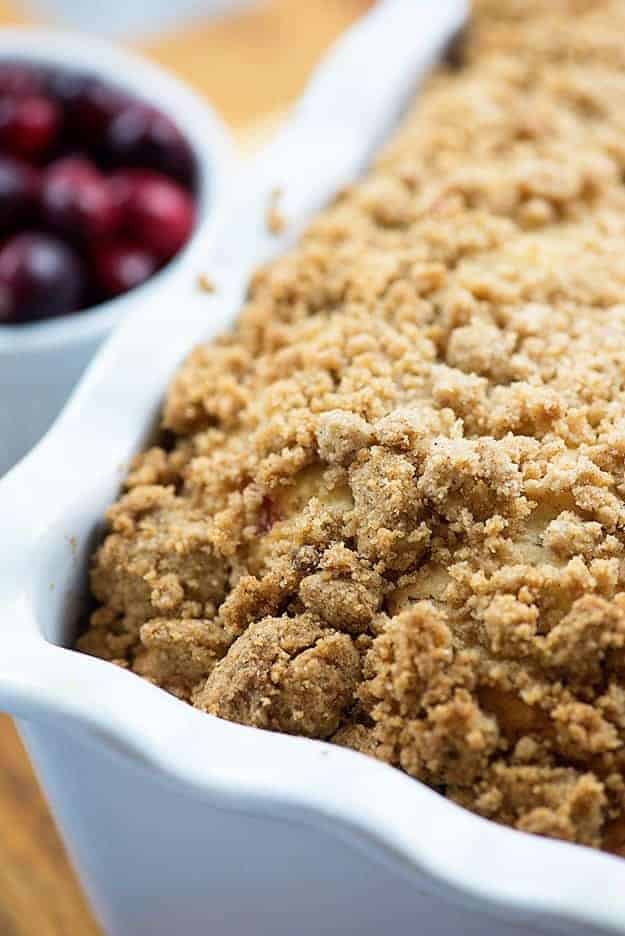 I hope that you'll visit FeedABee.com to learn more and use #FeedABee to spread awareness to help feed the pollinators that help feed us. Whether you plant a huge garden or just put a flower pot on your back deck, everyone can help save the bees by planting pollinator-attractant flowers that supply the pollen and nectar they need to survive.
This sweet cranberry bread recipe is loaded with fresh cranberries and topped with a simple streusel topping. I'm such a sucker for all things streusel!
Cranberry Bread Recipe
This easy cranberry bread recipe is loaded with fresh cranberries for a sweet and tart quick bread that your whole family will devour.


Prep10 minutes

Cook50 minutes

Total1 hour
Ingredients
For the bread:
1/2 cup butter room temperature
3/4 cup sugar
1 large egg
2 teaspoons vanilla
2 cups flour
2 teaspoons baking powder
1 teaspoon kosher salt
1/2 cup buttermilk
1 1/2 cups fresh or frozen cranberries
For the streusel topping:
2/3 cup all-purpose flour
1/4 cup brown sugar packed
2 tablespoons sugar
1 teaspoon cinnamon
1/4 cup butter melted
Instructions
Preheat the oven to 350 degrees. Grease a 9x5 loaf pan.

In the bowl of a stand mixer, cream together the butter and sugar until light and fluffy. Beat in the egg and vanilla until well combined.

Combine the flour, baking powder, and salt in a small bowl.

Add the flour mixture a little at a time to the butter mixture, alternating with the buttermilk.

Fold in the cranberries by hand.

To make the streusel, mix together the flour, brown sugar, sugar, and cinnamon until combined.

Stir in the melted butter until well combined and crumbly.

Sprinkle the streusel over the loaf of bread and press down lightly to adhere the crumbs.

Bake for 50-60 minutes or until a butter knife inserted in the center comes out mostly clean.

Cool completely before cutting.
Nutrition Information:
Calories: 297kcal (15%)| Carbohydrates: 42g (14%)| Protein: 3g (6%)| Fat: 12g (18%)| Saturated Fat: 7g (44%)| Cholesterol: 47mg (16%)| Sodium: 314mg (14%)| Potassium: 133mg (4%)| Fiber: 1g (4%)| Sugar: 20g (22%)| Vitamin A: 400IU (8%)| Vitamin C: 1.7mg (2%)| Calcium: 57mg (6%)| Iron: 1.5mg (8%)