CRANBERRY SALAD is a holiday staple at our house! It could be served as a dessert or side, but we usually eat it as a side dish. It's loaded with fresh cranberries, apples, pineapples, and pecans and then mixed up with whipped topping.
I look forward to cranberry season all year.
I love fresh cranberries in desserts, but I can never seem to stop myself from just popping a couple of cranberries in my mouth whole every year. And every year I instantly have regrets…they're so bitter and gross when they're totally plain.

Once you've sugared them up and mixed up with some good stuff, though…yum. Bring on the cranberries! Especially in my
Christmas Sangria
!
This cranberry salad is a staple at our holiday dinner every year. Much like my Snickers Apple Salad, it's more of a dessert than an actual salad, but we eat it as a side dish just the same. It's the holidays after all. 😉
How to make cranberry fluff salad:
This cranberry salad is super easy to prepare, but it does need a bit of time to chill in the fridge, so be sure to get it started a few hours in advance.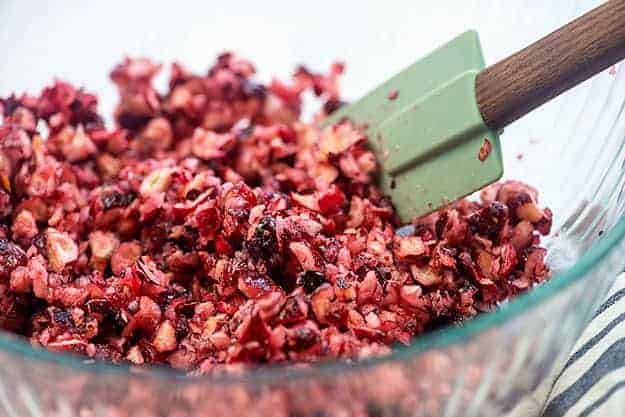 Add some fresh cranberries to a food processor or blender and process them until they're nice and chopped.
Add the cranberries to a large bowl along with some sugar and give it a good stir.
Pop that mixture in the fridge for a couple of hours. The cranberries will get sweet and juicy as they set in the sugar.
Chop up an apple and some pecans and then add that to the cranberry mixture along with some mini marshmallows and crushed pineapple.
Stir in your Cool Whip until everything is combined and then you're ready to dig in!
This recipe is so easy and it turns out such a pretty pink color. It's really impossible to resist and kids love it thanks to the little bits of marshmallows hiding throughout.
How long will cranberry salad keep?
This should last for a couple of days in the fridge, though it might get a bit more liquid-y as the cranberries release juice.
Just give it a gentle stir before serving and then dig in!
Cool Whip Substitute:
If you don't like Cool Whip, you may use homemade whipped cream. The salad will not keep as well though and will be best served fresh.
More Thanksgiving recipes:
Twice Baked Potato Casserole: Cheesy and decadent!
Oven Roasted Sweet Potatoes: Always a hit in my family.
Cheesy Hashbrown Casserole: We make this one every single year.
Broccoli Cheese Casserole: Literally the best and it's low carb too!
Green Bean Casserole with Bacon: Bacon makes everything better.
Jiffy Corn Casserole: Another recipe that makes an appearance at every holiday dinner.
Cranberry Salad
Sweet, tart, and perfect for serving at your next holiday dinner!
Prep10 minutes
Chill Time2 hours
Total2 hours 10 minutes
Ingredients
12 ounces fresh cranberries
¾ cup sugar
1 medium tart apple, chopped
8 ounces canned crushed pineapple
1 cup mini marshmallows
½ cup chopped pecans
8 ounces frozen whipped topping, thawed
Instructions
Add the cranberries to a food processor or blender and process until finely chopped.

Add the cranberries to a large glass mixing bowl along with the sugar. Toss to coat.

Cover the bowl and refrigerate for 2 hours.

Add the apple, pineapple, marshmallows, pecans, and whipped topping to the bowl with the cranberries and stir well to combine.

Serve immediately or store in the refrigerator, tightly covered, for up to 3 days.
Tips & Notes:
You may substitute homemade whipped cream for the Cool Whip, but the salad will not keep as well.
Nutrition Information:
Serving: 1| Calories: 168kcal (8%)| Carbohydrates: 29g (10%)| Protein: 1g (2%)| Fat: 6g (9%)| Saturated Fat: 2g (13%)| Cholesterol: 1mg| Sodium: 18mg (1%)| Potassium: 101mg (3%)| Fiber: 2g (8%)| Sugar: 25g (28%)| Vitamin A: 49IU (1%)| Vitamin C: 6mg (7%)| Calcium: 23mg (2%)| Iron: 1mg (6%)