This Dulce De Leche recipe is made with sweetened condensed milk for a sweet, gooey, and oh so easy treat. Our sweetened condensed milk caramel is made in the crockpot with just one ingredient.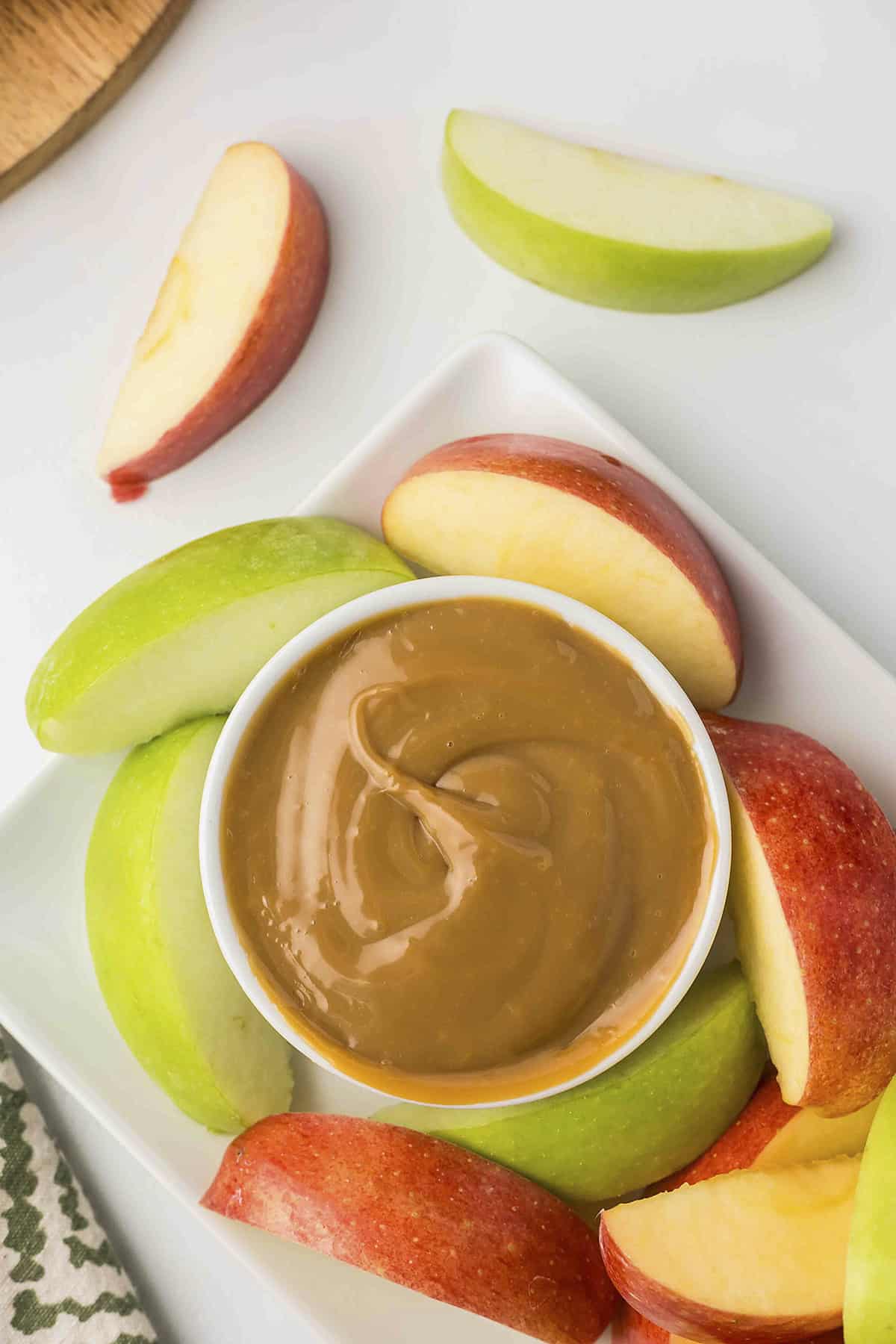 Have you ever heard of the goodness that is dulce de leche?
Because if not, I'm about to change your life with this sweetened condensed milk caramel sauce that is rich and creamy, sweet and full of caramel flavor, and perfect for dipping fruit, drizzling over ice cream, or topping a cheesecake.
You can use this as the caramel layer in my caramel rice krispies treats or drizzle it over our apple cider donut cake. This would be heavenly on our pumpkin waffles, too.
You'd never guess that this dulce de leche recipe calls for just one simple ingredient. No one will realize that you just pop it in the crockpot and walk away. Everyone will think you're some master caramel candy maker.
What Is Dulce De Leche?
Dulce de Leche is otherwise known as caramelized milk, milk candy, and even sometimes milk jam! It's a popular treat that is often served in Latin America. The name "dulce de leche" actually translates to "sweet milk" in Spanish.
It has a soft texture with a rich and sweet caramel flavor and it can be used in many different ways. It's popular as a topping for other desserts like ice cream, and is often used in cakes or cookies.
It's even good just spread on some toast! You really can use this sweet treat in all kinds of different ways. I've listed more serving suggestions below!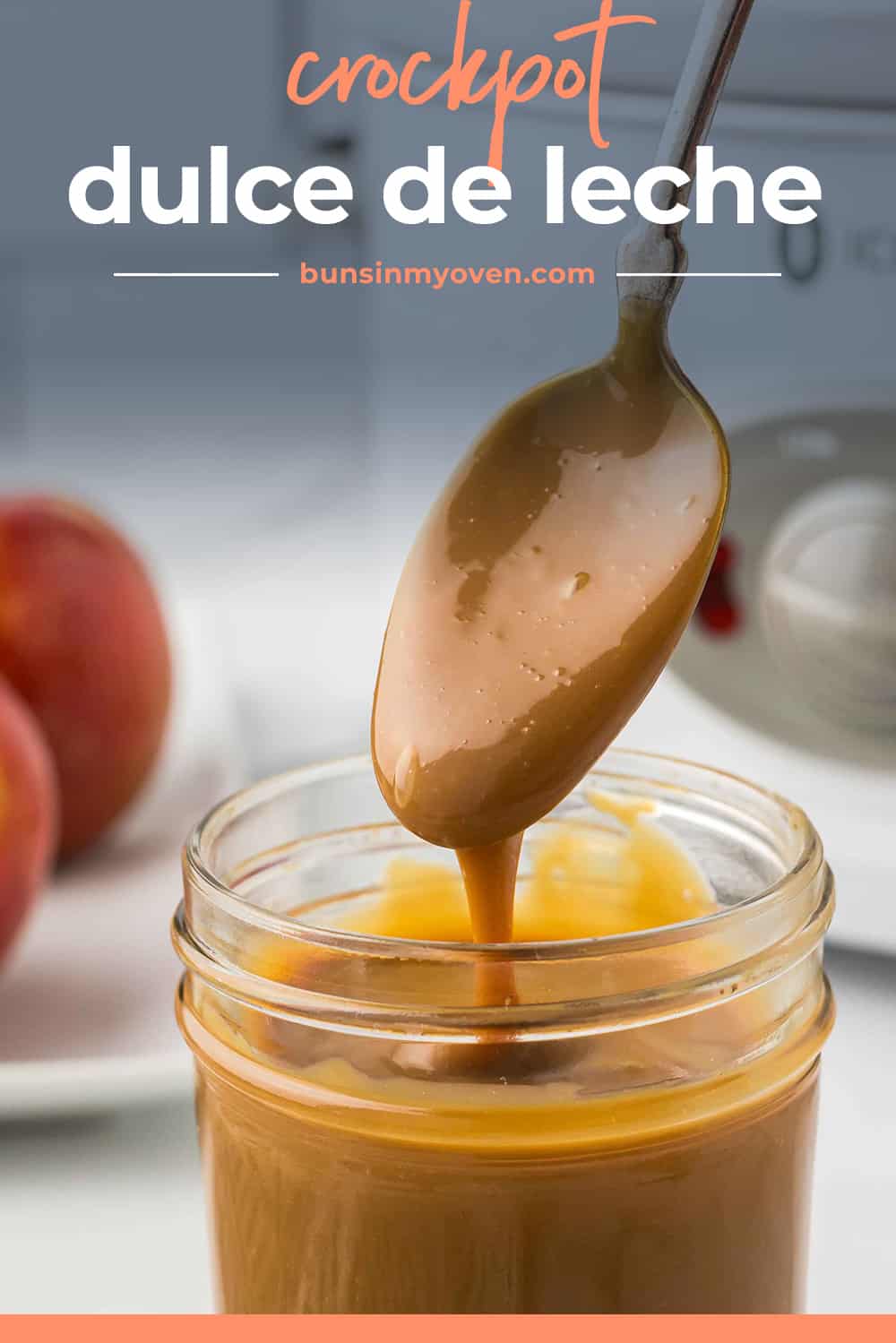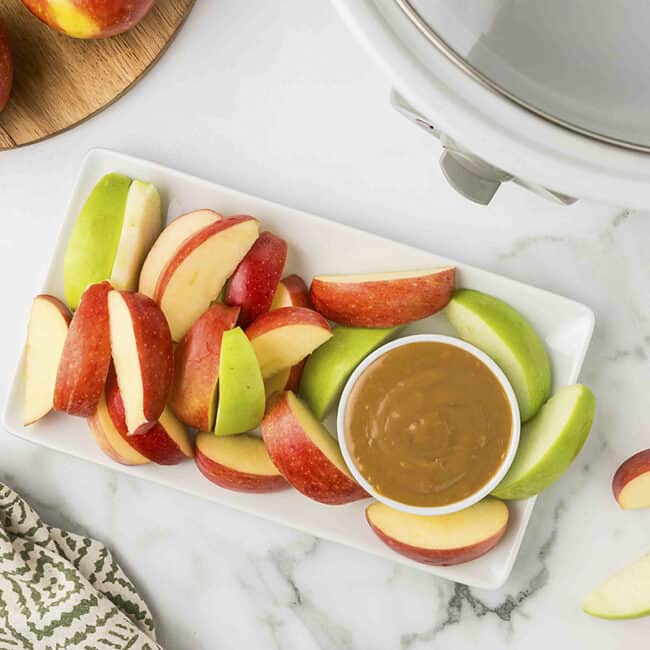 Crockpot Dulce De Leche
Our homemade dulce de leche turns out thick, rich, gooey, and creamy with just one simple ingredient. We use this recipe as a dip for fruit or drizzle it over cakes, cookies, and other dessert or breakfast foods.
Prep5 minutes
Cook10 hours
Total10 hours 5 minutes
Ingredients
28 ounces sweetened condensed milk 2 cans
3 1/2 pint canning jars
Water
Instructions
Empty the two cans of condensed milk into the canning jars and securely tighten the lids.

Place in an empty slow cooker and cover with water. The water should rise at least 1 inch above the jars.

Place the lid on the slow cooker and turn to low heat for 10 hours or until it's reached the color you prefer. The longer you cook it, the darker it will get, so cook it to your preference.

Remove from the water and allow to cool to room temperature.

Store in the refrigerator for 2-3 weeks.
Tips & Notes:
You may use dulce de leche in most recipes that call for caramel. We often use it as a dip for fruit or to drizzle over cakes or ice cream or swirled into your favorite homemade brownies.
This recipe can also be made by boiling the cans of sweetened condensed milk on the stove for 3 hours, but you'll have to be very careful to keep the liquid at a low boil and keep the water above the cans. There is a risk of the cans exploding with this method, so we always use the crockpot just to be safe.
Nutrition Information:
Calories: 84kcal (4%)| Carbohydrates: 14g (5%)| Protein: 2g (4%)| Fat: 2g (3%)| Saturated Fat: 1g (6%)| Cholesterol: 8mg (3%)| Sodium: 33mg (1%)| Potassium: 98mg (3%)| Sugar: 14g (16%)| Vitamin A: 70IU (1%)| Vitamin C: 0.7mg (1%)| Calcium: 75mg (8%)| Iron: 0.1mg (1%)
Ingredient Notes:
This post contains affiliate links. As an Amazon associate and member of other qualifying programs, I earn from qualifying purchases.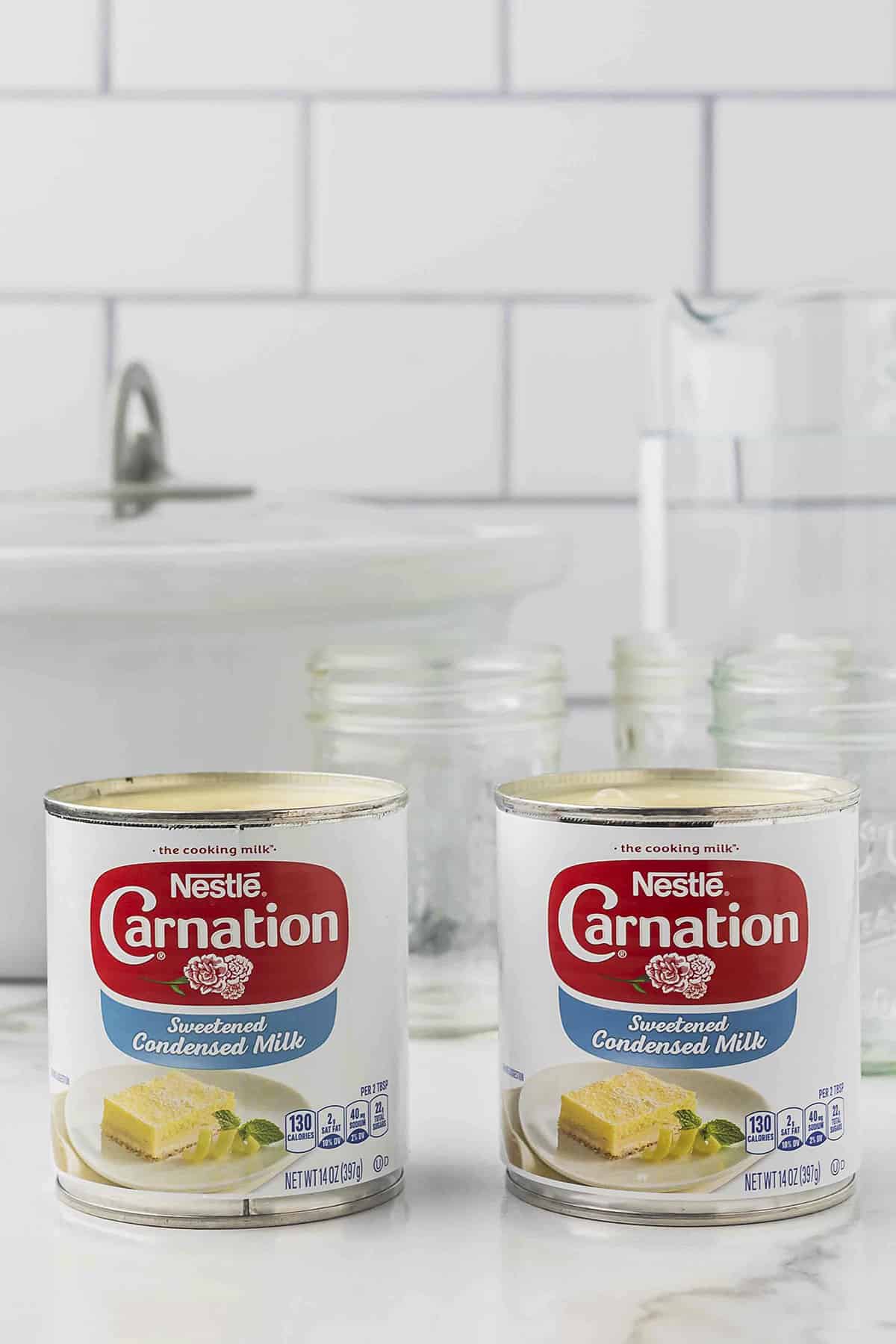 Sweetened Condensed Milk – This is a canned product that is made by evaporating most of the liquid from cow's milk and adding quite a bit of sugar. This creates a thick, creamy, rich milk that is often used in baking or drinks.
What We Love About This DULCE DE LECHE Recipe:
Simplicity: I don't know if I made this clear or not, but seriously… just one ingredient! It does take a bit of time to caramelize in the crockpot, but it's all hands off.
Versatility: You can use this homemade dulce de leche recipe to sweeten up so many other desserts and recipes! See below for some serving suggestions.
Gift-Giving: A jar of this sweetened condensed milk caramel makes a perfect gift this holiday season. Print out the recipe card to share with whomever you gift this to, because they're sure to want more.
What You'll Need:
Mason Jars – You'll need 3 half pint canning jars for preparing and storing the dulce de leche.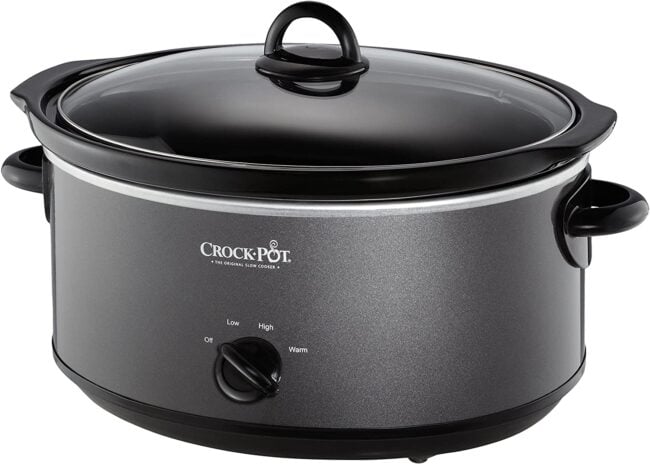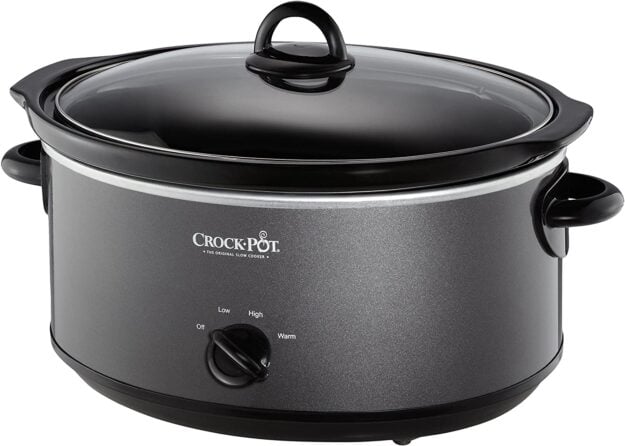 In the market for a new slow cooker? We love this 7 quart Crockpot. It's simple to use, cooks evenly, and is very budget friendly. Plus, it has a 4 1/2 star rating with over 5,000 reviews on Amazon!
How To Make Dulce De Leche: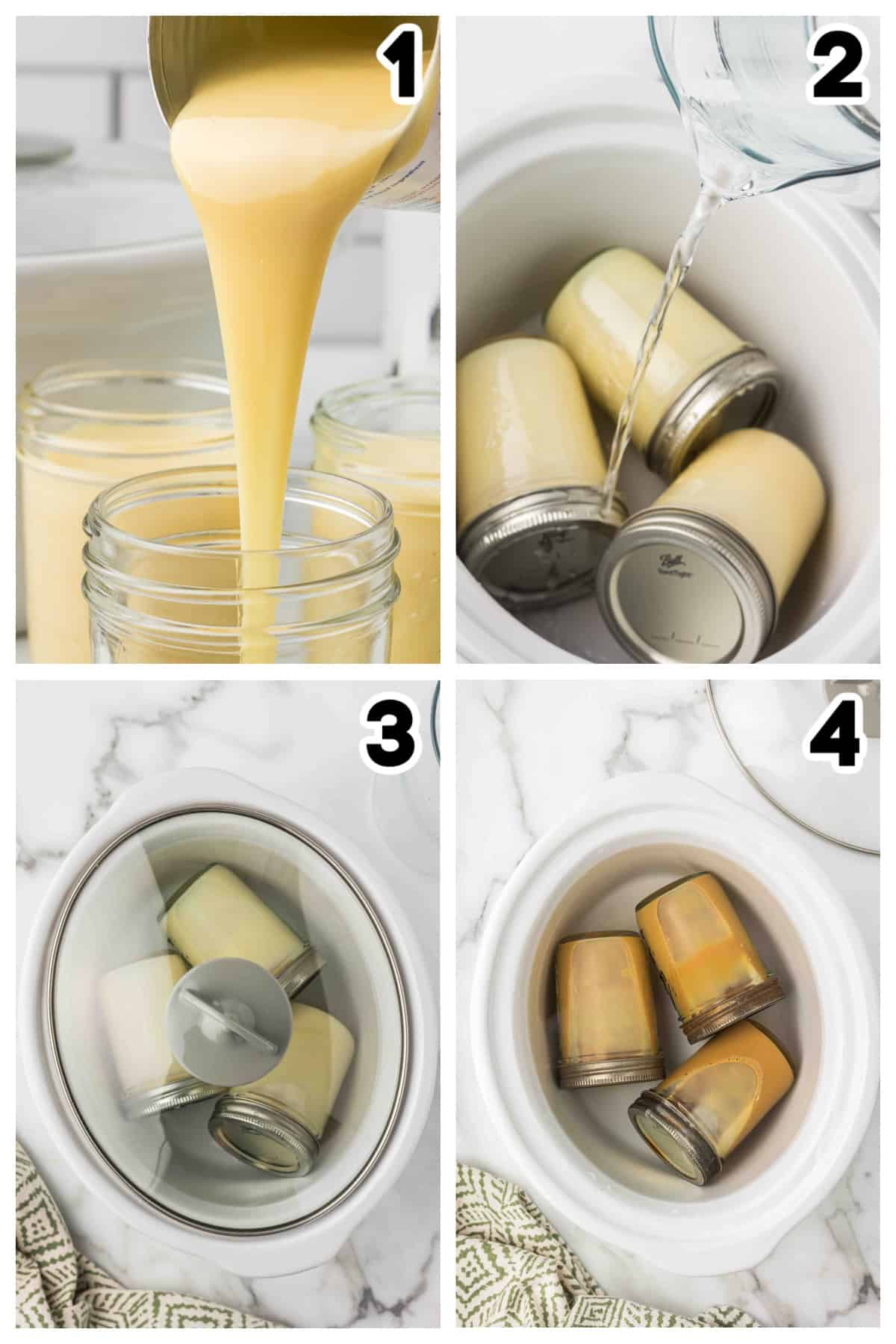 Prepare: To get started you'll just empty the two cans of condensed milk into the three canning jars and then put on the lids. Make sure they are securely in place so no water can leak in while it heats up in the crockpot.
Water: Place the jars into your slow cooker and then cover them completely with water. The water should rise at least an inch above the jars. If the water isn't covering the jars it will not heat evenly.
Slow Cook: It's going to take awhile but it'll be worth it! Let the dulce de leche slow cook in the crockpot on low heat for 10 hours. You can cook it for longer if you like, and it'll get darker in color the longer that you do.
Store: Once you've finished preparing it you can store the jarred dulce de leche in your refrigerator for about 2 to 3 weeks.
Dulce de Leche Uses:
You can use this recipe as a topping, a filling, mixed into drinks, desserts, and all kinds of good stuff. Check out some popular options below: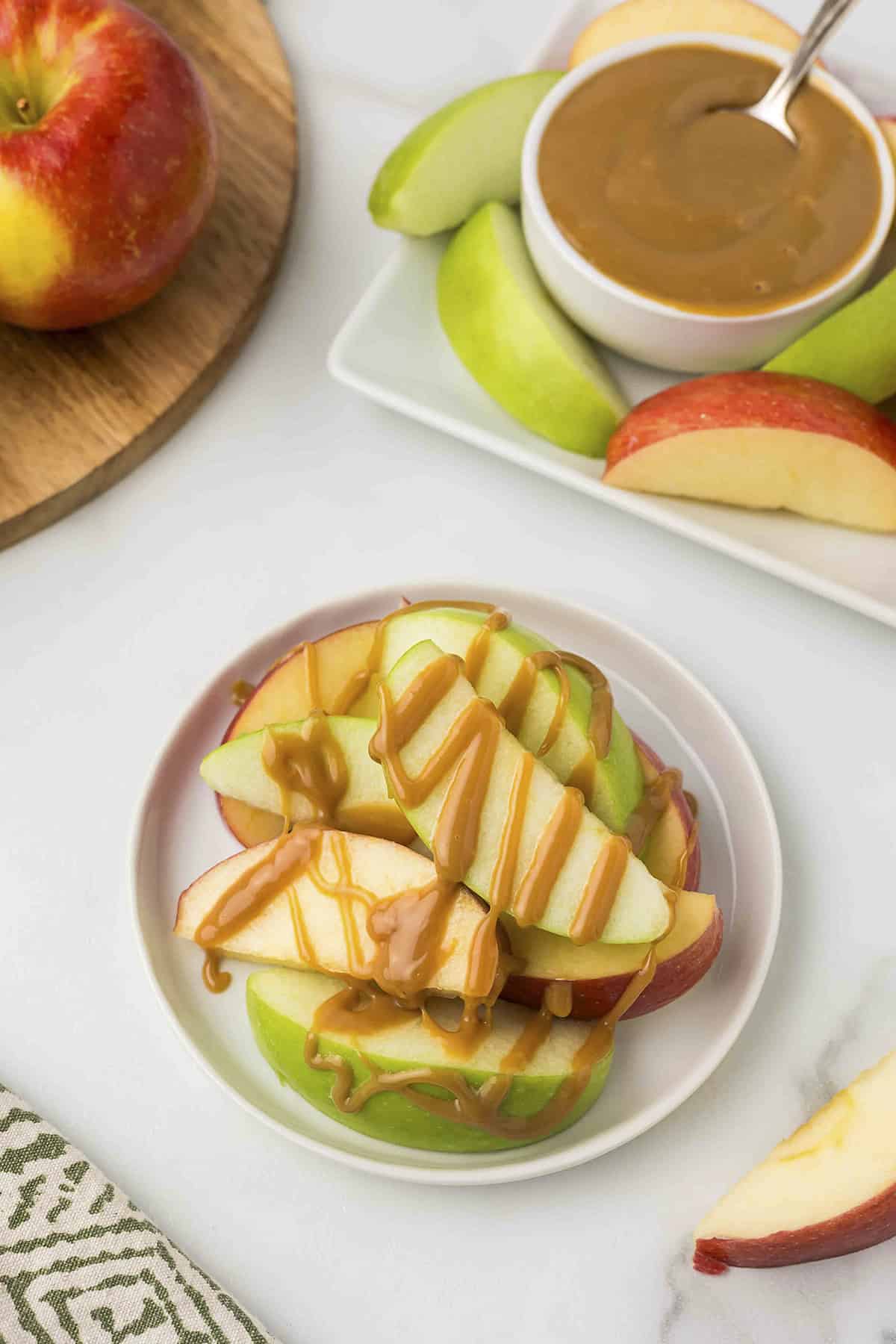 FAQ's:
How to store dulce de leche?
You can keep the jars of dulce de leche stored in the refrigerator for about 2-3 weeks! It'll last awhile which gives you plenty of time to use it in lots of other recipes.
Can I make this on the stovetop?
This recipe can be made on the crockpot, but you'll want to closely monitor it to be sure that the water level stays above the jars of milk. Boil for around 3 hours or until it's as dark and caramelized as you'd like.
Dulce de Leche vs. Caramel:
While these two treats might look quite similar and taste quite a bit alike, they're actually two different things!
Dulce de Leche is made of milk and sugar while caramel is made of water and sugar.
The two can be used very similarly, though dulce de leche is a bit richer and heavier than most caramel sauces.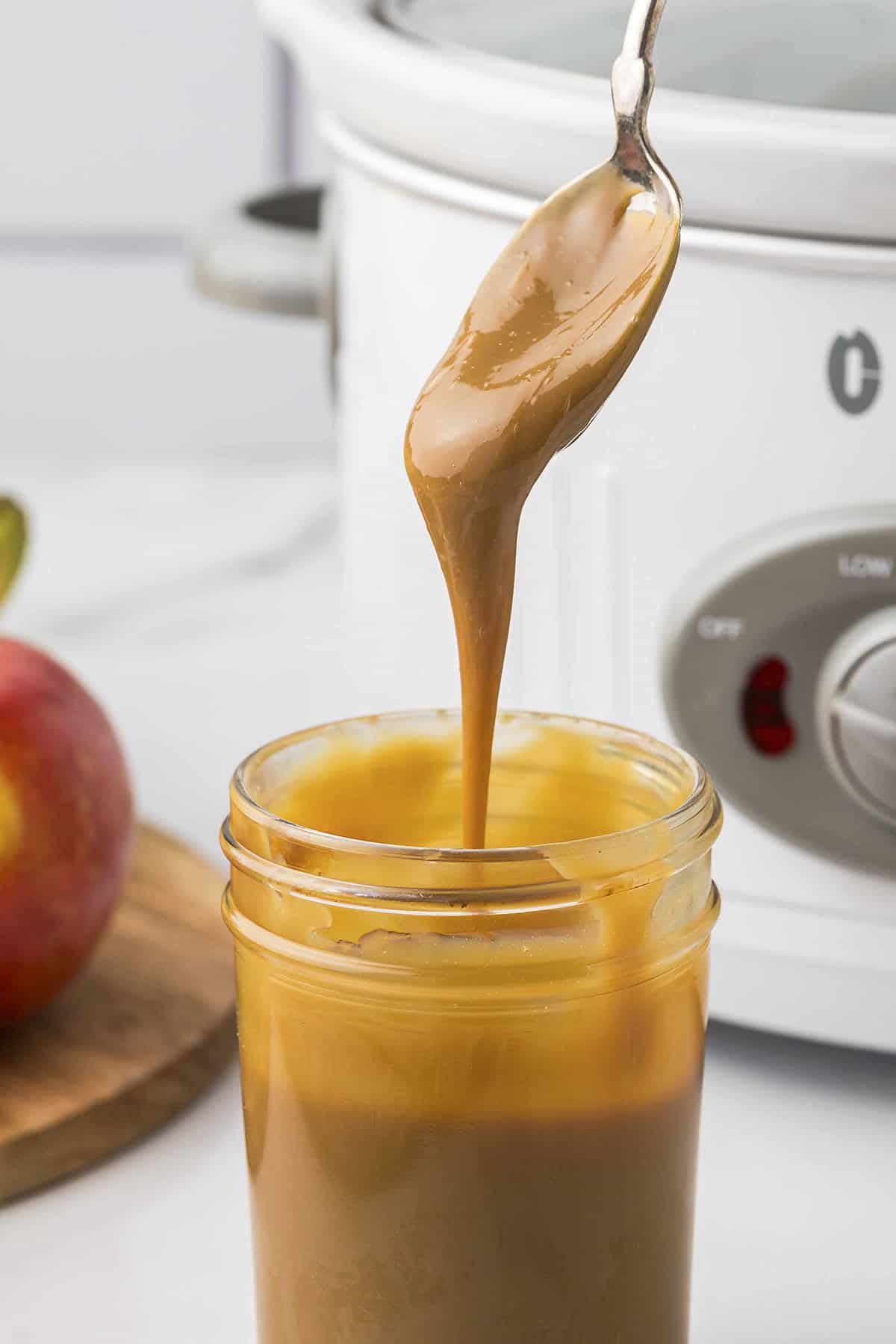 This recipe was originally shared in February 2012. It was updated with new photos and text November 2023. Original photo below: