My homemade pumpkin waffles are the perfect Fall breakfast or dessert! Made with real pumpkin, plenty of pumpkin spice, and a little love.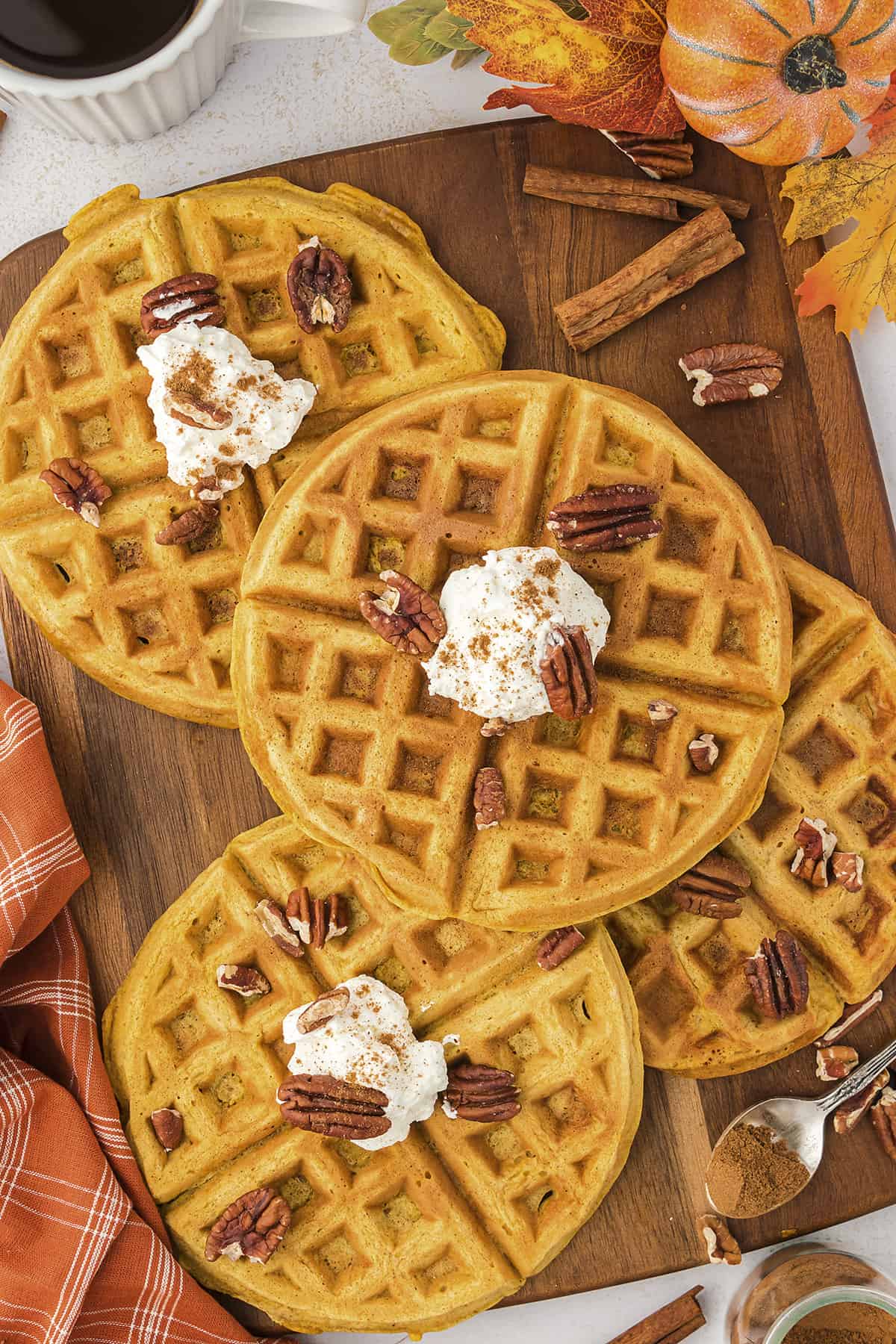 It's Fall (or close enough) and that means I'm enjoying all my favorite pumpkin recipes. Especially for breakfast! But some decisions are difficult.
Like should I have waffles or pancakes for breakfast? If you're here you probably chose the waffles. But if you're now craving pancakes, don't worry, you can make these pumpkin pancakes!
But, have you considered our pumpkin monkey bread or pumpkin coffee cake? Because those should be next on your list! 😉
But first: Pumpkin Waffles! Made from scratch with real pumpkin and warm pumpkin pie spices which make them perfect for a Fall breakfast. I'd even take these for dessert.
We love to top these with lots of butter and maple syrup but whipped cream and pecans will work too! Or maybe some honey or caramel sauce? You can enjoy our pumpkin waffle recipe any way you like.
🧇 Ingredient Notes:
This post contains affiliate links. As an Amazon associate and member of other qualifying programs, I earn from qualifying purchases.
Dry Ingredients – You'll need some standard waffle mix ingredients including all-purpose flour, brown sugar, baking powder, baking soda, and salt!
Wet Ingredients – In addition to the dry ingredients you'll mix in eggs, buttermilk, and a neutral flavored oil to prepare the waffle batter.
Pumpkin Puree – We're using real pumpkin in these homemade pumpkin waffles! Be sure to use 100% pure pumpkin puree and not canned pumpkin pie filling which contains spices and other liquids.
Pumpkin Pie Spice – Follow the link to try my own homemade pumpkin pie spice recipe! When you make your own you can adjust the amount of each spice to suit your taste, but the kind from the store works fine too!
Butter & Syrup – For serving. I'd recommend using real maple syrup for these pumpkin waffles. They're worth the good stuff!
What We Love About This Recipe:
Autumn Bliss: Embrace the essence of fall with every bite – our Pumpkin Waffles are like a cozy sweater for your taste buds, perfect for savoring crisp mornings and golden afternoons.
Warm and Spiced: The combination of cinnamon, nutmeg, and cloves add bold pumpkin flavor that's simply irresistible.
Pumpkin Perfection: Revel in the rich, velvety goodness of real pumpkin puree folded into the waffle batter, making these waffles tender and moist.
Easy Morning Indulgence: Whip up a batch in no time! Our recipe makes busy mornings a breeze, ensuring that you start your day with a breakfast that's both quick and decadent.
Family Brunch Favorite: Impress your loved ones with a scrumptious brunch that's bound to become a family tradition. These waffles are a delightful way to gather everyone around the table.
Customizable Creations: Add your favorite toppings – from toasted pecans to a dollop of whipped cream – and make each waffle a work of art that suits your unique taste.
Festive All Year Round: While these waffles scream autumn, they're delightful any time of the year. Keep the cozy vibes alive all year round with this versatile recipe.
We use and recommend this Presto Waffle Iron! It's easy to use and budget friendly with lots of good reviews. We've had ours for over 10 years now!
🎃 How To Make Pumpkin Waffles:
Dry Ingredients: To begin preparing the pumpkin waffle batter add all of the dry ingredients including the pumpkin pie spice to a large mixing bowl and whisk all that together until it is combined.
Wet Ingredients: In a separate small bowl add the eggs, buttermilk, pumpkin puree, and oil and whisk together until they are well combined. Pour the wet ingredients into the dry and stir until just combined. A few lumps are fine. Don't overmix the waffle batter!
Cook: When your waffle iron has preheated spray on some cooking spray and pour in the pumpkin waffle batter to make the first waffle. Cook the waffles per the instructions for your waffle iron until they are crisp and browned.
Tip: Heat your oven to 200 degrees and place a wire rack over a sheet pan to place the waffles on if you'd like to keep them warm in the oven while the others cook. This way you can serve them all at once!
Serving Suggestions:
You can enjoy these pumpkin Belgian waffles with some butter and syrup or try it with all kinds of other great toppings. And don't forget mix-ins! Pumpkin chocolate chip waffles sound pretty good to me.
Whipped Cream
Chopped Pecans
Chocolate Chips
Cinnamon Chips
Caramel Sauce
Honey
FAQ's:
How many waffles does this make?
This recipe makes around 8 waffles in our Belgian waffle maker, but it will depend heavily on the size of your waffle maker how many waffles you end up with.
How long to cook the waffles?
You'll want to consult the instructions for your waffle iron. It could vary but most waffle irons have an indicator when the waffle is ready. If not just wait for the steam to stop coming out and your waffle should be perfectly cooked.
MORE FAVORITE PUMPKIN RECIPES!
I've got lots of pumpkin recipes and you can check them all out here or try some of my favorites below:
Pumpkin Waffles
These pumpkin waffles are the perfect Fall breakfast or dessert! They're made with real pumpkin and warm pumpkin pie spice and you can customize them with all your favorite mix-ins and toppings like chopped pecans, chocolate chips, and maple syrup. We enjoy them all season long!
Prep5 minutes
Cook30 minutes
Total35 minutes
Ingredients
2 ½ cups all-purpose flour
¼ cup brown sugar
2 teaspoons baking powder
2 teaspoons pumpkin pie spice
½ teaspoon baking soda
½ teaspoon salt
4 large eggs
2 ½ cups buttermilk
1 cup canned pumpkin puree
¼ cup neutral flavored oil
Butter and syrup for serving
Instructions
Add the flour, brown sugar, baking powder, pumpkin spice, baking soda, and salt to a large mixing bowl and whisk to combine.

Add the eggs, buttermilk, pumpkin, and oil to a small bowl and whisk well to combine.

Pour the wet ingredients into the dry and stir until just combined. A few lumps are fine – don't overmix.

Preheat and grease your waffle iron. Cook in the waffle iron according to the manufacturer's directions, until waffles are crisped and browned.

Remove to a wire rack placed over a sheet pan and keep in a 200 degree oven while you finish making all of the waffles.

Serve topped with butter and maple syrup. Alternately, top with fresh whipped cream and chopped pecans for a less sweet version.
Tips & Notes:
We get around 10 waffles, depending on which waffle iron we use. Some irons are larger/deeper than others and will make more/less waffles. We love these topped with butter and maple syrup, but whipped cream and pecans are delicious too.
Nutrition Information:
Serving: 1waffle| Calories: 260kcal (13%)| Carbohydrates: 35g (12%)| Protein: 8g (16%)| Fat: 10g (15%)| Saturated Fat: 2g (13%)| Polyunsaturated Fat: 2g| Monounsaturated Fat: 5g| Trans Fat: 0.03g| Cholesterol: 81mg (27%)| Sodium: 267mg (12%)| Potassium: 283mg (8%)| Fiber: 2g (8%)| Sugar: 9g (10%)| Vitamin A: 4021IU (80%)| Vitamin C: 1mg (1%)| Calcium: 133mg (13%)| Iron: 2mg (11%)