A crockpot full of our decadent Nutella Hot Chocolate is the perfect treat on a chilly night. Warm and cozy, rich and loaded with chocolate hazelnut flavor, this Nutella Hot Chocolate made in the crockpot is perfect for your next holiday party!
The holidays just wouldn't be the same without all of the traditional treats that come with it, and hot chocolate is no exception!
It's just about the perfect way to warm up on a cold winter day and it's something that most everyone enjoys.
So I figured why not take the traditional hot chocolate and upgrade it a bit this year with my favorite chocolate hazelnut spread? That's right, we're putting Nutella in our hot chocolate and this recipe makes enough for 10! A crockpot full of cozy goodness!
You'll have to give my White Hot Chocolate or my Peppermint Mocha a try too! They're also Christmas holiday favorites!
Serving Suggestions:
This post contains affiliate links. As an Amazon associate and member of other qualifying programs, I earn from qualifying purchases.
This is the ideal holiday party drink and this crockpot recipes makes enough to go around. The best part is you can serve it with lots of different toppings like marshmallows or whipped cream to make the ultimate hot cocoa bar.
Create your own hot cocoa bar by laying out an assortment of toppings, such as:
Mini Marshmallows
Candy Canes
Whipped Cream
Toffee Bits
White or Dark Chocolate Shavings
Caramel Sauce
Chocolate Chips
Nutella in a squeeze bottle
Festive Sprinkles
Cinnamon Sugar
Crockpot Nutella Hot Chocolate
This Crockpot Nutella Hot Chocolate recipe is perfect for holiday parties! It makes enough for ten and you can customize your drink with your favorite toppings like marshmallows or whipped cream. You'll love the hazelnut flavor the Nutella adds to this hot holiday drink.
Prep10 minutes
Cook2 hours
Total2 hours 10 minutes
Ingredients
2 cups Nutella
14 ounces sweetened condensed milk
1 cup semi-sweet chocolate chips
1 teaspoon nutmeg optional
6 cups whole milk
¼ cup whipped topping plus more for topping
Marshmallows, Cool Whip, chocolate shavings, chocolate drizzle, a shot of liquor, and/or mini marshmallow bits, etc. for topping
Instructions
Add the Nutella, sweetened condensed milk, chocolate chips, and nutmeg to a 6 or 8 quart crockpot and stir well.

Add the milk and stir again. The chocolate will settle to the bottom and not mix well until it begins to warm up.

Turn the crockpot to low and cook while covered for 2 hours, stirring every 30 minutes. The hot chocolate will come together as the mixture gets hotter.

Once heated through and smooth, stir the whipped topping into the hot chocolate.

Ladle the hot chocolate into mugs and top with your choice of toppings.
Tips & Notes:
We like to serve this Nutella Hot Chocolate at holiday parties with an array of toppings for guests to choose from, such as mini marshmallows, whipped topping, shaved chocolate, chocolate syrup, and melted Nutella. Small bottles of aged rum or bourbon also make a great addition to individual mugs, if you'd like a spiked hot chocolate.
Nutrition Information:
Serving: 1mug| Calories: 648kcal (32%)| Carbohydrates: 76g (25%)| Protein: 12g (24%)| Fat: 33g (51%)| Saturated Fat: 26g (163%)| Polyunsaturated Fat: 1g| Monounsaturated Fat: 4g| Trans Fat: 0.01g| Cholesterol: 32mg (11%)| Sodium: 134mg (6%)| Potassium: 716mg (20%)| Fiber: 5g (21%)| Sugar: 68g (76%)| Vitamin A: 356IU (7%)| Vitamin C: 1mg (1%)| Calcium: 370mg (37%)| Iron: 4mg (22%)
Ingredient Notes:
Nutella – This very popular chocolate hazelnut spread is good for so much more than just toast! It adds a rich chocolate and hazelnut flavor to this hot chocolate recipe.
Sweetened Condensed Milk – You can find cans of this in pretty much any grocery store. It'll add sweet, creamy flavor to the hot chocolate.
Chocolate Chips – I'm using semisweet chocolate chips but you could also use milk chocolate or dark chocolate chips, it's up to you!
Whole Milk – If you want to make this drink even more rich and creamy you could use half and half instead, or part heavy cream and part whole milk. It'll make for a richer hot cocoa, but whole milk works just fine as is!
Nutmeg – This is optional but it does add a warm flavor that goes well with the hazelnut and contrasts with the sweetness.
Whipped Topping – We add a bit of this to the hot chocolate to add even more creamy richness.
What We Love About This Recipe:
Crowd Pleaser: The crockpot makes this nice and easy to serve up a big batch of hot chocolate, keeping it warm and ready to go.
Simple: While you do need to give this a stir every 30 minutes or so, there's much less risk of burning your hot chocolate in the crockpot than there is on the stove. Makes the recipe so simple!
Customizable: Add your favorite toppings or spike your drink with a shot of rum to make this Nutella hot chocolate the perfect party drink.
How to Make Nutella Hot Chocolate:
Combine: Start by adding the Nutella along with the sweetened condensed milk, chocolate chips, and nutmeg to a 6-8 quart crockpot and stir well to combine.
Milk: You can now pour in the whole milk and stir again to combine. The chocolate chips will settle to the bottom and won't mix well until after the crockpot begins to warm up.
Slow Cook: Set your crockpot to low heat and allow the mixture to cook while covered for 2 hours. Stir it about every 30 minutes or so. The chocolate will mix in well as it melts. Stir in the whipped topping and ladle your Nutella hot chocolate into mugs for serving.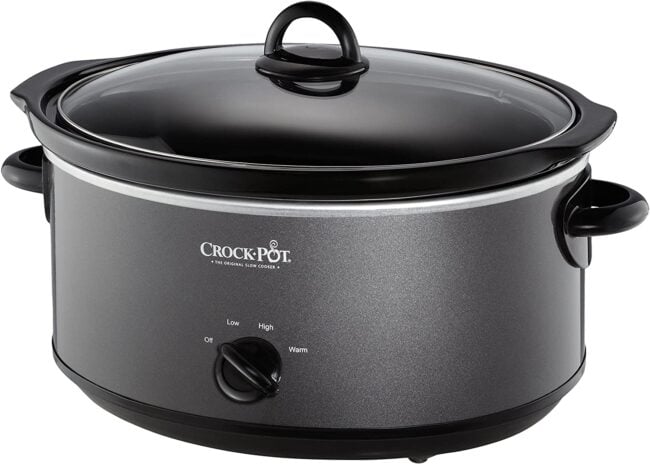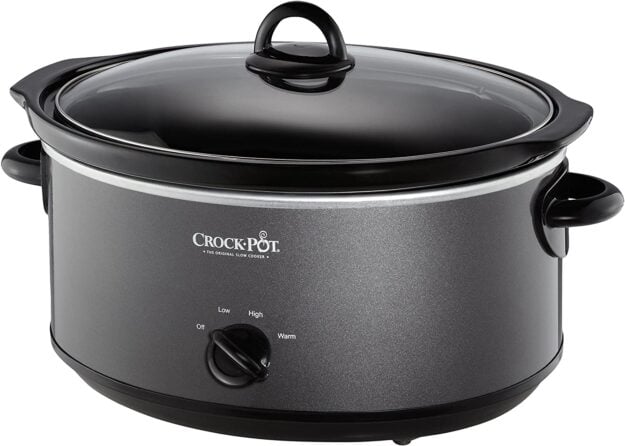 In the market for a new slow cooker? We love this 7 quart Crockpot. It's simple to use, cooks evenly, and is very budget friendly. Plus, it has a 4 1/2 star rating with over 5,000 reviews on Amazon!
Spiked Hot Chocolate:
I'm all about festive holiday drinks and that includes the kind with liquor! You can easily turn this into a spiked hot chocolate by adding a shot of rum or bourbon!
I've got a few other favorite Christmas holiday drinks that you might enjoy as well. Try this colorful Christmas Cranberry Cocktail or the always popular Spiked Eggnog!
This light and fruity Christmas Sangria is another great choice for your holiday party!
Stove Top Hot Chocolate:
If you don't have a crockpot or just don't want to use one this Nutella hot chocolate could also be prepared in a Dutch oven or a heavy bottomed pot on the stovetop.
Simply combine all of the ingredients in the pot and heat over low heat, stirring frequently, until it has heated through and the chocolate has melted and is smooth.
Serve it hot with your favorite toppings!
FAQ's:
How to store hot chocolate?
Ladle the hot chocolate into large mason jars or other airtight containers and, once it has cooled, seal the jars or container and store them in the refrigerator. The hot chocolate will stay good for up to 3 days.

How to reheat hot chocolate?
Transfer the desired portion to a heavy-bottomed pot and reheat it on the stovetop over medium-low heat until warm, stirring frequently. You could also pour a bit into a mug and microwave it in 30-second intervals (stirring between each) until heated through.