Do you know what's happening this week in my world? Packing and stressing and running around like a maniac. We're going on vacation!
We leave Saturday for Kansas City for the night (I plan to eat my weight in barbecue) and then we fly down to Disney World!
I was never a Disney girl until I attended a food blogging conference there last year. I took the family with me, we had a great time, all of us became Disney park converts and we had our second trip booked almost immediately. I'm one of those annoying people who, when asked to describe our first Disney trip, exclaims "it was all so magical!"

It's annoying and I'm sorry. I can't help it. It really was magical!
That said, I'm still not okay with our travel agent beginning every email to me with "I hope you're having a Disney day!" That makes me feel stabby. I'm a grown woman who has been busy scrubbing the toilets and folding umpteen loads of laundry and complaining about my husband tracking dirt all over my freshly swept floors all day long. There is nothing Disney about my day until I'm actually at Disney.
Anyway, because what I really should have been doing was packing, I made muffins instead. I'm a procrasti-baker.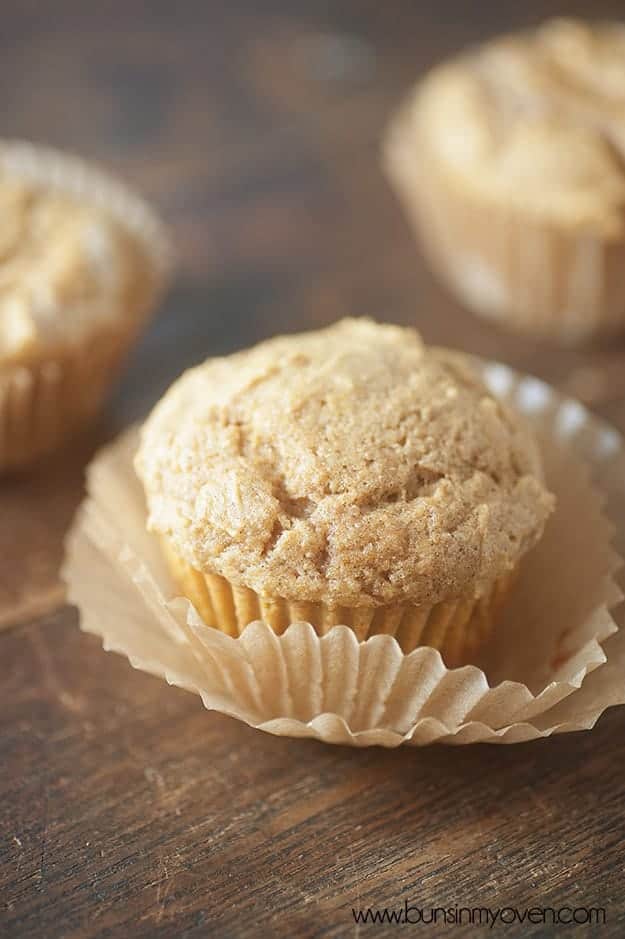 Muffins don't get made all that often in my house. After all, I am the (self-proclaimed) donut queen.
But, sometimes you just really, really need a muffin. Sometimes you really need to break out your BEST muffin recipe and do a little experimenting. Sometimes that experimenting includes Biscoff spread and Nutella.
You guys. I love my life. My tasty, delicious life full of things like pumpkin, Nutella, and Biscoff.
Would you just look at the melty Biscoff oozing out of the center of that muffin? It's a dream come true.
My family was split right down the middle with these. Half of us preferred the Biscoff version and half of us preferred the Nutella version. I didn't try mixing together both Nutella and Biscoff in one muffin, but I imagine that only great things would come from that. You should try it and report back.
This muffin recipe is easy to whip up and it makes a moist muffin full of pumpkin flavor. We really love these muffins and my kids have been asking for them daily. I haven't heard one word about their sugary cereal or requests for donuts or whining that they need pancakes since I made these muffins.
Pumpkin Muffins with Biscoff & Nutella Filling
Would you just look at the melty Biscoff oozing out of the center of that muffin? It's a dream come true.

Prep15 minutes
Cook24 minutes
Total39 minutes
Ingredients
1/4 cup butter softened
1/2 cup sugar
1/4 cup packed brown sugar
2/3 cup canned pumpkin
1/2 cup buttermilk
2 large eggs
2 cups all-purpose flour
1 teaspoon baking soda
1/2 teaspoon baking powder
1 teaspoon cinnamon
1/4 teaspoon ginger
1/8 teaspoon cloves
1/4 teaspoon salt
1/4 cup Biscoff
1/4 cup Nutella
Instructions
Pre-heat oven to 350 degrees.

Cream together butter and sugars until creamy.

Beat in pumpkin, buttermilk, and eggs.

Combine the dry ingredients in a small bowl and mix into the batter. Stir just until combined. Set aside.

Grease or line a muffin tin with papers and drop one to two tablespoons of the batter into each muffin cup.

Drop one teaspoon of Biscoff in half of the muffin cups. Drop one teaspoon of Nutella in the remaining half.

Mix and match as you choose.

Add one more tablespoon of batter to each muffin cup to cover the filling.

Bake for 24-27 minutes or until baked through. Cool for 5 minutes before removing to a cooling rack.
Nutrition Information:
Calories: 246kcal (12%)| Carbohydrates: 37g (12%)| Protein: 4g (8%)| Fat: 9g (14%)| Saturated Fat: 5g (31%)| Cholesterol: 42mg (14%)| Sodium: 200mg (9%)| Potassium: 123mg (4%)| Fiber: 1g (4%)| Sugar: 18g (20%)| Vitamin A: 2300IU (46%)| Vitamin C: 0.6mg (1%)| Calcium: 43mg (4%)| Iron: 1.6mg (9%)