Our Peppermint Mocha is the perfect way to start your morning during the holidays. Make this a hot latte to warm you up, or serve this up as an Iced Peppermint Mocha! Delicious either way! Better than Starbucks and ready in minutes.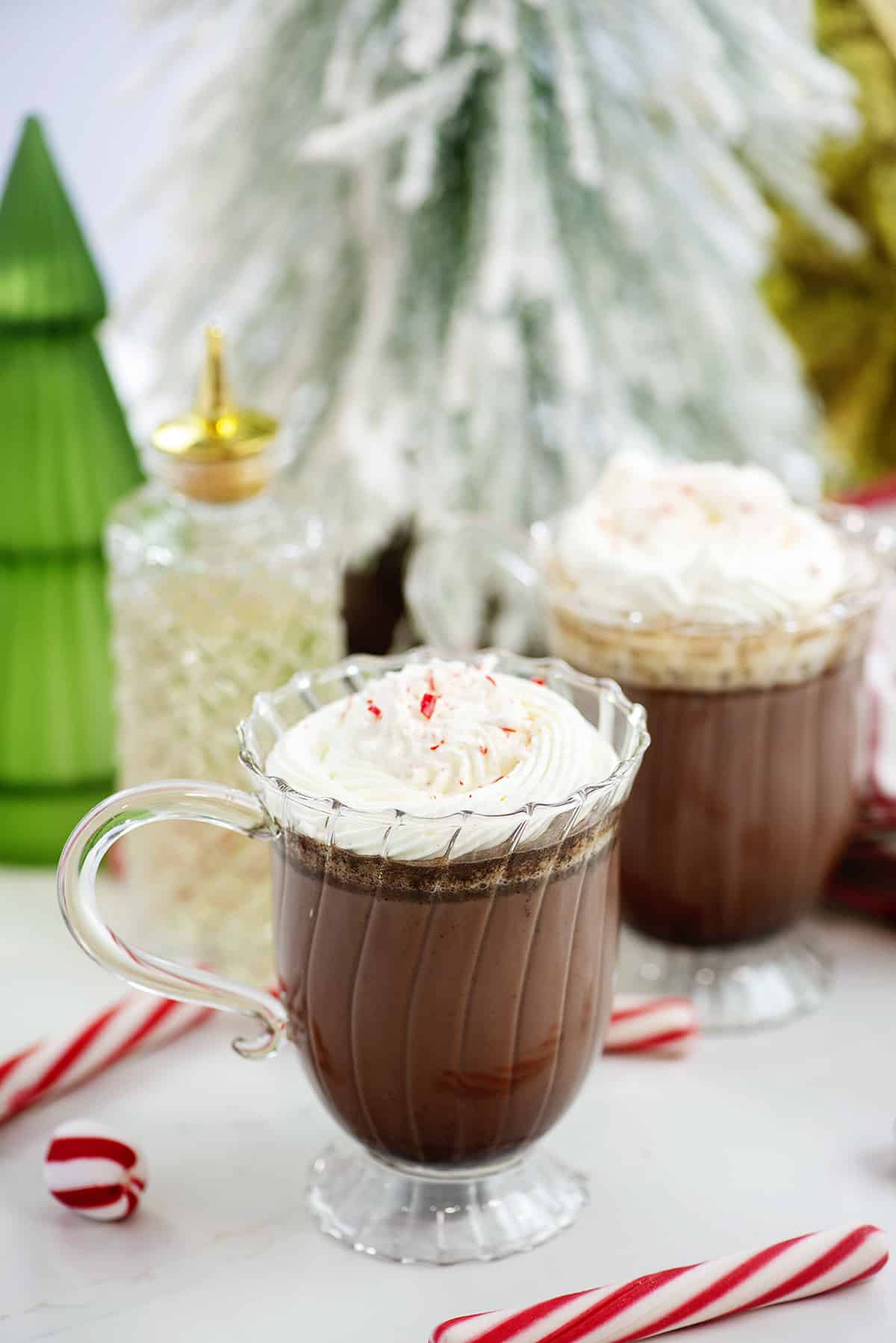 Back with another coffee house favorite for you and this one features our homemade peppermint syrup!
We love a hot or iced peppermint mocha latte in the mornings during the winter (or anytime!) and this recipe couldn't be easier!
Rich, creamy, and loaded with coffee or espresso (depending on what you have on hand)!
We top our peppermint mocha with a big pile of whipped cream and a sprinkle of crushed peppermint candy. So fun!
Ingredient Notes:
This post contains affiliate links. As an Amazon associate and member of other qualifying programs, I earn from qualifying purchases.
Coffee or Espresso – You can use either strongly brewed coffee for this recipe (1/2 cup) or you can use espresso. We use 4 shots here, because we like the flavor and the caffeine – feel free to drop it down to 2 or 3 shots, if that's more your style.
Peppermint Syrup – Try my homemade peppermint syrup recipe! It works for this peppermint mocha and all kinds of hot and cold drinks, like our white hot chocolate!
Chocolate Syrup – This adds sweetness and chocolate flavor.
Cocoa Powder – This is going to add a deeper chocolate flavor.
Whole Milk – We like our drink nice and creamy so we recommend whole milk here. This will work with any variety of milk you like, including dairy alternatives like oat milk!
Whipped Cream – We love to serve this homemade peppermint mocha with some whipped cream on top!
What We Love About This Recipe:
Tastes like it came from the local coffee shop, but no need to leave your house!
It's fun to play around with the ingredients to make the perfect drink – add as much chocolate syrup or peppermint syrup as you like!
You can serve this up hot and steamy or ice cold! It's tasty either way.
How To Make Peppermint Mocha:
Heat: To get started you'll add the whole milk, chocolate syrup, and cocoa powder to a bowl or saucepan and heat together in the microwave or on the stove top until hot. Whisk it all together until well combined.
Helpful Tip!
If you want a less sweet version of this drink you can omit the chocolate syrup, which adds most of the sweetness to the drink. For a sweeter version, use more chocolate syrup or add a tablespoon or more of simple syrup or vanilla syrup.
Combine: You can now pour the milk and cocoa mixture into a mug with the coffee or espresso and then mix in the peppermint syrup. Stir all that up until combined.
Serve: That's pretty much it! We like to finish these off by serving them with some whipped cream on top and sprinkling on some crushed peppermint candy. This peppermint mocha is such a great way to start your day during the holidays!
Iced Peppermint Mocha
Looking for an iced version of our peppermint mocha? We've got you covered!
Whisk the chocolate syrup and cocoa powder into the hot coffee or espresso until the cocoa powder has dissolved into the hot drink. Be sure your coffee or espresso is freshly brewed and very hot or the cocoa powder won't dissolve as well.
Pour over a glass full of ice and top with the milk. Stir to combine.
Sugar Free Peppermint Mocha
It's simple to make this drink sugar free and low carb!
Use your favorite sugar-free chocolate syrup. We like Hershey's!
Follow the instructions for making the peppermint syrup with a sugar substitute rather than sugar.
For an even lower carb drink, use unsweetened almond milk in place of the whole milk.
Separation:
Cocoa powder doesn't actually dissolve very well into milk or coffee, so you'll want to whisk, whisk, whisk to combine it in the hot liquid.
It may still separate a bit as it cools, but you can easily just give the drink a stir and it'll come back together nicely.
Peppermint Mocha FAQ:
What is in a peppermint mocha?
A peppermint mocha is made with brewed coffee or espresso, the milk of your choice, chocolate, and a sweet peppermint syrup. The result is a deliciously creamy coffee drink that can be served hot or over ice.
How do I make this sugar free?
This recipe can easily be made sugar free by using a sugar free chocolate syrup and swapping the sugar in the peppermint syrup for your favorite sweetener. We recommend allulose, a natural sweetener that tastes like sugar.
Peppermint Mocha
We use our homemade peppermint syrup to make this latte and it adds such a fun flavor. You can serve this hot or iced!
Prep5 minutes
Cook10 minutes
Total15 minutes
Ingredients
¾ cup whole milk see notes
2 tablespoons chocolate syrup
1 tablespoon cocoa powder
½ cup strong brewed coffee or espresso
2-3 tablespoons peppermint syrup
Whipped cream for serving
Instructions
Heat the whole milk, chocolate syrup, and cocoa powder together in the microwave or on the stove top until hot. Whisk well to combine.

Pour the milk into a mug along with the coffee. Stir in the peppermint syrup to taste.

Top with whipped cream and serve hot.
Tips & Notes:
Milk: We prefer whole milk, but any variety of dairy or nondairy milk will work fine here. Oatmilk is very creamy and delicious in this latte. Variations: For a less sweet version, leave out the chocolate syrup. For a sweeter version, add more chocolate syrup or stir in simple syrup to taste. Separation: Cocoa powder doesn't dissolve very well into hot liquids, so it may separate a bit the longer it sets and cools. Just stir to combine again and you're good to go. Iced Peppermint Mocha: Whisk the chocolate syrup and cocoa powder together with very hot coffee or espresso to combine. Pour over ice and top with milk and peppermint syrup. Stir to combine.
Nutrition Information:
Serving: 1latte| Calories: 351kcal (18%)| Carbohydrates: 69g (23%)| Protein: 8g (16%)| Fat: 7g (11%)| Saturated Fat: 4g (25%)| Polyunsaturated Fat: 0.3g| Monounsaturated Fat: 2g| Cholesterol: 22mg (7%)| Sodium: 139mg (6%)| Potassium: 601mg (17%)| Fiber: 3g (13%)| Sugar: 58g (64%)| Vitamin A: 296IU (6%)| Vitamin C: 0.3mg| Calcium: 245mg (25%)| Iron: 3mg (17%)