Grape Jelly Lil Smokies are the ultimate party snack! Sweet, savory, and so hard to resist! Just 3 ingredients and about 3 minutes of hands on time.
Gosh, I love holiday season and football season! It's like there is always an excuse to make some sort of delicious snack or treat to share with friends and family.
Our Grape Jelly Meatballs have been a fan favorite for years and years now. It's a classic recipe that most people grew up eating, so it's no surprise that people love it.
We wanted to share our version using Lil Smokies, too! Just as tasty as the meatballs and a nice way to change things up!
Plus, who doesn't love a 3 ingredient recipe that comes together with less than 5 minutes of hands on time?
Ingredient Notes:
This post contains affiliate links. As an Amazon associate and member of other qualifying programs, I earn from qualifying purchases.
Lil Smokies Sausages – These are also known as cocktail sausages and most grocery stores will carry them. Any variety is fine too: pork, beef, chicken. Some use a variety of meats.
Chili Sauce – I'm using the Heinz brand – our preferred brand here, but you can use what you like. This chili sauce is not spicy hot, it just adds a little kick!
Grape Jelly – Jam or jelly both work well here.
What We Love About This Recipe:
Just three simple ingredients!
This snack is very popular at holiday parties, potlucks, game day gatherings, and just about any event. They will go fast – you might even double the recipe.
Crock Pot Lil Smokies are a classic, vintage recipe that everyone loves.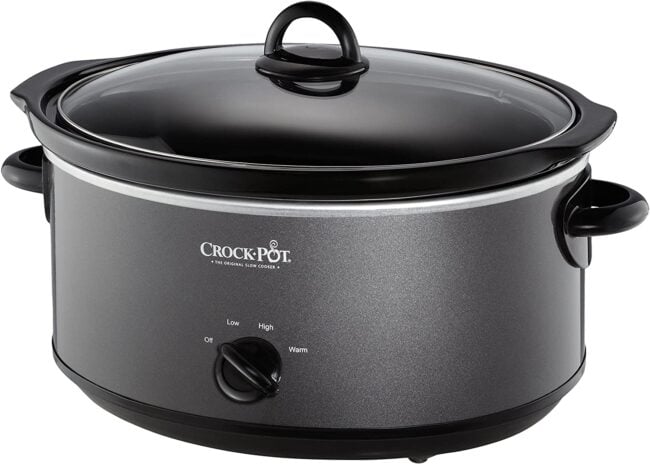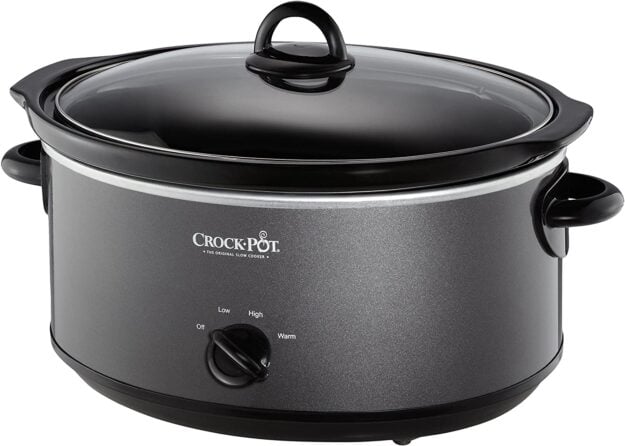 In the market for a new slow cooker? We love this 7 quart Crockpot. It's simple to use, cooks evenly, and is very budget friendly. Plus, it has a 4 1/2 star rating with over 5,000 reviews on Amazon!
How to Make Crock Pot Lil Smokies:
Sausages: To get started you'll want to drain any liquid from the package of Lil Smokies. Add the whole (28oz.) package of sausages to the crockpot.
Sauce: Add the grape jelly and chili sauce to your crockpot with the cocktail sausages. Stir it up until it's all well combined.
Slow Cook: Place the lid on your crockpot and cook on low for 4 hours or high for 2 hours! Stir it up well before serving! The sauce will thicken up a bit as they cool if you transfer them to a serving dish, or you can serve these warm right out of the crockpot!
These grape jelly lil smokies are the perfect party snack! I like to serve them with toothpicks for easy mess free snacking. Try them at your next holiday party or game day gathering.
Another favorite recipe featuring Lil Smokies are these Keto Lil Smokies – wrapped in bacon and tossed in spices!
Helpful Tip!
Do yourself a favor and use some crockpot liners for this recipe! It makes cleanup a breeze.
Stove Top Method:
We think it's easiest to just dump this recipe into a slow cooker and go about our day, but you can also make these on the stove!
Add all of the ingredients to a large pot and cook over low heat, stirring often, until warmed through.
Be sure not to let the sauce burn in the bottom of the pan, but otherwise this is pretty simple!
Variations:
Many people prefer to use cranberry sauce in place of the grape jelly! It does add a nice tang to the recipe. Just use an equal amount of jellied cranberry sauce.
You could easily skip the jelly and chili sauce and just use your favorite BBQ sauce in this recipe. They won't be the same, but they'll still be tasty!
FAQs:
What are little smokies?
The Lil Smokies brand is by Hillshire Farm, and it's what most people are probably familiar with. They're just cocktail sausages, or cocktail weenies. Basically these are mini smoked sausages!
Do I have to use chili sauce?
Chili sauce helps balance out the sweetness of the grape jelly. We would not recommend skipping the chili sauce.
How to store leftovers?
If you somehow don't eat every last one of these addictive grape jelly sausages then you can keep leftovers in an airtight container in the fridge with some of the sauce. They'll last for about 4-5 days.
Grape Jelly Lil Smokies
These are a classic, vintage recipe that I grew up eating! Perfect for holidays or game day parties. Everyone loves these and we love how simple they are with just 3 ingredients!
Prep5 minutes
Cook2 hours
Total2 hours 5 minutes
Ingredients
28 ounces Lil Smokies sausages
12 ounces chili sauce
1 ½ cups grape jelly
Instructions
Drain any liquid from the package of Lil Smokies and add the sausages to a crockpot.

Add the chili sauce and grape jelly to the crockpot and stir to combine.

Cover and cook on low for 4 hours or high for 2 hours.

Stir to coat the sausages in the sauce.

Serve hot with toothpicks.
Tips & Notes:
These make a great appetizer and we usually just serve them straight from the crockpot with plates and toothpicks for guests to grab and munch. If you place them in a serving dish, the sauce will thicken a bit as the sausages cool.
Nutrition Information:
Calories: 343kcal (17%)| Carbohydrates: 36g (12%)| Protein: 9g (18%)| Fat: 18g (28%)| Saturated Fat: 6g (38%)| Polyunsaturated Fat: 2g| Monounsaturated Fat: 9g| Cholesterol: 42mg (14%)| Sodium: 1070mg (47%)| Potassium: 252mg (7%)| Fiber: 1g (4%)| Sugar: 25g (28%)| Vitamin A: 193IU (4%)| Vitamin C: 8mg (10%)| Calcium: 21mg (2%)| Iron: 1mg (6%)