These grilled peanut butter and jelly sandwiches take a standard PB&J sandwich to the next level! The warm melty peanut butter is so good!
Yes, I AM mildly embarrassed that I'm putting this 'recipe' up on the internet, but I promise it's not because I think you couldn't figure this out on your own!
It's just because, if you're anything like me, you never really thought about grilling the standard PB&J and I really need to make sure the world knows that this is an option. A good option. The best option, even.
The standard peanut butter and jelly sandwich is always a fine option for a quick lunch, but oh gosh. When you grill it, it's suddenly something magical and I can almost guarantee people are going to ask for a second sandwich.
The peanut butter gets so melty and the jelly gets warm and it basically turns into dessert for lunch. These are a must make!
Ingredient Notes: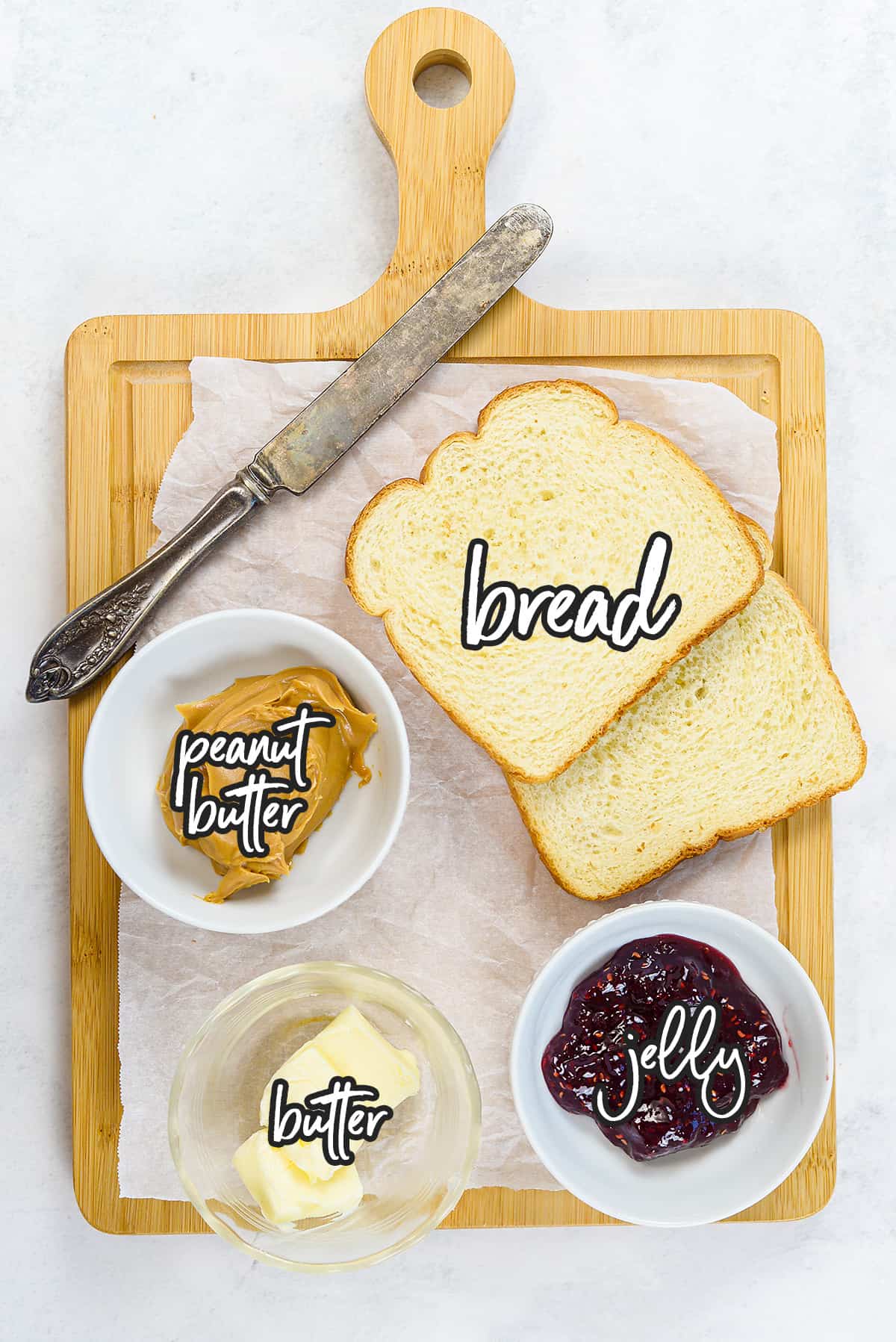 Sandwich Bread – Nothing special here, just your average loaf of sandwich bread. Use whatever brand you normally would for making PB&J sandwiches!
Peanut Butter – We love smooth peanut butter but you can use the chunky variety if that's what you prefer!
Jelly – Use whatever kind of jelly or jam you like! I'm a raspberry jam girl myself.
Butter – Salted butter adds a nice pop of flavor and crunch to the bread.
What We Love About This Recipe:
Make a PB&J sandwich just how you like it, slather on some butter, and grill it up! It's so simple.
This makes a great lunch, but something about the warm and melty interior gives it dessert vibes too!
How To Make Grilled Peanut Butter & Jelly Sandwiches: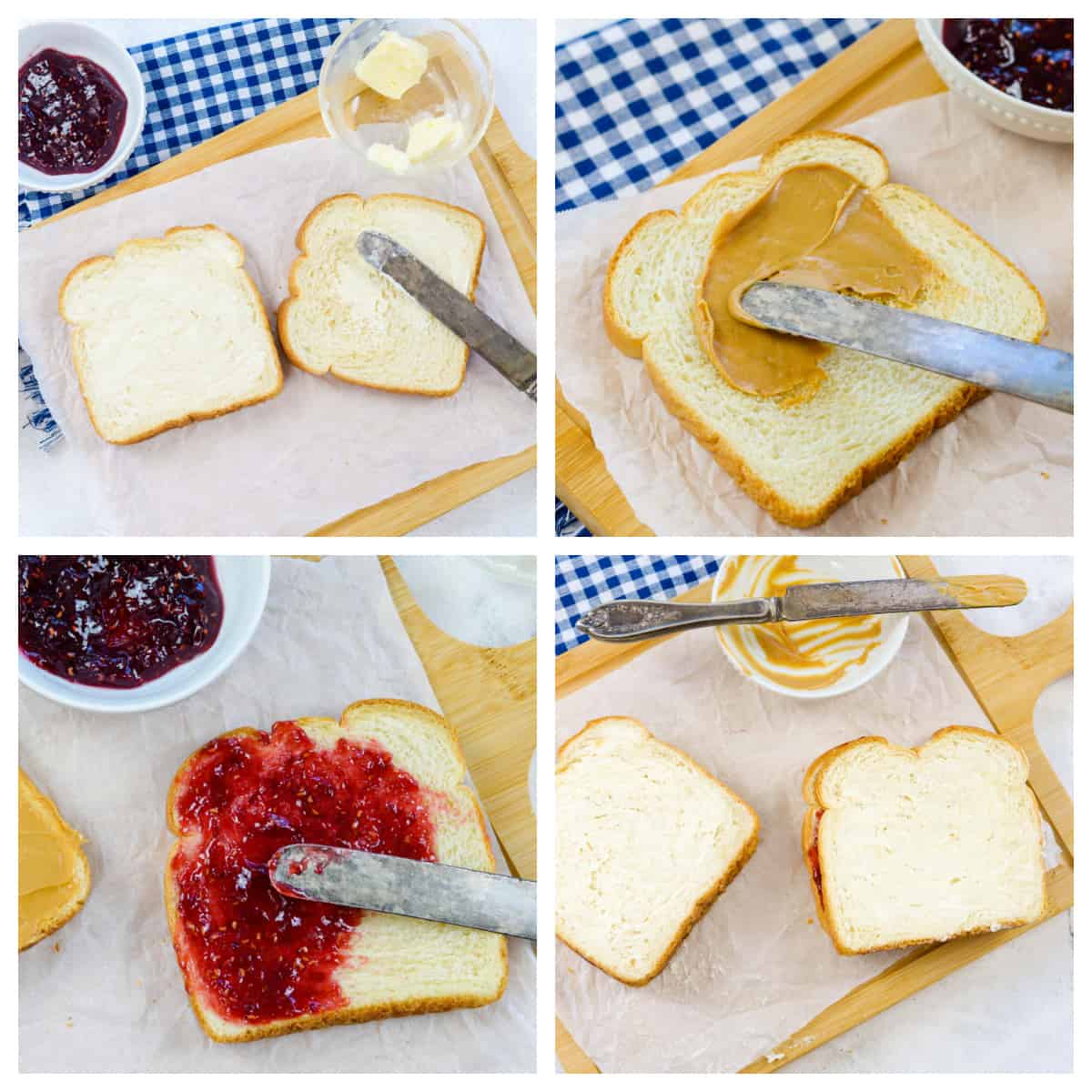 PB&J: This is pretty much the easiest recipe ever! You'll start by making your normal PB&J sandwich just the way you like it. Once you've got it ready, you'll slather some butter on the outsides of the sandwich!
Grill: If you've ever made a grilled cheese sandwich, then you know exactly what to do! Heat a griddle or a skillet and start grilling.
It'll take about 4 to 6 minutes, flipping once, until they've turned a nice golden brown color and the peanut butter and jelly are melty!
Karly's Tip:
Let your grilled sandwich rest for a few minutes before cutting. That melty peanut butter needs a second to firm up just a bit.
And be sure to have napkins and a glass of cold milk handy!
Variations:
You don't have to stick to the usual PB&J! There all kinds of great ways to make grilled sandwiches with peanut butter, jelly, and other ingredients. Here are a few suggestions:
Grilled Peanut Butter and Banana
Grilled Peanut Butter and Nutella
Grilled Peanut Butter and Marshmallow Fluff (AKA – Fluffernutter)
Grilled Peanut Butter and Honey
Grilled Peanut Butter and Jelly with Bacon (Don't judge me)
Grilled Peanut Butter and Jelly with Cinnamon
Feel free to use a different type of nut butter too like almond butter or sunflower butter!
FAQs:
How to store grilled PB&J?
I wouldn't even try! These are made to be eaten fresh and hot. You could store them in the fridge like a regular PB&J sandwich, but that would be sad.
Should I use crunchy or creamy peanut butter?
We prefer the smooth creamy kind of peanut butter but you can definitely use either kind. Make your PB&J just the way you normally would, and then grill it!
MORE PEANUT BUTTER AND JELLY RECIPES!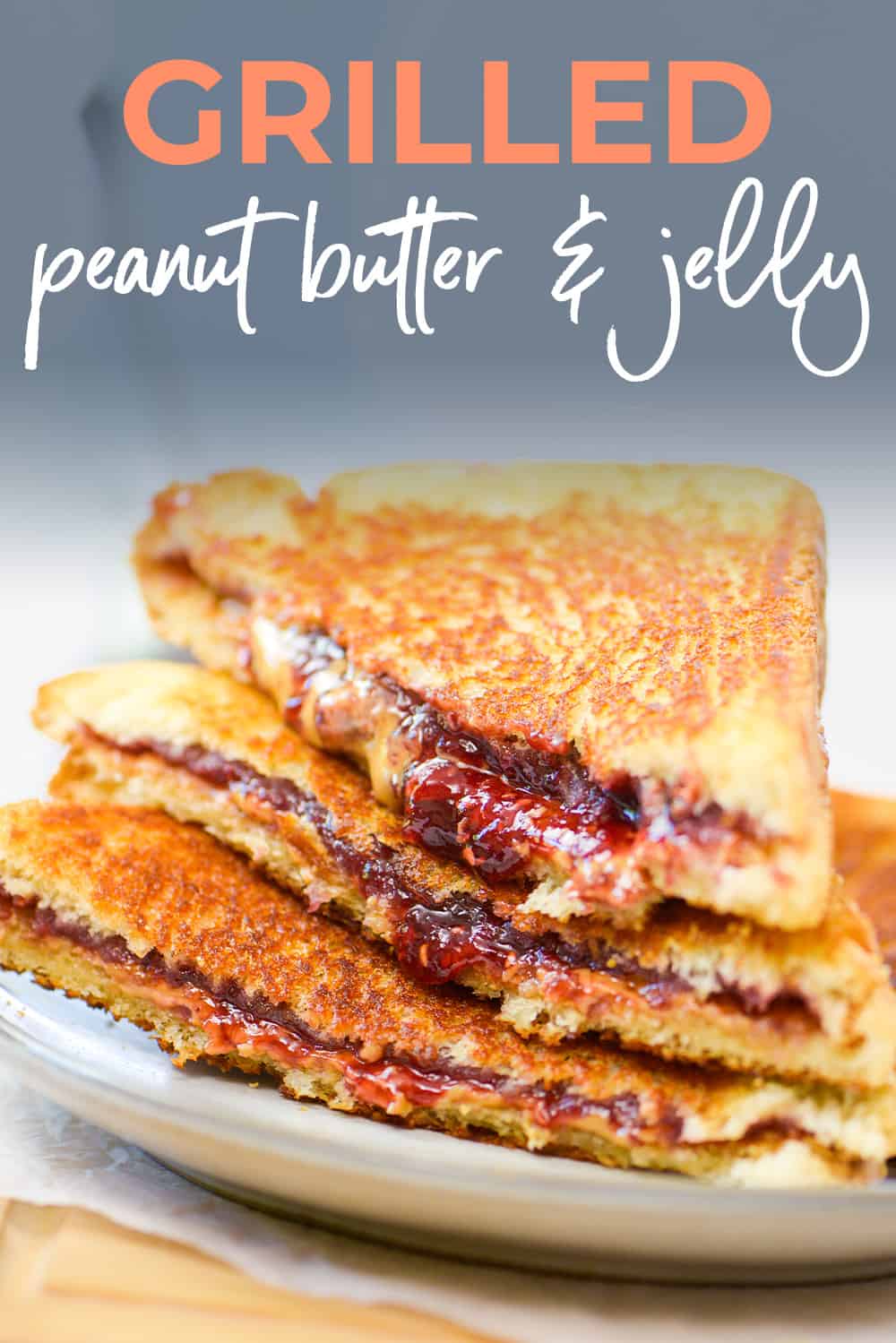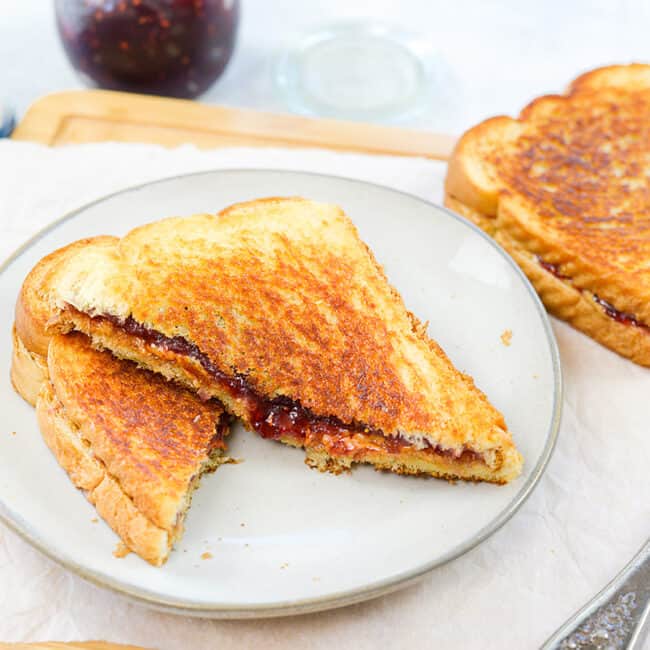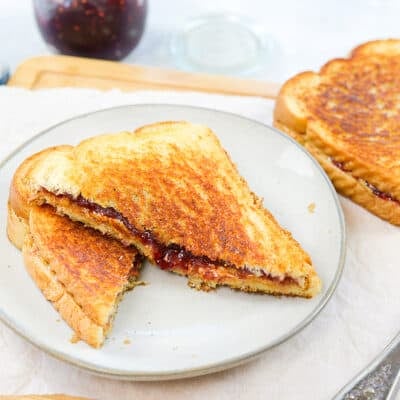 Grilled Peanut Butter and Jelly
Seems silly to share a recipe for this, but this sandwich really is a must make! The warm peanut butter and jelly paired with the toasted, buttery bread is hard to resist and really turns that classic sandwich into something special!
Prep5 minutes
Cook5 minutes
Total10 minutes
Ingredients
2 slices sandwich bread
2 tablespoons peanut butter any variety
1 tablespoon jelly any variety
1 tablespoon softened butter
Instructions
Spread the peanut butter on one slice of bread. Top with the jelly.

Close the bread to make a sandwich. Spread the outside of the sandwich with the butter.

Spread the outside of the sandwich with the butter.

Heat a skillet over medium heat and spray with non-stick spray. Once hot, add the sandwich to the skillet cook for 2-3 minutes per side, until golden brown.

Let sandwich set for 2-3 minutes before serving.
Tips & Notes:
We like smooth peanut butter and raspberry jam, but you can use any variety of nut butter or jelly/jam that you prefer. This sandwich is quite messy, but letting it set for a minute or two before slicing does help a bit.
Nutrition Information:
Serving: 1sandwich| Calories: 482kcal (24%)| Carbohydrates: 46g (15%)| Protein: 12g (24%)| Fat: 30g (46%)| Saturated Fat: 11g (69%)| Polyunsaturated Fat: 5g| Monounsaturated Fat: 11g| Trans Fat: 0.5g| Cholesterol: 30mg (10%)| Sodium: 472mg (21%)| Potassium: 258mg (7%)| Fiber: 3g (13%)| Sugar: 16g (18%)| Vitamin A: 350IU (7%)| Vitamin C: 2mg (2%)| Calcium: 129mg (13%)| Iron: 2mg (11%)
This recipe was originally shared in 2011. Original photo below.