Oh, yes. That's right. I married peanut butter and jelly together in the tastiest way I could think of. Shortbread!
I don't know about you guys, but I just love shortbread cookies. Normally I like my cookies soft and chewy, but sometimes you just really need a piece of shortbread. It's crisp, but it also melts in your mouth. Magical.
I was lucky enough to get a jar of Peter Pan's new Simply Ground peanut butter in the mail last week and I knew I had to put it to good use. They asked me to create you guys a recipe featuring the product and I think this recipe is perfection!

Peter Pan Simply Ground is a fun new peanut butter – it's creamy and spreadable, just how I like it, but it also has tiny little chunks of peanuts in there. It's like a homemade peanut butter, without all of the work! And there are no weirdo ingredients lurking in the jar either! Love that.
I also really dig the jar of this peanut butter – it has a nice wide opening, so I can dip my spoon in there all day long. Or crackers. Or celery. Orrrrrr my whole hand for a really big scoop, not that I would know anything about that.
Simply Ground comes in both honey roasted and original. I like the original in this recipe and on my sandwiches, but I like the honey roasted for eating straight from the jar. It's the perfect little sweet treat and it's packed with protein.
Anyway, this shortbread is a bit different from traditional shortbread. The peanut butter is mixed right in with the butter! It gives this a slightly chewier texture than traditional shortbread. I patted this dough out into a 9×13 pan and then took some jelly and swirled it through the dough. Shortbread dough is thick and not the easiest thing to swirl jelly in, but grab a knife and go for it!
Hope you guys like these little peanut butter and jelly shortbread bars as much as we do!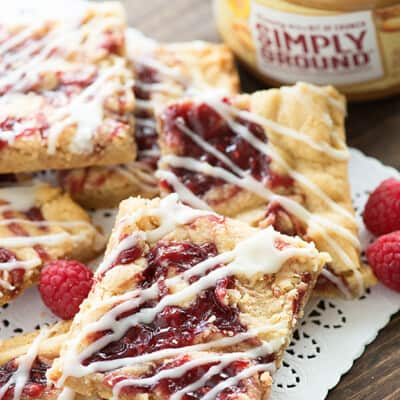 Peanut Butter and Jelly Shortbread Bars
Oh, yes. That's right. I married peanut butter and jelly together in the tastiest way I could think of. Shortbread!

Prep10 minutes
Cook15 minutes
Total25 minutes
Ingredients
3/4 cup butter
1/3 cup peanut butter
2/3 cup sugar
2 teaspoons vanilla
2 cups flour
1/4 cup jelly
1/2 cup powdered sugar
2 tablespoons heavy cream
Instructions
Preheat oven to 375 degrees. Line a 9x13 baking dish with parchment paper.

Add butter, peanut butter, sugar, and vanilla to mixer and beat well until fluffy and well combined.

Beat in flour.

Press dough into prepared baking dish.

Warm jelly in microwave for 15 seconds to make it more easily spreadable. Drop spoonfuls of jelly across the dough and use a knife to press the jelly into the dough and swirl it around.

Bake for 15 minutes or until lightly golden on the edges. Cut into bars immediately. Let cool completely.

Whisk together powdered sugar and heavy cream and drizzle over cooled bars.
Nutrition Information:
Calories: 249kcal (12%)| Carbohydrates: 30g (10%)| Protein: 3g (6%)| Fat: 13g (20%)| Saturated Fat: 6g (38%)| Cholesterol: 27mg (9%)| Sodium: 110mg (5%)| Potassium: 62mg (2%)| Sugar: 16g (18%)| Vitamin A: 315IU (6%)| Vitamin C: 0.5mg (1%)| Calcium: 10mg (1%)| Iron: 0.9mg (5%)