This post is sponsored by Lisa Leonard Designs. All opinions are my own.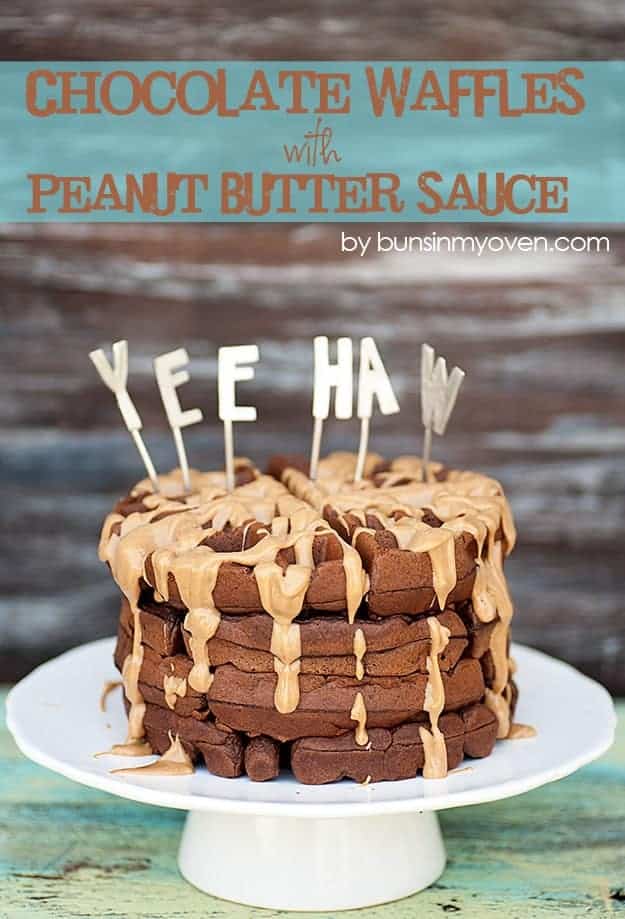 Yee-haw, y'all.
It's about time for summer break!
I know, not every parent loves the months and months of sibling rivalry, whining about boredom, and non-stop sticky popsicle puddles all over the place, but as a homeschooler? I love summer break! It means that I don't have to argue about workbooks or waste my time reading aloud to children that aren't listening.
I thought it would be fun to celebrate the end of the school year (we don't actually finish school until July around here – we have a weird schedule, but we'll celebrate the end of year for you!) with a special breakfast!
Can you imagine surprising your kids on their first day of summer break with these rich chocolate waffles drowned in melted peanut butter? Breakfast nirvana.
Of course, you could stop there, but I livened things up with this totes adorable yee-haw cake topper! It just cracks me up for some reason! Love it!
Lisa Leonard Designs makes all kinds of adorable hand stamped goodies from jewelery to decor. The quality of my little cake topper is top notch. The letters aren't perfectly straight, which just adds to the adorable hand made factor.
Lucky you, Lisa Leonard Designs is offering up a $75 gift certificate for one of you lucky readers! Bonus points: This giveaway is open to both US and Canada residents! Yee-haw, indeed!
To enter, just follow the instructions in the rafflecopter widget below the recipe. Please note that sometimes it takes a bit for the widget to load. Refresh your page if it's not popping up for you. Good luck, y'all!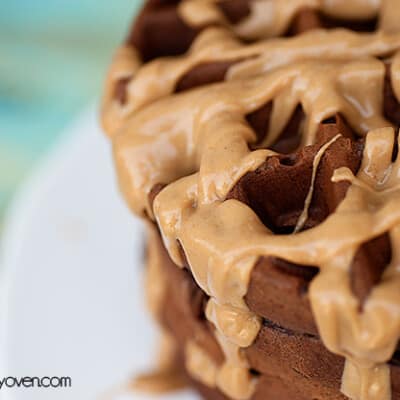 Chocolate Waffles with Peanut Butter Sauce
Breakfast is the perfect time to celebrate and these chocolate waffles are just the thing! Top them with melty peanut butter for a decadent treat!
Prep5 minutes
Cook20 minutes
Total25 minutes
Ingredients
1 1/2 cups flour
3 tablespoons sugar
1/2 cup cocoa powder
1 teaspoon baking powder
1 teaspoon salt
1 teaspoon baking soda
3 large eggs beaten
2 tablespoons vegetable oil
1 teaspoon vanilla extract
2 cups buttermilk
1/2 cup peanut butter
1 tablespoon heavy cream or milk
Instructions
Preheat waffle iron according to instructions.

In a large bowl, combine the flour, sugar, cocoa powder, baking powder, salt, and baking soda. Whisk to combine.

In a medium bowl, beat together the eggs, oil, vanilla, and buttermilk until combined.

Stir the wet ingredients into the dry and mix until just combined.

Cook the waffles according to the directions on your waffle maker.

While the waffles are cooking, prepare the peanut butter sauce. In a small sauce pan over low heat, stir together the peanut butter and cream until well combined and melted.

Drizzle the peanut butter sauce over the cooked waffles.
Nutrition Information:
Calories: 499kcal (25%)| Carbohydrates: 51g (17%)| Protein: 18g (36%)| Fat: 27g (42%)| Saturated Fat: 11g (69%)| Cholesterol: 126mg (42%)| Sodium: 950mg (41%)| Potassium: 590mg (17%)| Fiber: 5g (21%)| Sugar: 14g (16%)| Vitamin A: 365IU (7%)| Calcium: 190mg (19%)| Iron: 4mg (22%)