The Best Belgian Waffle Recipe has a crispy exterior and light, fluffy interior! These waffles rival any that you'd find at your favorite breakfast restaurant and, with a couple of tricks, they're super simple to make!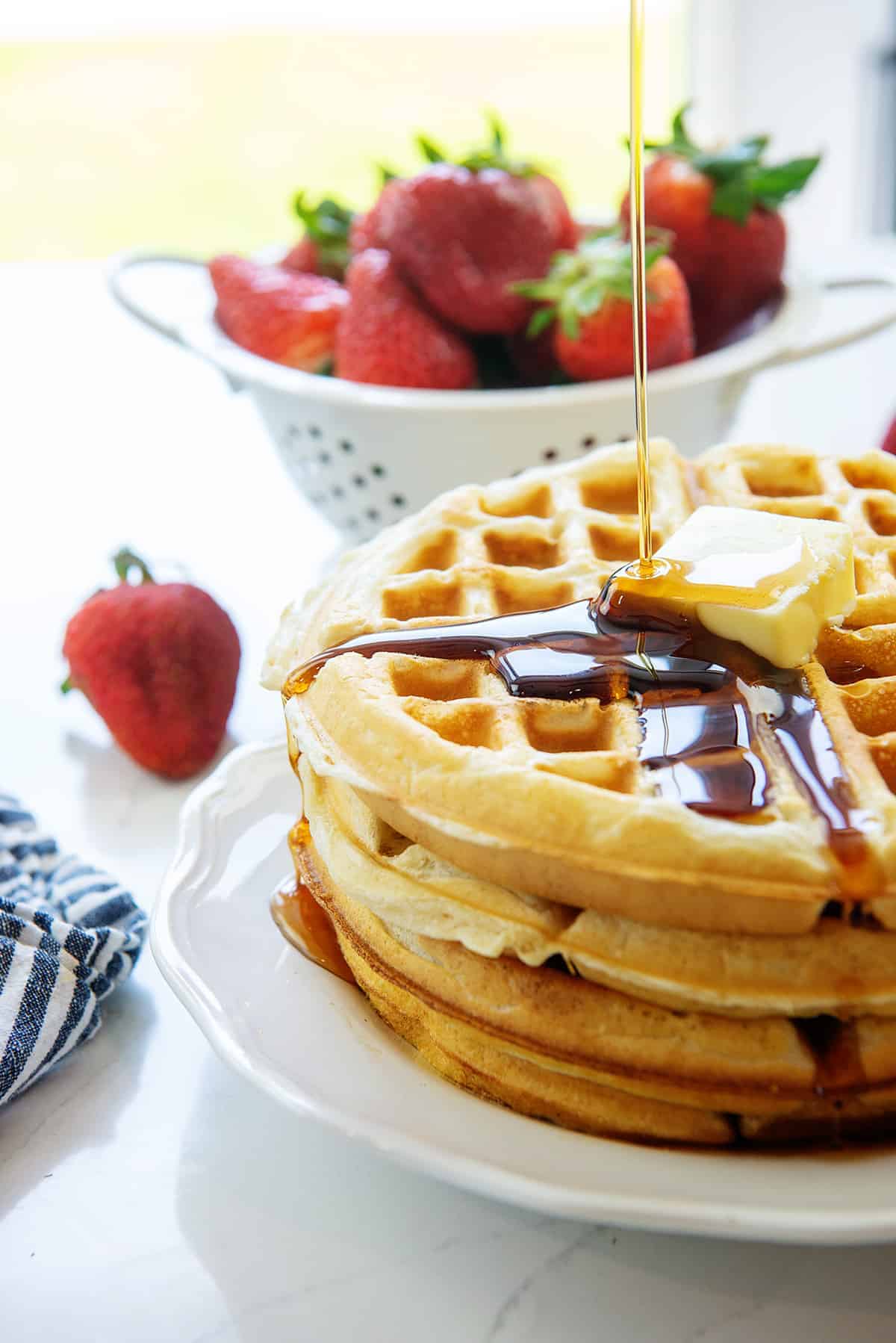 People don't say breakfast is the most important meal of the day for no reason, you guys.
It's because waffles exist and waffles are important. 😉
Those frozen waffles are fine in a pinch, but oh goodness, nothing beats a homemade Belgian waffle with a crisp exterior and deep pockets full of maple syrup and melted butter.
Our Belgian waffle recipe just melts in your mouth and if you're not stopping what you're doing to head to the kitchen RIGHT. NOW. you are missing out!
But enough about my love for the best waffle recipe to exist…let's just get to the good stuff so you know how to make them too! You and your family are going to love this one and I won't make you wait a minute longer.
Be sure to try our Biscuit Donuts and Monkey Bread too. We love all these breakfast treats!
Waffle Ingredient Notes:
This post contains affiliate links. As a member of Amazon and other affiliate programs I earn from qualifying purchases.
Flour – We use all purpose flour, but a combo of white and whole wheat would likely work, if you don't mind a heavier texture.
Cornstarch – This helps keep the waffles crisp on the outside and light and airy inside.
Spices – We add vanilla, cinnamon, nutmeg, and a bit of salt to the batter for flavor. You can skip the cinnamon and nutmeg if it's not your thing, but we think it adds the perfect touch.
Baking Powder & Baking Soda – Both work to make the waffles light and airy.
Buttermilk & Milk – We use a combo of both here. No buttermilk? Just add a teaspoon of vinegar to milk and let it sit for 5 minutes. Instant buttermilk!
Oil
Egg – You'll need to separate the white from the yolk for this one, but we'll use the whole egg.
Sugar – Just a touch of sweetness.
What Readers are Saying!
"My family has been on a waffle making odyssey – and after a dozen or so recipes, I think we can stop searching!!! Yes, the egg is a bit more work than most recipes, but it's definitely worth it for the airy texture. These are crisp and light with a pinch of that cinnamon flavor. Two thumbs up from my whole family!" – Leigh S.
Helpful Tools:
Waffle Iron – We use and recommend this waffle iron. Easy to use and fairly budget friendly. We've had ours over 10 years now.
Electric Hand Mixer – It's so easy to whip up dessert (or in this case, breakfast) with this cute hand mixer. It doesn't take up much space and is a must for any kitchen!
Rotating Hand Whisk – If you don't have an electric mixer one of these rotating whisks works pretty well too without the need for any electricity.
How To Make Belgian Waffles:
Whip: To start, we're going to whip an egg white. I KNOW. I hate whipping egg whites. I promise you, this is 100% worth it and is the key to this recipe.
If you have a hand mixer, drag it out and start whipping. Otherwise, count this as your arm workout for the day and go to town with a whisk.
Combine: Once your egg whites are whipped to stiff peaks, you'll stir together the rest of the Belgian waffle batter and, once combined, fold in those whipped egg whites.
One of the secret ingredients here is cornstarch. It helps to make the waffle crispy on the outside and the whipped egg white makes it light and airy inside. That's why this is the best Belgian waffle recipe!
Cook: Let your waffle iron preheat for a few minutes and spritz it with nonstick spray.
Every waffle iron is different and some will cook faster than others. Mine takes about 3 minutes. I generally just look for the steam to stop coming out of the iron and that's when I know they're done.
Serve: As you cook these waffles, pop them right onto the rack of a warm oven. They'll stay nice and crisp and everyone can enjoy breakfast at the same time this way. Genius, right?
Leftover Hack!
Leftover waffles freeze great! Just place them on a sheet pan in a single layer and freeze for one hour. Place in a zip top freezer bag, squeeze out as much air as possible, and freeze for up to 3 months. Reheat in a 325 degree oven for 10 minutes or until warmed through.
FAQs:
How many waffles does this make?
Great question, but the answer is…it all depends on your waffle iron. Some are larger than others and it'll really all depend on that. The waffle iron I linked above is large enough that this recipe makes 3 large waffles.

I have another smaller iron that makes 4 waffles. It never hurts to double the recipe, just freeze any extra waffles for later and reheat in the oven!
Can you store waffles for later?
Yes, you can refrigerate or freeze them for later! They'll last in the fridge for about 2 to 3 days and in the freezer for up to a few months. To freeze, first place them on a baking sheet and flash freeze before transferring to a sealed bag or container. It also helps to separate them with parchment paper.
Waffle Mix-In's:
We think a classic Belgium waffle is pretty perfect just the way it is, but my kids do have fun sprinkling in other ingredients. Makes for a fun breakfast!
Try adding 1/2 to 1 cup of these additions:
Chocolate Chips
Fresh or Frozen Blueberries
Cooked and Crumbled Bacon
Cinnamon Chips
Chopped Pecans
Belgian Waffle Toppings:
You can keep it simple with a pat of salted butter and a drizzle of pure maple syrup, but it's also fun to get creative. Here are a few ideas to get you started:
Nutella and Strawberries
Biscoff and Raspberries
Fried Chicken
Air Fryer Bananas and Caramel Sauce
Apples and Cinnamon
Peaches and Pecans (like these peach pancakes)
Cherry Pie Filling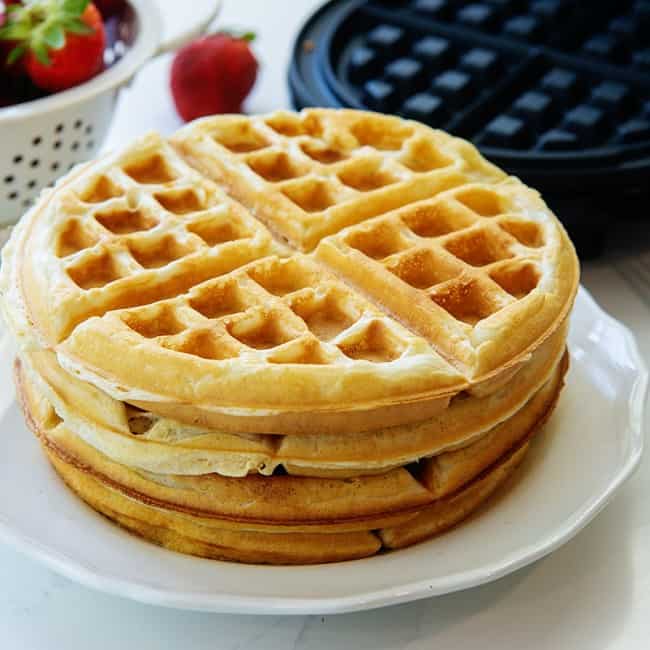 The Very Best Waffles
This is the best Belgian waffle recipe we've ever tried at home. The waffles are crispy on the outside and light and fluffy on the inside. It beats restaurant waffles any day of the week!
Prep5 minutes
Cook15 minutes
Total20 minutes
Ingredients
3/4 cup all-purpose flour
1/4 cup cornstarch
1/2 teaspoon salt
1/2 teaspoon ground cinnamon
1/8 teaspoon ground nutmeg
1/2 teaspoon baking powder
1/4 teaspoon baking soda
3/4 cup buttermilk
1/4 cup milk
6 tablespoons vegetable oil
1 large egg separated
1 tablespoon sugar
1/2 teaspoon vanilla extract
Instructions
Heat the oven to 200°F and heat up the waffle iron.

Mix the flour, cornstarch, salt, cinnamon, nutmeg, baking powder, and baking soda in a medium bowl. Measure the buttermilk, milk, and vegetable oil in a measuring cup and stir in the egg yolk. Set aside.

In another bowl, beat the egg white almost to soft peaks. Sprinkle in the sugar and continue to beat until the peaks are firm and glossy. Beat in the vanilla.

Pour the buttermilk mixture into the dry ingredients and whisk until just mixed. Drop the whipped egg white onto the batter in dollops and fold in with a spatula until just incorporated.

Pour the batter onto the hot waffle iron (My Belgian waffle maker takes 2 1/2 ice cream scoops of batter, but your mileage may vary) and cook until the waffle is crisp and brown.

Set the waffle directly on the oven rack to keep it warm and crisp. Repeat with the remaining batter, holding the waffles in the oven (don't stack them). When all the waffles are cooked, serve immediately.
Tips & Notes:
This recipe makes 3-4 waffles in my Belgian waffle maker. The number of waffles may vary depending on your waffle maker.
Nutrition Information:
Serving: 1waffle| Calories: 293kcal (15%)| Carbohydrates: 25g (8%)| Protein: 4g (8%)| Fat: 19g (29%)| Saturated Fat: 14g (88%)| Cholesterol: 42mg (14%)| Sodium: 345mg (15%)| Potassium: 138mg (4%)| Sugar: 4g (4%)| Vitamin A: 135IU (3%)| Calcium: 81mg (8%)| Iron: 1mg (6%)
This recipe was lightly adapted from Fine Cooking.
This post was originally published in May 2012. It was updated in March 2019 with new photos and a video. Old photo below: