Our CREAMY BAKED SPAGHETTI WITH CREAM CHEESE is going to quickly become a new family favorite. Layers of saucy pasta, beef, and a rich, cheesy, melty center!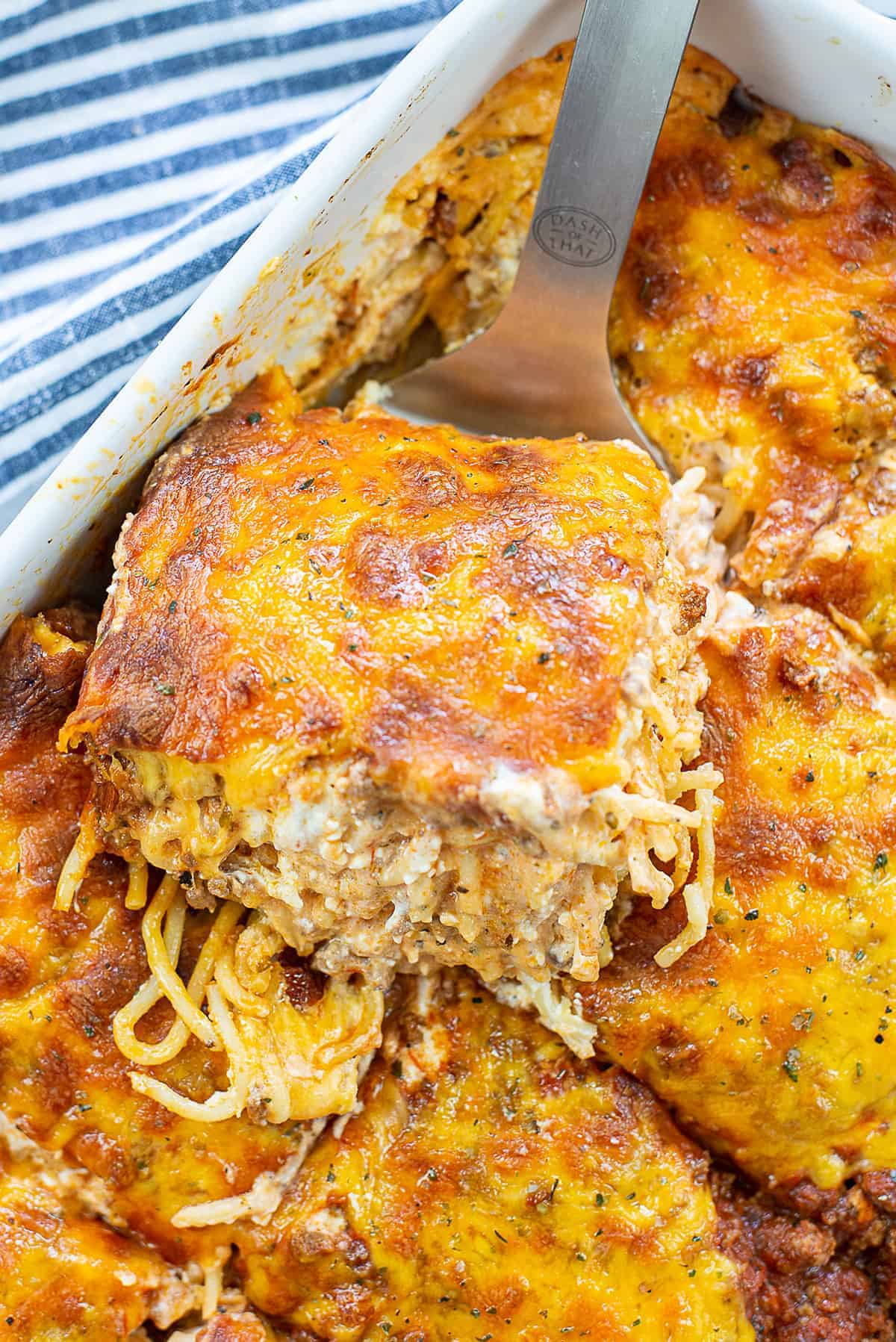 When it comes to pasta, I've got quite a few 'go to' recipes that we eat again and again.
Our homemade Alfredo sauce happens often. Ravioli Lasagna is my favorite way to get lasagna on the table quickly. This garlic shrimp pasta is ready in just 25 minutes.
But the number one pasta recipe that I make for my family, friends, and guests…is this Cheesy Baked Spaghetti.
You'll start with spaghetti noodles, beef, and sauce. Standard spaghetti stuff.
But then the magic happens and you find yourself mixing together cream cheese, cottage cheese, and sour cream into this heavenly concoction that makes for the ultimate cheesy pasta.
This recipe, you guys. It's a winner in my family and I'm pretty sure it's going to be a winner in your family, too.
Ingredient Notes: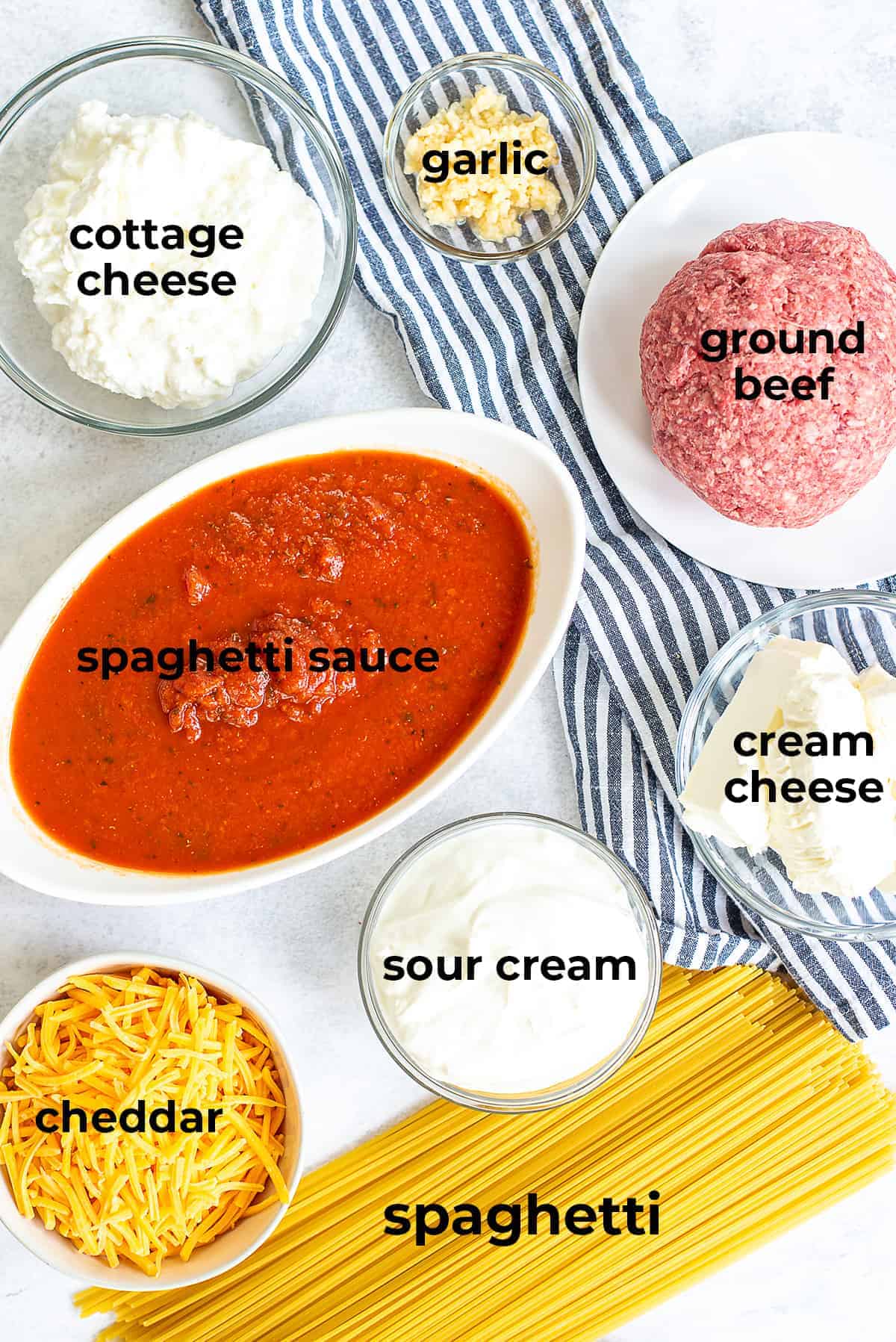 Pasta – We use spaghetti, but you could really use any shape you like here. You can't mess this up.
Spaghetti Sauce – This is supposed to be a quick, easy family dish so feel free to grab your favorite jarred brand of sauce from the store. But if you want to get fancy, check out my homemade spaghetti sauce recipe! Just keep in mind that recipe makes a lot more sauce than what is needed for this baked spaghetti so you'll have leftovers.
Cottage Cheese – It really melts in with the rest of the dairy so cottage cheese haters are unlikely to notice this one. You could swap in ricotta if you prefer.
Cheddar – This is a very polarizing ingredient for a pasta dish, so feel free to use mozzarella if you prefer. The cheddar really adds something though.
What Readers are Saying!
"Thank you so much for sharing this recipe. I have made it 3 times, and will make it many more. So delicious!" – Anna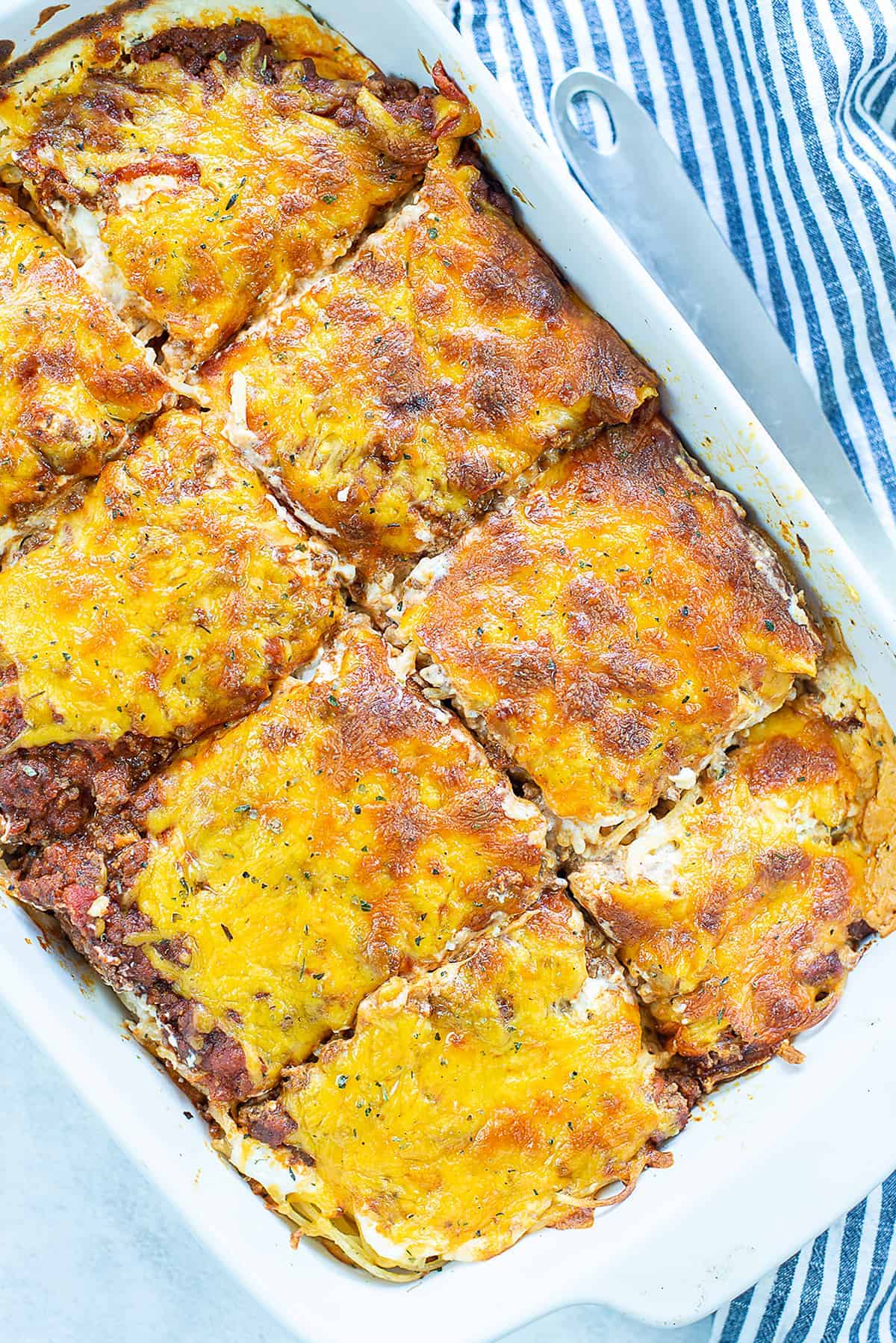 What do you call this recipe?
You've probably seen different versions of this recipe all over the Internet with a bunch of different names.
Million Dollar Spaghetti is the common name, but that recipe adds an entire stick of butter to the casserole and we just think its unnecessary (and we love butter).
We think this is pretty similar to Cheddar's spasagna recipe too, but it's been many years since we've eaten at Cheddar's so I could be wrong on that.
Whether you call this cream cheese spaghetti, creamy baked spaghetti, million dollar spaghetti, or some other variation, these recipes are pretty similar in that they are rich, decadent, and oh so delicious! We're obviously partial to our version.
How to Make Baked Spaghetti:
Pasta: To get started you'll want to boil up some salted water in a large pot.
Use your favorite packaged brand of spaghetti and cook it for one minute less than it says to in the instructions. While the pasta boils you can move on to the next step!
Note: If you are all out of spaghetti noodles then macaroni, rigatoni, ziti and other types of pasta would work just as well!
Spaghetti Sauce: Start making the sauce by cooking the ground beef in a large skillet until it has browned, breaking it up into smaller pieces as it cooks. Drain the fat when it has cooked through.
Pour your favorite brand of spaghetti sauce in with the meat and simmer on low for a few minutes while the pasta cooks and you move on to the next step.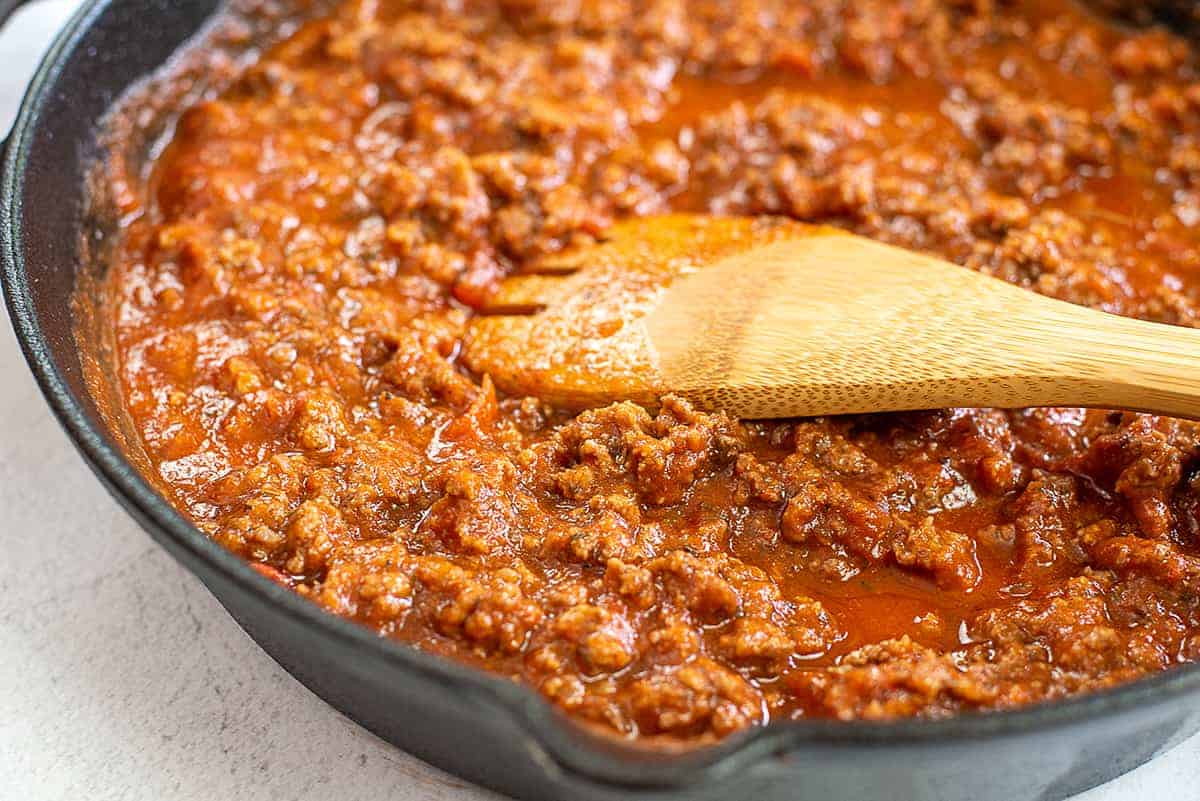 Cheese: Now we can get down to the good stuff! We're going for a creamy, decadent dish so we'll need lots of dairy.
We're mixing together cream cheese, cottage cheese, and sour cream to create this insanely decadent filling.
Stir garlic, salt, and pepper in to this mixture and then give it a taste. It's divine.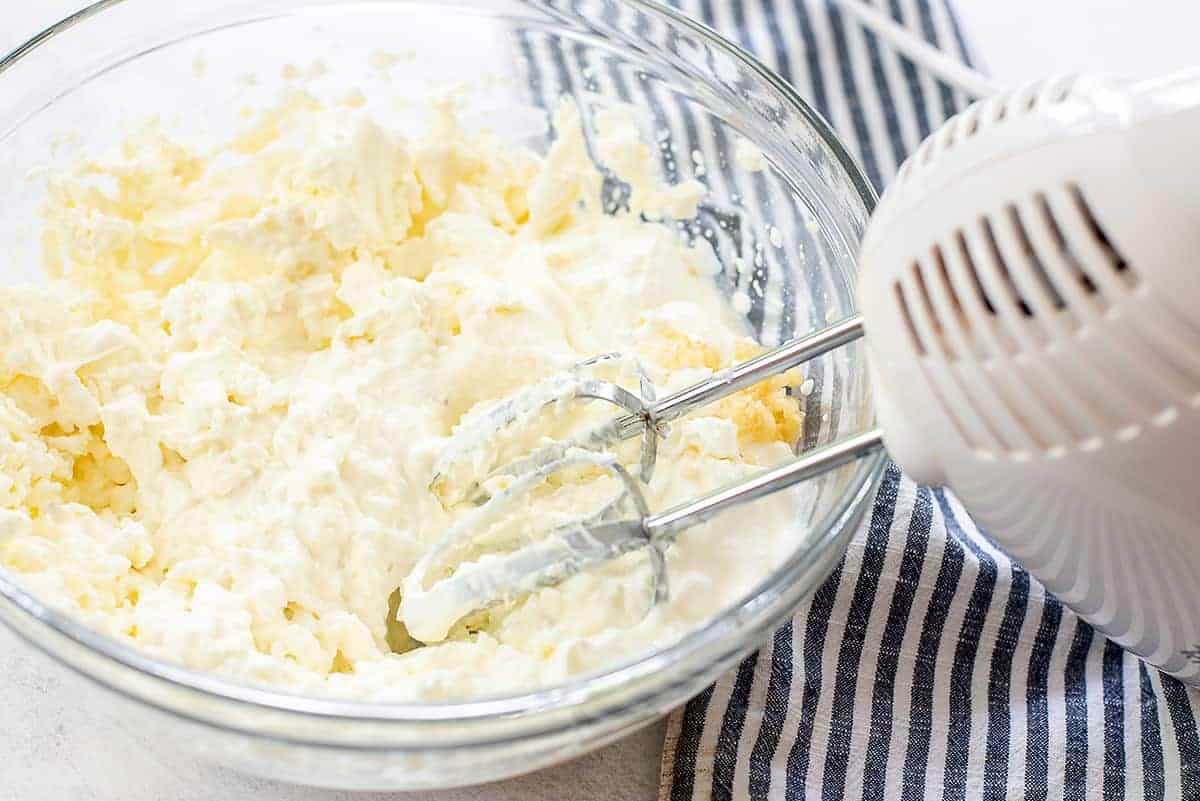 Layer: Place half of the cooked spaghetti in a 9×13 baking dish, top with half of the cream cheese mixture and half of the sauce. Repeat the layers and sprinkle on some cheddar cheese.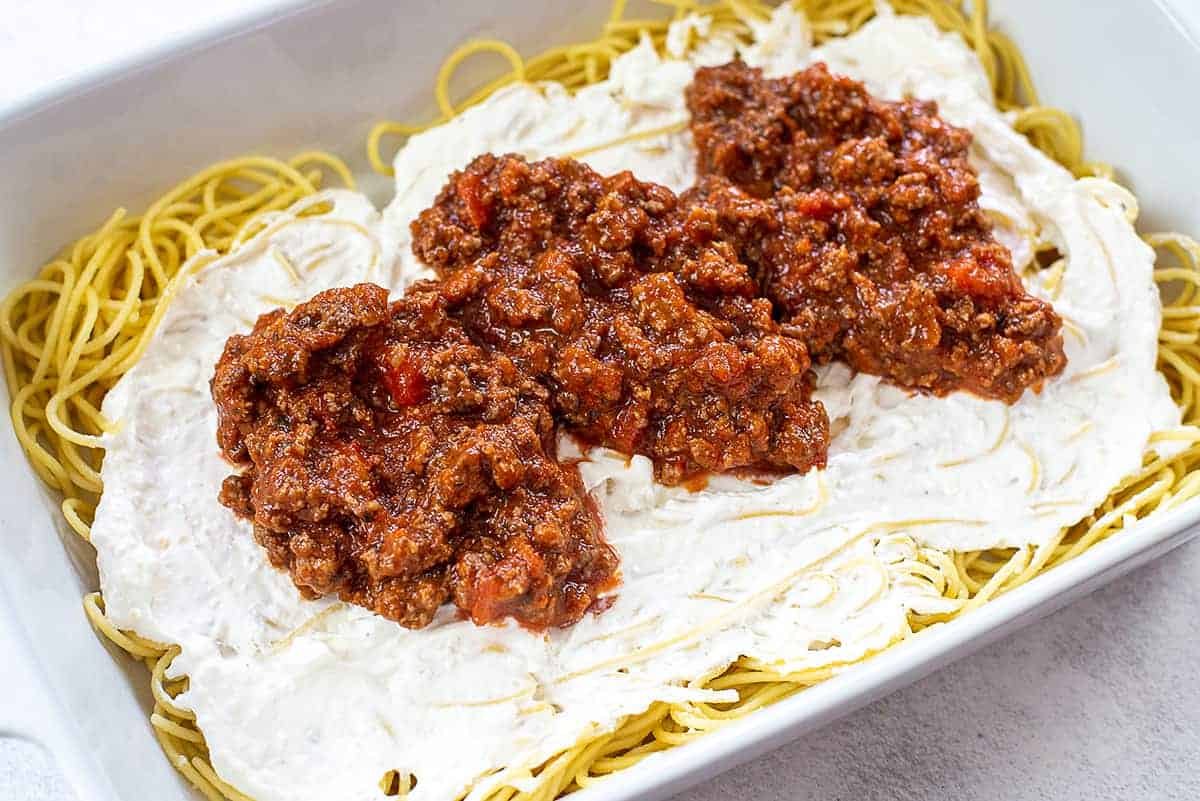 Bake: Pop this in a hot oven and bake for 30 minutes.
You'll want to let this set for 5 minutes or so before serving.
Just wait til you dig into this one!
Move over, lasagna. We don't need you. <— Yes. I just said that and I don't regret it one bit.
(Unless we're talking about my taco lasagna. I still need that guy.)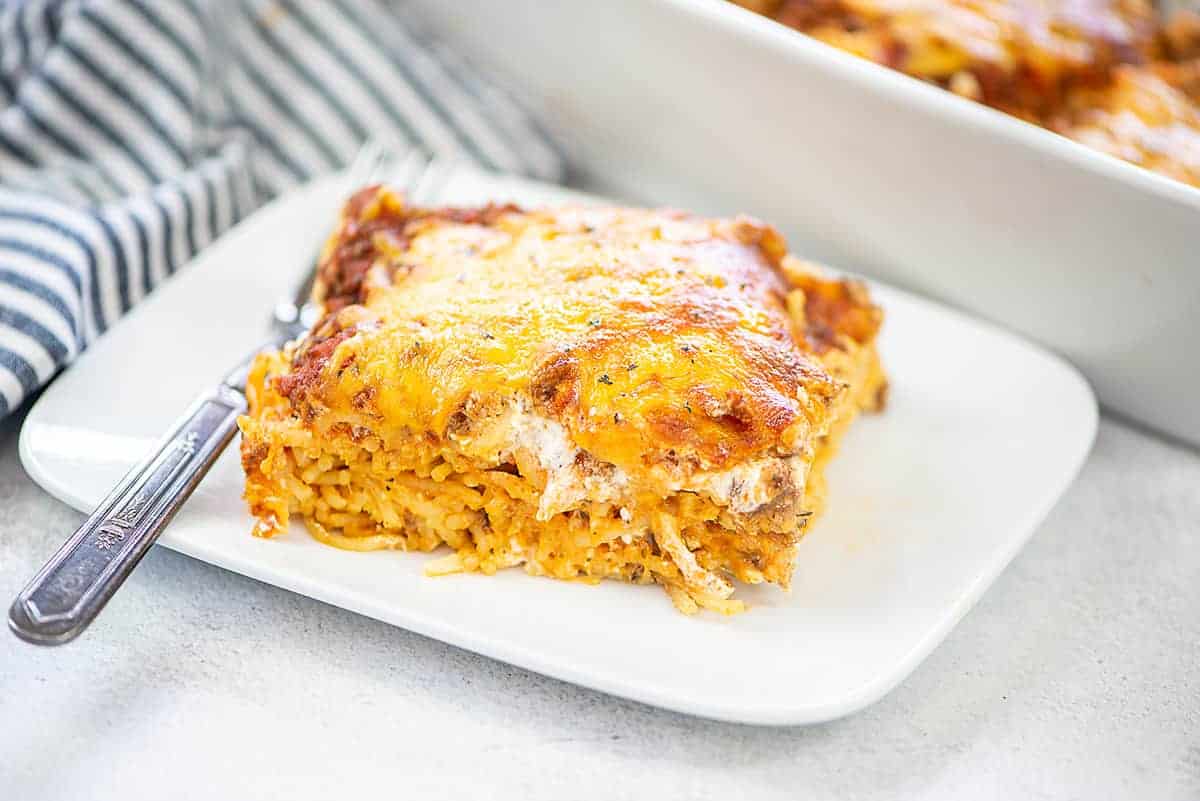 Helpful Tip!
Short on Time?
Try our stove top version for a quick way to get that creamy baked spaghetti fix without actually baking it! This million dollar pasta is ready in just 20 minutes!
FAQs:
Can I add/remove/substitute ingredients?
Of course! This is a great recipe to modify to suit your own tastes. Swap the cottage cheese for ricotta, use mozzarella instead of cheddar, brown up Italian sausage instead of ground beef, and use whatever shape of pasta you like.
Does this dish reheat well?
Absolutely! Like most pasta recipes, this dish is even better the next day. Store, tightly covered in the refrigerator for 3-4 days. We like to reheat ours in the microwave.
Why doesn't your recipe include butter?
Most million dollar spaghetti recipes include a full stick of butter melted in the bottom of the baking dish before adding the spaghetti and there's certainly nothing stopping you from doing that. We've just tested this recipe both ways and we can never even notice the butter. It doesn't seem worth the extra 800 calories added to the dish.
MORE BAKED PASTA RECIPES!
I've got lots of baked pasta dishes! Actually, I have a whole category devoted to pasta where you can find many of those recipes.
Check out this taco spaghetti recipe if you are looking for a Mexican themed pasta dish.
And of course I've got a version of the viral TikTok favorite recipe feta pasta!
This chicken spaghetti is another easy baked pasta recipe!
Cutting carbs and craving pasta? You'll love my cream cheese zoodles! Even my kids eat zucchini noodles when they're covered in this sauce!
Try my spaghetti squash casserole like this too! I hope you give this one a try and your family enjoys it as much as mine does.
And if you need a side dish to go with all this baked pasta then my creamy onion garlic bread is definitely worth trying!
I'm not sure how anyone could dislike all this creamy cheesy goodness, to be honest! 😉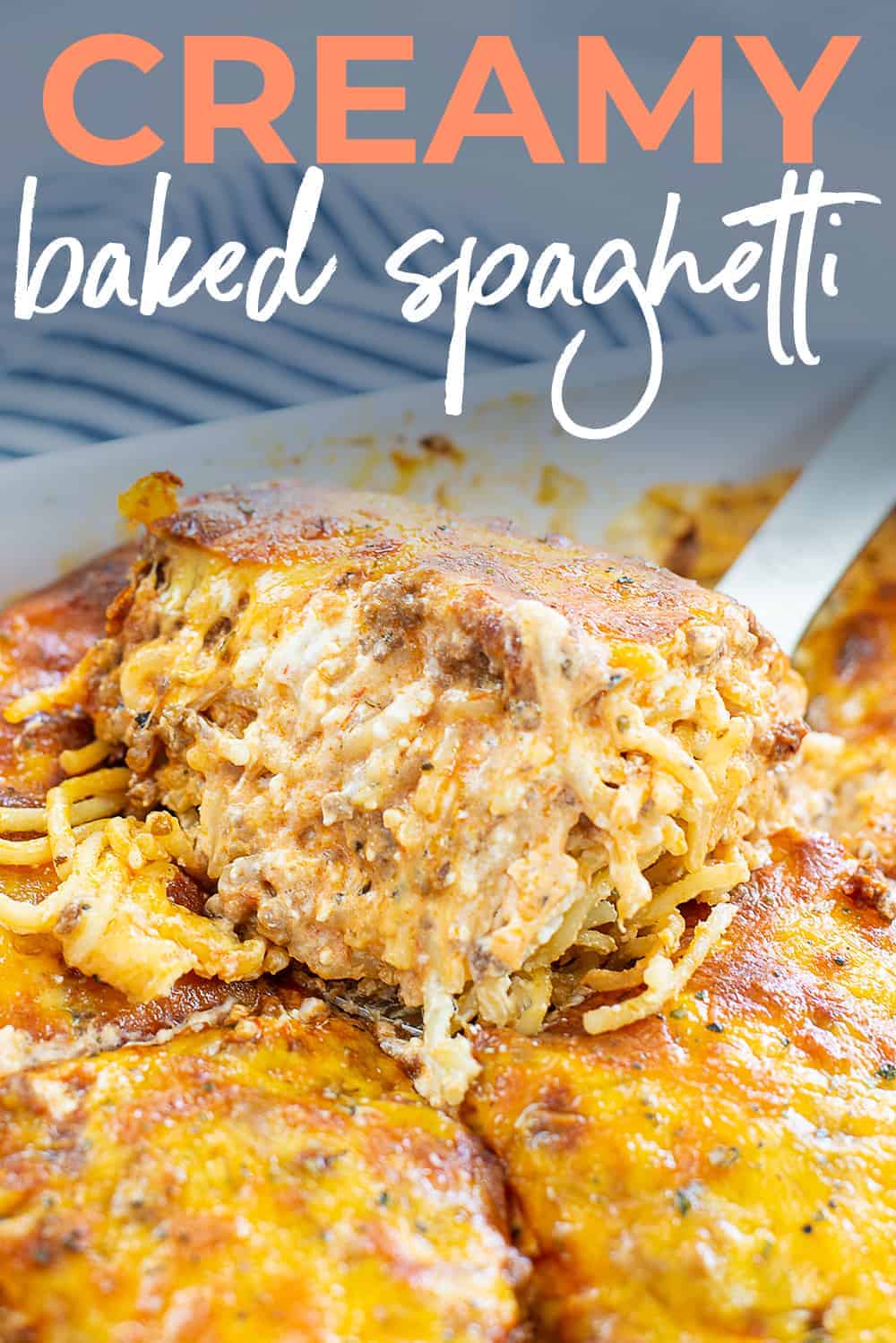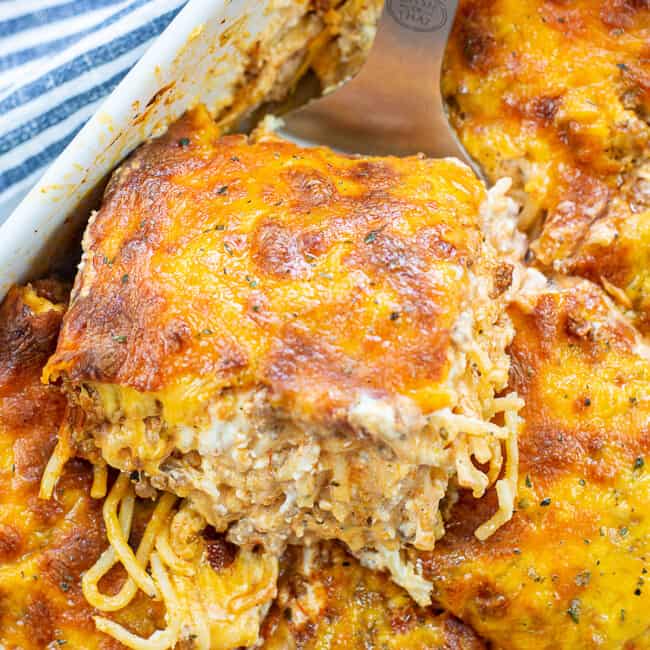 Creamy Baked Spaghetti
This baked spaghetti recipe is going to quickly become a new family favorite. The layers of creamy goodness add a special touch that we just can't resist.

Prep10 minutes
Cook30 minutes
Total40 minutes
Ingredients
16 ounces spaghetti
1 pound lean ground beef
24 ounces marinara sauce
8 ounces cream cheese room temperature
1 cup sour cream
1 cup cottage cheese
2 cloves garlic minced
1 cup shredded cheddar cheese
Salt and pepper to taste
Instructions
Preheat the oven to 350 degrees. Spray a 9×13 baking dish with non-stick spray.

Bring a large pot of salted water to a boil and cook spaghetti for 1 minute less than the package directions state. Drain the water from the pasta.

While the spaghetti is cooking, heat a large skillet over medium heat and brown the beef, crumbling it as it cooks. Drain the fat and add the marinara sauce to the meat. Simmer over low heat until the spaghetti is ready.

In a medium bowl, beat together the cream cheese, sour cream, cottage cheese, and garlic until smooth, creamy, and well combined. Salt and pepper to taste.

Place half of the cooked spaghetti in the bottom of the baking dish. Dollop half of the cream cheese mixture over the spaghetti and spread as evenly as possible. Spread with half of the meat mixture. Repeat the layers once and top with cheddar cheese.

Bake for 20-30 minutes or until hot and bubbly. Let set for 5 minutes before serving.
Tips & Notes:
You may substitute any cheese you like for the cheddar. Mozzarella and Parmesan work well. Ricotta may be used in place of cottage cheese, if desired. Any shape of pasta should work well here.
Nutrition Information:
Calories: 545kcal (27%)| Carbohydrates: 50g (17%)| Protein: 29g (58%)| Fat: 25g (38%)| Saturated Fat: 14g (88%)| Cholesterol: 101mg (34%)| Sodium: 784mg (34%)| Potassium: 725mg (21%)| Fiber: 3g (13%)| Sugar: 8g (9%)| Vitamin A: 1106IU (22%)| Vitamin C: 6mg (7%)| Calcium: 212mg (21%)| Iron: 3mg (17%)