This CHICKEN CORN CHOWDER recipe is hearty and filling, made with fresh sweet corn, chunks of chicken, and plenty of potatoes and bacon. This is the ultimate summer soup recipe!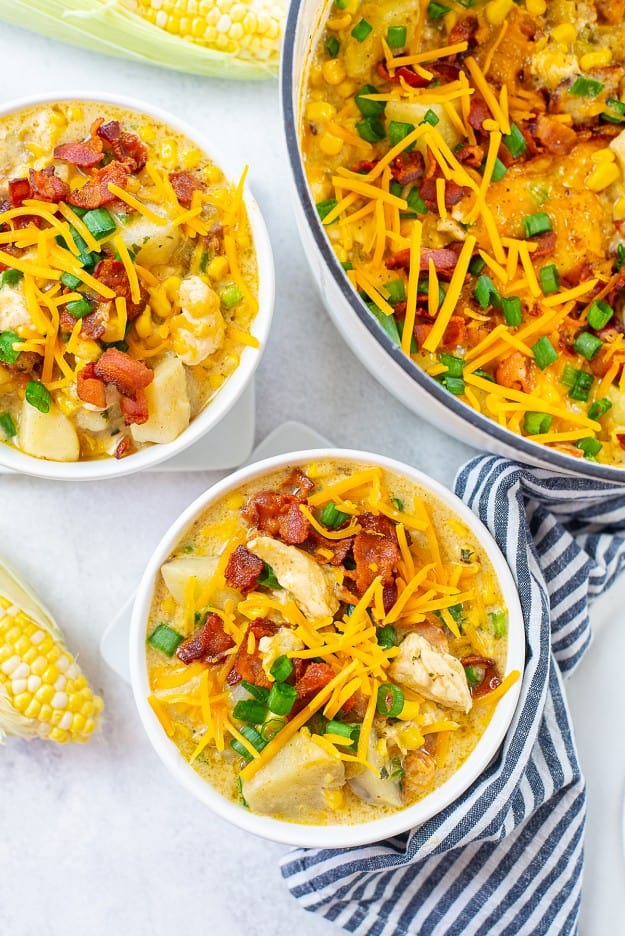 There's not a whole lot better than fresh sweet corn straight from the field, if you ask me.
Of course, we love it any which way you want to cook it (hello, scalloped corn, cream cheese corn, and cornbread casserole)!
This easy corn chowder is so hearty and filling. It's full of the sweet flavor and crunch of corn, there are lots of juicy chunks of chicken, chunks of potato, and then – this is the part that really gets ya – it's all topped with crispy bacon and cheddar cheese.
Soup, or rather chowder, doesn't get much better than this. Thick, creamy, and so flavorful.
This is yummiest made with fresh corn on the cob, but using canned corn works very well and is still tasty. We make this one all year round – fresh corn in the summer and canned or frozen corn in the winter. You really can't go wrong, but it's definitely best with fresh corn.
Ingredients:
Corn on the Cob – Fresh is best, but you can swap in canned or frozen corn if its out of season.
Bacon – We'll cook the potatoes in the bacon grease and crumble the cooked bacon over the finished soup.
Scallions
Potatoes
Flour
Milk – We tend to use 2%, but any variety should work.
Chicken Stock
Chicken – Use our crockpot shredded chicken or any leftover chicken you've got!
Cheddar
Seasonings – You'll need Old Bay seasoning, thyme, parsley, cayenne, green chiles, and salt and pepper. These all work to add big flavor.
How to make chicken and corn chowder:
Saute – Cook the bacon until crispy and then set it aside for topping your soup. Add chopped potatoes and the whites from the scallions to the pot and cook those for a few minutes. Sprinkle in the flour and cook for a minute or two.
Simmer – Pour in your milk, chicken stock, and dry seasonings. Stir this well to combine and then bring to a boil and reduce to a simmer. We'll cook this for about 15 minutes, just until the potatoes are nice and tender.
Add the Corn & Chicken – Stir in the corn, chicken, and green chiles and let that simmer for a few more minutes, just to heat everything up.
Serve – Spoon the corn chowder into a bowl and top it off with bacon, cheddar, and green onions.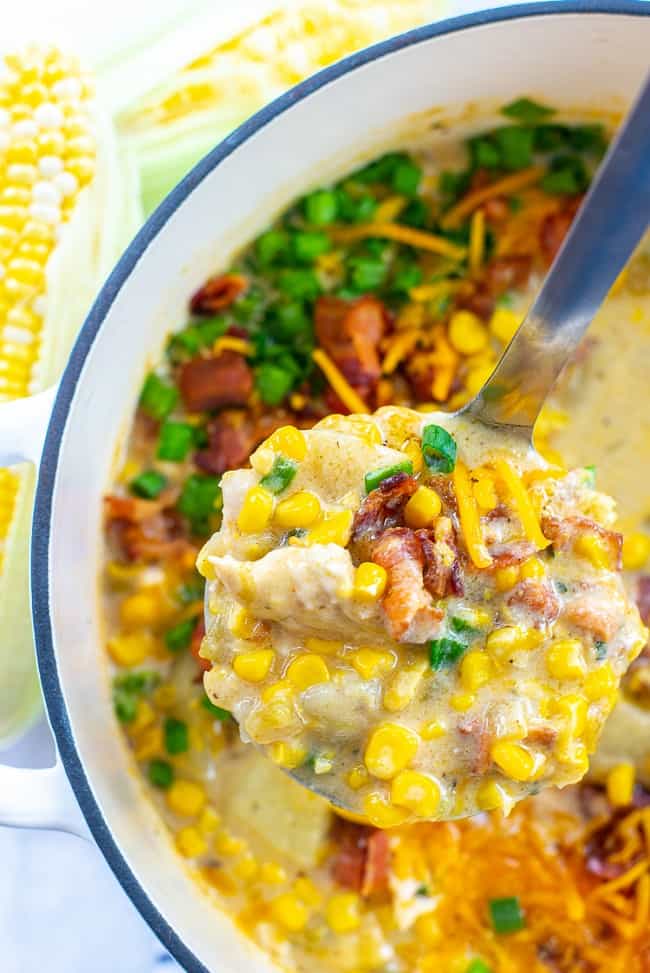 What Readers are Saying!
"Absolutely fantastic. I started out making the standard size batch shown above, but after 3 days my stepdaughter had eaten it all. I had one bowl! I went out and got the ingredients to make a few more and am keeping them on hand so I can make a bunch up and seal a few jars. Of all of the recipes I've made for my family over the past 5 years, this was the most well received food I've made. Thank you! " -Ron
Helpful Tip!
Reheating Leftovers
This chicken corn chowder will stay fresh, tightly covered, in the fridge for 3-5 days. It reheats best on the stove, though you can microwave it. We generally add a bit of milk or chicken stock while reheating it to thin it back out. It does thicken a bit as it sets in the fridge.
More soup recipes you will love:
Chicken Corn Chowder
My favorite soup to serve in the summer. It's so good with fresh corn cut from the cob!
Prep20 minutes
Cook30 minutes
Total50 minutes
Ingredients
6 ears corn on the cob see notes
6 slices bacon chopped
1/2 cup chopped scallions greens and whites separated
3 medium potatoes
2 tablespoons all-purpose flour
3 cups whole milk
2 cups chicken stock
2 teaspoons Old Bay seasoning
1 teaspoon dried parsley flakes
1/2 teaspoon dried thyme
1/4 teaspoon cayenne pepper
4 ounces diced green chiles
2 cups shredded, cooked chicken
Salt and pepper to taste
handful of grated cheddar for garnish
Instructions
In a large soup pot, fry the bacon pieces until crisp. Remove from the pan, leaving the drippings, and set aside.

Peel and chop the potatoes into bite sized chunks.

Place the potatoes and white scallion pieces into the soup pot and cook over medium heat until the scallions have softened, 2 or 3 minutes.

Sprinkle in the flour and cook, stirring constantly, for about 1 minute.

Pour in the milk, chicken stock, Old Bay, thyme, parsley, cayenne, salt, and pepper, stirring well. Bring to a boil over medium heat, stirring occasionally.

Reduce heat to low and simmer for 12-15 minutes or until the potatoes are tender.

While the potatoes are cooking, using a knife to cut the corn from the cob. Use the back of the knife to release the pulp from the cob for extra flavor.

Add the corn, chicken, and green chiles to the pot. Cook over low heat until heated through, about 5 minutes.

Garnish with scallion greens, cooked bacon, and cheddar cheese.
Tips & Notes:
Canned corn will also work well in this recipe. Use 15 ounces of canned corn plus 15 ounces of canned creamed corn. Alternately, use around 16-30 ounces of frozen corn. The more the merrier!
Nutrition Information:
Calories: 219kcal (11%)| Carbohydrates: 23g (8%)| Protein: 9g (18%)| Fat: 11g (17%)| Saturated Fat: 4g (25%)| Trans Fat: 1g| Cholesterol: 22mg (7%)| Sodium: 293mg (13%)| Potassium: 423mg (12%)| Fiber: 2g (8%)| Sugar: 10g (11%)| Vitamin A: 386IU (8%)| Vitamin C: 8mg (10%)| Calcium: 119mg (12%)| Iron: 1mg (6%)