Crock pot chicken tacos just might be my favorite thing to serve on taco night! We all love the juicy, flavorful chicken and this recipe is so easy to make in your slow cooker!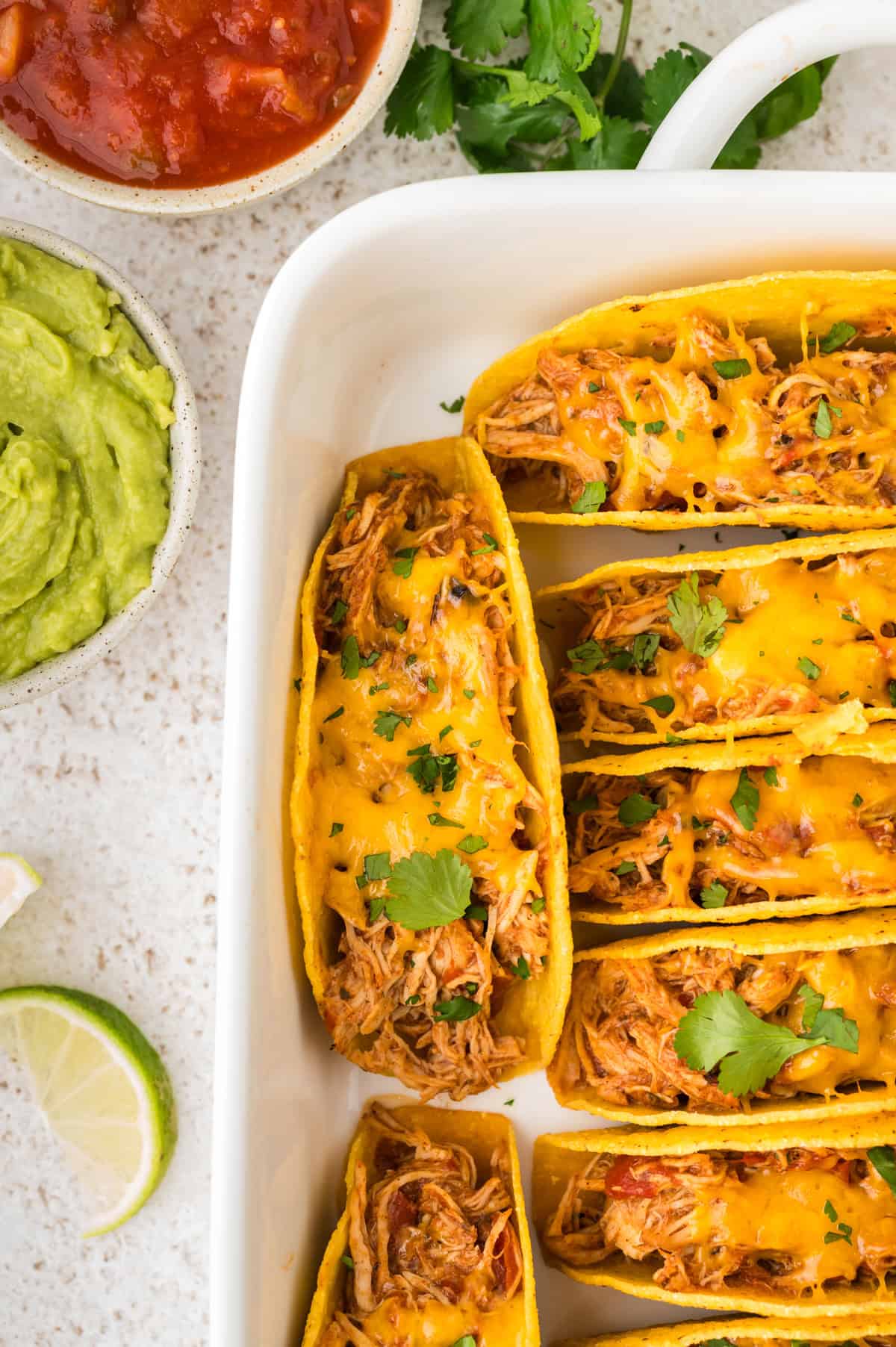 My BFF and I went on a cruise together last year and it was the first time we'd really had multiple days together since high school. I mean, we both have families that demand our time so it's not like we have a lot of sleepovers these days.
Well, on the cruise, she happened to notice something about me that she hadn't noticed before. My ability and desire to turn any and every food into a taco.
I'm a taco nut. I love them and could eat tacos every day and never tire of it.

My fried tacos and taco lasagna are total staples in this house. I also regularly make scrambled egg tacos for dinner, because it's so dang easy and I always have the ingredients on hand.
These crockpot chicken tacos are so good!
Anyway, I like to mix things up and get creative in the taco department and one of my favorites is crockpot chicken tacos. The meat is so tender and juicy. It's bursting with flavor, because I go a little above and beyond your standard packet of taco seasoning here. I add in some ranch powder. And some fire roasted diced tomatoes. I loooooooove this shredded chicken taco meat!
Gimme all the slow cooker chicken tacos and nobody gets hurt. 🙂
I use my slow cooker for this and everything comes together super quickly. You can cook on low for anywhere from 5-8 hours or on high for 3-4 hours and the meat will come out perfectly tender and shreddable. (That's a word, right?)
I used crispy taco shells in this recipe and stood them up in a 9×13, filled them with the meat, topped with cheese, and then baked everything to cheesy perfection. I love how easy it makes for everyone to grab a taco this way and the warm shells and gooey cheese are amazing here! But, you can totally use soft tortillas or skip the baking party if you prefer.
Slow cooker chicken tacos are the answer to taco night!
I also give these a big ol' drizzle of Cholula, but you can use any Mexican hot sauce or taco sauce you prefer. Salsa would be great too!
The chicken in this recipe is perfect in these tacos, but it also works well in lots of other ways! I made some sheet pan chicken nachos using this recipe, but the chicken would also be great in my burrito casserole! Try it in my taco lasagna too!
I hope you guys go as nuts for these tacos as we do! I'll be back soon with a nacho recipe featuring this meat that you're going to love as well!
Slow Cooker Shredded Chicken Tacos
It doesn't get much easier than these shredded chicken tacos. The ranch and taco seasoning packets add big flavor. Feel free to swap the fire roasted tomatoes for salsa, if you wish.
Prep5 minutes
Cook8 hours
Total8 hours 5 minutes
Ingredients
1 3/4 pound boneless skinless chicken breasts
1 packet taco seasoning
1 packet ranch powder
14.5 ounce fire roasted diced tomatoes
12 hard taco shells
1 cup grated cheddar
1/4 cup diced cilantro
1/4 cup hot sauce or taco sauce
Instructions
Place chicken, taco seasoning, ranch powder, and tomatoes into a slow cooker. Cover and cook on high for 3-4 hours or low for 5-8 hours or until meat is easily shred with a fork.

Preheat oven to 350 degrees. Arrange taco shells in a 9x13 baking dish. Depending on the shells, you may need to use two pans.

Spoon meat into taco shells and top with cheese.

Bake for 10 minutes.

Remove from oven and sprinkle with diced cilantro and drizzle with hot sauce or taco sauce.
Nutrition Information:
Calories: 185kcal (9%)| Carbohydrates: 10g (3%)| Protein: 18g (36%)| Fat: 8g (12%)| Saturated Fat: 3g (19%)| Cholesterol: 58mg (19%)| Sodium: 294mg (13%)| Fiber: 2g (8%)| Sugar: 1g (1%)