Our Loaded Mashed Potatoes are made in the crockpot, keeping things extra simple and making for ultra smooth and creamy mashed potatoes! We load these potatoes up with cheddar, bacon, and green onions for the ultimate mashed potato recipe!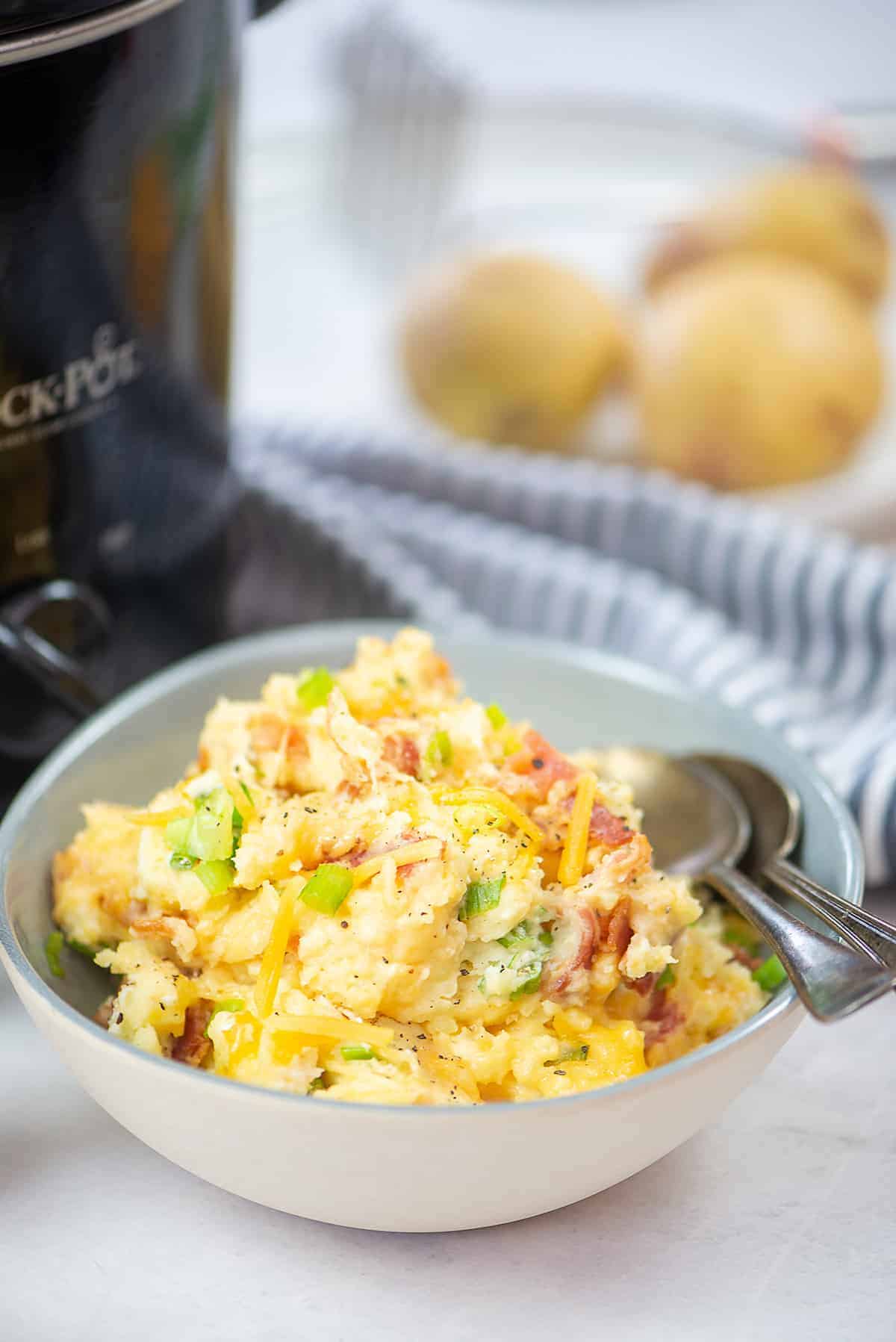 Loaded mashed potatoes are a THING in this house.
A big ol' thing, to be honest.
You see, when I'm going to the trouble of peeling potatoes (my least favorite kitchen task – anyone else agree?), I'm going to make them as absolutely amazing as possible.
Some days that just means extra butter, other days it means fully loaded mashed potatoes with things like bacon, cheddar, sour cream, cream cheese, butter, and green onions mixed in.
These are the ultimate holiday side dish and guests will ask for the recipe 100% of the time! Plus, the potatoes stay nice and warm in the crockpot, so you don't have to time things completely perfectly.
The crockpot makes things pretty simple to set and forget, so these are great for a weeknight too!
Love loaded potatoes? Try our baked potato salad or twice baked potato casserole next!
🥔 Ingredients for Loaded Mashed Potatoes:
Yukon Gold Potatoes – These are my preferred potatoes for mashing. See the FAQs below for more on why these potatoes work so well!
Chicken Broth – It seems like a strange thing to add to mashed potatoes, but it works! The potatoes will soak up all that flavor.
Cheese – We're going to load these potatoes up with both cheddar and cream cheese!
Bacon – Fry it, crumble it, and get ready to mix it into those taters.
What Readers are Saying!
"I made these and added chives. Family favorite now. I will make these for a work potluck too. So good!" – Sara
👩‍🍳 How To Make Crockpot Mashed Potatoes:
This post contains affiliate links. As an Amazon associate and member of other qualifying programs, I earn from qualifying purchases.
Prepare the Potatoes: To get started, peel and dice 5 pounds of Yukon Gold potatoes.
Add those diced potatoes to your slow cooker. This 8 quart crockpot is perfect, but anywhere from 6 quarts up will work great.
Pour in some chicken broth, cover, and cook on high for 3-4 hours or low for 6-7 hours, depending on your needs.
Mash: When the potatoes are fork tender, grab your potato masher and get ready to mash those taters!
You could just add a stick of butter and a splash of milk and mash away. If you feel like the potatoes are too thick or you want to change the consistency, just add more milk! You'll have perfectly creamy mashed potatoes.
But why not go a step farther…keep reading for the BEST loaded mashed potatoes ever!
Loaded Mashed Potatoes: You've got your crockpot mashed potatoes cooked to perfection and ready to mash! Let's load them up with good stuff.
Add butter and cream cheese into the slow cooker and start mashing those together with the potatoes.
Once your potatoes are smooth and creamy, we'll add in some sour cream, freshly grated cheddar cheese, crispy fried bacon, diced green onions, salt, and cracked black pepper.
Stir everything together and your loaded mashed potatoes are ready to devour!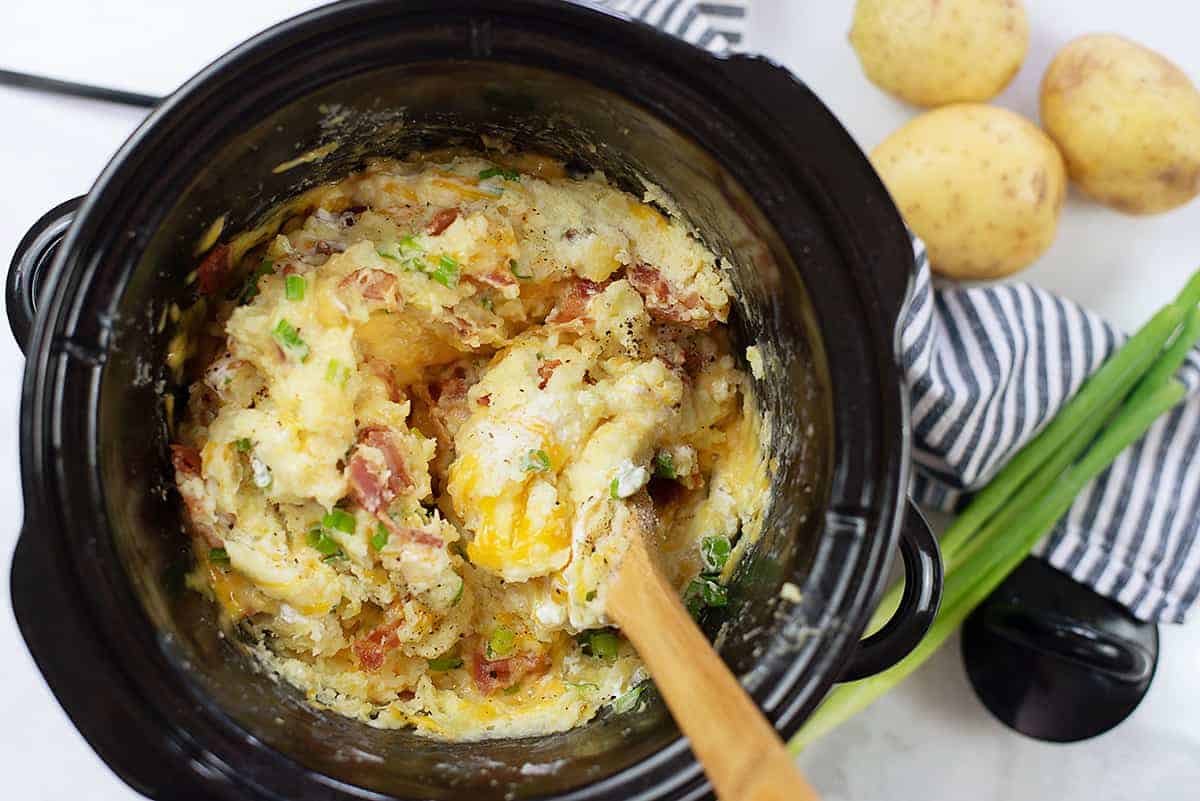 Leftover Hack!
Turn any leftovers into potato pancakes! Add 1 egg and 2 tablespoons of flour for every cup of mashed potatoes. Stir to combine and drop spoonfuls in a hot, buttered skillet and fry on each side!
FAQs:
What are the best potatoes for mashed potatoes?
Yukon Gold potatoes are my preferred potatoes for mashing. They have a high starch content which means they mash easily, soak up the butter perfectly, and they come out very creamy.
Do you drain the chicken broth before mashing the potatoes?
Nope! Leave all that flavor in there, it'll get soaked up in the potatoes as you mash them.
Can I re-heat these potatoes later?
Yes, they can be stored in the refrigerator for at least a couple of days. When re-heating try adding a little milk to keep them from drying out.
Helpful Tip!
It's All About Texture!
Want your potatoes to be thick and chunky? Mash for less time?
Like your mashed potatoes to be smooth and silky? Add milk and mash away until they're as smooth and creamy as you'd like. The more milk you add, the thinner your potatoes will be.
What to Serve with Loaded Mashed Potatoes:
Slow Cooker Ribs: For ribs that are tender and fall right off the bone, you can't beat this recipe!
Turkey Meatloaf: No one even misses the beef in this lightened up turkey meatloaf!
Asparagus Stuffed Chicken: Simple, cheesy, and full of asparagus.
Crockpot BBQ Chicken: Serve up these BBQ chicken sandwiches with a side of loaded mashed potatoes and you've got a tasty dinner!
Want a baked version? Try this twice baked potato casserole!
Be sure to follow me on Pinterest for more family-friendly recipes like this!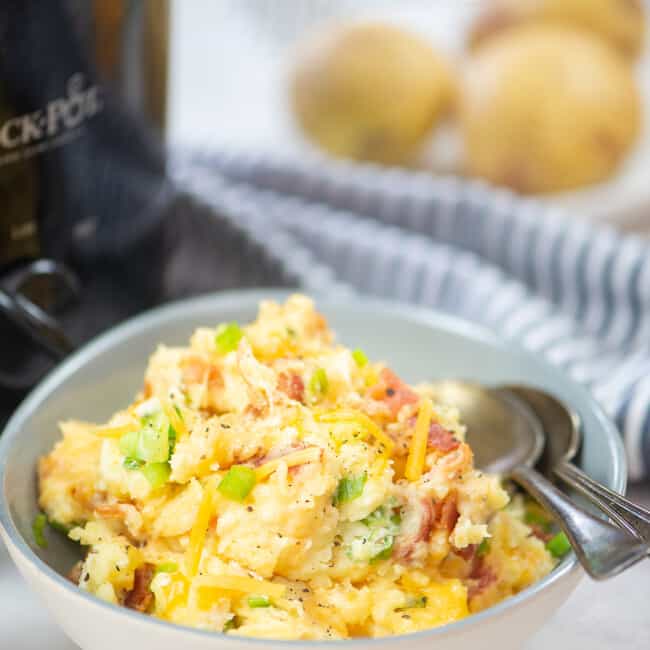 Crockpot Loaded Mashed Potatoes
The creamiest mashed potatoes made in the slow cooker and loaded with cheese, bacon, and sour cream! These are a great side dish for a holiday dinner, but they're easy enough for any night of the week.
Prep20 minutes
Cook4 hours
Total4 hours 20 minutes
Ingredients
5 pounds Yukon Gold potatoes
¾ cup chicken broth
1/4 cup milk more as needed
¼ cup butter softened
4 ounces cream cheese softened
½ cup sour cream
2 cups grated cheddar
1 cup fried and crumbled bacon
¼ cup chopped green onions
2 teaspoons salt
1 teaspoon pepper
Instructions
Wash, peel, and cut the potatoes into 1 inch chunks. Add to a slow cooker with the chicken broth.

Cover the slow cooker and cook on high for 3-4 hours or low for 6-7 hours, until the potatoes are very tender and easily mashed.

Add the milk, butter, and cream cheese to the slow cooker and mash the potatoes until smooth and creamy.

Stir the sour cream, grated cheddar, fried bacon, green onions, salt, and pepper into the potatoes. Continue stirring until cheese has melted and potatoes are well mixed. Add more milk as needed to reach your desired consistency.

Taste and add additional salt and pepper as desired.

Serve immediately or use the 'warm' function on your slow cooker to keep the potatoes warm until ready to eat.
Tips & Notes:
We prefer Yukon Gold potatoes for mashing, but red or russet potatoes also work well. To reheat leftover potatoes, add milk as needed to keep the potatoes creamy.
Nutrition Information:
Calories: 281kcal (14%)| Carbohydrates: 24g (8%)| Protein: 10g (20%)| Fat: 16g (25%)| Saturated Fat: 9g (56%)| Cholesterol: 46mg (15%)| Sodium: 664mg (29%)| Potassium: 847mg (24%)| Fiber: 4g (17%)| Vitamin A: 515IU (10%)| Vitamin C: 23mg (28%)| Calcium: 216mg (22%)| Iron: 6.4mg (36%)