This HOMEMADE SPAGHETTI SAUCE is quite simple to make! Toss your ingredients in a pot to simmer for a couple of hours and you'll have the most flavorful spaghetti meat sauce ever!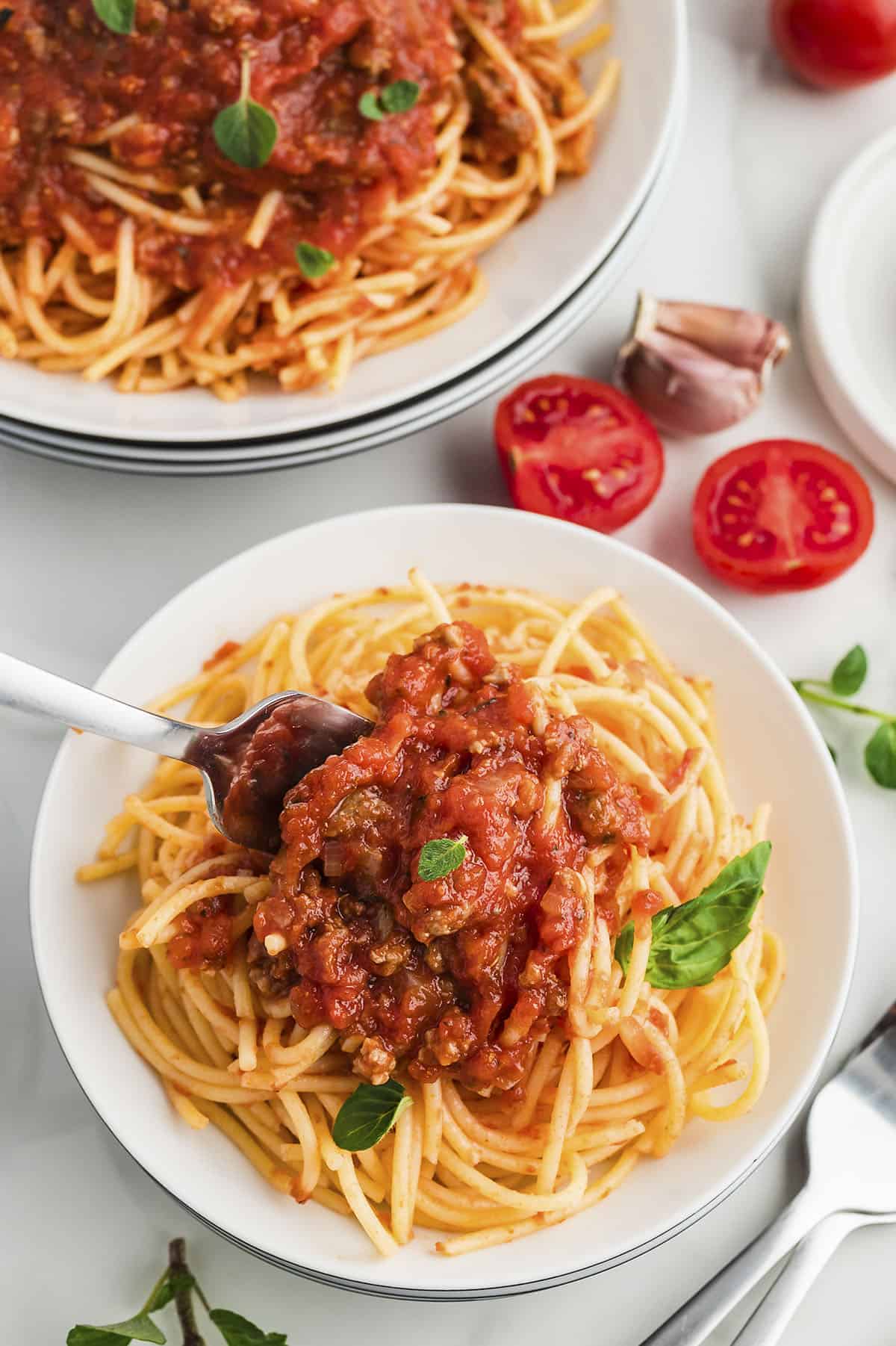 My mama used to tease me for making my life more difficult than it needs to be.
I once had our family coming over and was in a major time crunch. And, yet, I still made homemade ricotta cheese to add to the baked ziti I was serving. Ridiculous? Probably. Worth it? 100%.
I love making homemade dinner rolls or biscuits from scratch.

Often, I make my own donuts instead of just buying them from the donut shop like most people do.
Can't help it – I enjoy the challenge and it's almost always worth the extra effort! (That's not to say that we don't eat Hamburger Helper from a box and use box mac and cheese on the regular – I'm a busy mom too!)
This spaghetti meat sauce making habit of mine? It's so fabulous.
I mean, it's DELICIOUS and one hundred and three times more flavorful than the jarred kind at the store. That's a mathematically correct fact. I did the research. It took hours.
Having a big pot of homemade spaghetti sauce simmering away for hours not only makes you feel all domesticated, it makes the house smell divine. Everything just feels cozier.
Give this a try the next time you're having a spaghetti dinner. You won't regret it!
How to make homemade spaghetti sauce:
Homemade spaghetti sauce is quite easy, but it does need a few hours to simmer away on the stove. Don't let the time involved deter you though – a lot of this is hands-off time.
We're making spaghetti meat sauce because I think the meat adds so much rich flavor to the sauce. Even when I make meat sauce, we still sometimes add my turkey meatballs. So good!
To start, you'll brown some ground beef and ground Italian sausage in a large dutch oven or other heavy-bottomed pot.
Once the meat is browned, add in your diced onion and minced garlic. <— Don't skimp on the garlic!
Stir in some crushed tomatoes, tomato paste, Italian seasoning, sugar, and salt.
Sugar might seem like an odd addition, but it's just a bit and it helps to balance out the acid in the tomatoes.
Now comes the hardest part of all – waiting!
This needs to simmer for at least 2 hours, but preferably closer to 4 hours. The longer it simmers, the more flavorful the sauce gets. The more tender the meat gets. The more amazing your world will be. 😉
Be sure to sneak little spoonfuls of this spaghetti sauce every time you walk through the kitchen. It's delicious.
Use this spaghetti meat sauce to make my ravioli lasagna too!
What gives spaghetti sauce flavor?
Loads of garlic, plenty of Italian seasonings like basil, oregano, and rosemary, and a mixture of beef and pork.
I use a jar of Italian Seasoning – it's just a blend of herbs. You can put in a mix of your favorite Italian herbs instead if you like.
The beef and pork in this spaghetti sauce recipe add a delicious richness to the sauce and they get so tender as they simmer away for hours with the sauce.
I don't drain the fat from the meat after cooking as that helps add flavor to the sauce as well.
Feel free to also stir in some red pepper flakes or a splash of red wine to add even more flavor.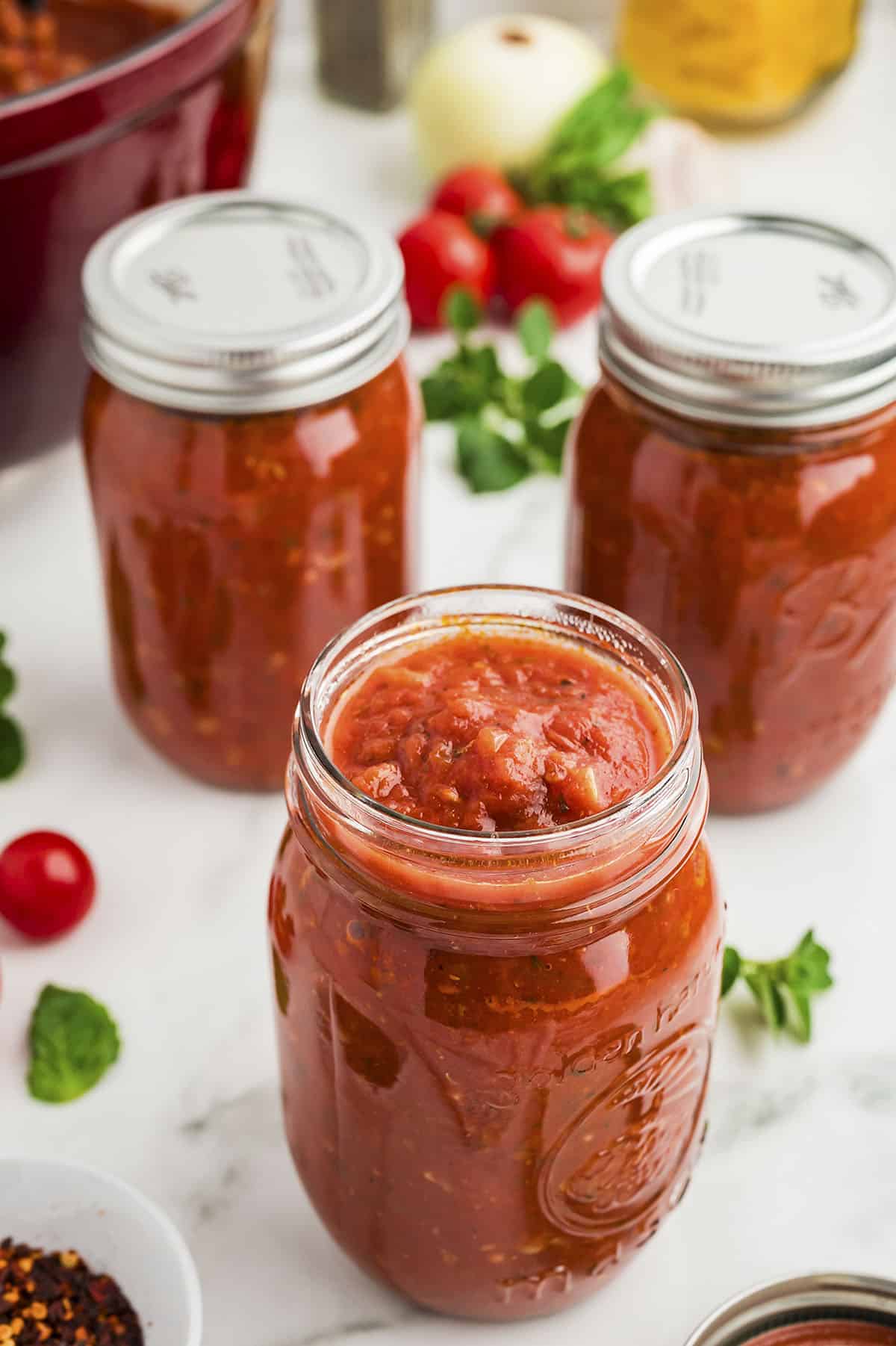 Why add sugar to homemade spaghetti sauce:
It sounds strange to add sweetness to a savory recipe, but just like you'd never bake cookies without balancing the sweetness with a pinch of salt, you often want to balance the acidity of tomatoes with a pinch or two of sugar.
Feel free to adjust the sugar to suit your needs, but I recommend adding at least a pinch to really balance the flavors and bring it all together.
How to thicken spaghetti sauce:
This spaghetti squash thickens as it cooks. Just keep simmering and the liquid in the tomatoes will evaporate a bit. The sauce turns out perfect for tossing your pasta.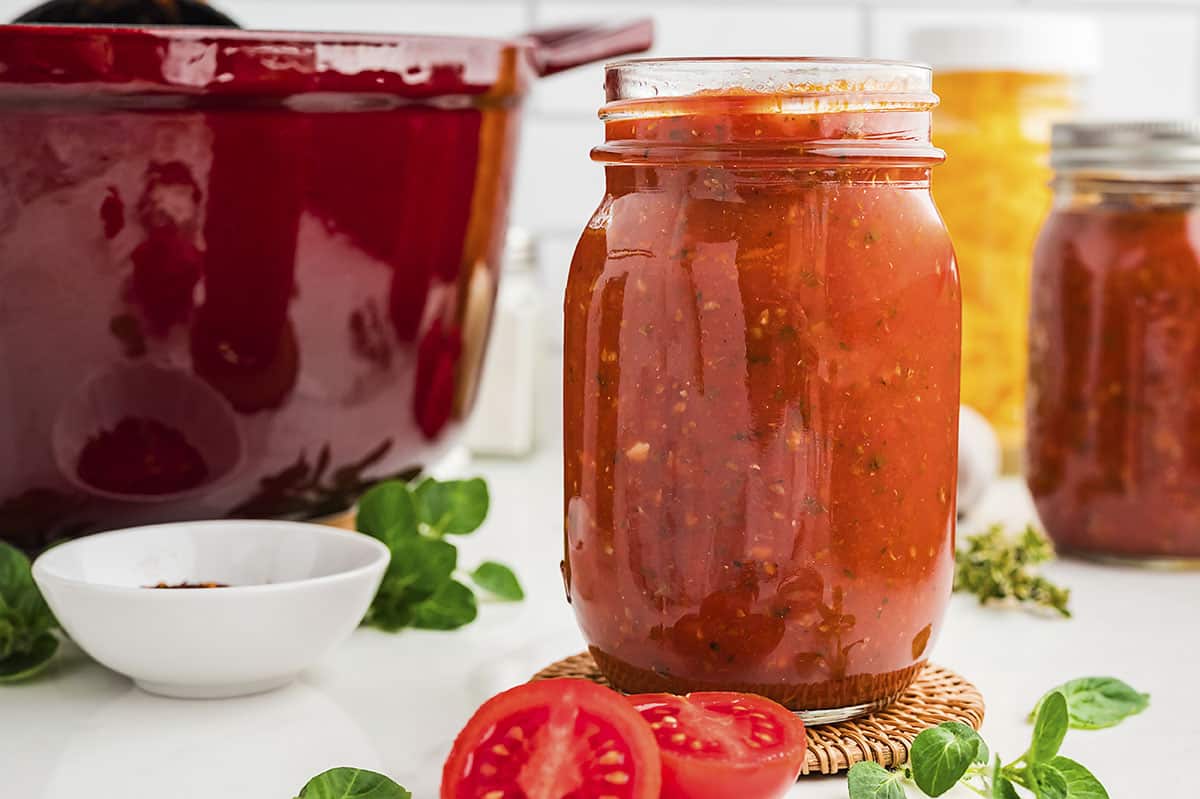 How to store homemade spaghetti sauce:
This recipe makes enough to generously coat two pounds of pasta.
If you won't be using that much sauce at one time, store leftovers tightly covered in the refrigerator for 3-4 days or freeze for up to 4 months.
More Italian recipes to try:
If you love this recipe, be sure to try my Alfredo sauce too!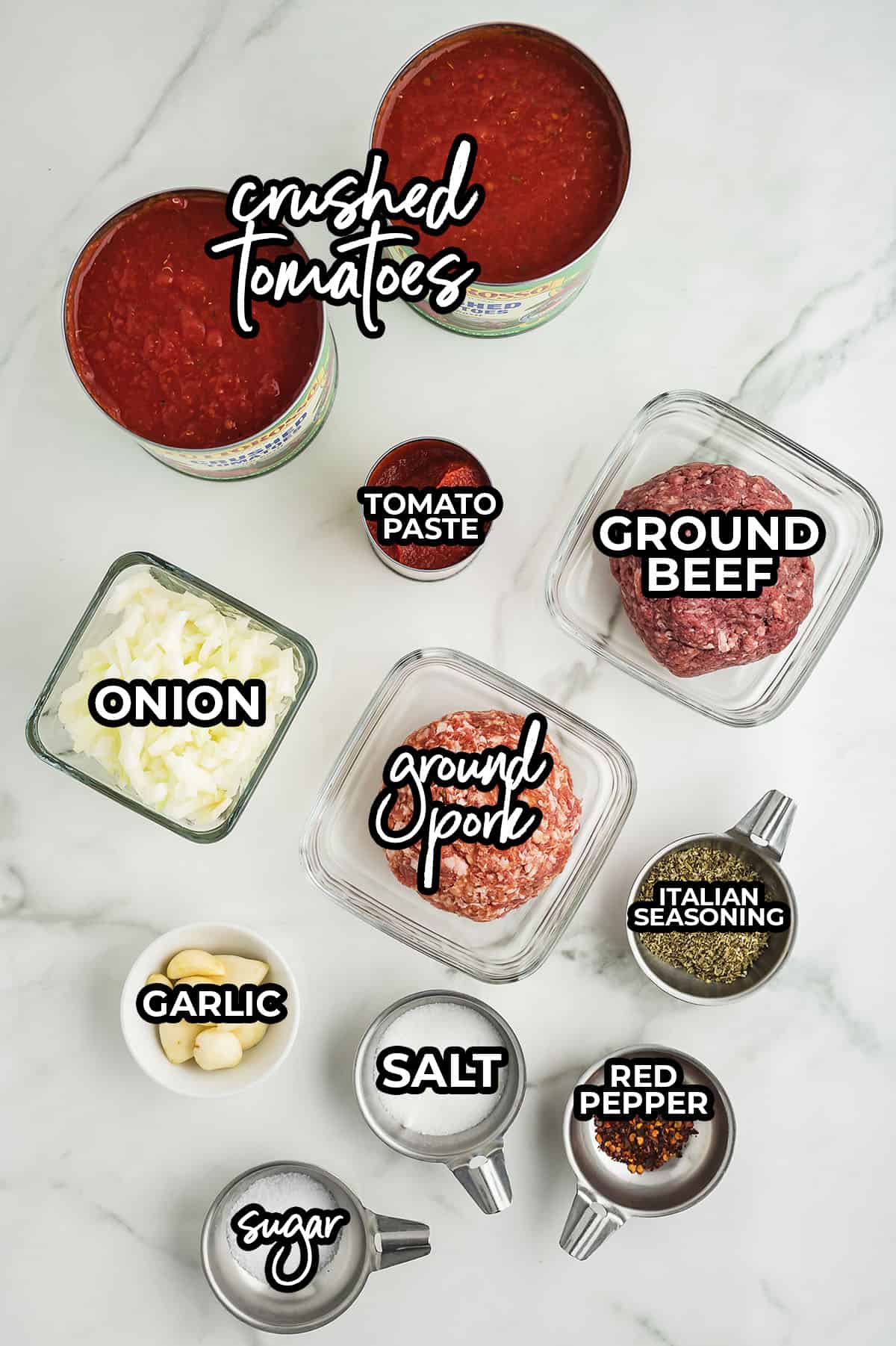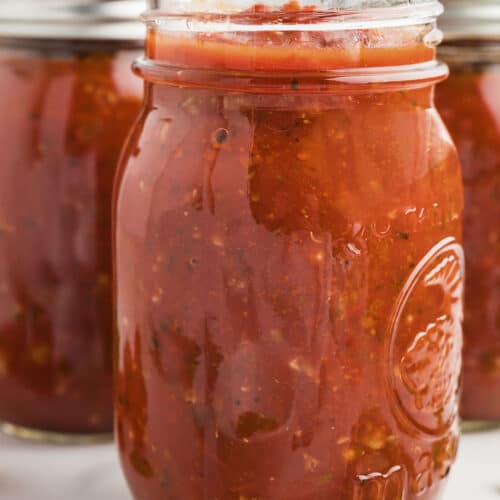 Homemade Spaghetti Sauce
This sauce is full of Italian flavors! It will make enough to coat 2 pounds of spaghetti, but I usually just use it for one pound of spaghetti and then we dip bread in the leftovers. It keeps well in the fridge for 4 days or in the freezer for a few months.
Prep10 minutes
Cook4 hours
Total4 hours 10 minutes
Ingredients
1/2 pound ground beef
1/2 pound pork sausage
1 medium onion finely diced
6 cloves garlic minced
56 ounces canned crushed tomatoes
6 ounces tomato paste
2 tablespoons Italian seasoning
1 tablespoon sugar or to taste
1 teaspoon salt
1/2 teaspoon red pepper flakes
Instructions
In a large pot over medium heat, cook the ground beef and pork until no longer pink. Do not drain.

Add the onion and garlic to the pot with the meat and cook over low heat until the onions are soft and the garlic is fragrant.

Add the remaining ingredients to the pot and simmer, uncovered, stirring occasionally, for 2-4 hours.

Taste and add additional sugar, salt, or red pepper as desired.
Tips & Notes:
You may substitute a 1/2 teaspoon each of basil, oregano, and rosemary plus a 1/4 teaspoon thyme in place of the Italian seasoning blend.
Nutrition Information:
Calories: 129kcal (6%)| Carbohydrates: 11g (4%)| Protein: 7g (14%)| Fat: 7g (11%)| Saturated Fat: 2g (13%)| Cholesterol: 20mg (7%)| Sodium: 462mg (20%)| Potassium: 494mg (14%)| Fiber: 3g (13%)| Sugar: 7g (8%)| Vitamin A: 415IU (8%)| Vitamin C: 12mg (15%)| Calcium: 55mg (6%)| Iron: 2mg (11%)
This recipe was originally published in November of 2012. It's been updated July of 2019. Original photo below.