Can you believe my husband doesn't consider soup a proper dinner? He thinks that dinner should be served on a plate. It should also include lots of meat and potatoes.
I love meat and potatoes as much as the next guy (or girl), but I'm also a big fan of hot, steamy, creamy soup. It's pure comfort food on a cold night, am I right?
So, I – being the loving wife that I am – served him soup for dinner last night. I like soup, okay? Also, I'm the cook. What I say goes.
He didn't complain or ask where the main course was, either. He was too busy shoveling this yummy Chicken Corn Chowder in his face.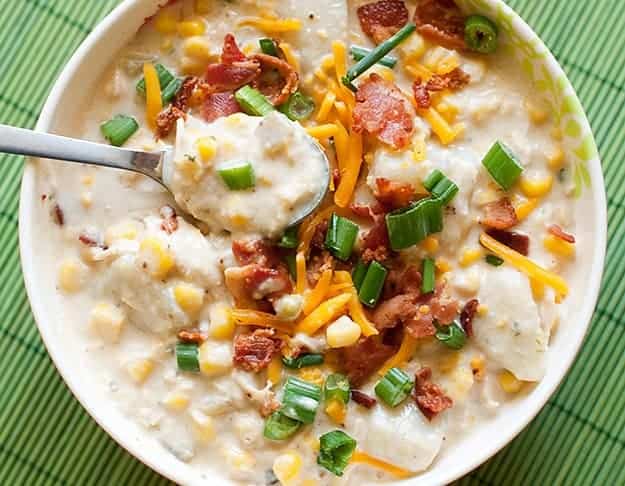 This easy corn chowder is so hearty and filling. It's full of the sweet flavor and crunch of corn, there are lots of juicy chunks of chicken, and then – this is the part he loves – I top it with crispy bacon and cheese.
Soup, or rather chowder, doesn't get much better than this. Thick, creamy, and so flavorful. Even men will eat it.
This is yummiest made with fresh corn on the cob, but using canned corn works very well and is still quite delicious! I used canned corn this time around.
Chicken corn chowder with bacon, because of course BACON!

My mama always freezes fresh corn each year. She buys a bunch from the farmer's market and then cuts it off the cob and keeps it in a freezer bag. We have fresh corn for Thanksgiving and Christmas and it is divine! Tastes just like summer! I might need to go steal a bag of her frozen fresh corn for this soup. I don't think she'll mind, as long as I share, do you?
I also like to feed the family my thick and hearty cheeseburger soup. It's loaded with all the standard cheeseburger flavors we all love! Or, if you don't have any chicken on hand or just want an option that's easy to make vegetarian, check out my corn and bean chowder! Super similar to this recipe, but packed with beans!
Corn and Chicken Chowder
My favorite soup to serve in the summer. It's so good with fresh corn cut from the cob!
Prep20 minutes
Cook30 minutes
Total50 minutes
Ingredients
6 ears corn on the cob husked and silks removed (or 1-30 ounce can corn and 1-15 ounce can cream corn)
6 slices bacon chopped
1/2 cup scallions chopped
3 medium potatoes
2 tablespoons all-purpose flour
3 cups whole milk
2 cups chicken stock
2 teaspoons Old Bay seasoning
1 teaspoon dried parsley flakes
1/2 teaspoon dried thyme
1/4 teaspoon cayenne pepper
4 ounces chopped green chiles
2 cups shredded, cooked chicken
Salt and pepper to taste
handful of grated cheddar for garnish
Instructions
In a large stock pot, fry the bacon pieces until crisp. Remove from the pan, leaving the drippings, and set aside.

Peel and chop the potatoes into bite sized chunks. Slice the scallions very thin and separate the greens from the whites.

Place the potatoes and white scallion pieces into the stock pot and cook over medium heat until the scallions have softened, 2 or 3 minutes.

Sprinkle in the flour and cook, stirring constantly, for about 1 minute.

Pour in the milk, chicken stock, Old Bay, thyme, parsley, cayenne, salt, and pepper, stirring well. Bring to a boil over medium heat, stirring occasionally.

Reduce heat to low and simmer for 12-15 minutes or until the potatoes are tender. Add corn (If using fresh corn, cut from the cob with a sharp knife. Use the back of your knife to release the pulp from the cob.), chicken, and green chiles. Cook over low heat until heated through, about 5 minutes. Garnish with scallion greens, bacon, and cheddar cheese.
Nutrition Information:
Calories: 373kcal (19%)| Carbohydrates: 30g (10%)| Protein: 19g (38%)| Fat: 20g (31%)| Saturated Fat: 7g (44%)| Cholesterol: 57mg (19%)| Sodium: 417mg (18%)| Potassium: 625mg (18%)| Fiber: 2g (8%)| Sugar: 13g (14%)| Vitamin A: 555IU (11%)| Vitamin C: 10.7mg (13%)| Calcium: 159mg (16%)| Iron: 1.7mg (9%)
I also love cheeseburger soup!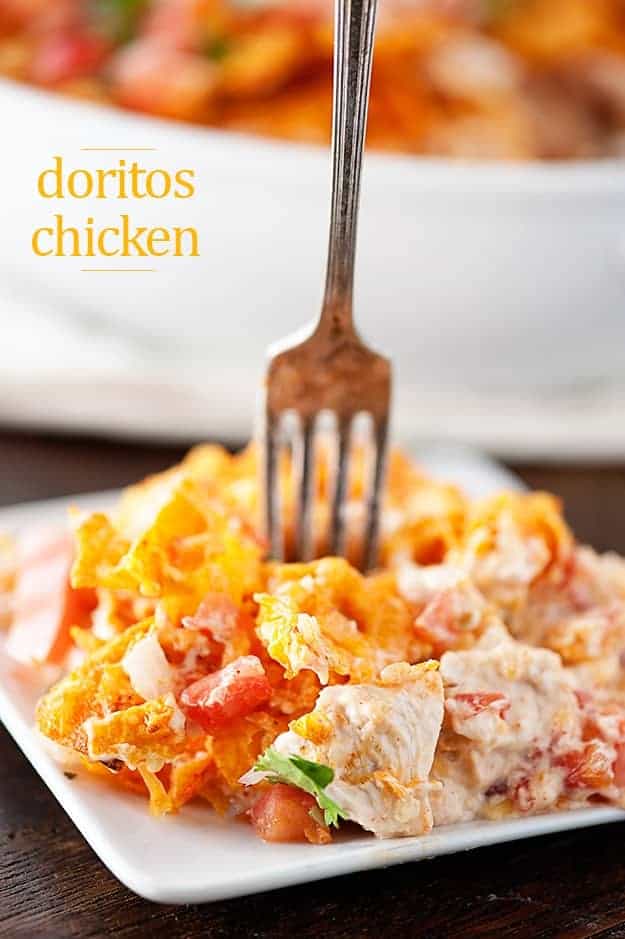 This Dorito Chicken Casserole is a fun dinner option!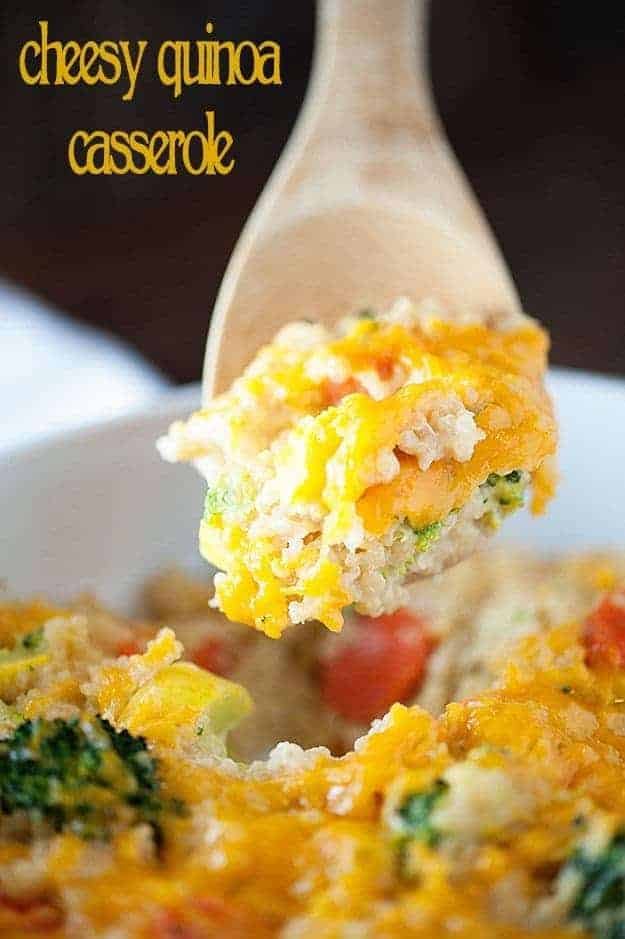 My whole family loves this Cheesy Quinoa Vegetable Bake!
We love the crunchy corn and tender beans in this corn chowder!