If you're searching for the best dang crock pot pulled pork recipe, you've got it! My pulled pork rub adds a ton of flavor and the recipe is perfect for an easy weeknight meal!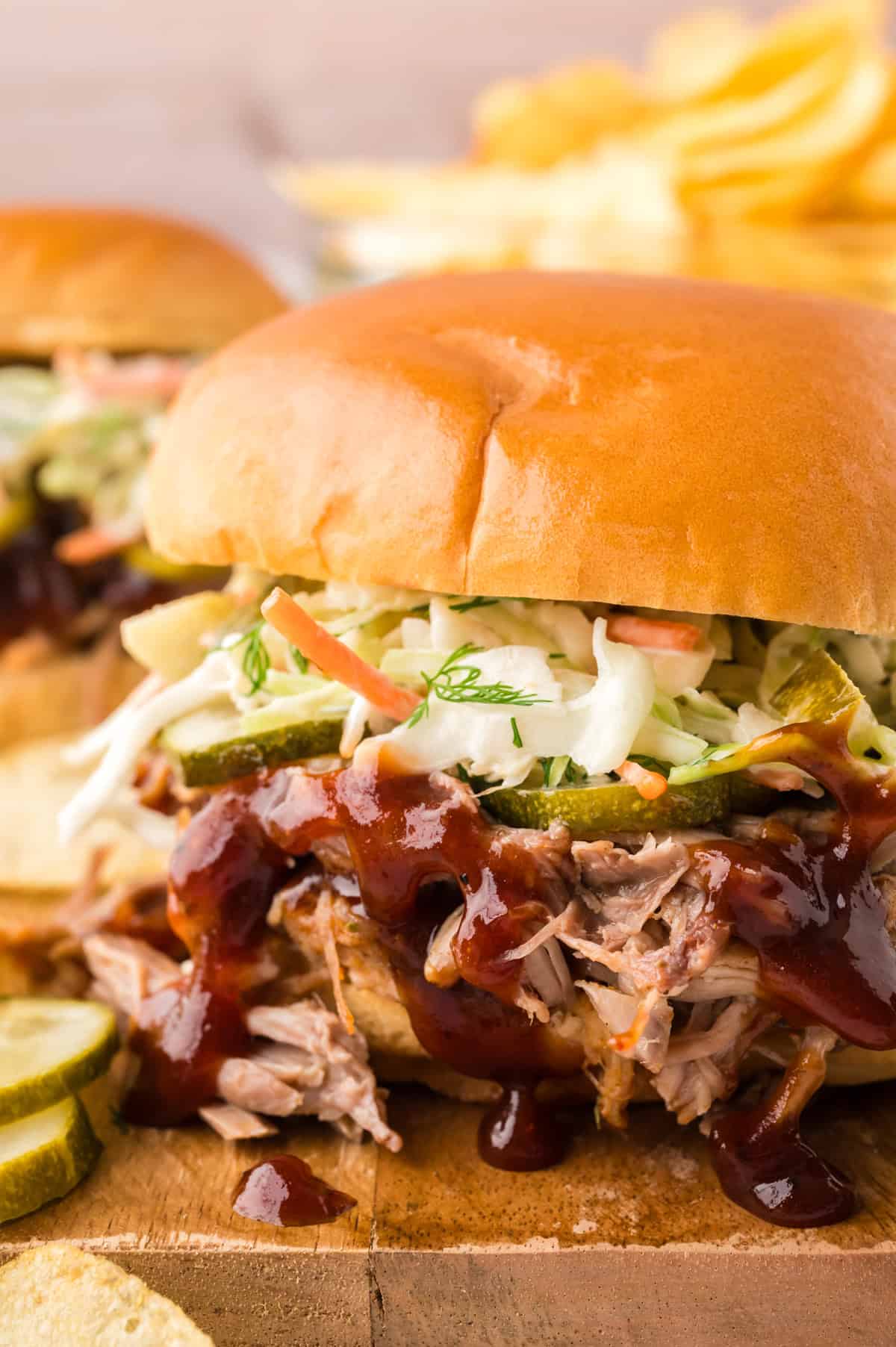 I don't know what my deal is lately, but I've been having this crazy love affair with pulled pork.
I was never a pork girl. I mean, aside from bacon. Obviously. But, over the last year or so, I've become smitten with pork in all of it's delicious forms. Pork Milanese, Pulled Pork and Pintos, and my Alabama Style Pulled Pork Sandwiches are regulars in this house. Pretty obsessed.
Lately, every time we have guests over, which seems to be every other weekend for some reason or another, I serve pulled pork. And I'm always always always asked for the recipe. I think it's because I season the pork pretty heavily. I like barbecue sauce as much as the next girl, but I really like my pork to be able to hold it's own.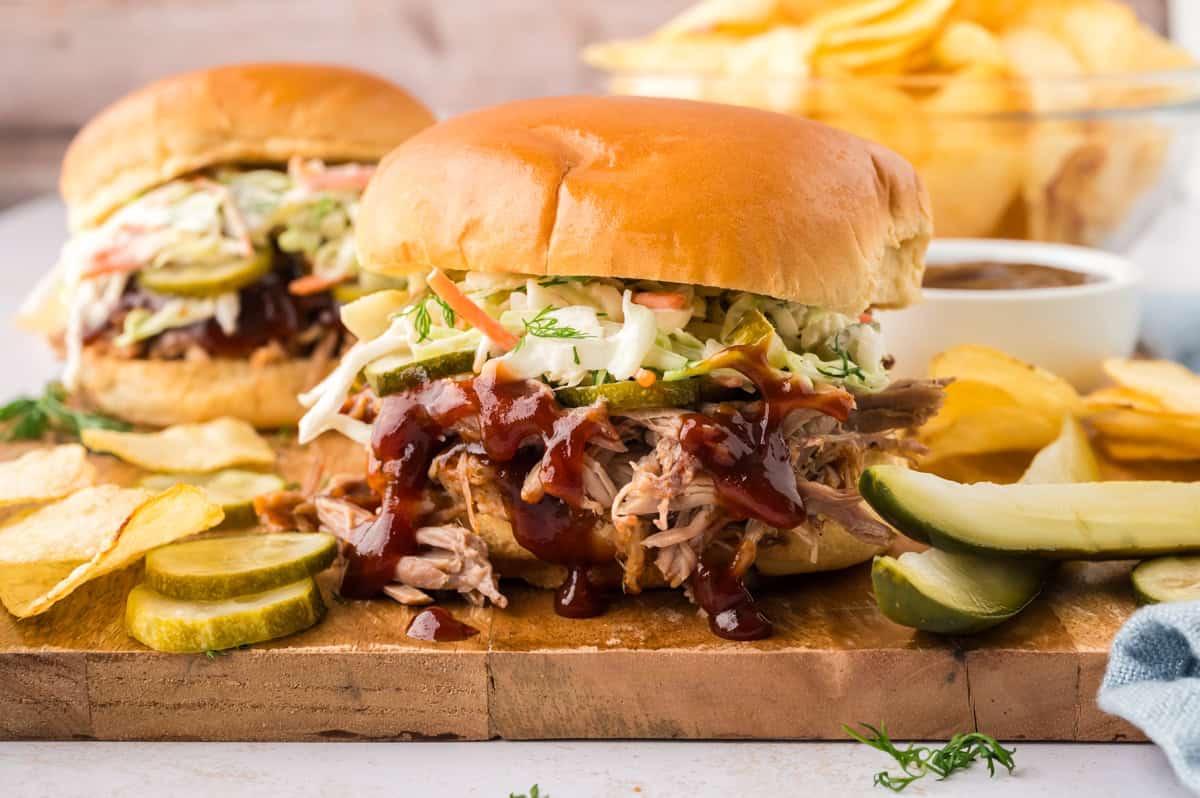 The dry rub/seasoning mix I use is super simple. A cup of brown sugar followed up by a tablespoon of every spice you might want to throw in there. I use a mix of garlic powder, onion powder, salt, paprika, cumin, and chipotle powder. If there is another spice you love, go ahead and add it – you can't mess this up!
I use my Ninja Slow Cooker for this recipe – I have a few different crock pots, but this one is my favorite. It seems to be a favorite among Amazon reviewers too! Get one here.
I only use half of the spice mix on the pork while it's cooking and then save the rest for seasoning the cooked pulled pork. It really amps up the flavor about a hundred times more than if you just dump the spice mix on the outside of the meat while it cooks. Color me obsessed.
I topped these sandwiches with a bit of my homemade tangy Carolina bbq sauce and my dill pickle slaw. The richness of the pork paired with the tanginess of the sauce and the pickle slaw is pure heaven.
One of my favorite things about this recipe is that it makes a ton of pork! I almost always have a big ol' bag of this in my freezer. I just grab it out and let it thaw in the fridge all day before heating it up for dinner. It's really been a life saver for me on busy days.
I've also been working on lots of other ways to use this pork up. Check back tomorrow for my Barbecue Pork and Mac and Cheese Pizza! Yes, it's just as good as it sounds! I also have a recipe for Cuban Sliders in the pipeline for you guys.
Of course, if you're not a fan of leftovers, you can always buy a smaller, boneless pork shoulder and just make a half of a recipe. No worries!
Barbecue Pulled Pork with Dill Pickle Slaw
If you're searching for the best dang crock pot pulled pork recipe, you've got it! My pulled pork rub adds a ton of flavor and the recipe is perfect for an easy weeknight meal!

Prep5 minutes
Cook8 hours 5 minutes
Total8 hours 10 minutes
Ingredients
For the pork:
6 pounds bone-in pork shoulder
1 cup brown sugar
1 tablespoon cumin
1 tablespoon garlic powder
1 tablespoon onion powder
1 tablespoon salt
1 tablespoon parsley
1 tablespoon paprika
1 tablespoon chipotle chili powder
Instructions
Place pork in 6 quart slow cooker set to low.

Add sugar and spices to a mixing bowl and stir well to combine. Coat the pork in half of the spice mixture. Cover and set aside remaining spice mix.

Cover slow cooker and cook on low for 8 hours. Alternately, bake in the oven at 250 degrees for 10 hours or until meat is easily pulled apart with a fork.

Use two forks to pull the pork apart. Sprinkle remaining spice mixture over the pork, tasting as you go. You may not need the full amount, so be sure to taste the pork as you season it until it's seasoned to your preference.

To serve, pile the pork on sandwich buns, top with barbecue sauce, pickles, and pickle slaw.

To store the leftover pork, keep covered in the fridge for up to one week or freeze in small bags.
Nutrition Information:
Calories: 323kcal (16%)| Carbohydrates: 38g (13%)| Protein: 25g (50%)| Fat: 7g (11%)| Saturated Fat: 2g (13%)| Cholesterol: 53mg (18%)| Sodium: 540mg (23%)| Potassium: 451mg (13%)| Fiber: 1g (4%)| Sugar: 7g (8%)| Vitamin A: 55IU (1%)| Vitamin C: 6.4mg (8%)| Calcium: 75mg (8%)| Iron: 2.7mg (15%)