September 27, 2013
Browned Butter Krispies Treats
You guys.
Just. No. I can not even.
I mean, rice krispies treats. They're so 1977, amirite? And yet, here I am in the midst of a ridiculous rice krispies treat obsession. I can't stop. I don't want to stop. I just want to put all of this browned butter goodness in my face as fast as is humanly possible!
Seriously. A straight up krispies treat is fine. I mean, I would never turn one down, it's just that they have never been my first choice.
Now? I went and topped my rice krispies treats with a browned butter glaze that seeps into the cracks and crusts over into this perfectly amazing topping that melts into sweetness the minute it hits your tongue.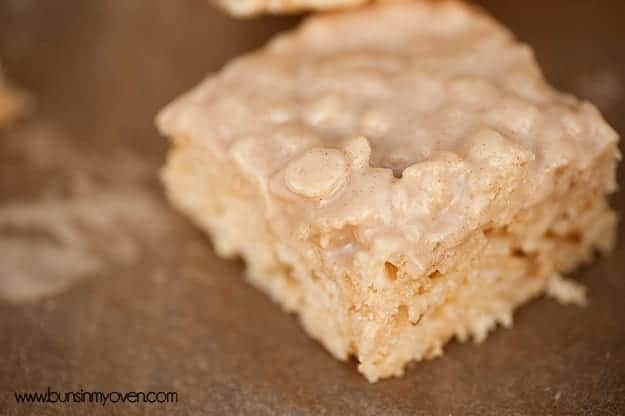 My family can not get enough of these. I've literally made four batches in one week. Two batches went to work with the husband, a half batch went to my parents, and the remaining one and half batches went straight in the rice krispies treat shaped hole in my face.
I hope you'll give these a shot.
Browned Butter Krispies Treats
Ingredients:
1 1/2 sticks (3/4 cups) butter, divided
6 cups Rice Krispies Cereal
10 ounce bag marshmallows
1 cup powdered sugar
Directions:
In a large stock pot, melt 1/4 cup of the butter over medium. Whisk constantly until the butter turns a golden brown. Immediately add the marshmallows to the pan and continue stirring until the marshmallows have melted. Remove from the heat and pour in the cereal. Stir to coat.
Line a 9x13 pan with parchment or wax paper and press the cereal into the pan. Use another sheet of parchment or wax paper to press the treats into place in the pan.
In a small sauce pan, melt the remaining 1/2 cup of butter over medium heat. Whisk constantly until the butter turns a golden brown. Remove from the heat and stir in the powdered sugar until smooth.
Pour the hot glaze over the krispies treats and smooth it over the top. Let sit until hardened, about 1 hour. Cut into small squares and serve.
Share this: