This healthy turkey meatloaf recipe will leave you begging for seconds! It's moist, packed with flavor, and lighter than traditional meatloaf! I just know your family will enjoy it.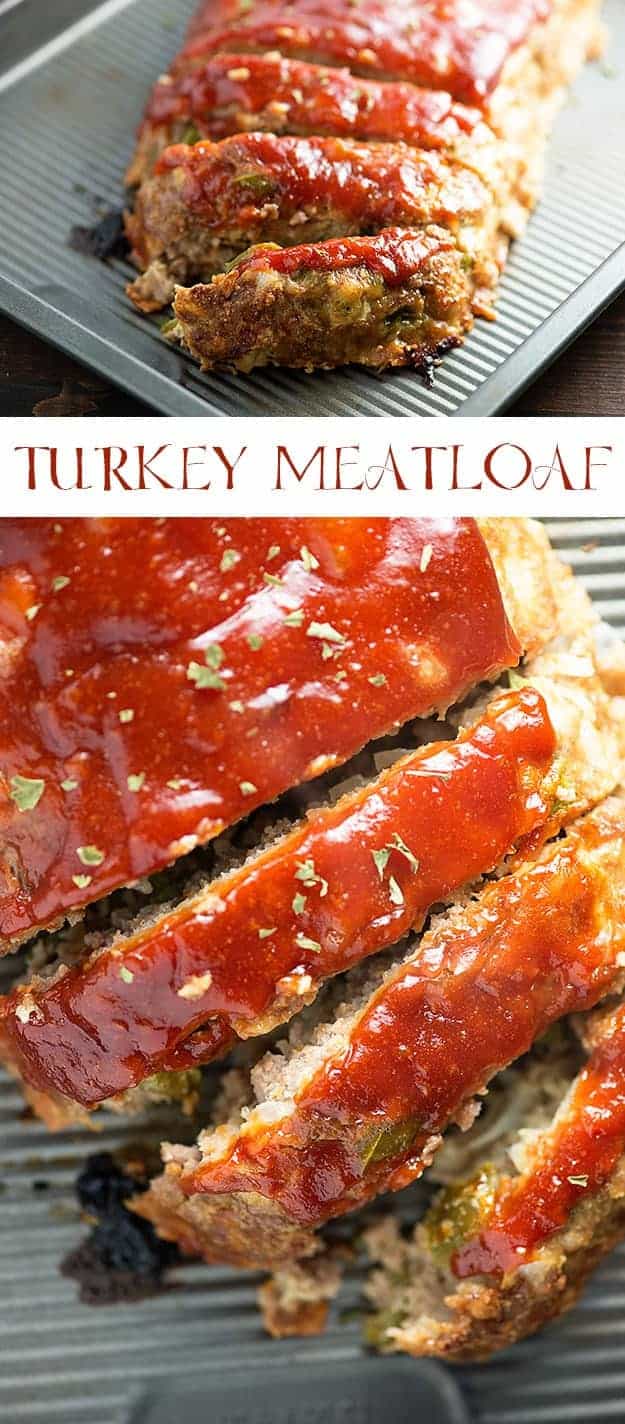 I believe I've mentioned this before, but I have a very manly appetite.
I like meatballs. I like meatloaf. You can keep the salad, just give me the meat.
Often, my husband and I go out to dinner and I order something ridiculously fattening and terrible for you and then he orders a salad.
In those moments, I really consider shoving all those stupid lettuce leaves down the man's throat until he chokes. <— But, I don't. Because that's murder and murder is wrong.
I don't want to end up on a Netflix documentary or something.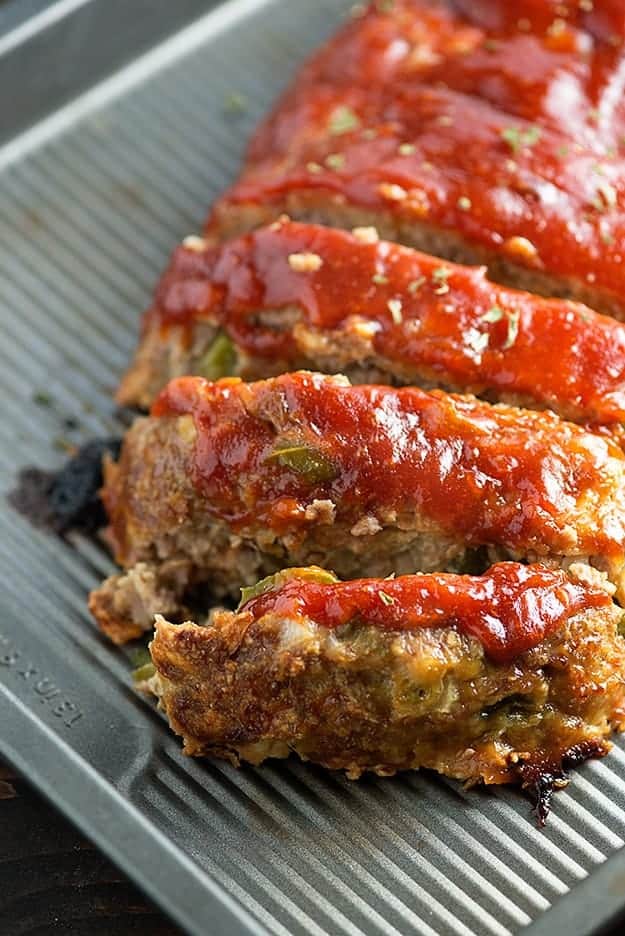 So, anyway. I figured it's high time we lighten up the meatloaf and make it a little less guilt inducing.
This recipe for turkey meatloaf is perfectly moist.
We use Stove Top Stuffing mix as the binder in this meatloaf and I absolutely love how moist and flavorful it makes our turkey meatloaf.
It adds the perfect flavor!
Now, I can't promise this ground turkey meatloaf recipe going to win over the non-meatloaf lovers, because those people seem to dislike meatloaf not because of the taste, but more because of the name and the looks and just the idea of it all.
I don't understand it, but I know it's a thing.
And, actually, yeah, now that I think about – a loaf of meat does sound kinda…ick.
If you watch the video I made for you, you'll see that I add a couple of slices of bread to the bottom of my pan and then form the meatloaf on top of them.
I get so many questions about this!
I do this so that the bread soaks up any liquid/fat that the meat releases. It works well for any meatloaf, whether it's turkey meatloaf or beef meatloaf!
After cooking and slicing, I just pop the pieces of bread off of individual slices. Easy peasy and you're not left with a meatloaf that's been sitting in a pile of grease!
This turkey meatloaf is the perfect family dinner!
So, anyway, this ground turkey meatloaf recipe is nowhere near as decadent as my bacon cheeseburger meatloaf, but my family eats it just the same. It's a little healthier and I feel good about serving it to them.
It's especially good the next day as a cold meatloaf sandwich for breakfast. I'm not the only one who does that, right?
Extra mayo on my meatloaf sandwich please! And white bread only. I'm not here for your whole gran bread on a meatloaf sandwich. No.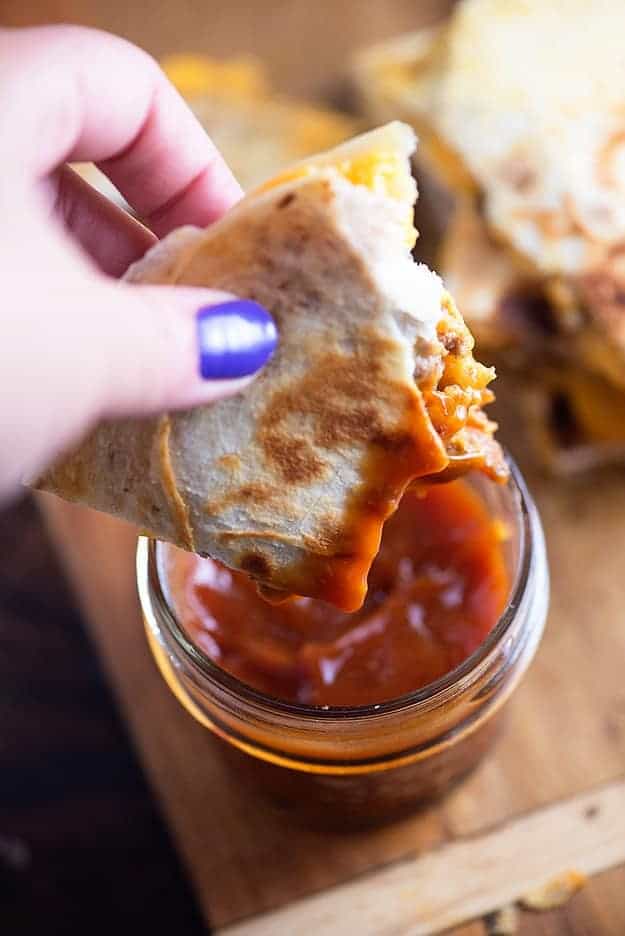 I've even made meatloaf quesadillas with leftover meatloaf! You should totally try one – that dipping sauce is phenom.
And if you're eating low carb, well…
Be sure to check out my low carb meatloaf. It's wrapped in bacon, because OF COURSE IT IS.
Serving suggestions:
Serve this alongside my cauliflower gratin, mashed potatoes, or roasted sweet potatoes (made with honey and cinnamon!) for a delicious meal.
My nutella brownie recipe makes a great dessert!
Turkey Meatloaf
The bread on the bottom of this meatloaf is optional, but I find it's perfect for soaking up any extra liquid/fat from the turkey as it cooks. I discard the bread before serving, but you do you.
Prep10 minutes
Cook1 hour
Total1 hour 10 minutes
Ingredients
1 1/2 pounds ground turkey
3/4 cup dry stuffing mix such as Stove Top
1/2 cup milk
1/4 cup powdered Parmesan cheese
1 small onion diced
1 green pepper diced
1 large egg
2 teaspoons salt
1 teaspoon garlic powder
1/2 teaspoon ground pepper
1/2 cup ketchup
1/4 cup brown sugar
1 tablespoon mustard
1 tablespoon Worcestershire sauce
2 slices bread
Instructions
Preheat oven to 350 degrees.

Combine turkey, stuffing mix, milk, Parmesan, onion, pepper, egg, salt, garlic, and pepper in a large bowl and mix well with your hands.

Place two slices of bread in the bottom of a baking sheet. Spoon mixture onto the bread and shape into a loaf.

Bake for 30 minutes and remove from the oven for the sauce.

In a small bowl, stir together the ketchup, sugar, mustard, and Worcestershire sauce. Spoon over the meatloaf and return to the oven for 30 minutes or until loaf is cooked through.

Let sit 5 minutes before slicing and serving. Remove the bread from the bottom of each slice of meatloaf before serving.
Nutrition Information:
Calories: 261kcal (13%)| Carbohydrates: 29g (10%)| Protein: 25g (50%)| Fat: 4g (6%)| Saturated Fat: 1g (6%)| Cholesterol: 74mg (25%)| Sodium: 1129mg (49%)| Potassium: 448mg (13%)| Fiber: 1g (4%)| Sugar: 13g (14%)| Vitamin A: 240IU (5%)| Vitamin C: 13.5mg (16%)| Calcium: 97mg (10%)| Iron: 1.9mg (11%)