Our Homemade Caramel Corn is surprisingly easy to make with a caramel sauce that comes together in the microwave! You can be enjoying a fresh batch of caramel corn in just 30 minutes!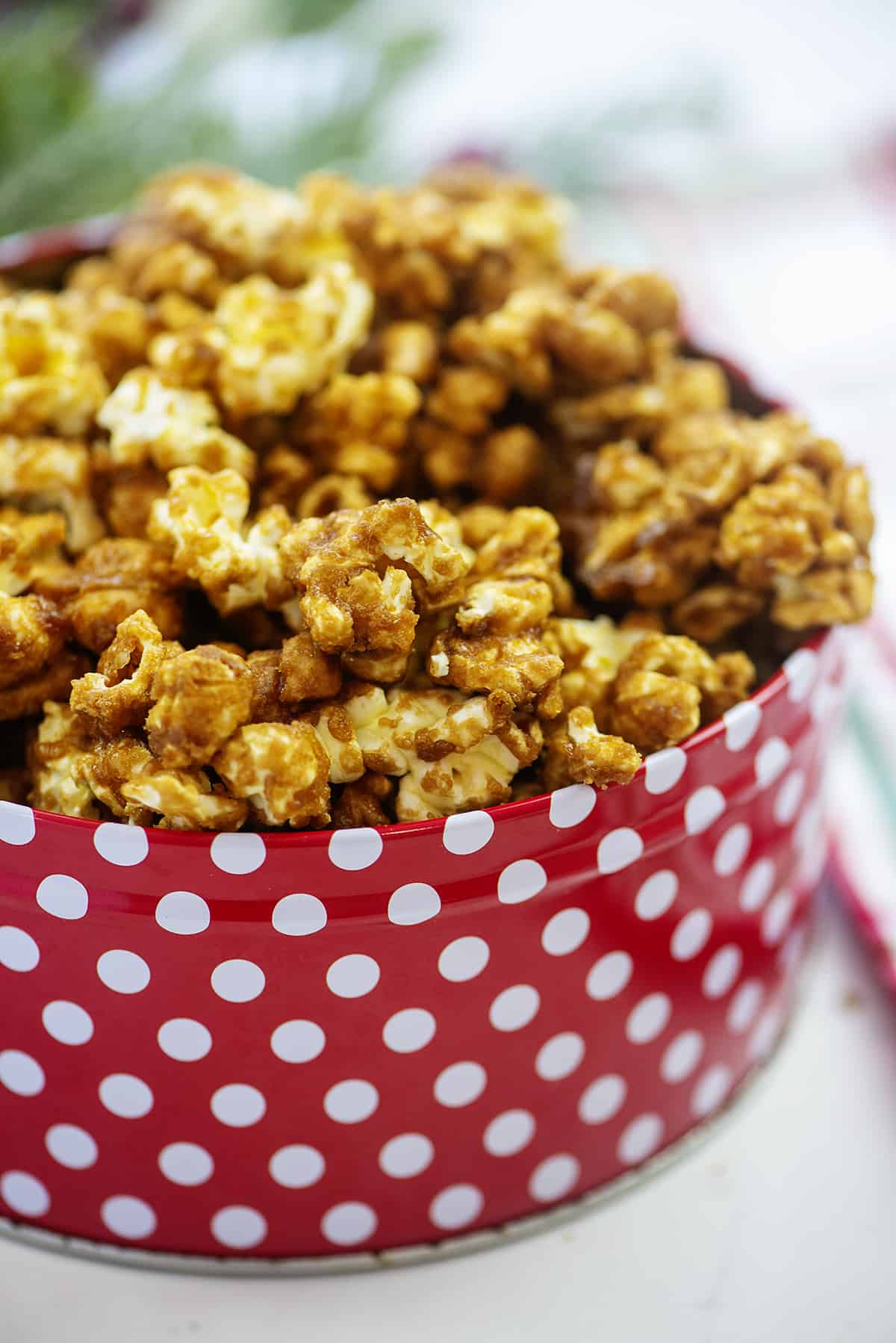 When my kids were younger, we'd curl up together with a bowl of homemade caramel corn and watch TV together.
Now that they're a bit older, and I'm less cool, I'm pretty sure the caramel corn is the only thing drawing them to a night in front of the TV with mom, but I'll take what I can get!
Not only is this homemade caramel corn a kid magnet, it also makes a great homemade gift to give friends and family. Or pop it on your next cookie tray, filled with our Millionaire Shortbread, Christmas Crack, Christmas Chocolate Chip Cookies, and microwave peanut butter fudge!
You can make this solely in the microwave for a nice, chewy texture, or you can finish it in the oven for a few minutes to get a more crunchy caramel corn.
Whichever you choose, you're going to love this recipe – and the fact that it'll bring your family running to spend time with you (and your bowl of caramel corn) is just the icing on the cake.
What We Love About This Recipe:
Microwave: Caramel sauce can be intimidating but this one is made in the microwave to keep things ultra quick and easy! You can't mess this up.
Customizable: Like it soft and chewy? We got you. Want it a bit crunchy? No problem? In the mood experiment? We'll share some ideas!
Giftable: Package this up in a cute tin and share it with friends and family this holiday season. Everyone loves a homemade gift.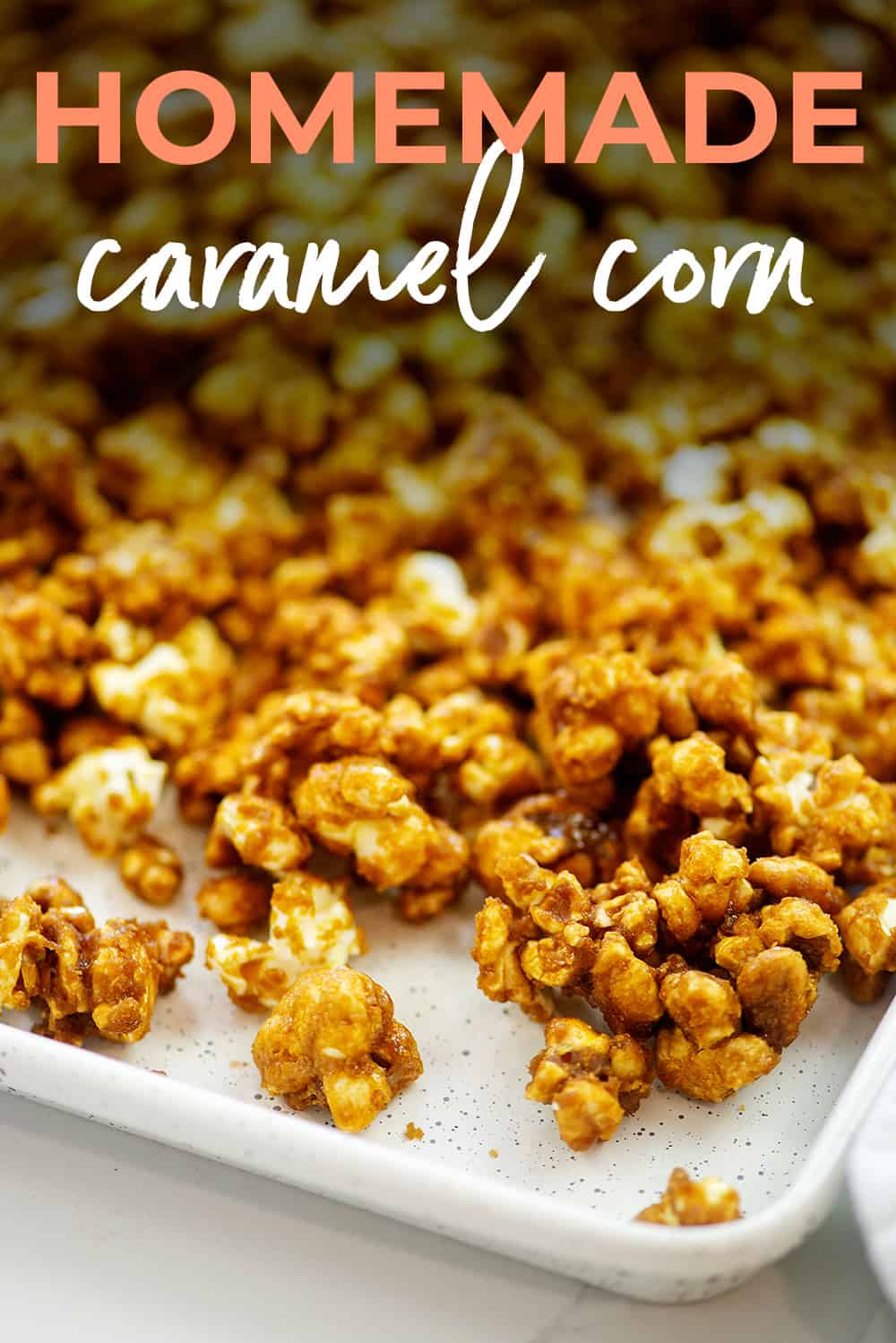 Homemade Caramel Corn
You won't believe how simple it is to make homemade caramel corn! It's simple to make it as chewy or as crunchy as you'd like and it only takes about 30 minutes.
Prep10 minutes
Cook20 minutes
Total30 minutes
Ingredients
12 cups popped popcorn about 1/2 cup kernels or about 2-3 bags microwave popcorn
1 cup peanuts optional
1 cup brown sugar
1/4 cup light corn syrup
1/2 cup butter cubed
1 teaspoon vanilla
1/2 teaspoon baking soda
1/2 teaspoon cinnamon optional
Pinch of salt
Instructions
Preheat oven to 250 degrees.

Place popcorn and peanuts (if using) in a large bowl and set aside.

Add the brown sugar, corn syrup, and butter to a small microwave safe bowl.

Microwave for 2 more minutes and stir.

Return to microwave for another 2 minutes. Stir to combine. The mixture should be hot and bubbly.

Stir in the vanilla, baking soda, and cinnamon (if using). The mixture will get a bit foamy.

Stir and then pour over the large bowl of popcorn. Mix well to coat popcorn and sprinkle lightly with salt.

If you want your caramel corn very chewy, go ahead and eat it now. Otherwise, pour caramel corn onto a foil or parchment paper lined baking sheet in a single layer.

Bake for 5 minutes and then stir and taste. Keep baking and stirring every 5 minutes (up to 20 minutes of baking) until the popcorn is as crunchy as you'd like. It will harden up a bit as it cools.

Break apart any large clumps and let cool.
Tips & Notes:
The cinnamon is completely optional, but we like the subtle flavor it adds to the caramel corn. Pumpkin spice is also a delicious addition. Store in an air tight container for up 2 weeks.
Nutrition Information:
Calories: 505kcal (25%)| Carbohydrates: 88g (29%)| Protein: 12g (24%)| Fat: 12g (18%)| Saturated Fat: 4g (25%)| Cholesterol: 12mg (4%)| Sodium: 82mg (4%)| Potassium: 338mg (10%)| Fiber: 13g (54%)| Sugar: 14g (16%)| Vitamin A: 140IU (3%)| Calcium: 24mg (2%)| Iron: 3.3mg (18%)
Ingredient Notes:
This post contains affiliate links. As an Amazon associate and member of other qualifying programs, I earn from qualifying purchases.
Popcorn – There are two main varieties of popcorn and both should work well. There is the butterfly type and the mushroom type, both named after how they look. The mushroom variety is what gets used most often for caramel corn you'd buy at the store. We normally use the butterfly type, because that's what is easiest to find in the microwavable packets. 😉
Peanuts – These are completely optional, but my kids love the crunch of the peanuts with the caramel corn!
Caramel Sauce – This homemade caramel sauce is easy to make in the microwave with a few simple ingredients like butter, corn syrup, and sugar! (Did you know that Karo corn syrup is NOT the same as High Fructose Corn Syrup? It's 100% glucose – no fructose at all.)
Cinnamon – This is optional but we love to add a little for some extra flavor. Perfect for Fall!
Baking Soda – It will help keep the sugar in the caramel from crystalizing and clumping together.
What Readers are Saying!
"I just made this for my family (to put into their lunch boxes for the week) and I can honestly say that this is THE best caramel popcorn I've ever had in my whole life!!! Thank you! This recipe is a keeper!" – Becca
How to Make Caramel Corn Recipe:
Popcorn: To start this easy caramel corn recipe, just pop some corn! You can use microwave if you want, or you can pop it on the stove. Check out Simply Recipes for how to make perfect popcorn.
Caramel: For the caramel sauce you just add butter, brown sugar, and corn syrup to a microwave safe bowl and heat it all up! Stir in some baking soda and vanilla, dump it on your popcorn and stir. Seriously, does it get easier than that?
Bake: You can go ahead and eat your caramel corn as it is, if you like it very chewy and soft. We prefer ours to have a bit of crunch to it, so we take the extra step of baking the caramel corn.
You'll just bake for 5 minutes, stir, and repeat until the caramel corn is as crunchy as you'd like. It will harden a bit after it cools as well, so don't bake for more than 20 minutes.
Devour or Store: You can go ahead and break this apart and dig in as soon as your caramel corn has cooled, or you can portion it out how you'd like into zip top bags. It'll stay fresh for about 2 weeks.
FAQs:
Should the caramel corn be soft, chewy, or crunchy?
Some people like their caramel corn soft and chewy and some like it hard and crunchy. I prefer it to be more crunchy than chewy, but not so hard that it breaks my teeth. If you like it soft, go ahead and eat it immediately. If you want it a little crunchier, bake it for 10 to 20 minutes depending on how crunchy you want it!
Can I store caramel popcorn?
Yes, caramel popcorn will stay fresh for 2 weeks in an airtight container at room temperature.
Karly's Tips & Tricks!
Popcorn: If you use a microwave popcorn, look for one that's a bit light on the butter. This isn't the time for theater style/extra buttery popcorn.
Texture: It's so easy to make this a chewy caramel corn or a crunchy caramel corn! The longer you bake, the crunchier the caramel corn becomes. Do keep in mind that it will get a bit more crunchy as it cools, as well.
Additions: You can keep it simple and make a standard caramel corn, or you can dress it up by stirring in peanuts or pecans! You can also add in a bit of cinnamon to give it this delicious warmth. Pumpkin pie spice is tasty on this caramel corn for a Fall vibe, too.
More Homemade Snacks!