December 7, 2012
Taco Stuffed Shells
Yeah. I know.
Here I am with yet another Mexican-ish recipe.
It will be a miracle if my husband doesn't divorce me. The poor man just doesn't care for Mexican food and it's all I ever seem to cook.
In my defense, I made Chicken Alfredo the other night just to make him smile. Italian food! I deserve an award!
Anyway, Mexican-ish food is delicious. And I call this Mexican-ish, because I'm pretty certain that no one in Mexico actually stuffs pasta shells with ground beef seasoned with one of those small taco seasoning packets from the grocery store. I wonder if they even sell those little packets in Mexico. Probably not.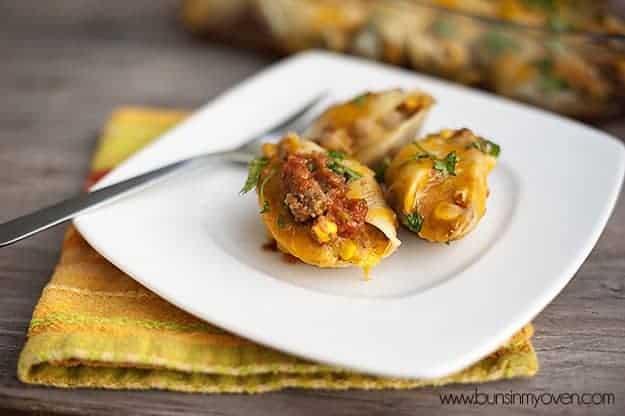 So, yeah, this isn't "real" Mexican food. But, it's my version of Mexican food and I adore it. Don't be a hater.
Taco Stuffed Shells
Ingredients:
1 pound jumbo shells
1 pound ground beef
1 packet taco seasoning
1/2 teaspoon chipotle powder (optional)
1/4 cup water
4 oz cream cheese
1 can corn
4 oz diced green chiles
1/2 cup cheddar, grated
1/2 cup monterey jack, grated
1 cup salsa
cilantro, for garnish
Directions:
Bring a large pot of water to boil and add the pasta shells. Cook one minute less than pacakge directions state. Drain and set aside until cool enough to handle.
Brown the ground beef in a large skillet over medium heat. Drain fat.
Return the ground beef to the skillet and turn the heat to low. Stir in the taco seasoning, chipotle powder, and water. Simmer for 2 minutes.
Stir in the cream cheese until completely melted.
Stir in the corn and green chiles and remove the pan from the heat.
Pour the salsa into a 9x13 baking dish and spread to cover the pan evenly.
Fill each pasta shell with the ground beef mixture and place in the baking dish.
Top each pasta shell with a mixture of the grated cheddar and monterey jack cheese.
Bake in a 350 degree oven for 20 minutes.
Remove from the oven and sprinkle with the chopped cilantro before serving.
Inspired by Taste of Home
Share this: