August 16, 2018
Sweet and Salty Brownie – The Fudgiest Brownie I've Ever Eaten
These salted caramel brownies are full of homemade caramel sauce and make the fudgiest brownies ever!

Last year I shared what turned out to be the single most popular recipe on my blog – homemade brownies.
Funny how the simple things are always the crowd pleasers, huh? Well, those homemade brownies from last year were my #1 favorite brownies up until I received this cookbook for Christmas. (Can not recommend that cookbook enough…I have about 15 recipes set aside to try from that cookbook alone!)
The Baked Sweet and Salty Brownie is so unbelievable.
I seriously don't even have the words to describe it, but since this is a food blog and I'm required to be a bit wordy, I'll try.
Decadent, moist, and out of this world fudgy…that's a good start. Deeply chocolatey, slightly salty, rich enough that you'll only need a small piece, but delicious enough that you'll eat a big piece anyway…yep, that describes these brownies pretty well.
Salted caramel brownies are my happy place.  Totally worth the time to make them!
I won't lie to y'all, these things were a bit of a pain to make.
They took me 45 minutes from the time I got out my mixing bowls to the time I slid these guys into a hot oven.
That's a lot of prep time just for brownies!
Then, when they came out of the oven, I tasted them expecting warm, chocolatey deliciousness and I was so disappointed.
Seriously, ridiculously disappointed. Box mixes were better than these brownies!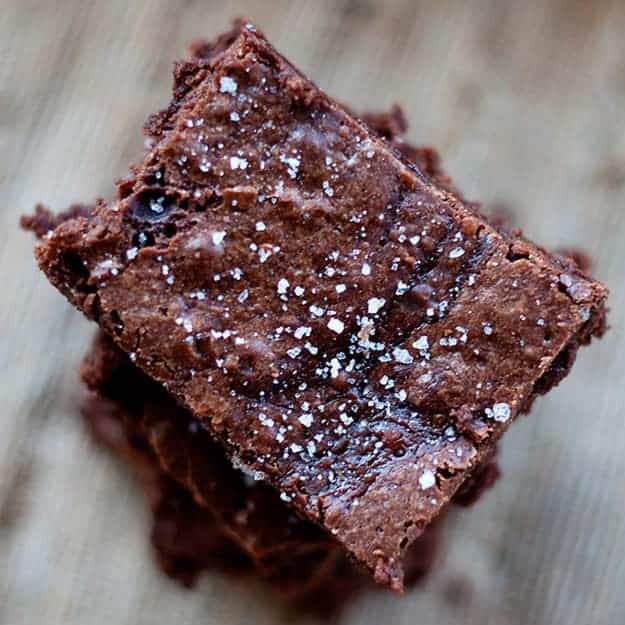 I wrapped them up tight in saran wrap after they had completely cooled and tried them again the next day.
And that, my friends, is when I died. No, really. I don't know if it was the shock from the transformation these brownies had made or if it was the chocolate fudginess exploding all over my mouth or if, perhaps, my body just decided that since it had finally tasted the most delicious thing out there that there was no reason left to live.
Will I make these again? Oh my holy heck, yes. Tonight, maybe.
I will, however, be certain to wait at least 24 hours before eating them. In fact, now that they are 48 hours old they are even better than they were at 24 hours old. Strange, but oh so true.
I also want to mention, because I'm really feeling wordy at this point, that the caramel in these brownies is pretty subtle. I'm not sure I would even know that it was caramel in there if I hadn't made it myself. It keeps the brownies super moist and fudgy and it gives them this extra depth of flavor. Happily, every now and then you'll get a bite with a good glob of caramel that didn't soak into the brownie itself and that right there is a little bit of heaven.
Sweet and Salty Brownie
Servings: 16 servings
Course: Dessert
Cuisine: American
Keyword: easy brownie recipes, easy dessert recipes, kid-friendly recipes
Calories: 466 kcal
These salted caramel brownies are full of homemade caramel sauce and make the fudgiest brownies ever!
Ingredients
For the filling:
1 cup sugar
2 tablespoons light corn syrup
1/4 cup water
1/2 cup heavy cream
1 teaspoon Fleur de Sel
1/4 cup sour cream
For the brownie:
1 1/4 cups all-purpose flour
1 teaspoon salt
2 tablespoons dark unsweetened cocoa powder like Valrhona
11 ounces quality dark chocolate 60 to 72%, coarsely chopped
1 cup unsalted butter cut into 1-inch cubes
1 1/2 cups sugar
1/2 cup firmly packed light brown sugar
5 large eggs at room temperature
2 teaspoons vanilla extract
Instructions
For the caramel filling, combine the sugar and corn syrup with 1/4 cup of water in a medium saucepan, stirring carefully so as not to splash the sides of the pan. Cook over high heat until an instant-read thermometer reads 350F or until the mixture is dark amber in color, 6 to 8 minutes. Remove from the heat, and slowly add the cream (careful, it will bubble up) and then the Fleur de Sel. Whisk in the sour cream and set aside to cool.

For the brownie, preheat the oven to 350 degrees Fahrenheit.

Butter the sides and bottom of a glass or light coloured metal 9 x 13 inch pan. Line the bottom with a sheet of parchment paper, and butter the parchment.

In a medium bowl, whisk together the flour, salt and cocoa powder.

Place the chocolate and butter in the bowl of the double boiler set over a pan of simmering water, and stir occasionally until the chocolate and butter are completely melted and combined. Turn off the heat, but keep the bowl over the water of the double boiler, and add both sugars. Whisk until completely combined and remove the bowl from the pan. The mixture should be at room temperature at this point.

Add three eggs to the chocolate mixture and whisk until just combined. Add the remaining two eggs and whisk until just combined. Add the vanilla and stir until combined. Do not overbeat the batter at this stage, or your brownies will be cakey.

Sprinkle the flour mixture over the chocolate. Using a spatula, fold the dry ingredients into the wet ingredients until there is a just a trace amount of the flour mixture visible.

To assemble the brownie, pour half of the brownie mixture into the pan and smooth the top with a spatula. Drizzle about 3/4 cup of the caramel sauce over the brownie layer in a zigzag pattern, taking care to make sure the caramel does not come in contact with the edges of the pan or it will burn. (There will be caramel sauce left over that you can either serve over the brownies when serving or refrigerate and use for something else.) Use your offset spatula to spread the caramel evenly across the brownie layer. In heaping spoonfuls, scoop the rest of the brownie batter over the caramel layer. Smooth the brownie batter gently to cover the caramel layer.

Bake the brownies for 30 minutes, rotating the pan halfway through the baking time, and check to make sure the brownies are completely done by sticking a toothpick into the center of the pan. The brownies are done when the toothpick comes out with a few moist crumbs.

Remove the brownies from the oven and sprinkle with an extra 1 1/2 teaspoons Fleur de Sel and 1 teaspoon coarse sugar.

Cool the brownies completely before cutting and serving. Store wrapped tightly in plastic wrap for up to 4 days.
Nutrition Facts
Sweet and Salty Brownie
Amount Per Serving
Calories 466 Calories from Fat 216
% Daily Value*
Fat 24g37%
Saturated Fat 14g88%
Cholesterol 101mg34%
Sodium 328mg14%
Potassium 204mg6%
Carbohydrates 57g19%
Fiber 2g8%
Sugar 44g49%
Protein 4g8%
Vitamin A 580IU12%
Calcium 43mg4%
Iron 3.2mg18%
* Percent Daily Values are based on a 2000 calorie diet.
Nutrition Disclaimer: All information presented on this site is intended for informational purposes only. I am not a certified nutritionist and any nutritional information shared on bunsinmyoven.com should only be used as a general guideline.

Recipe from Baked Explorations