Our Chocolate Peanut Butter Brownies are a dream come true for Reese's lovers! Made with a layer of fudgy brownies, thick peanut butter frosting, my mom's famous fudge frosting, and Reese's candy!
We have a major thing for chocolate and peanut butter in our house and Reese's are one food we will all fight over.
(Quick – what's the best Reese's holiday shape? There's only one right answer and it will tell me all I need to know about you!)
These Chocolate Peanut Butter Brownies are for serious chocolate peanut butter lovers only!
We start with our homemade brownies here, but you could use a box of brownie mix, if preferred. Our homemade brownies are seriously perfect, nice and thick, and the perfect amount of fudgy!
Next, these get topped with a thick layer of rich, thick peanut butter frosting.
Then my mama's chocolate frosting gets poured over the top.
And finally – the mini Reese's cups.
I told you this was chocolate peanut butter overload!
Ingredient Notes:
This post contains affiliate links. As an Amazon associate and member of other qualifying programs, I earn from qualifying purchases.
Brownies – Use either our Nutella Brownies or homemade brownies. Both are perfect!
Reese's – You'll top these chocolate peanut butter brownies with some bite-sized Reese's Minis for ultimate peanut butter and chocolate flavor!
Peanut Butter Frosting – The rich and creamy peanut butter frosting layer for these loaded brownies is prepared with peanut butter, powdered sugar, heavy whipping cream, and softened butter.
Chocolate Frosting – The top layer for these loaded Reese's brownies is a simple homemade frosting that is thin and pourable and will set perfectly. It's my mama's recipe! It's made with chocolate chips, sugar, butter, and milk.
What Readers are Saying!
"Wow! These look amazing! Brownies, peanut butter, PB cups! I think the oven is calling, because of course I have all of the ingredients! Thanks for the recipe!" – Laura
How to Make Brownies:
Brownies: First up, you need brownies! This recipe is for modifying already baked brownies to turn them into loaded Reese's brownies! Start with a 9×13 pan of baked and cooled brownies.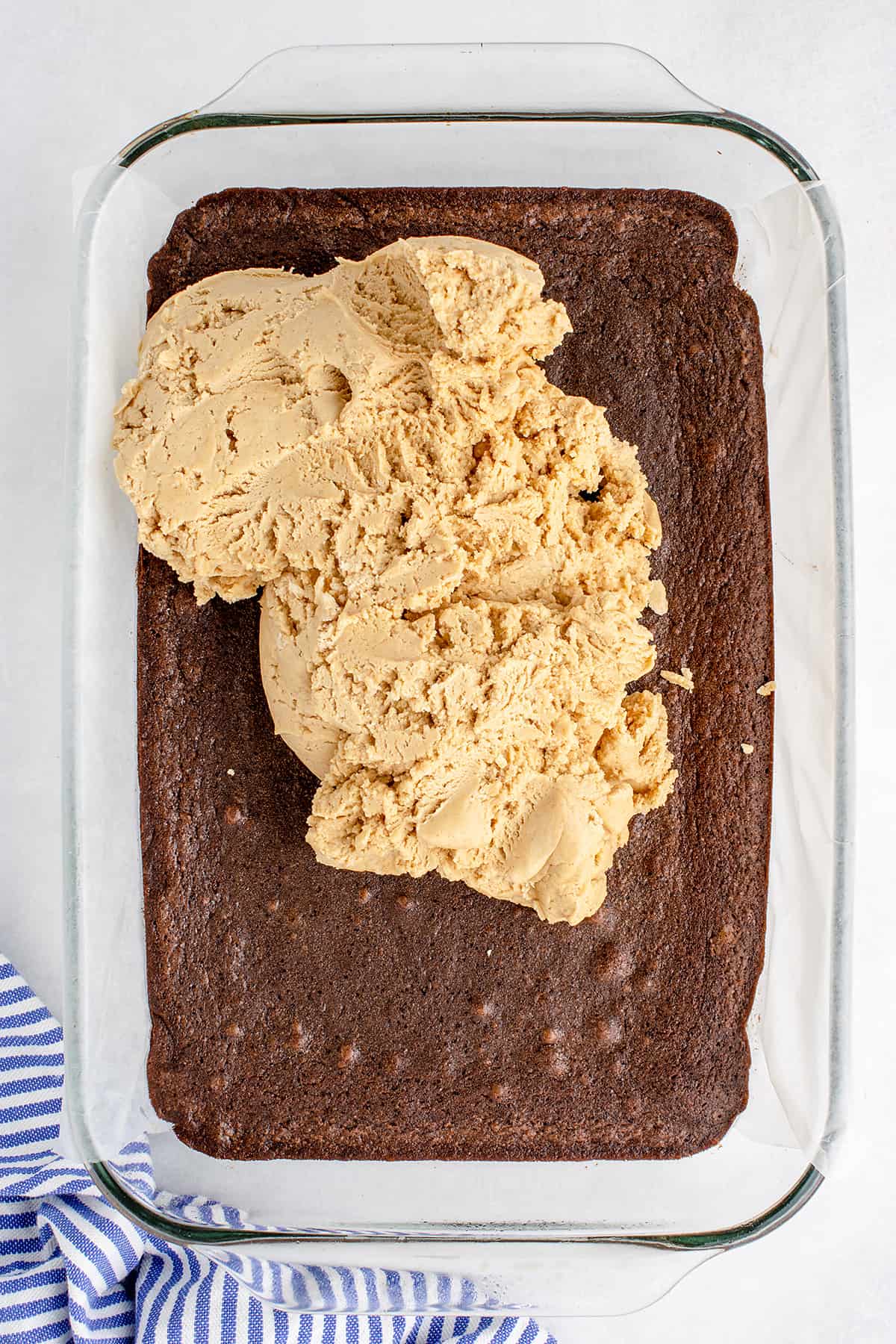 Peanut Butter Frosting: To prepare the outrageously thick and creamy peanut butter frosting layer for these loaded brownies use a stand mixer to beat together the butter, peanut butter, powdered sugar, and heavy whipping cream. You can add more cream if you feel like it needs to be thinned out! We like it thick, to mimic the filling in a peanut butter cup. Spread that over the brownies.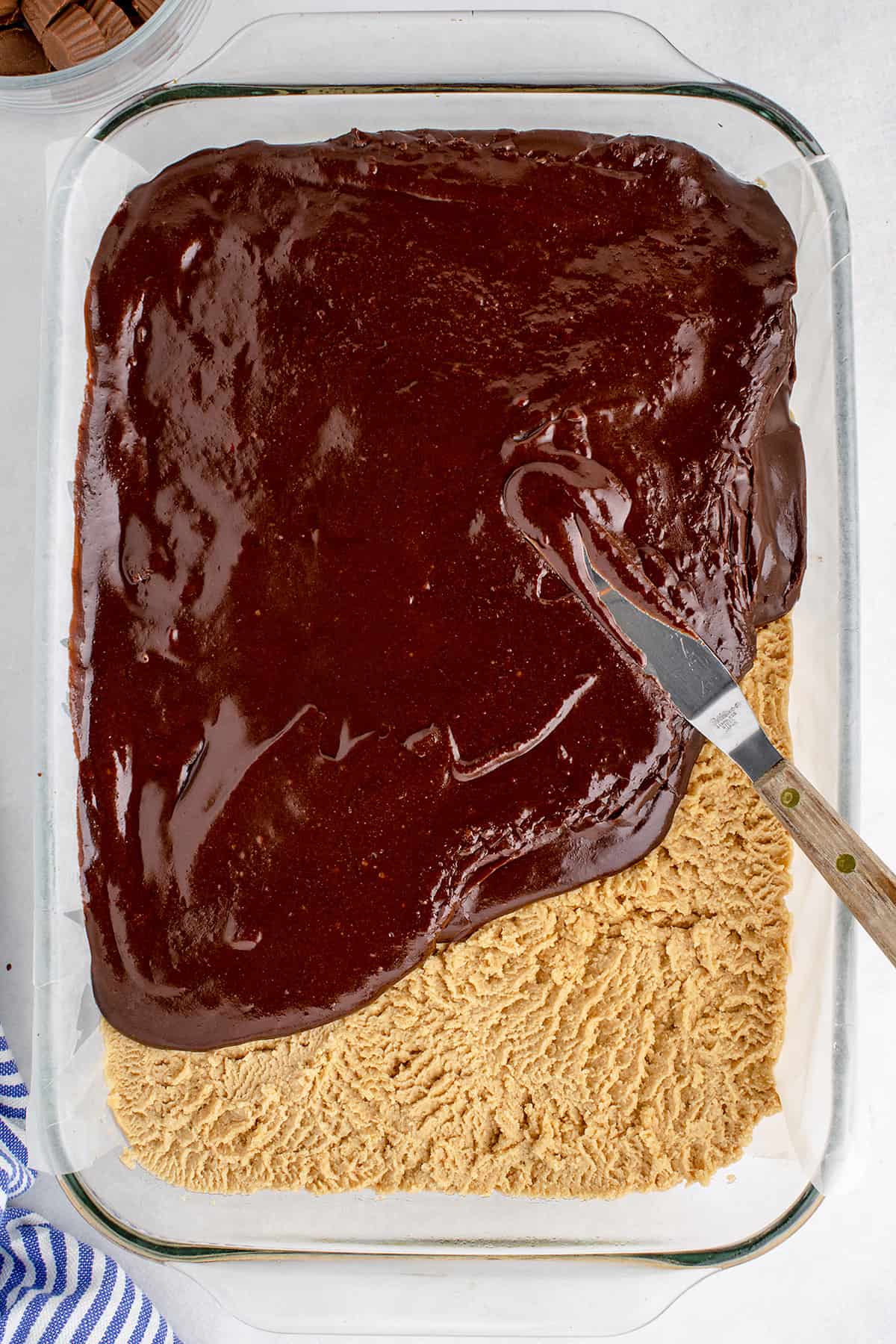 Chocolate Frosting: My mama's famous homemade chocolate frosting is a thin, pourable frosting that sets up into fudgy perfection. Add some sugar, butter, and milk to a saucepan and boil for exactly 1 minute. Remove from heat, then stir in the chocolate chips until they've fully melted into a smooth frosting! Immediately pour that over the peanut butter frosting and let it cool for 5 minutes.
Reese's: When the chocolate frosting layer has cooled off for a few minutes you can start topping the brownies with the Reese's Minis! They should sink well enough into the still warm brownies and frosting.
Finally, let these loaded Reese's brownies cool for about 30 minutes before enjoying! Good luck keeping any willpower around these guys. You'll be tempted to hoover the whole pan right into your face!
If you enjoyed these brownies and other dessert recipes with Reese's, I would highly recommend checking out this air fried Reese's recipe!
Variations:
Start with a box mix of brownies. Just be sure to use a box meant for a 9×13 pan and make the 'cakey' version of brownies rather than the 'fudgy' version. (Usually has an extra egg.) This will help the brownie base hold up to all that frosting on top.
Swap the mini Reese's for Reese's Pieces to add a little crunch!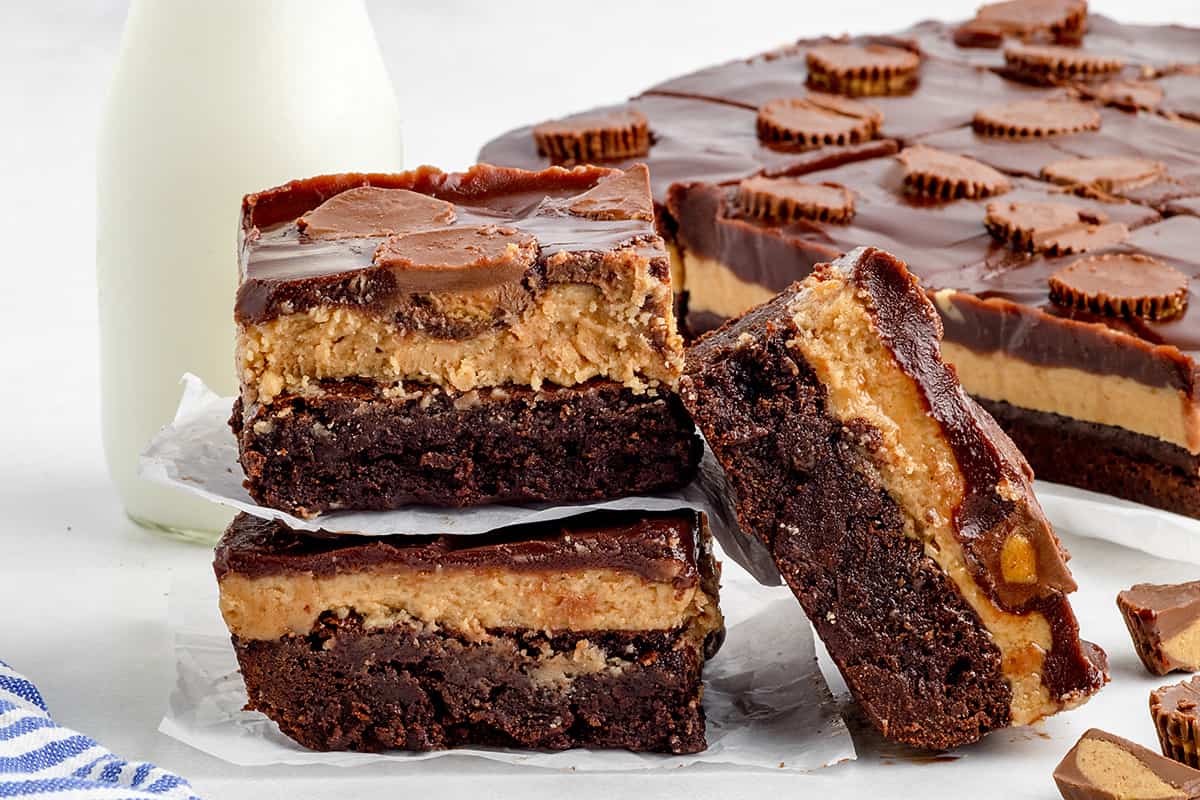 FAQs:
How long do brownies last?
You can keep these loaded Reese's brownies in an airtight container for up to 3 to 5 days.
Can you freeze brownies?
Yes! If you're freezing the cut individual brownies, place them in a freezer-safe container in layers separated with wax or parchment paper. If freezing the entire slab of uncut brownies, you'll want to wrap it in plastic and then aluminum foil.
MORE FAVORITE BROWNIE RECIPES!
Fully Loaded Reese's Brownies
These brownies are packing a punch. Topped with the best ever peanut butter frosting, then a layer of my mama's famous chocolate frosting, and topped off with some Reese's!
Prep20 minutes
Cook5 minutes
Total25 minutes
Ingredients
1 recipe homemade brownies baked and cooled
1 cup peanut butter
1/2 cup butter softened
4 cups powdered sugar
1/3 cup heavy whipping cream more as needed
1 cup white sugar
6 tablespoons butter
6 tablespoons milk
1 cup chocolate chips
8 ounces Reese's Minis
Instructions
When the brownies are completely cooled, prepare the peanut butter frosting.

To prepare the peanut butter frosting, beat together the butter and peanut butter until well combined in the bowl of a stand mixer using the whisk attachment.

On low speed, beat in the powdered sugar and heavy whipping cream until mixture is thick and fluffy and well combined. Thin with more heavy cream if desired to reach the consistency you prefer.

Spread the peanut butter mixture over the brownies.

To make the chocolate frosting, add sugar, butter, and milk to a small saucepan over medium heat and bring to a boil.

Boil for exactly 60 seconds and remove from heat.

Stir in chocolate chips and continue stirring until the chocolate has melted.

Immediately pour the chocolate frosting over the peanut butter layer and gently spread with an offset spatula.

Let the chocolate frosting cool for 5 minutes before sprinkling with chopped Reese's candies.

Let sit for 30 minutes before cutting and serving.
Tips & Notes:
If using a box mix of brownies, be sure to get one made for a 9×13 pan size and use the cake brownie recipe on the box (usually has more eggs than the fudge version which will help the brownies hold up better). We like the peanut butter frosting to be fairly thick to mimic the filling of a peanut butter cup.
Nutrition Information:
Calories: 567kcal (28%)| Carbohydrates: 72g (24%)| Protein: 7g (14%)| Fat: 30g (46%)| Saturated Fat: 15g (94%)| Cholesterol: 47mg (16%)| Sodium: 233mg (10%)| Potassium: 154mg (4%)| Fiber: 2g (8%)| Sugar: 68g (76%)| Vitamin A: 554IU (11%)| Vitamin C: 1mg (1%)| Calcium: 43mg (4%)| Iron: 1mg (6%)