March 29, 2019
Reese's Pieces Peanut Butter Egg Brownies
Hello, Spring.
I love so much about you. Namely, Reese's Eggs. Don't get me wrong, I eat every shape of Reese's out there, but the eggs are my favorite. They were the first shape that I ever had as a child and they have long since remained a favorite. The chocolate to peanut butter ratio is just plain perfect, if you ask me.
So, it's Spring and that means that you can find me not outside, amidst the sunshine and budding flowers, but locked in our pantry, hiding from the children while I shove Reese's eggs in my face at breakneck speeds so that I'm not caught and forced to share.

Ahhh, parenthood. It's exactly like I imagined as a child, except not.
Anyway, to celebrate the season where I binge on peanut butter eggs, I thought we'd make some brownies. I found some Reese's Pieces pastel eggs at my local grocery store and decided to stock up on those for my hidden snacking, too. They made a great addition to these brownies!
I was out of cocoa powder, so I just used a box mix to make these Spring inspired brownies, but my favorite brownie recipe would have been even better!
I used the smaller Reese's Eggs in these brownies, the ones that come in a big bag and will fit inside a plastic Easter egg if you do a little squishing, not the full size ones that come in a 6 pack with the cardboard in each package.  You can use the big ones if you want, but I tend to eat all of those before I can ever bake with them. The shame. It's crippling.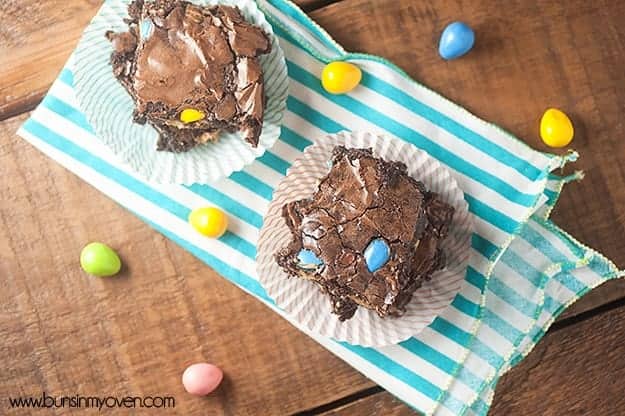 Reese's Pieces Peanut Butter Egg Brownies
Servings: 16 brownies
Course: Dessert
Cuisine: American
Keyword: easy brownie recipes, easy Easter recipes, holiday recipes
Calories: 78 kcal
The chocolate to peanut butter ratio of peanut butter eggs is just plain perfect, if you ask me. Adding them to brownies is the icing on the cake.

Ingredients
1 family size box brownie mix or your favorite recipe, prepared but not baked
1 cup Reese's Pieces Pastel Eggs
10 small Reese's Peanut Butter Eggs the kind from the bag, not the kind in the 6 pack box
Instructions
Preheat oven according to the recipe for your brownie mix. Line a 9x13 baking dish with parchment paper or foil.

Pour just enough of the prepared brownie batter into the pan to cover the bottom in a thin layer.

Stir the Reese's Pieces Pastel Eggs into the remaining brownie batter.

Place the Reese's Eggs in the pan with the brownie batter, spreading them out so that each brownie will get a chunk of the egg.

Pour the remaining brownie batter over the Reese's Eggs and bake according to the recipe instructions.

Remove from oven and let cool before cutting.
Nutrition Facts
Reese's Pieces Peanut Butter Egg Brownies
Amount Per Serving
Calories 78 Calories from Fat 36
% Daily Value*
Fat 4g6%
Saturated Fat 2g13%
Cholesterol 1mg0%
Sodium 12mg1%
Carbohydrates 9g3%
Sugar 8g9%
Protein 1g2%
Vitamin A 40IU1%
Vitamin C 0.5mg1%
Calcium 30mg3%
Iron 0.1mg1%
* Percent Daily Values are based on a 2000 calorie diet.
Nutrition Disclaimer: All information presented on this site is intended for informational purposes only. I am not a certified nutritionist and any nutritional information shared on bunsinmyoven.com should only be used as a general guideline.