This bold and spicy Jalapeno Popper Grilled Cheese is the ultimate sandwich, with crispy and buttery grilled bread, creamy cheese, and bits of pickled and fresh jalapenos throughout!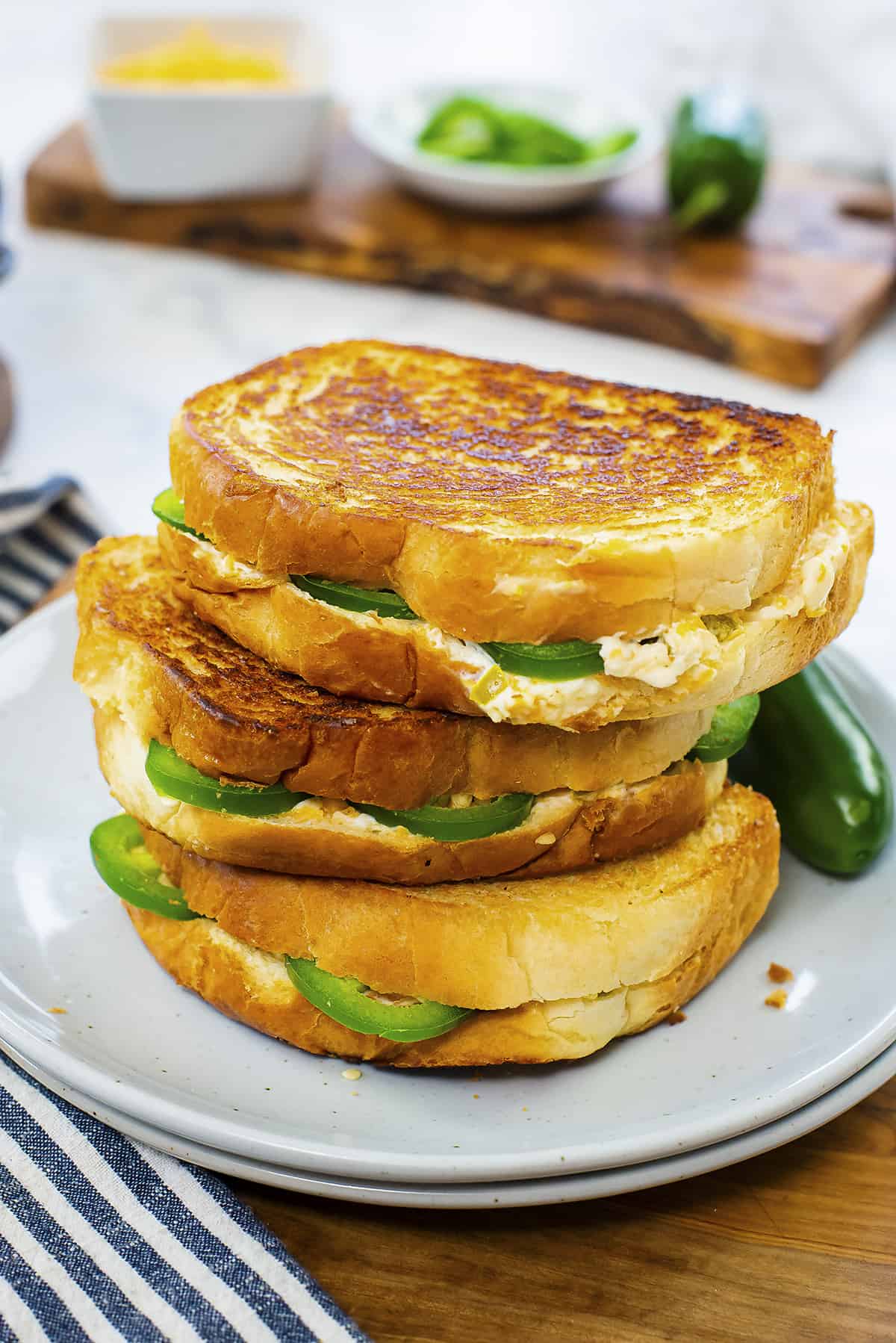 We're homeschoolers, which is a whole thing and I could say so much about it, but mostly I'll just stick to the important bit…
Homeschooling means that not only do I have to get my kids breakfast and dinner every day, I also have to feed them lunch. There is no hot school lunch option that exists outside of mom standing over a stove. <— Please send help.
This means we do lots of easy lunch foods, like this jalapeno popper grilled cheese or our cheesy pizza bread.
Sandwiches are definitely our go-to though. Whether it's chicken salad with grapes, homemade sloppy joes, or one of our many variations on a grilled cheese…this is a staple lunch!
This particular sandwich, the Jalapeno Popper Grilled Cheese Sandwich, is one that makes lunch time fun. It makes me happy.
If you've never put cream cheese in a grilled cheese sandwich, then you're living your life wrong and it's time to fix things.
Ingredient Notes:
This post contains affiliate links. As an Amazon associate and member of other qualifying programs, I earn from qualifying purchases.
Sourdough Bread – I'm a sucker for grilled sourdough bread, but any variety of bread that you like will work well here.
Butter – Every good grilled cheese sandwich starts with some well buttered slices of bread! Don't have any softened butter? Try spreading mayo on your bread instead – crazy, but it's amazing!
Cream Cheese – Start with some room temperature cream cheese for this recipe for easy mixing!
Cheddar Cheese – Along with the cream cheese we're adding in a cup of shredded cheddar cheese. Freshly shredded melts nicer, but a bag of shredded will work just fine.
Jalapeno Slices – You'll want to use the jarred and sliced kind of jalapeno for this. You will also need a teaspoon of the juice from the jar. We use the "tamed" kind which are milder than some brands of the jarred jalapenos.
Fresh Jalapeno – This is optional and only if you want extra spicy jalapeno cheddar grilled cheese sandwiches! If you do, slice up some fresh jalapeno for topping the cheese mixture before grilling.
What We Love About This Recipe:
Elevated Classic: This is a great twist on your favorite classic grilled cheese sandwich! Adding a little spice and using cream cheese takes this sandwich over the top.
Customizable: You can make these as mild or as spicy as you like! Use more or less jalapeno to suit your taste buds.
Fast & Easy: It only takes minutes to whip these up and less than 10 minutes on the stove!
Cheesy: Nothing is more satisfying than biting into crisp bread that's stuffed with gooey, melty cheese! The cream cheese really makes this special.
How To Make Grilled Cheese Sandwich:
Jalapeno Popper Mix: In a small bowl add the softened cream cheese, shredded cream cheese, diced jalapenos and a teaspoon of juice from the jar. Stir all that together until well combined! This is very similar to our jalapeno popper dip.
Assemble: Butter one side of each slice of bread and then spoon the jalapeno popper cheese mixture onto the bread with the butter side facing out. There should be enough of the mixture for 3 grilled cheese sandwiches.
If you like it extra spicy top the cheese with fresh jalapeno slices! It's even spicier if you leave the seeds in.
Grill: After assembling the 3 sandwiches you can place them all into a hot skillet and begin cooking over medium low heat until golden brown. Flip once to grill the other side too until the cheese is melty.
Serve: You're going to want to serve these sandwiches while they are hot and the cheese is melty! See below for some serving suggestions.

Cast iron skillets are my favorite! They heat so evenly, get piping hot for searing, and nothing is better than bacon fried in a cast iron skillet.
Air Fryer Grilled Cheese Sandwich:
If you don't want to use the skillet or if you just like the air fryer better you are in luck! These air fryer jalapeno grilled cheese sandwiches are made pretty much the same way as you do in this recipe.
They'll get just as golden brown with perfectly melty cheese when you air fry them, and the clean up is a little easier.
What To Serve With Grilled Cheese Sandwiches:
You could enjoy jalapeno popper grilled cheese by itself but wouldn't it be better with some tomato soup? Here are some great serving suggestions:
FAQs:
Can I store grilled cheese sandwiches?
Yes, if you have leftovers you can let them cool completely before wrapping in foil. Reheat on the stove or in the air fryer. O
Are these grilled cheese sandwiches very spicy?
The jarred variety of jalapenos are not as spicy as fresh jalapenos. You can also buy the 'tamed' kind which are even more mild. This gives the sandwich just a little kick, but they're not spicy.

If you want it to be spicier than you can add in some freshly sliced jalapeno. If you leave the seeds in it'll be even spicier!
MORE GRILLED CHEESE SANDWICH RECIPES!
Jalapeno Popper Grilled Cheese
This gourmet grilled cheese is filled with creamy cheese and spicy jalapenos, all sandwiched between buttery grilled toast! This makes a quick meal and they're easy to customize to suit your tastes.
Prep5 minutes
Cook8 minutes
Total13 minutes
Ingredients
6 slices sourdough bread
3 tablespoons butter
8 ounces cream cheese room temperature
1 cup shredded cheddar cheese
1/4-1/2 cup jarred jalapeno slices diced
1 teaspoon juice of jar of jalapenos
fresh jalapeno slices optional
Instructions
Heat a medium non-stick skillet over medium heat.

Spread one side of each slice of bread with butter.

In a small bowl, combine the cream cheese, cheddar cheese, jalapenos, and juice. Stir well to combine.

Spoon the cheese mixture onto the bread with the butter side facing out. If you like your sandwich extra spicy, arrange fresh jalapeno slices over teh cheese. Sandwich together to make 3 sandwiches.

Place sandwiches into skillet and cook until golden brown over medium low heat. Flip and continue cooking until golden brown and cheese is melty.

Remove from heat and serve.
Tips & Notes:
We use a jar of 'tamed' jalapeno slices, as we like a little kick but not a ton of heat. If you'd like more heat, use fresh jalapenos or add slices of fresh jalapeno to the sandwich.
Nutrition Information:
Serving: 1sandwich| Calories: 650kcal (33%)| Carbohydrates: 30g (10%)| Protein: 18g (36%)| Fat: 52g (80%)| Saturated Fat: 30g (188%)| Polyunsaturated Fat: 3g| Monounsaturated Fat: 13g| Trans Fat: 0.5g| Cholesterol: 145mg (48%)| Sodium: 834mg (36%)| Potassium: 208mg (6%)| Fiber: 1g (4%)| Sugar: 5g (6%)| Vitamin A: 1823IU (36%)| Vitamin C: 9mg (11%)| Calcium: 396mg (40%)| Iron: 2mg (11%)
This recipe was originally published in February 2015. It was updated with new photos in April 2023.