This bacon jam recipe is full of flavor and adds the perfect touch to a simple grilled cheese sandwich!
Luuuuuuuuuuunch time, guys.
Seriously. I feel like I have to feed my kids lunch every single day. Breakfast, too! And then they even have the nerve to ask for dinner. What is the deal with those tiny humans?
Side note: One of my tiny humans is taller than I am. And he started drivers ed classes this week. So. There's that.
Anyway, we do a ton of pizza bread for lunch this house. It's so easy.
We also eat a lot of my favorite cheddar bacon egg salad sandwiches.
And of course we get down with the grilled cheese on the regular. My son is especially strange though, and he will not eat a plain grilled cheese. He needs it doctored up.
Personally, I could eat a grilled cheese any way you throw it at me. I'm down with melty cheese.
To keep the kiddos happy and to make things extra amazing, I whipped up a seriously easy skillet bacon jam that I think you will go crazy for. It packs in a ton of salty, smoky, sweet flavor that pairs perfectly with the nutty cheese and crispy bread. You're going to flip for these sandwiches.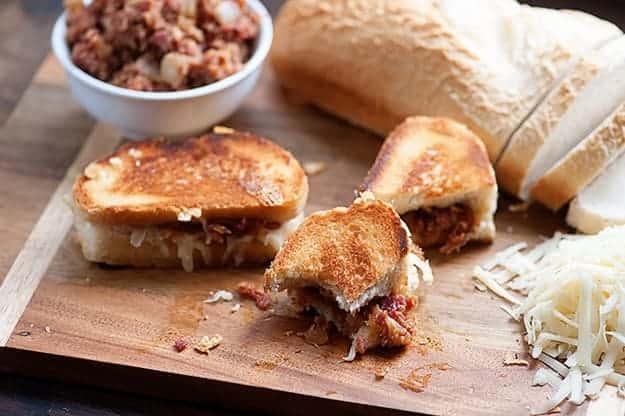 I'm working with Roth Cheese and I developed this recipe using Roth Grand Cru cheese. It's an alpine style cheese that is sweet and salty, creamy and nutty. It's a perfect melting cheese and I use it in place of gruyere. It's made right here in Wisconsin, too! It even won silver in the World Cheese Awards last year for flavor. Love it!
This recipe will leave you with leftover bacon jam. You should be happy about that, because you'll find yourself spreading it on crackers and/or eating it with a spoon. Just cover the leftovers and store in the fridge for up to one week.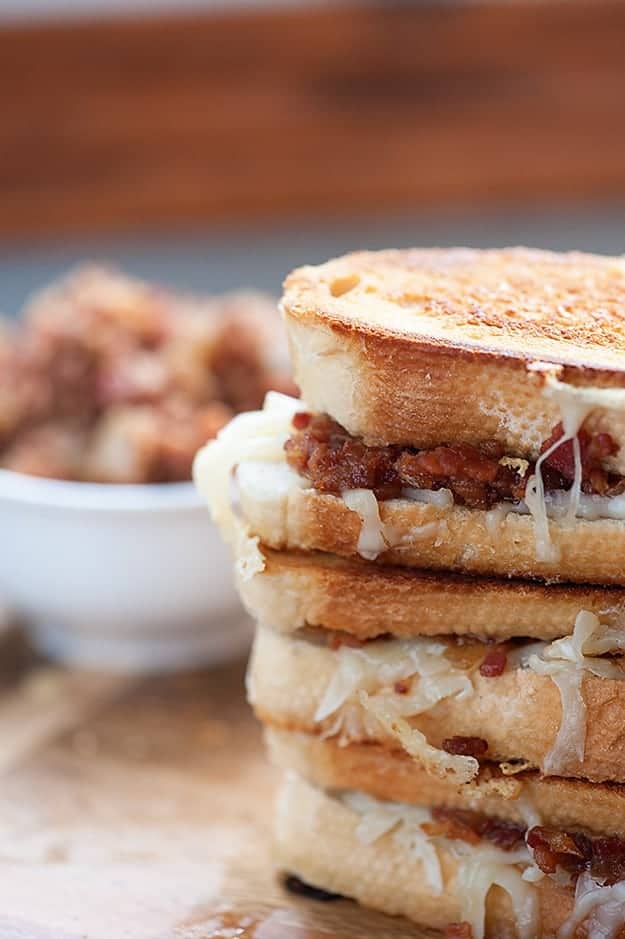 Bacon Jam Grilled Cheese
This bacon jam recipe is full of flavor and adds the perfect touch to a simple grilled cheese sandwich!

Prep10 minutes
Cook20 minutes
Total30 minutes
Ingredients
For the bacon jam:
1 pound bacon diced
1/2 yellow onion diced
4 cloves garlic minced
3 tablespoons maple syrup
1 tablespoon Worcestershire sauce
1 tablespoon white vinegar
1 teaspoon beef base optional - see note
1 teaspoon liquid smoke
1/2 teaspoon instant espresso powder
For the sandwiches:
4 ounces Grand Cru cheese grated
8 slices French bread
2 tablespoons butter softened
Instructions
To make the bacon jam:
Cook the bacon over medium heat in a large, deep skillet until crisp.

Remove from the skillet with a slotted spoon, letting the grease drip back into the pan. Place the bacon on to a paper towel lined plate to drain.

Pour off the bacon grease in the pan, leaving just enough to coat the bottom. Return the skillet to the heat and add the diced onions to the bacon grease. Cook for 3-5 minutes or until softened. Stir in the garlic and cook one more minute.

Remove the onion and garlic with a slotted spoon, letting most of the grease drip back into the pan. Place the onion and garlic into the food processor. Add the bacon to the food processor as well.

Drain any remaining bacon grease from the pan. Do not clean pan.

Add the remaining ingredients to the pan. Heat over medium heat for about 3 minutes, stirring constantly, until the sauce has reduced by about half.

Pour the liquid into the food processor.

Process until the mixture is a chunky, well combined mixture.

Spoon into a canning jar and keep in the refrigerator for up to 1 week.
To prepare the sandwiches:
Heat a large skillet over medium heat.

Spread the butter on one side of each slice of bread. Place butter side down on the skillet.

Top each slice of bread with grated cheese. Spoon bacon jam over the cheese. Top with the remaining bread slices.

Cook for 2 minutes or until golden brown. Flip and cook another 2 minutes or until golden brown and cheese is melted.

Serve immediately.
Nutrition Information:
Calories: 1063kcal (53%)| Carbohydrates: 87g (29%)| Protein: 36g (72%)| Fat: 62g (95%)| Saturated Fat: 25g (156%)| Cholesterol: 119mg (40%)| Sodium: 1800mg (78%)| Potassium: 516mg (15%)| Fiber: 3g (13%)| Sugar: 13g (14%)| Vitamin A: 500IU (10%)| Vitamin C: 2.7mg (3%)| Calcium: 296mg (30%)| Iron: 5.6mg (31%)