This Crock Pot cube steak recipe takes a cheaper, more budget friendly cut of beef and turns it into a tender, flavorful meal with the help of the slow cooker!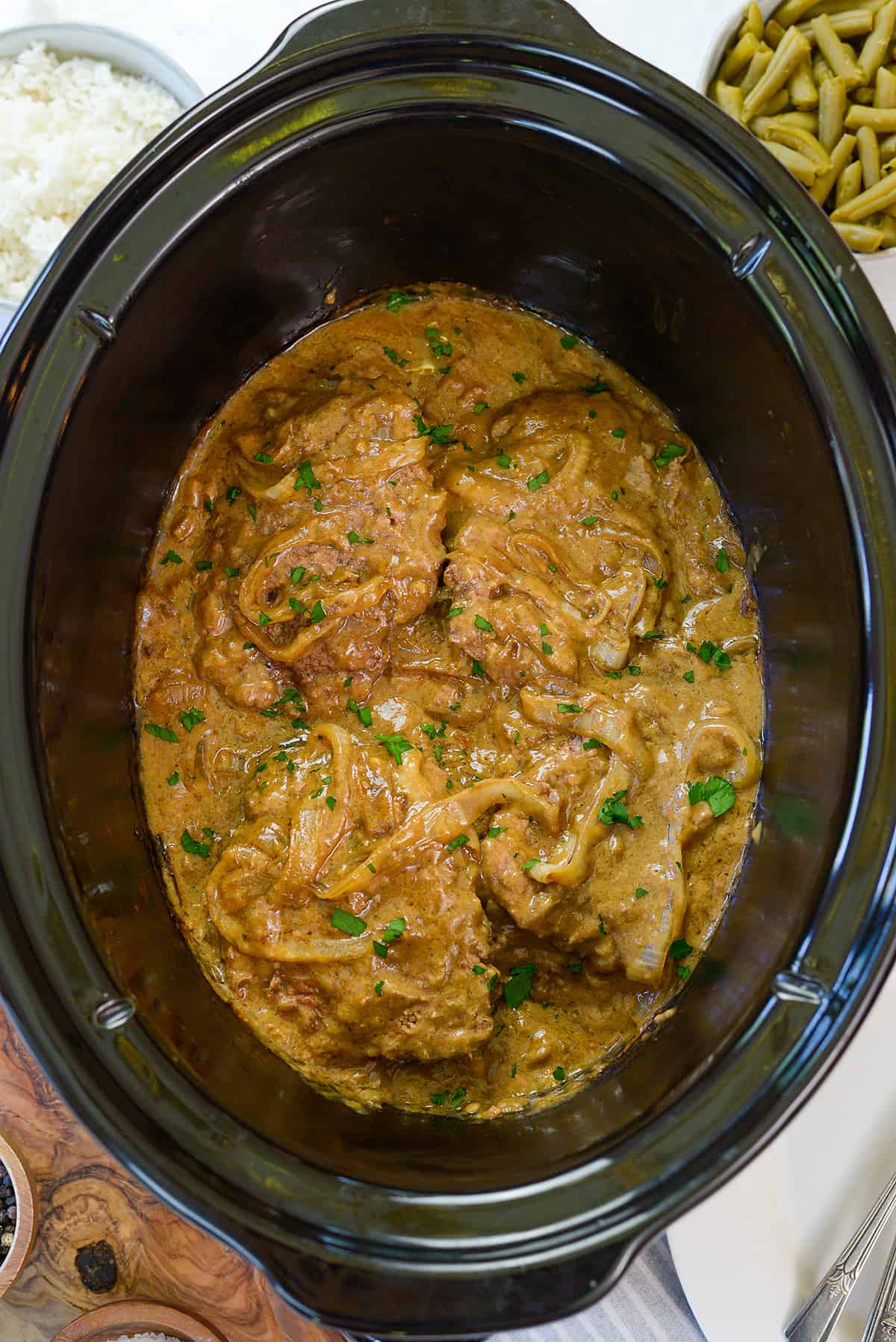 We love turning cheaper cuts of beef into something tender, flavorful, and worthy of a second helping! Our Crock Pot Cube Steak is one of those recipes!
You'll love how simple it is to turn cube steak, that thinly sliced cut of beef that's been mechanically tenderized for you, into something so flavorful and melt in your mouth delicious! Pretty sure that cooking cube steak in the crock pot is magic.
This is one of those meals that my husband asks for on repeat. He's definitely a meat and potatoes kind of guy, so this is right up his alley. The cube steak cooks in gravy and then you serve it up over a pile of mashed potatoes.
We love this with our Instant Pot mashed potatoes! You could serve it with our rice pilaf too!
Ingredient Notes:
This post contains affiliate links. As an Amazon associate and member of other qualifying programs, I earn from qualifying purchases.
Cube Steak – It's known as a cheaper cut of meat and it can be a little tough if it isn't cooked properly, but you'll love how tender and flavorful this cube steak is after slow cooking it in the gravy!
Garlic & Onion – I like to slice the onion into rings and place them over the cube steak along with the minced garlic. All that flavor will soak into the meat while it slow cooks in the crockpot!
Cream of Mushroom Soup – You can keep things simple and use a can from the store or try out my homemade cream of mushroom soup recipe! It's a little more work but a lot more flavor. My cream of chicken soup works too!
Beef Broth – Broth, stock, or bone broth all work well.
Gravy Mix – You'll need a packet each of beef gravy mix and mushroom gravy mix. That'll get mixed up with the cream of mushroom soup and beef broth to make the savory sauce for this crockpot cube steak!
Seasoning – Just some pepper and garlic powder. I don't think this needs any extra salt, the gravy mix and soup will add plenty of that! We also like to garnish these slow cooker cube steaks with some parsley before serving.
What We Love About This Recipe:
You get to take a cheap, tough cut of meat and turn it into a tender and juicy piece of beef!
The savory gravy is so flavorful after cooking with the beef in the crockpot.
It's a quick and easy recipe to prep and it's ready when you walk in the door!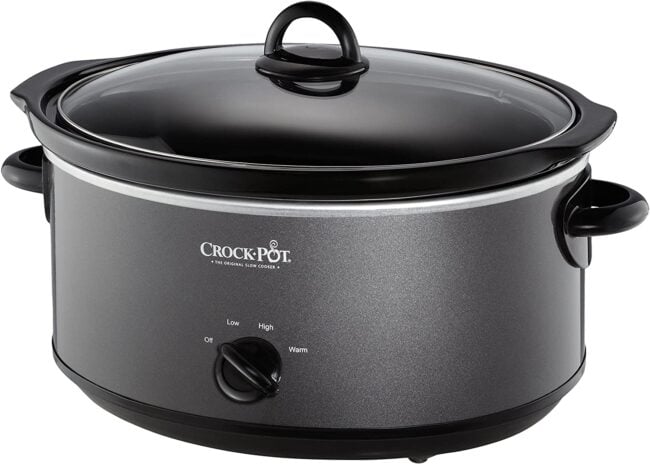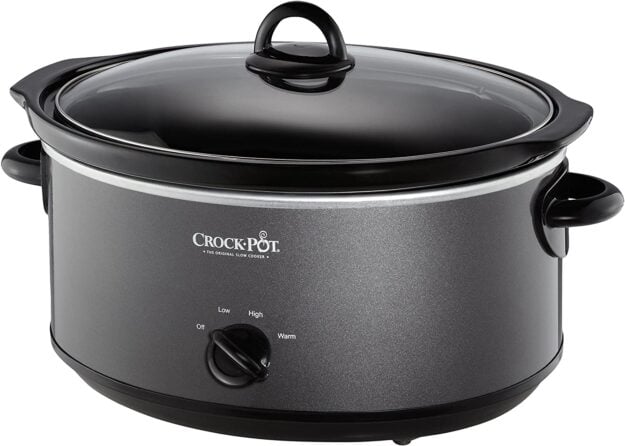 In the market for a new slow cooker? We love this 7 quart Crockpot. It's simple to use, cooks evenly, and is very budget friendly. Plus, it has a 4 1/2 star rating with over 5,000 reviews on Amazon!
How to Cook Cube Steak in Crock Pot:
Season: To get started you'll season the cube steaks with a simple mix of garlic powder and pepper. You don't need a lot of seasoning for these, most of the flavor will come from the savory gravy sauce.
Helpful Tip!
This is totally optional, but feel free to brown the cube steak in a hot skillet before doing the slow cooking if you want a good sear on them!
Sauce: This savory gravy sauce is made by mixing together beef broth, cream of mushroom soup, and packets of beef and mushroom gravy mix. You'll whisk all that together and then pour it over the cube steaks.
Slice: Place the seasoned cube steak in the crockpot and then slice the onion into rings to place over each cube steak. Sprinkle the minced garlic over the top of that so you can get plenty of garlic and onion flavor. Pour the gravy over the top.
Slow Cook: Cover the crockpot and slow cook for 6-8 hours on low or 4-6 hours on high.
Helpful Tip!
Cube steak can be a pretty tough cut of meat but it should be perfectly tender and juicy after slow cooking! If the meat is still tough, let it continue to slow cook until it has tenderized.
Serve: Before serving these slow cooker cube steaks you'll want to remove them from the crockpot and whisk the gravy and juices together until well combined.
Return the beef to the slow cooker and garnish with some parsley. Serve while good and hot! I've got a few recommendations below on what to serve the cube steaks with…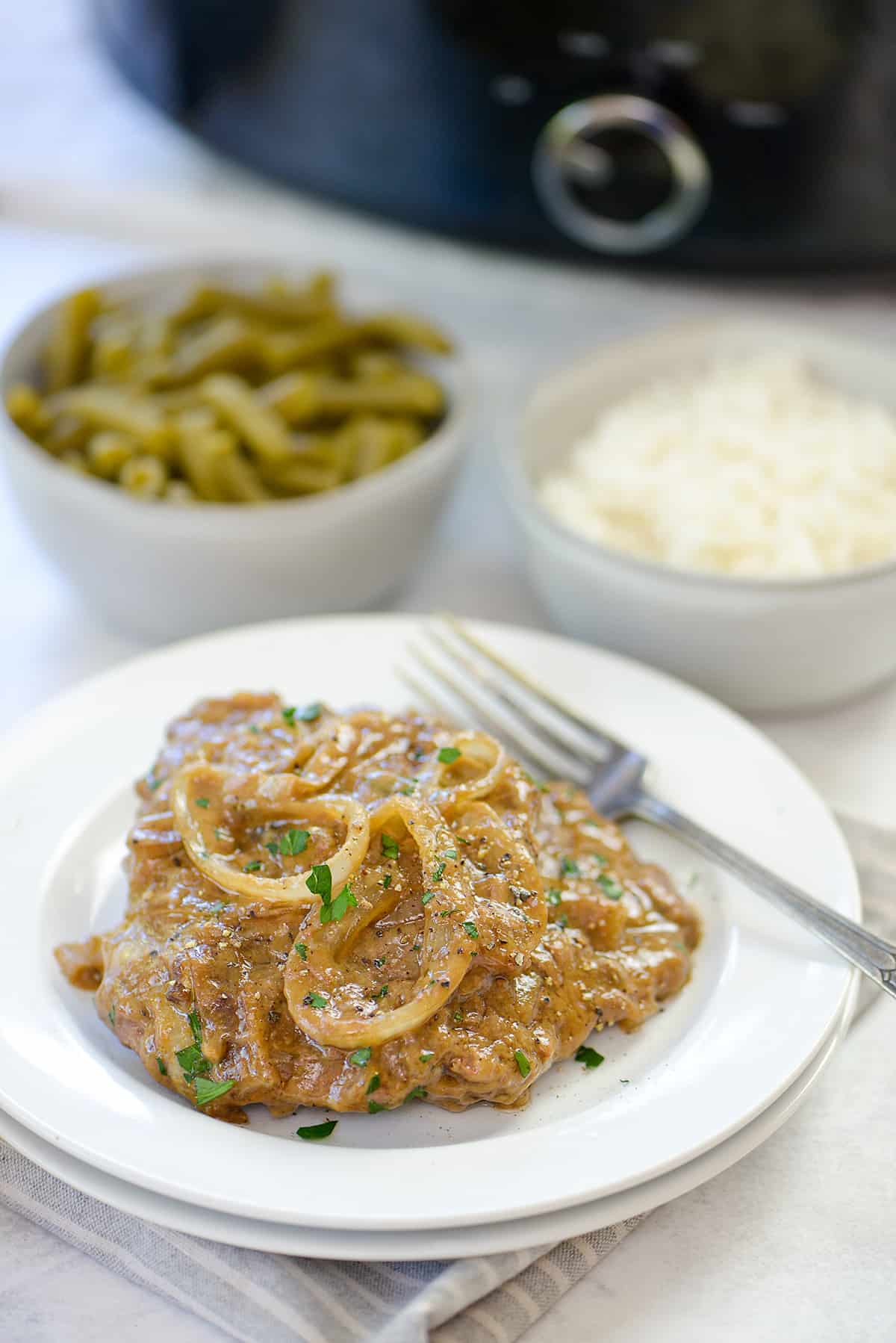 WHAT TO SERVE WITH CUBE STEAKS:
There are lots of good side dishes that'd go well with the slow cooker cube steaks and gravy! Mashed potatoes would be my first choice. I've included some good options below: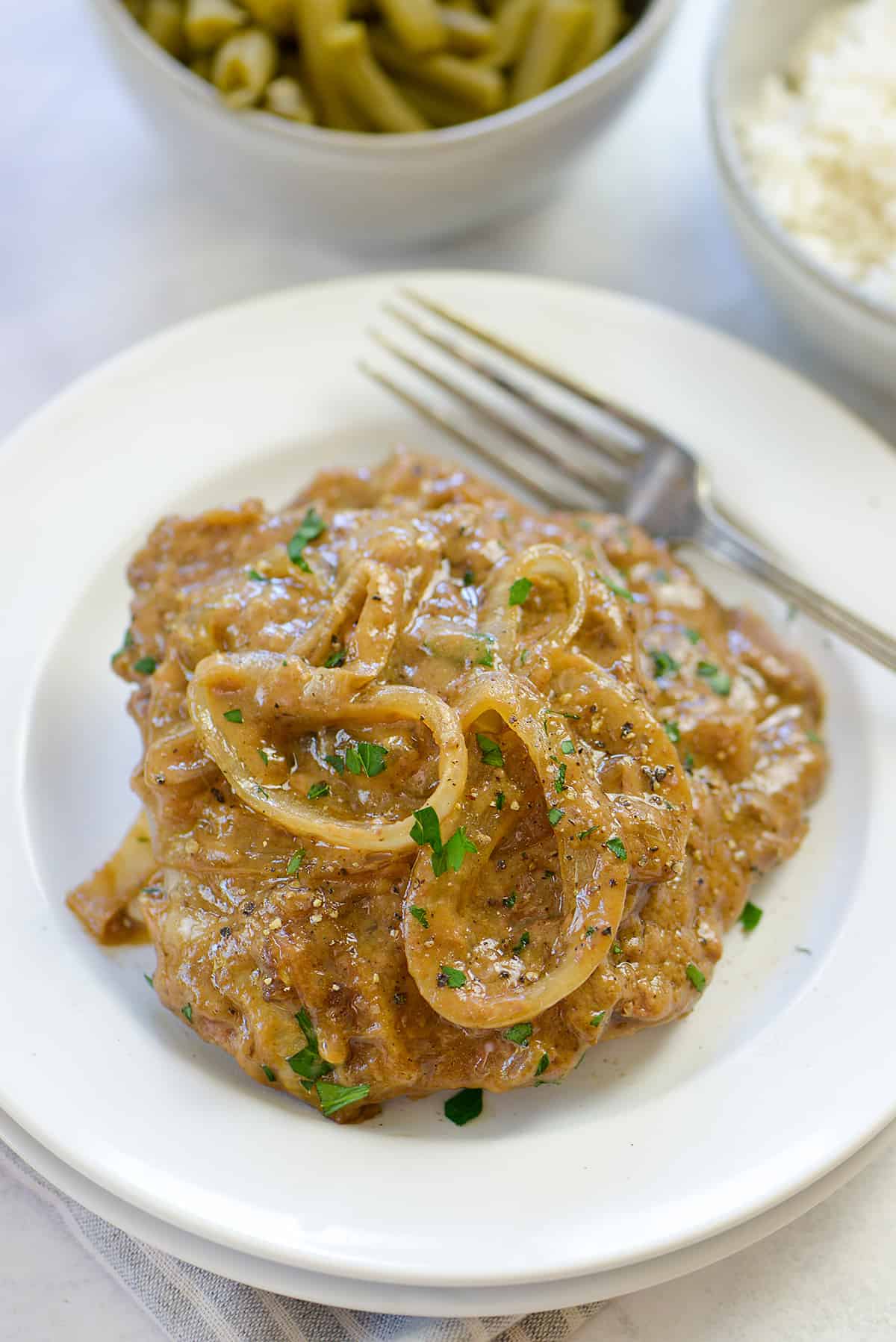 FAQs:
How to store cube steak?
If you've got leftovers you'll want to keep them in an airtight container in the fridge. They should be good for at least 2 to 3 days.
Can I use frozen cube steak?
For the best taste and texture, thaw your cube steaks in the refrigerator before adding to the crockpot.
Is cube steak tender?
Cube steak can be tender or tough, depending on how it's cooked. In this Crock Pot Cube Steak recipe, the beef cooks in gravy and turns out very tender.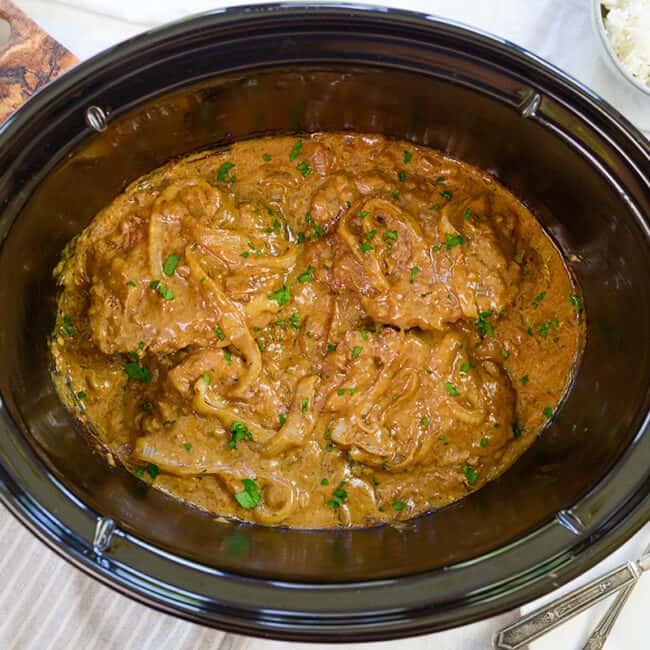 Crock Pot Cube Steak
It's easy to make cube steak tender and flavorful by cooking it in the slow cooker in gravy! We love to serve this dish over mashed potatoes or rice. My husband thinks it's the perfect comfort food dinner.
Prep10 minutes
Cook8 hours
Ingredients
2 pounds cube steak about 6 pieces
1 teaspoon garlic powder
1 teaspoon cracked pepper
1 medium onion
3 cloves garlic minced
1 packet beef gravy mix
1 packet mushroom gravy mix
10 ounces cream of mushroom soup
½ cup beef broth
Parsley for garnish
Instructions
Season the cube steak on both sides with garlic powder and pepper. Place in a 6 quart crockpot.

Slice the onion into rings and place over the beef. Sprinkle on the garlic.

Combine the dry beef gravy and mushroom gravy packets with cream of mushroom soup and beef broth. Whisk well to combine.

Pour over the beef in the slow cooker and cover.

Cook on low for 6-8 hours or on high for 4-6 hours, until beef is tender. Remove beef to a plate and set aside.

Whisk the gravy well to combine and return the beef to the crockpot.

Sprinkle with parsley and serve.
Tips & Notes:
You'll find the packets of gravy mix near the packets of chili seasoning. Use 2 packets of beef gravy if you can't find the mushroom gravy mix. Do not prepare the packets of gravy mix – you'll just add the dry powder to the recipe. Sear the cube steak before adding to the crockpot, if desired.
Nutrition Information:
Calories: 325kcal (16%)| Carbohydrates: 5g (2%)| Protein: 34g (68%)| Fat: 18g (28%)| Saturated Fat: 7g (44%)| Polyunsaturated Fat: 1g| Monounsaturated Fat: 8g| Cholesterol: 111mg (37%)| Sodium: 502mg (22%)| Potassium: 620mg (18%)| Fiber: 1g (4%)| Sugar: 1g (1%)| Vitamin A: 2IU| Vitamin C: 2mg (2%)| Calcium: 47mg (5%)| Iron: 3mg (17%)