These low carb stuffed peppers are the perfect answer to a busy weeknight! Even my kids gobbled these up.

You know, my daughter is twelve years old now. Like, I will die. She will be the death of me.
I literally do not know how my parents survived my tween/teen years, because I really don't think I can make it through this phase.
One minute the kid is so sweet and she's just like my little BFF. The next minute she's texting her friends about how I'm so terrible and all I ever do is scream at her.
I mean…I don't think I've ever screamed at her? Raised my voice? Sure. Screamed? No.
How am I supposed to survive this?

Also, the arguing.
She is, apparently, so much smarter than I am.
She knows everything and the things I think that I know are obviously super wrong. So wrong that you can't even believe. The most wrongest thing in the world.
So. That's my life and it's a miracle that I'm still here living it.
Especially considering that I'm still over here going strong on this low carb thang.
I mean, okay. Whatever – I took a week off and ate every carb in sight, but I regret nothing.
I had recipes to develop for y'all and I just can't develop new recipes without EATING THEM, you guys. Not possible.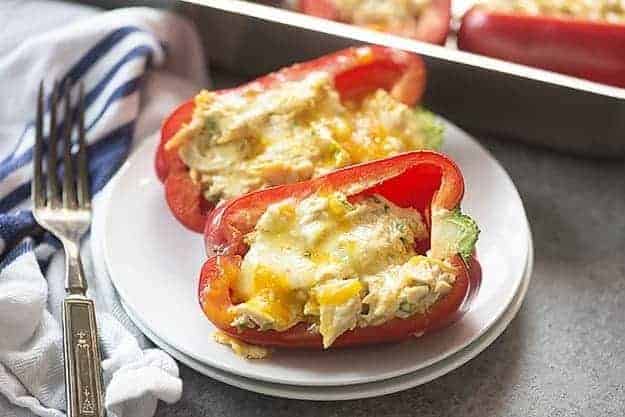 Anyway, I'm back on the low carb bandwagon and I created these low carb stuffed peppers and my whole family really liked them.
The filling is a riff on these cream cheese chicken enchiladas. My son requests those at least once a week, but they were getting too hard for me to resist while not eating carbs. So, these peppers were born!
Each pepper half contains 5 net carbs.
I've heard that green peppers are lower in carbs, so maybe try those instead of red if you're being super strict.
Personally, I really love red peppers but just find the green ones to be kind of 'meh.' Anyone else?
As I've said before, I only share low carb recipes here that my entire family enjoys. This isn't, technically, a low carb blog and I plan to stay true to that! So, no funky ingredients for now! These are made with things you totally stock anyway.
I love how creamy and cheesy the filling for these peppers are.
I know most stuffed pepper recipes are full of rice, but I swear you won't even miss it in this recipe. The cream cheese is so satisfying and filling.
Give these low carb stuffed peppers a try and report back! Curious to hear what you think!
Cream Cheese Chicken Stuffed Peppers
These peppers come out tender-crisp, just the way I like them! If you want a softer pepper, boil them in water for 2 minutes before stuffing and baking.
Prep10 minutes
Cook40 minutes
Total50 minutes
Ingredients
2 cups cooked shredded chicken
8 ounces cream cheese room temperature
4 ounces monterey jack grated
4 ounces cheddar grated
1 jalapeno minced
2 teaspoons ground cumin
1 teaspoon salt
1/4 cup salsa
4 bell peppers any color
Instructions
Preheat oven to 350 degrees.

Slice peppers in half and remove the seeds and membrane. Place in a 9x13 baking dish.

Add chicken, cream cheese, monterey jack, cheddar, jalapeno, cumin, salt, and salsa to a medium mixing bowl and stir well to combine.

Spoon chicken mixture evenly into each halved pepper.

Cover tightly with foil and bake for 40 minutes.

Serve immediately.
Nutrition Information:
Serving: 8servings| Calories: 244kcal (12%)| Carbohydrates: 5g (2%)| Protein: 12g (24%)| Fat: 19g (29%)| Saturated Fat: 11g (69%)| Cholesterol: 66mg (22%)| Sodium: 620mg (27%)| Potassium: 268mg (8%)| Fiber: 1g (4%)| Sugar: 3g (3%)| Vitamin A: 2560IU (51%)| Vitamin C: 78.4mg (95%)| Calcium: 247mg (25%)| Iron: 1mg (6%)