November 19, 2012
Oreo Stuffed Chocolate Chip Cookies
First off, I should mention that these cookies are just plain ridiculous.
Absurd.
Ludicrous.
Outrageous.
And, yes, completely delicious.
I first saw these over at Jenny's blog Picky Palate (I kinda have a crush on Jenny.) and I knew that my family would go crazy over these cookies. You see, these aren't just any chocolate chip cookies. There's a super secret surprise inside. A cookie in the cookie. What's not to love?
Also? They're huge. Beyond huge. They're more or less three cookies in one.  You take a ball of cookie dough and smoosh it on the top of an Oreo. Then you take another ball of cookie dough and smoosh it on the bottom of the Oreo. Moosh it all together to seal the Oreo in and there you have it…one ridiculous, absurd, ludicrous, outrageous cookie.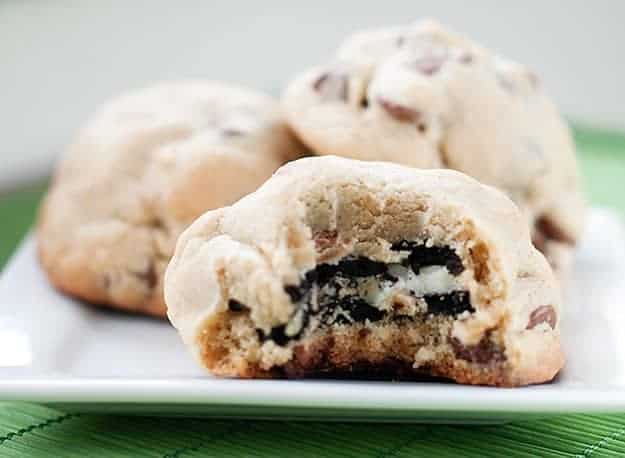 Oreo Stuffed Chocolate Chip Cookies
Ingredients
2 sticks butter, softened
3/4 cup packed brown sugar
1 cup white sugar
2 large eggs
1 tablespoon vanilla extract
3 1/2 cups all-purpose flour
1 teaspoon salt
1 teaspoon baking soda
10 ounces semi-sweet chocolate chips
1 package Oreo cookies - I used Double Stuf
Instructions
Preheat oven to 350 degrees.
In the bowl of a stand mixer, cream together the butter and sugars. Add in the eggs and vanilla and mix until well combined.
In a separate bowl, mix the flour, baking soda, and salt. Slowly add to the wet mixture and combine thoroughly. Stir in the chocolate chips.
Chill the dough for 15 minutes to make it easier to work with and to keep the dough from spreading when baking.
Using a cookie scoop place one scoop of dough on top of an Oreo cookie. Place another single scoop on the bottom of the Oreo to create a cookie sandwich. Seal the edges together to completely close in the Oreo.
Place the balls of cookie dough on a parchment lined baking sheet and bake for 9-13 minutes. Let cool for 5 minutes and then transfer to a wire rack.
https://www.bunsinmyoven.com/2011/01/19/oreo-stuffed-chocolate-chip-cookies/

recipe from Picky Palate
Share this: