I love indulging in healthy dips and this one is loaded with vegetables! I think you're going to love the crunch and the flavor!
There I was, browsing Pinterest, when I came across a photo of this skinny poolside dip.
Now, you guys, I love dip. I'm generally powerless to resist it. But, when I hear things like "skinny" in a recipe title, I'm usually not that excited. I'm sorry, but fat and calories are delicious. Still, there was something about the dip that just made me curious.
I clicked the photo and was led to Home Trends Utah, where the recipe for the dip was shared. And I could not get that dip out of my head. I'd already been to the grocery store twice that day. There was no way I could go back for the dip ingredients. It'd be wrong. I'd be an embarassment to my family. The cashiers already look at me funny and I could just imagine what they'd say if I went back again.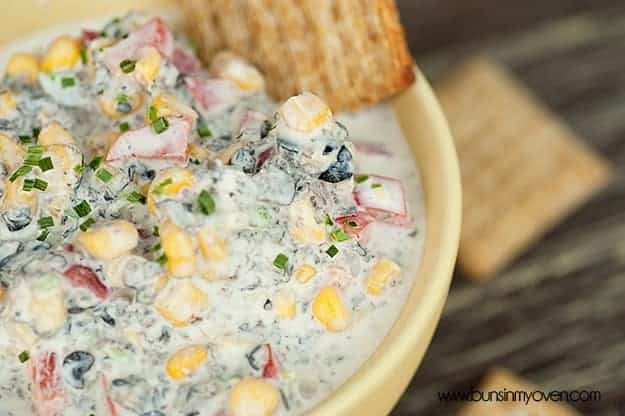 Then I looked at the dip again, hopped in my car, and went to a different grocery store that I only go to when I've worn out my welcome at my home store.
This dip, man. It's surprisingly good. I mean, it's basically a bunch of raw veggies stirred up with some cream cheese and ranch seasoning. I used full fat cream cheese, because like I said: Calories are delicious. That said, I did reduce the cream cheese by half. So…basically it's still somewhat skinny. I mean, right? You can totally use fat free or low fat cream cheese if you're into that sort of thing. I didn't miss the extra brick of cream cheese, but do what you feel is right in your heart.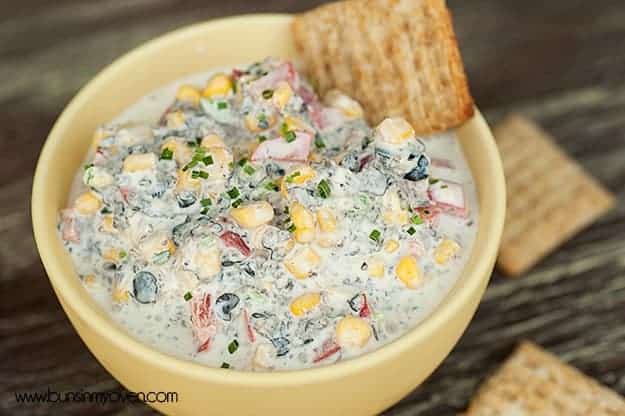 This dip is full of crunchy bell peppers, corn, jalapenos, and black olives. You could add in some black beans, if you swing that way. Or maybe some sundried tomatoes? Finely diced carrots? Raw green beans? If it's crunchy, it'd probably be delicious in this dip.
I love snacks and appetizers like my grape jelly meatballs, buffalo chicken sliders, and white queso dip for the big game. If you'd like to try some healthy dips this year, this is the one!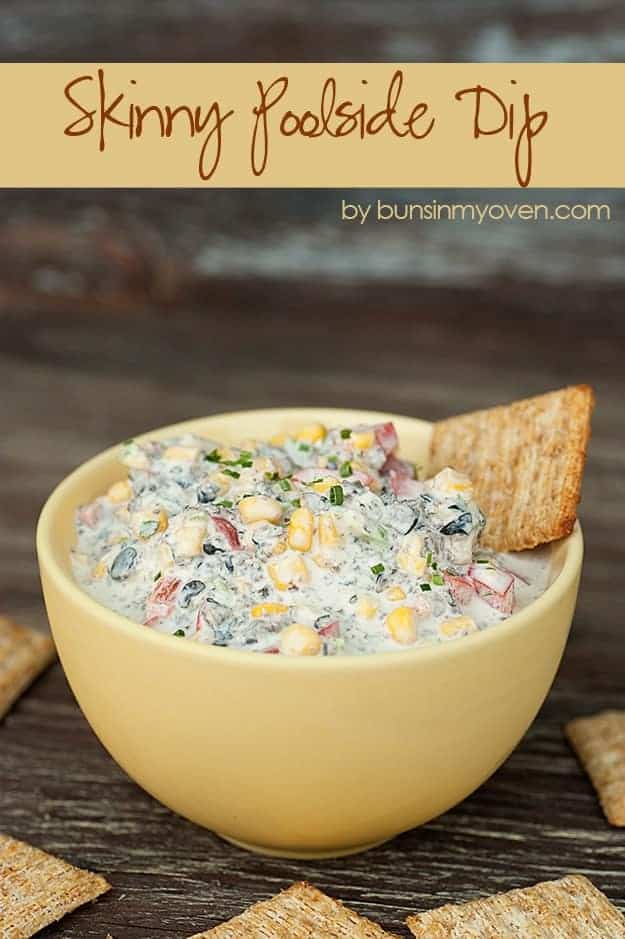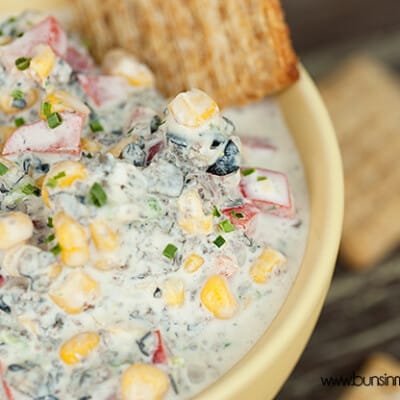 Skinny Poolside Dip
I love indulging in healthy dips and this one is loaded with vegetables! I think you're going to love the crunch and the flavor!

Prep2 minutes
Cook3 minutes
Total5 minutes
Ingredients
8 ounces cream cheese room temperature
1 red bell pepper finely diced
1 jalapeno seeded, finely diced (double it up or leave in seeds if you want more spice)
1 small can black olives finely diced
15 ounces canned corn drained
1 packet ranch seasoning
Instructions
Dump everything into a bowl and start stirring it together. As the vegetables start to release a little of their water, the mixture will come together much easier. Continue stirring until well combined.

Serve immediately or store in the fridge, covered, for up to 24 hours. The longer the dip sets, the more water the vegetables will release. We prefer this eaten sooner than later.

Serve with crackers or chips.
Nutrition Information:
Calories: 228kcal (11%)| Carbohydrates: 15g (5%)| Protein: 4g (8%)| Fat: 16g (25%)| Saturated Fat: 7g (44%)| Cholesterol: 41mg (14%)| Sodium: 881mg (38%)| Potassium: 184mg (5%)| Fiber: 1g (4%)| Sugar: 2g (2%)| Vitamin A: 1230IU (25%)| Vitamin C: 29.3mg (36%)| Calcium: 47mg (5%)| Iron: 0.5mg (3%)
Other dip recipes you'll love:
So Cal Fajita Dip by Oh Sweet Basil
Chocolate Chip Cookie Dough Dip by Buns In My Oven
The Best Spinach Artichoke Dip by Mel's Kitchen Cafe
Pimento Cheese by Buns In My Oven
Cilantro Lime Mexi-Corn Dip by Kitchen Meets Girl
Pickle Dip by Buns In My Oven