Sweet and salty potato chip cookies are loaded with crumbled potato chips and loads of milk chocolate! Soft, chewy, and always a fun treat to make!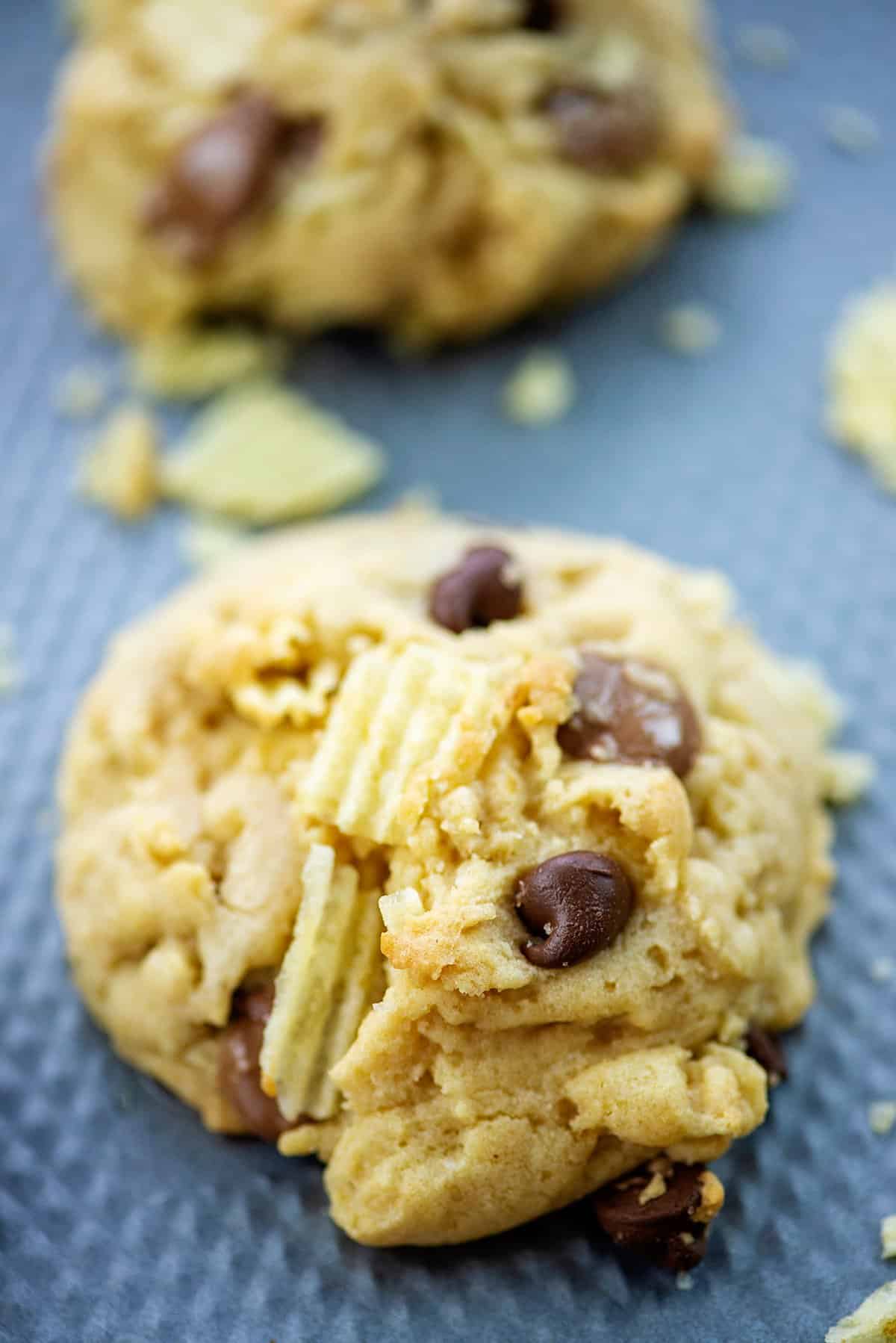 I've said it before, and I'll say it again…my husband is the cookie monster.
The man eats cookies for breakfast every morning. So, basically, if we don't keep the cookie jar stocked, he goes hungry all day. 😉
Sure, sometimes he complains that he'll never lose any weight if I keep baking cookies, but who am I to deprive the man of breakfast?!
And, yes, I will absolutely use him as an excuse to keep on baking up thick, chewy cookies like these potato chip cookies.
This recipe is a riff on our perfect chocolate chip cookies, which are seriously THE BEST EVER. They're done in literally 20 minutes. No chilling the dough, no softening the butter, just big, fat, thick cookies ready in 20 minutes. They've been a reader favorite for years now!
Ingredient Notes:
This post contains affiliate links. As an Amazon associate and member of other qualifying programs, I earn from qualifying purchases.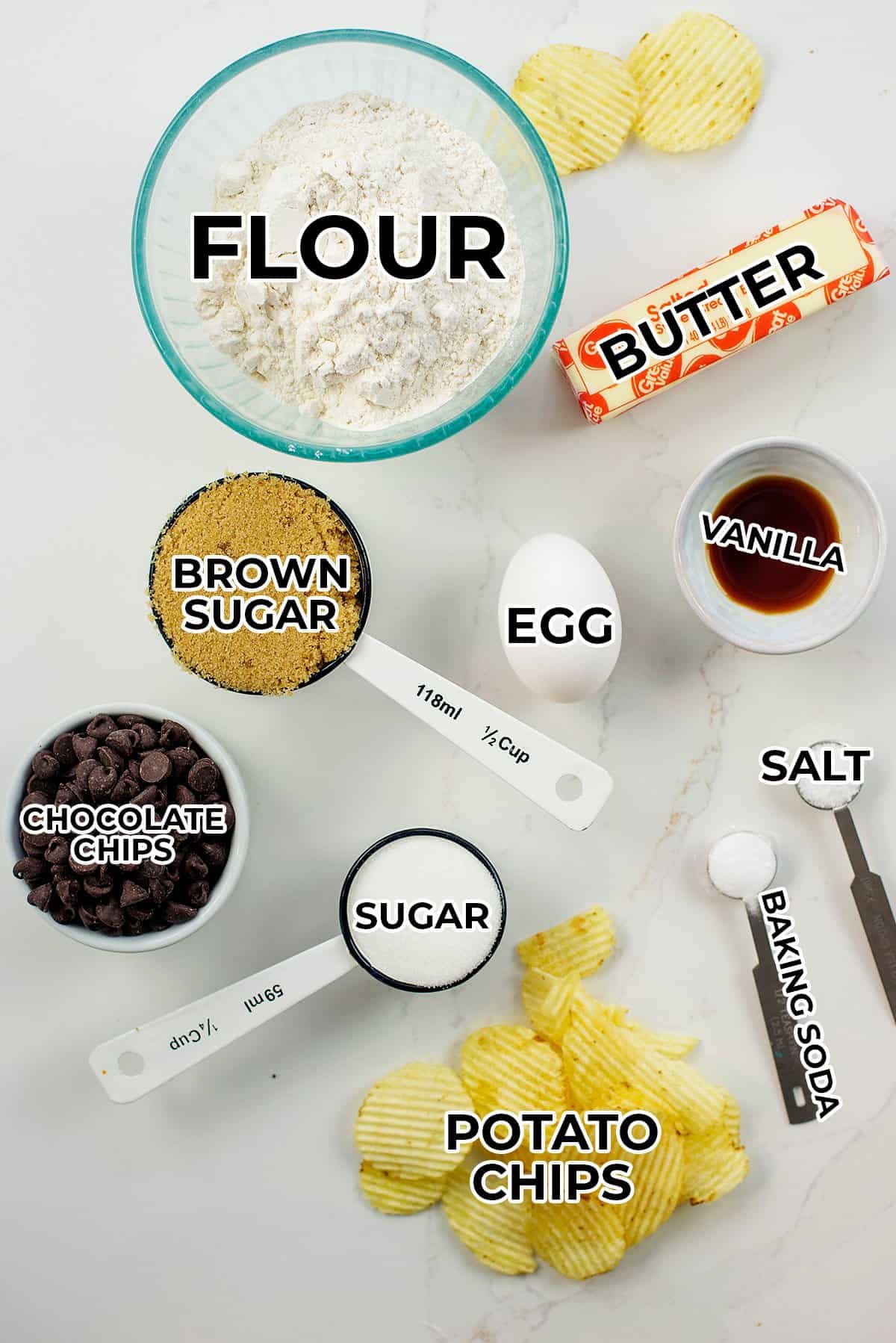 Potato Chips – We used Ruffles this time around, but Lay's potato chips work well too. Just be sure to use plain salted chips here. No one wants BBQ flavored cookies.
Cookie Dough – You will prepare the cookie dough from some standard cookie ingredients: flour, butter, eggs, white sugar, brown sugar, and baking soda.
Chocolate Chips – Grab your favorite brand of milk chocolate or semi-sweet chips to mix in with these potato chip cookies! We prefer milk chocolate to balance out the salty flavor of the chips.
What Readers are Saying!
"This recipe is my cookie fantasy come to life. Chocolate and salt are magic together, and putting those into the wonder that is the realm of the chocolate chip cookie sounds almost too good to be true!" – Margo
How to Make Potato Chip Cookies: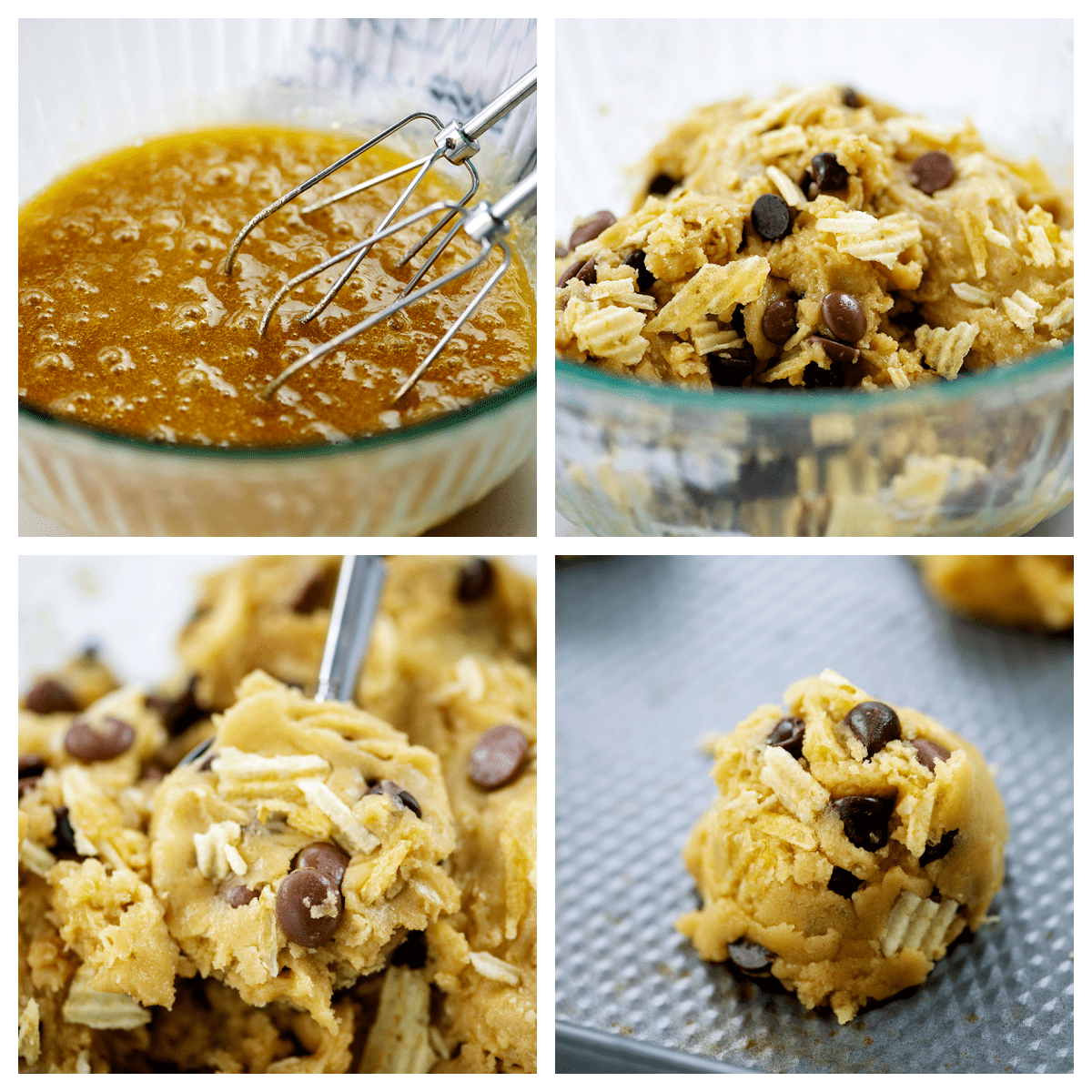 Cookie Dough: Our dough comes together in one bowl, no mixer necessary. Melt the butter, stir in the sugars, egg, and vanilla, and then add the flour, baking soda, and salt.
Potato Chips: Now for the special ingredient! Crush up the potato chips and stir those into the cookie dough mix along with the chocolate chips.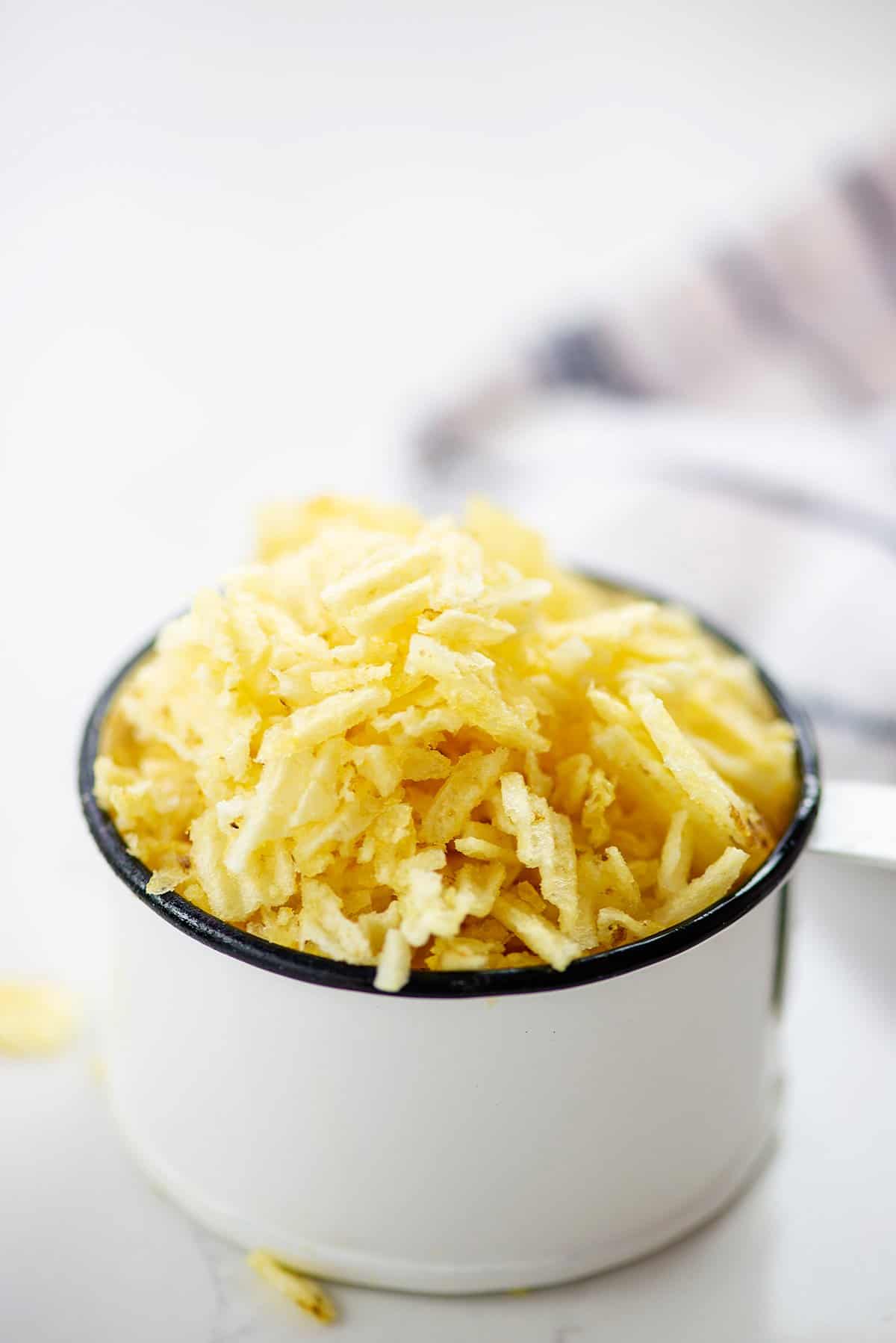 Helpful Tip!
The texture of the cookies will change somewhat depending on how finely you crush the potato chips. Finely ground works, but we like to leave some large chunks for texture.
Bake: We like big, fat cookies so we use a large cookie scoop to drop balls of cookie dough onto a baking sheet. Bake at 350 for 11 minutes exactly and then cool for at least 5 minutes on the baking sheet. They'll still be gooey for a bit after baking and they stay nice and soft for days.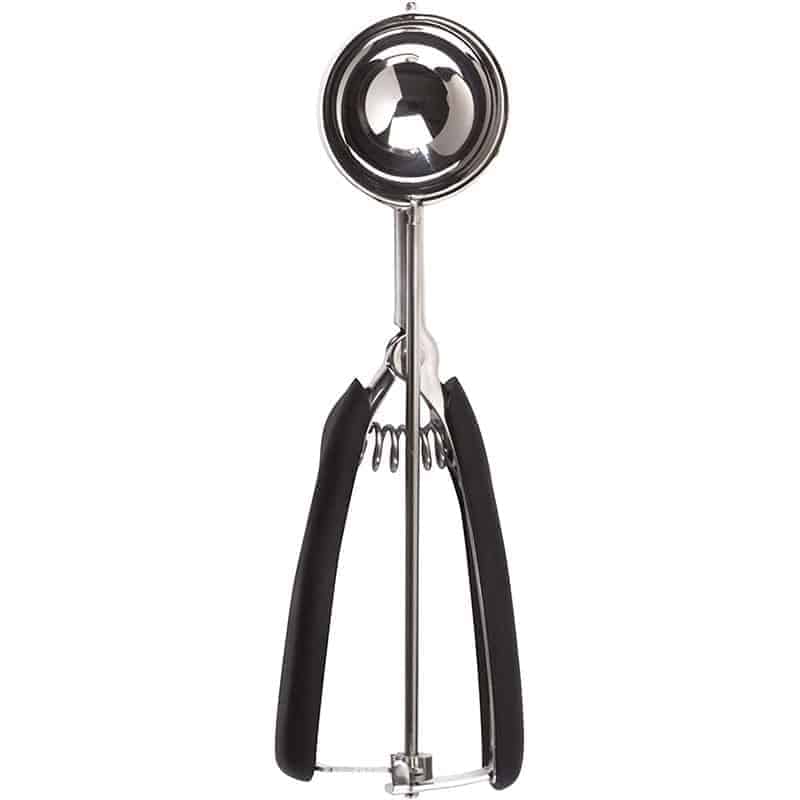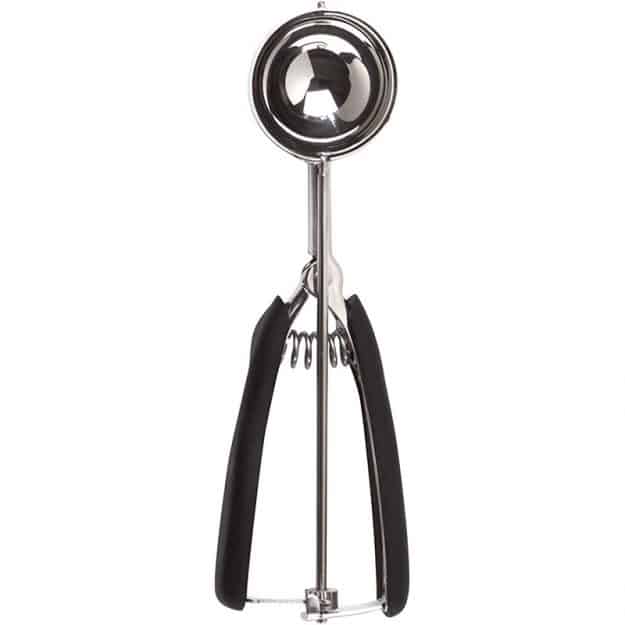 We use cookie scoops for everything from baking cookies to scooping meatballs to easily filling muffin tins.
How to freeze cookie dough:
We LOVE keeping a batch of cookie dough in our freezer for last minute treats!
Portion your dough out onto a baking sheet and place in the freezer for one hour. Transfer to a freezer safe bag and freeze for up to 3 months.
Bake as directed, straight from the freezer, adding an extra minute of bake time.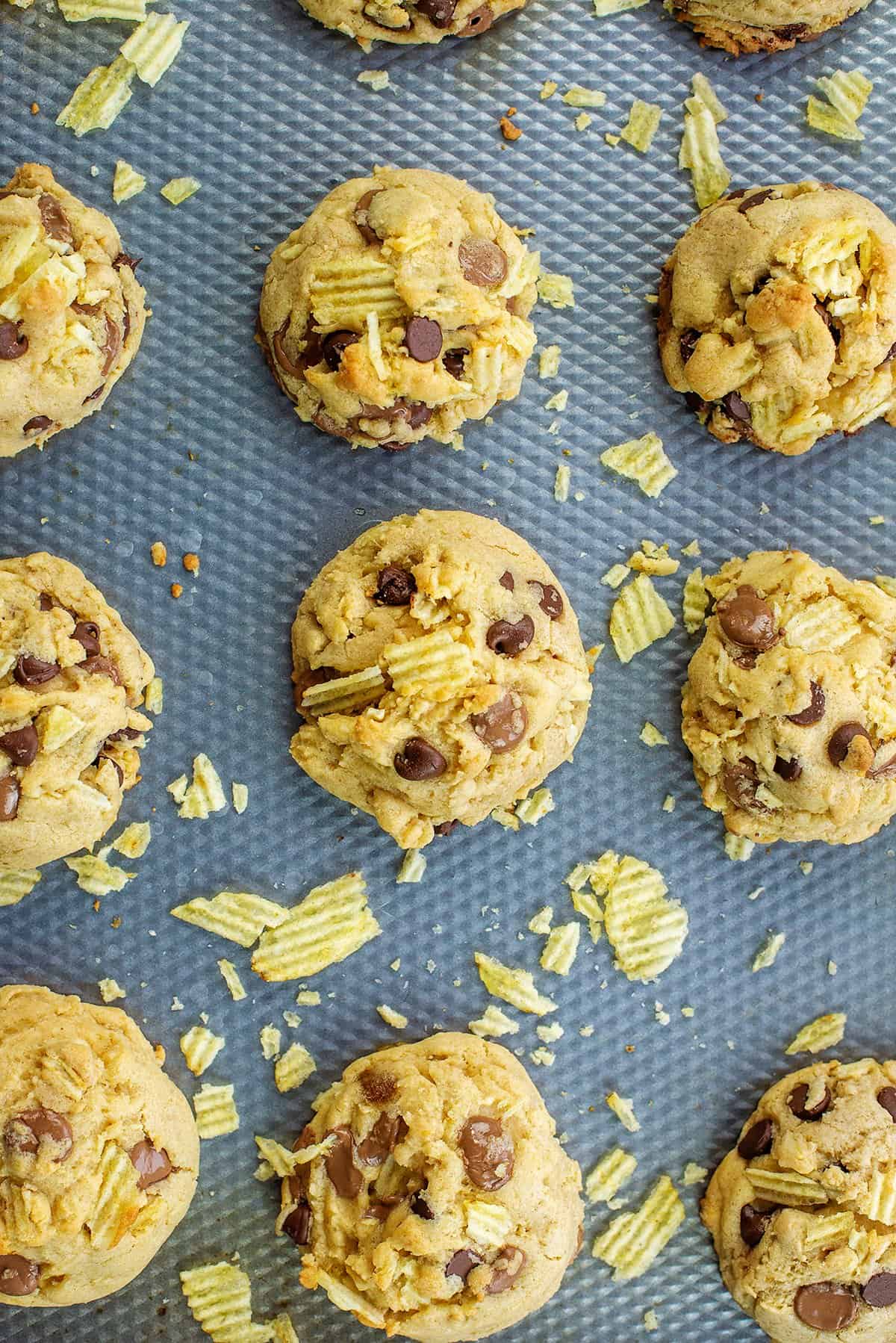 FAQs:
What are potato chip cookies?
Exactly what they sound like! These cookies are made with crushed potato chips for a perfectly sweet and salty flavor!
How to store cookies?
You can keep the baked potato chip cookies stored at room temperature in a sealed container for 4 to 5 days.
Can you freeze cookies?
Yes! You can freeze the baked cookies and also the potato chip cookie dough before you bake it. Flash freeze the cookies or balls of cookie dough on a baking sheet before transferring to a freezer safe bag or container.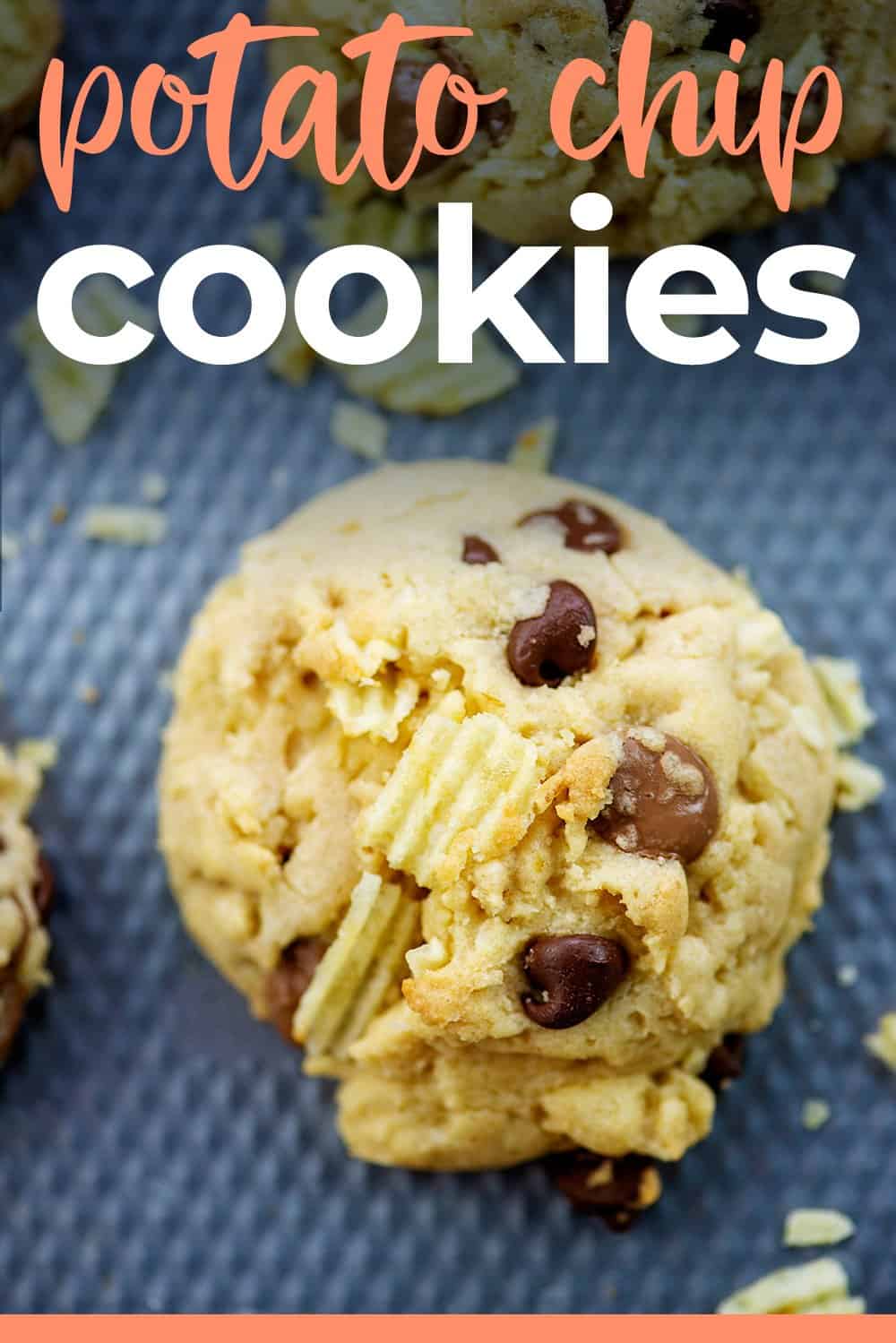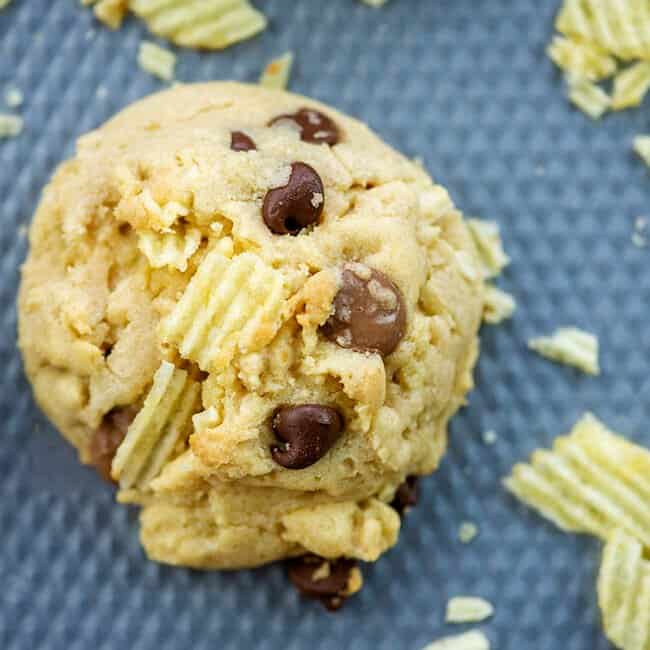 Potato Chip Cookies
These thick and chewy cookies have that sweet and salty vibe going on, thanks to the addition of crushed potato chips. We love how thick and soft these bake up and the potato chips make such a fun addition.
Prep10 minutes
Cook11 minutes
Total21 minutes
Ingredients
1/2 cup butter melted
1/2 cup brown sugar
1/4 cup white sugar
2 teaspoons vanilla extract
1 large egg
1 2/3 cup flour
1/2 teaspoon baking soda
1/2 teaspoon salt
3/4 cup milk chocolate chips
3/4 cup crumbled potato chips
Instructions
Preheat oven to 350 degrees.

Add the melted butter, brown sugar, and granulated sugar to a mixing bowl and stir well to combine.

Mix in the vanilla and egg until just combined.

Add the flour, baking soda, and salt and mix until just combined.

Stir in the chocolate chips and potato chips by hand, reserving a few to press onto the tops of the cookie dough, if desired.

Use a large cookie scoop to drop balls of cookie dough on a parchment lined baking sheet.

Bake for 11 minutes exactly. Cookies will still be slightly underdone when you remove them from the oven. Do not overbake. Let sit on baking sheet for 5 minutes before removing to a cooling rack or eating.
Tips & Notes:
We like to use Ruffles or Lay's potato chips in this recipe. You'll want a fairly salty chip to balance it out with the sweetness of the cookie. Crush the chips as fine as you'd like. We like to leave them just coarsely crumbled so you get that texture in each bite. This recipe doesn't always turn out well when doubling for some reason. We tend to just make one batch at a time.
Nutrition Information:
Serving: 1cookie| Calories: 275kcal (14%)| Carbohydrates: 37g (12%)| Protein: 3g (6%)| Fat: 13g (20%)| Saturated Fat: 7g (44%)| Polyunsaturated Fat: 1g| Monounsaturated Fat: 3g| Trans Fat: 1g| Cholesterol: 38mg (13%)| Sodium: 248mg (11%)| Potassium: 104mg (3%)| Fiber: 1g (4%)| Sugar: 20g (22%)| Vitamin A: 284IU (6%)| Vitamin C: 1mg (1%)| Calcium: 29mg (3%)| Iron: 1mg (6%)
This recipe was originally published in 2010. It was updated in 2022 with new photos and recipe.