These chocolate thumbprint cookies start with a simple, sweet, buttery cookie dough and then get filled with thick, rich hot fudge. Don't forget to top them off with Christmas sprinkles!
I'm a total sucker for thumbprint cookies.
I've got a secret trick for getting them absolutely perfect though.
We turn our thumbprints into cookie cups.
Don't know what a cookie cup is?
Well, it's just a cookie that you bake in a muffin tin. They bake up super thick, because the dough has no where to spread to.
We've done Rolo cookie cups, oatmeal cookie cups, s'mores cookie cups, and caramel cookie cups. Those are all made in full size muffin tins, so they're not like these thumbprint cookies, but still a similar idea.
Now it's time for Hot Fudge Christmas Cookie Cups – or chocolate thumbprints! Call them what you want, they are delicious!
Bring on the festive fun and loads of rich, gooey hot fudge, because these are so fun!
Chocolate Thumbprint Cookies Vs. Hot Fudge Cookie Cups:
If you love thumbprint cookies, you're going to love these. Same idea, but no fear of the cookie base spreading out. 😉
We're using the same ingredients and idea as a thumbprint cookie here. We're just making them a big thicker and easier to fill!
More foolproof. Extra easy. What's not to love?
How to Make:
Mix: While the oven is pre-heating to 350 degrees, begin by making the dough for these cookie cups. Butter, sugar, egg yolks, vanilla, flour, and salt are all the ingredients you will need. Beat together until you have cookie dough!
Bake: Add the cookie dough to a mini muffin pan that has been lightly greased with non-stick spray. Use a small cookie scoop to get evenly sized bits of dough. Bake for 12 minutes.
Top & Serve: This next step is very difficult. It requires you to heat the fudge and not just eat it by the spoonful. Try to resist! Once the dough has finished baking, you'll be filling the cookies with the gooey, melty hot fudge and topping with sprinkles!
Use the end of a wooden spoon to create a well in each cookie for the hot fudge.
Spoon the melty fudge right into the well.
Top with whatever festive sprinkles you like.
Helpful Tips!
Add Title Here
Allow the cookies to cool for 1 hour before serving for the fudge to set. When warm the fudge will still be melted. This is still delicious, but a bit messy.
Nonpareils were used for the sprinkles in this recipe, but there are many varieties of sprinkles that you could use instead.
These cookies will stay fresh in the cookie jar for 4-5 days.
Out of hot fudge because you just ate it all from the jar? Substitute with some caramel ice cream topping, raspberry preserves, chocolate ganache, or colorful frosting.
More christmas treats!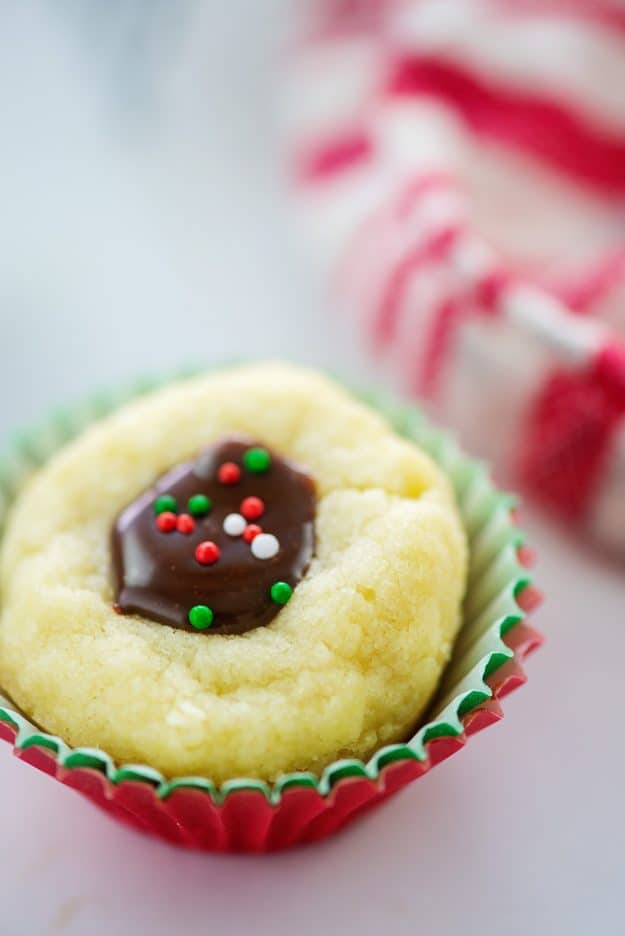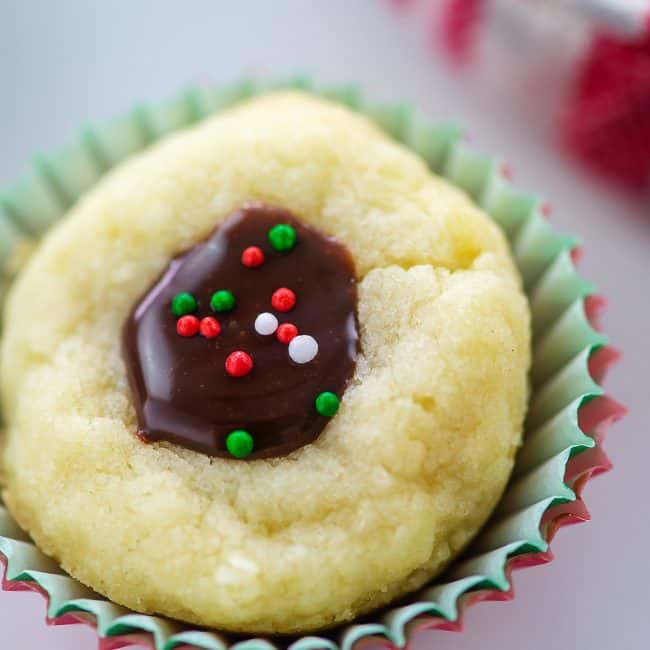 Chocolate Thumbprint Cookies
Classic thumbprint cookies are simple enough, but we make them even more foolproof by baking them in a muffin tin. They won't spread, plus they're extra thick, soft, and buttery. We fill these with hot fudge and top with Christmas sprinkles.
Prep10 minutes
Cook12 minutes
Cooling Time25 minutes
Ingredients
1 cup cold butter cubed
2/3 cup white sugar
2 large egg yolks
1/2 teaspoon vanilla extract
2 cups all purpose flour
1/3 cup hot fudge
Christmas sprinkles
Instructions
Pre-heat oven to 350 degrees. Spray a mini muffin tin with non-stick spray.

In the bowl of your mixer, add cold butter, sugar, and vanilla. Beat in the egg yolks until light and fluffy.

Mix in flour and continue mixing until the dough comes together.

Use a small cookie scoop to scoop out a portion of dough. Press the dough into the muffin wells.

Bake for 12 minutes.

Use the rounded handle of a wooden spoon to make wells in each cookie cup. Let cool for 5 minutes and then carefully run a butterknife around the edge of each cookie to help it release from the pan.

Let cool in the pan for 20 minutes and then carefully pop the cookie cups out of the pan and place on a cooling rack or sheet pan for filling.

Warm the hot fudge in the microwave until pourable and then use a spoon to carefully fill each cookie with the fudge.

Add sprinkles to the tops.

Let cool for 1 hour for the hot fudge to set up.
Tips & Notes:
Swap the hot fudge for your favorite jam, caramel topping, or frosting. Use any type of sprinkles you prefer.
Nutrition Information:
Serving: 1cookie| Calories: 95kcal (5%)| Carbohydrates: 11g (4%)| Protein: 1g (2%)| Fat: 5g (8%)| Saturated Fat: 3g (19%)| Cholesterol: 14mg (5%)| Sodium: 55mg (2%)| Potassium: 17mg| Fiber: 1g (4%)| Sugar: 5g (6%)| Vitamin A: 158IU (3%)| Calcium: 4mg| Iron: 1mg (6%)