September 6, 2018
Butter Rolls
If you're looking for a butter roll recipe, you've come to the right place! These old-fashioned rolls are so good!

Have y'all ever heard of Butter Rolls?
From what I've been able to find online, these little bites of pastry heaven are not all that well known. I lucked out and came across these by mistake on allrecipes.com and I've been hanging on to the recipe for months, waiting for the perfect time to whip these up.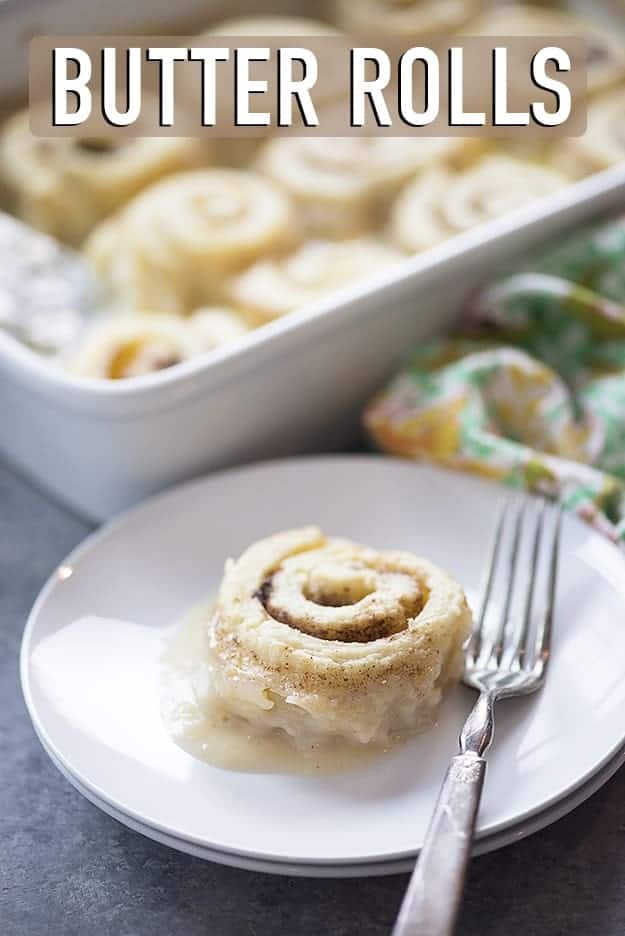 Ugh. I hate when I do that. All this time I've had the recipe and not made it was just a waste. I wasn't fully living my life without eating butter rolls at least once. Now, thankfully, my life is complete. I can die happy. Preferably with one of these rolls in my face.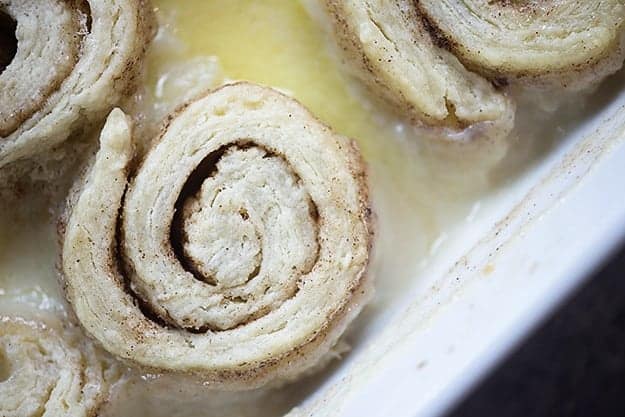 These rolls are less cinnamon roll and more pie crust. There is an abundance of butter involved, a good deal of sugar, and a sprinkling of cinnamon (you could totally up the cinnamon here). The pastry dough gets rolled up and cut to form a beautiful spiral, gently placed in a pan, and then doused in a sweet milk sauce. As the rolls bake, the milk sauce thickens up a bit into a fabulous custard.
I mean, I don't know how any could resist these little rolls!
I can totally picture an old Southern grandma making these rolls for her family. And, since it's my goal in life to be an old Southern grandma in the kitchen, these rolls made me happy.
I'm a huge fan of the dough. It's very similar to a pie crust, but baking it in the sweet milk sauce softens it up a bit. All in all, this butter roll recipe is one that I plan on keeping and passing down to my kids.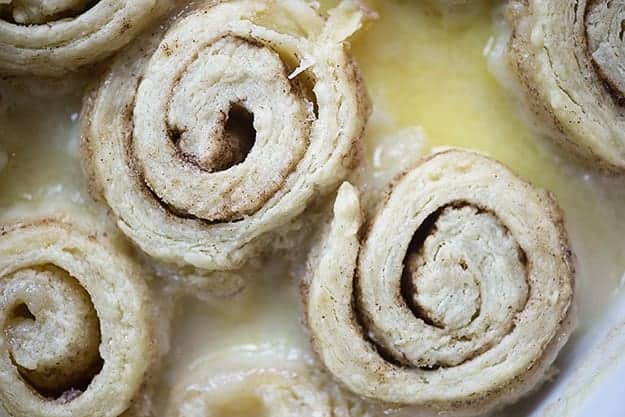 Butter Rolls
Servings: 12 rolls
Course: Breakfast
Cuisine: American
Keyword: classic recipes, easy breakfast recipes, kid-friendly recipes
Calories: 398 kcal
If you're looking for a butter roll recipe, you've come to the right place! These old-fashioned rolls are so good!

Ingredients
For the rolls:
2 cups flour
1/2 teaspoon salt
1 cup butter, cold 2 sticks
1/2 cup cold water
3/4 cup butter, softened 1 1/2 sticks
1/4 cup white sugar
1 teaspoon cinnamon more as desired
For the milk sauce:
2 cups milk
2/3 cup white sugar
1 teaspoon vanilla
Instructions
Preheat oven to 350 degrees. Grease a 9x13 baking dish.

In a large bowl, mix together the flour and salt. Use a pastry cutter to cut in the butter.

When you have coarse crumbs, add the 1/2 cup of water and stir. Use your hands to press the dough together.

Place dough in fridge for 10 minutes to make it a bit easier to work with.

Generously sprinkle your workspace with flour. Roll the dough out into a 12x10 rectangle.

Spread the softened butter evenly over the pastry. Sprinkle with the 1/4 cup of sugar and cinnamon.

Roll up the dough, jelly roll style. Cut into 12 even slices.

Place in the prepared baking dish.

In a small saucepan, heat the milk and remaining sugar just until it begins to boil. Remove from the heat and stir in the vanilla.

Pour all of this mixture over the rolls.

Bake until browned, about 30-40 minutes.
Nutrition Facts
Butter Rolls
Amount Per Serving
Calories 398 Calories from Fat 252
% Daily Value*
Fat 28g43%
Saturated Fat 17g106%
Cholesterol 75mg25%
Sodium 351mg15%
Potassium 83mg2%
Carbohydrates 33g11%
Sugar 17g19%
Protein 3g6%
Vitamin A 895IU18%
Calcium 59mg6%
Iron 1mg6%
* Percent Daily Values are based on a 2000 calorie diet.
Nutrition Disclaimer: All information presented on this site is intended for informational purposes only. I am not a certified nutritionist and any nutritional information shared on bunsinmyoven.com should only be used as a general guideline.
Post updated with new video and images 4/6/17.