Think cinnamon rolls, but with a simple pie dough instead of a yeast dough and baked in a sweet milky sauce and you've got these Southern Butter Rolls!
Have y'all ever heard of Butter Rolls?
They're a Southern delight – a cross between a cinnamon roll and pie crust, all baked up in a sweet custard that makes for a decadent butter roll that no one can resist.
While we will compare these to cinnamon rolls, they're made with pie dough and just lightly sprinkled with cinnamon. They get doused in a sweet milk sauce that thickens up into a custard as it bakes. These are NOT traditional cinnamon rolls, but they're the closed thing I have to compare them to!
Butter Rolls really are a roll of their own and you'll want to give them a try to see what I mean! Sweet, saucy, ooey, gooey goodness!
While we haven't tested this recipe with our homemade biscuits or 7 Up Biscuits, that dough may also work. Might be fun to experiment!
Ingredient Notes:
This post contains affiliate links. As an Amazon associate and member of other qualifying programs, I earn from qualifying purchases.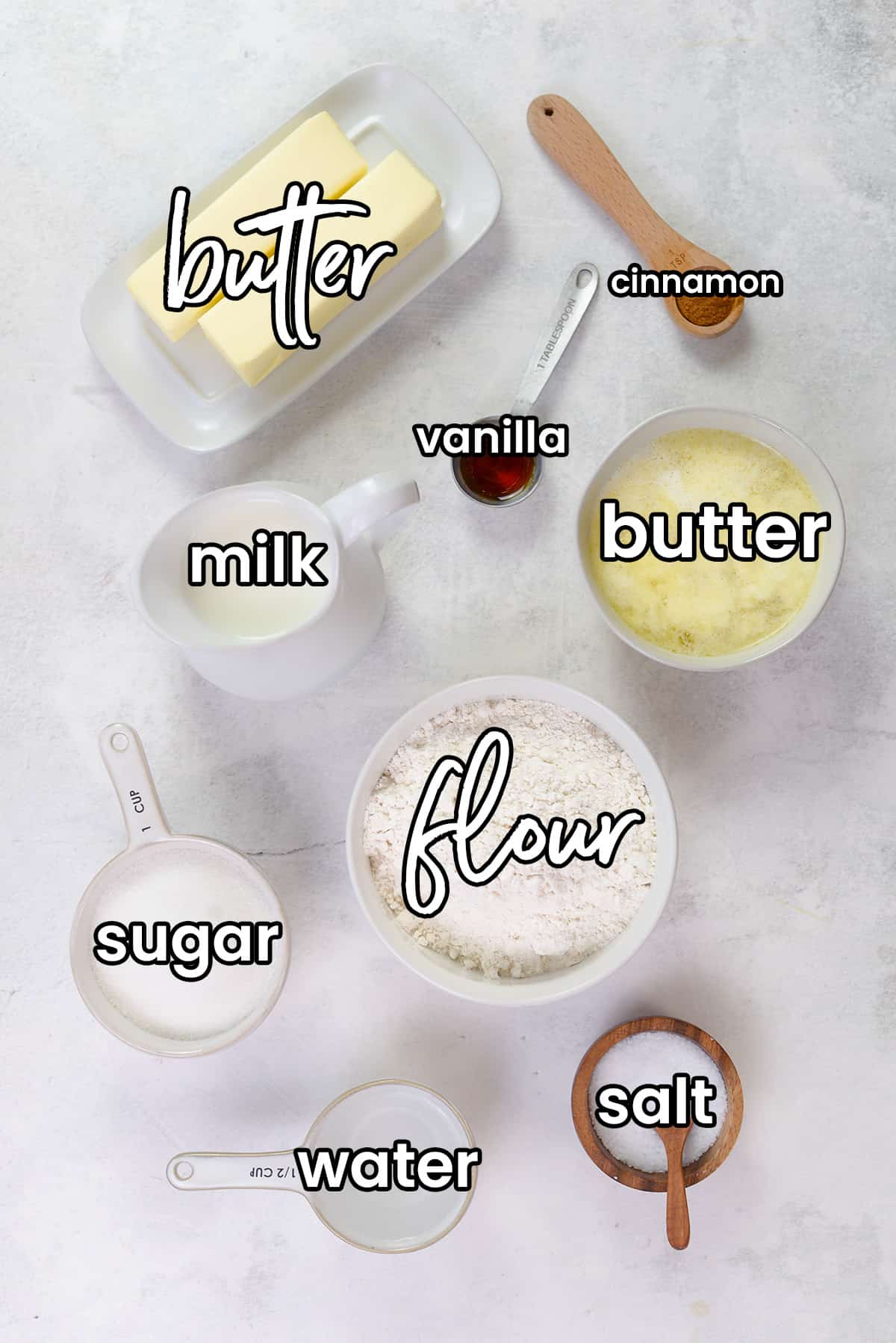 For the rolls:
Flour – Just some standard all-purpose flour. The dough for these rolls will end up being a bit more like pie crust or biscuit than a fluffy yeast cinnamon roll.
Butter – You will need two sticks of cold butter for making the dough. Along with that you'll need one and a half sticks of softened butter that will go on the rolls for baking.
Cinnamon & Sugar – For sprinkling on the dough before rolling it up to bake. You can add more or less of the cinnamon to suit your tastes.
For the milk sauce:
Milk – The base of this sauce is milk, either 2% or whole milk.
Granulated Sugar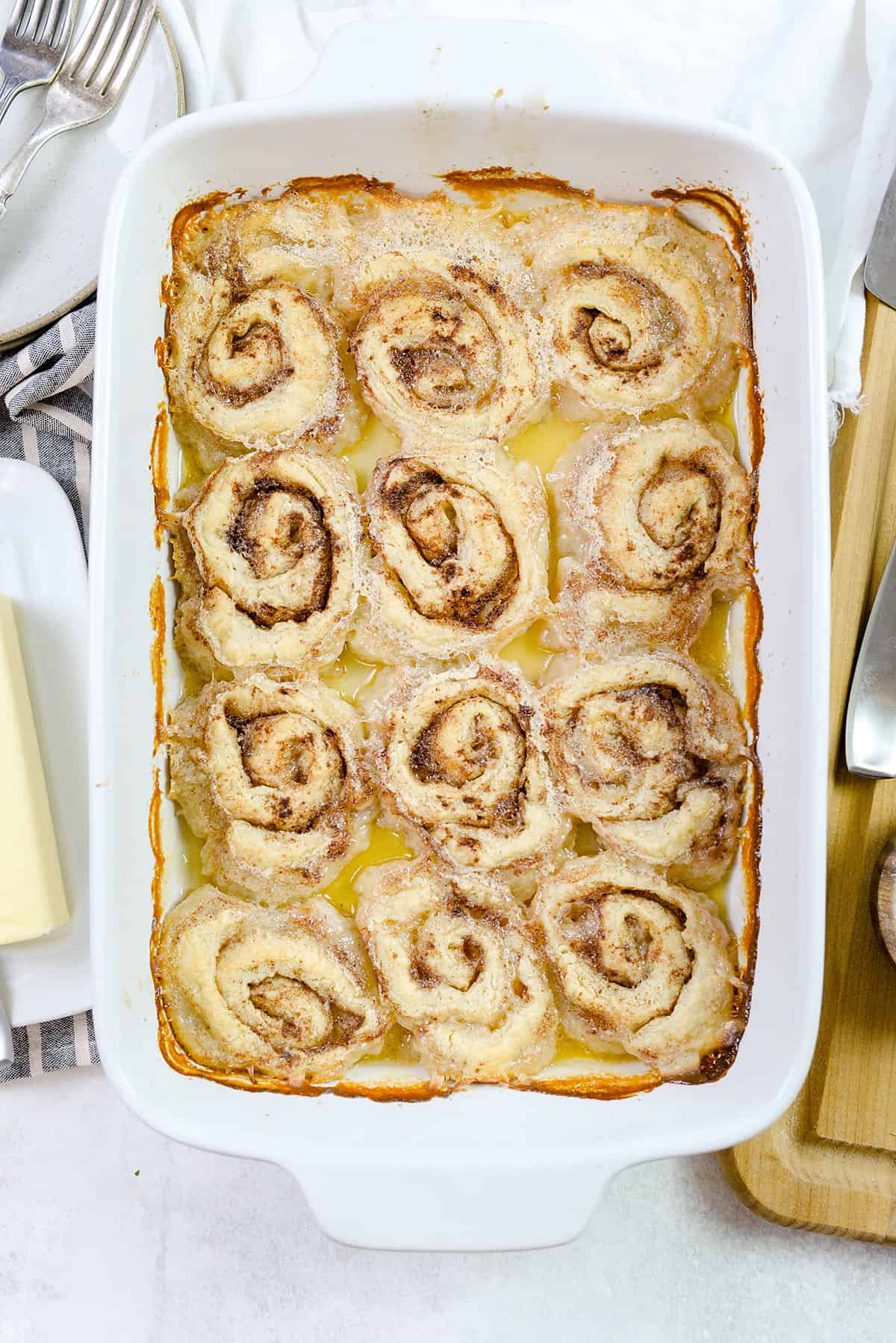 What Readers are Saying!
"I can't stop thinking about these…. I just asked my husband for these to be my Mother's Day breakfast!!! I. cannot. wait." – Ashton
Helpful Tools:
Pastry Cutter – It'll make preparing dough a whole lot simpler.
Measuring Cups & Spoons – Essential for pretty much every baking recipe!
How To Make Butter Rolls:
Dough: To begin you'll add the flour and salt to a mixing bowl and then use a pastry cutter or a couple of butter knives to start cutting in the cold butter. When it forms into coarse crumbs add the cold water and stir. Use your hands to form it into a dough.
Roll: The dough will need to chill for about 10 minutes in the fridge to make it easier to work with. When it has chilled you can sprinkle your workspace with some flour and roll the dough out into a 12×10 rectangle.
Top: Spread the softened butter evenly over the rolled out rectangle of dough, then start sprinkling on the cinnamon and sugar.
Roll & Cut: Roll the dough up, jelly roll style and cut into 12 equal sized pieces. Place into a 9×13 baking dish.
Milk Sauce: Start by mixing up the milk and sugar in a saucepan and heating it until it just begins to boil. Remove it from the heat and then mix in the vanilla extract. When done, pour it evenly over each of the rolls!
Helpful Tip!
Custard Sauce
It's going to feel wrong to pour the milk and sugar over the rolls. It's a thin mixture and you'll be certain that you're ruining the rolls, but trust the process and pop these in the oven. The milk sauce bakes up into a creamy custard that the rolls soak up. It really does work!
Bake: Finally you can pop the baking dish into the oven and let it bake uncovered for 30 to 40 minutes, or until the rolls have browned. They'll need to cool a bit but you'll definitely want to enjoy these while they're still warm!
FAQs:
Are butter rolls the same as cinnamon rolls?
Cinnamon rolls are traditionally made with a yeast dough and plenty of brown sugar and cinnamon. Butter rolls are made with a dough similar to biscuits or pie crust. There is only a hint of cinnamon and everything bakes up in a custard. The two are quite different, though they are shaped the same.
Can I use pie or crescent roll dough?
We've only tested this recipe using the dough here, but readers have left comments saying that store bought pie dough and crescent dough work well.
How to store butter rolls?
Store in the fridge for up to 3 days. Rewarm in a low oven before serving.
Butter Rolls
These old-fashioned Southern Butter Rolls turn out ooey gooey and hard to resist! These look similar to a cinnamon roll, but the dough is more like a pie crust or biscuit – no yeast needed!
Prep20 minutes
Cook30 minutes
Total50 minutes
Ingredients
For the dough:
2 cups flour
1/2 teaspoon salt
1 cup butter cold
1/2 cup cold water
For the filling:
3/4 cup butter room temperature
1/4 cup granulated sugar
1 teaspoon cinnamon more as desired
For the milk sauce:
2 cups milk
2/3 cup granulated sugar
1 teaspoon vanilla
Instructions
To make the dough:
Preheat oven to 350 degrees. Grease a 9×13 baking dish.

In a large bowl, mix together the flour and salt. Use a pastry cutter to cut in the butter.

When you have coarse crumbs, add the 1/2 cup of water and stir. Use your hands to press the dough together.

Place dough in fridge for 10 minutes to make it a bit easier to work with.
To fill the dough:
Generously sprinkle your workspace with flour. Roll the dough out into a 12×10 rectangle.

Spread the softened butter evenly over the pastry. Sprinkle with the 1/4 cup of sugar and cinnamon.

Roll up the dough, jelly roll style. Cut into 12 even slices.

Place in the prepared baking dish.
For the milk sauce:
In a small saucepan, heat the milk and remaining sugar just until it begins to boil. Remove from the heat and stir in the vanilla.
To bake:
Pour the milk sauce over the rolls.

Bake until browned, about 30-40 minutes.

Let cool in the pan for 15 minutes before serving.
Tips & Notes:
While we haven't tested it ourselves, readers have mentioned using store-bought pie crust in place of the homemade dough. Might be fun to try! We just use a light sprinkling of cinnamon for flavor in these rolls. For a stronger flavor, use more cinnamon.
Nutrition Information:
Serving: 1roll| Calories: 398kcal (20%)| Carbohydrates: 33g (11%)| Protein: 3g (6%)| Fat: 28g (43%)| Saturated Fat: 17g (106%)| Cholesterol: 75mg (25%)| Sodium: 351mg (15%)| Potassium: 83mg (2%)| Sugar: 17g (19%)| Vitamin A: 895IU (18%)| Calcium: 59mg (6%)| Iron: 1mg (6%)
Post updated with new photos June 2022. Original photo below: