August 8, 2018
Bacon Ranch Cheese Ball
This bacon ranch cheese ball starts with a brick of cream cheese and then gets mixed with loads of crispy bacon, freshly grated cheddar, and lots of ranch seasoning. For extra flavor and crunch, I roll the cheese ball in crushed crackers before serving. Serve this cheese ball recipe with crackers and fresh vegetables.
I have discovered a new hobby. One that I am really angry I didn't discover years ago.
You see, reading is life. I love a good novel.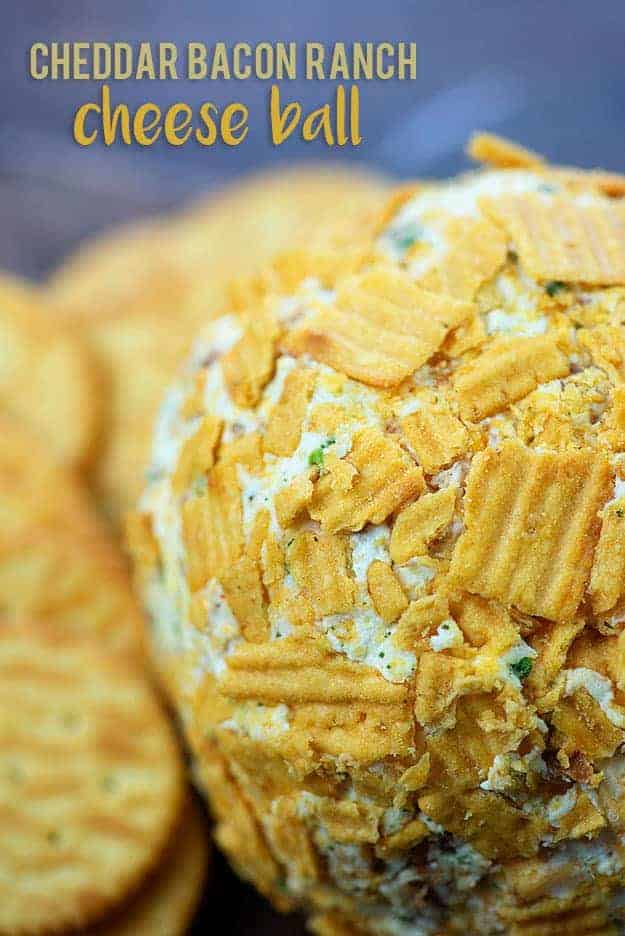 That said, I don't actually read books all that often, because once I pick one up, I don't put it down until I've finished it. Which, is lovely and all, except for the fact that my kids don't get fed proper meals, my work doesn't get done, my house goes to crap, and my husband starts making comments about unhealthy obsessions.

So.
I usually pick up a book once every 3 months or so and then I spend 3 or 4 days reading every book I can find until I just absolutely have to get back to real life.
But, another thing that I love to do is float in my pool for an hour every afternoon during the summer.
Y'all. Why did it take me until now to take my Kindle out to the pool with me? Floating doesn't have to mean laying there half asleep! It can be reading time!
I discovered my new hobby of reading while floating just this morning and I'm already burnt to a crisp. Note to self: apply extra sunscreen, because you're going to lose all track of time.
Ugh.
Anyway, that has nothing to do with cheese balls. I just wanted to tell you about my favorite new thing in case you also have access to a pool and a Kindle. Then again, I feel like everyone else in the world already knows how enjoyable it is to combine those two things and I'm just an idiot.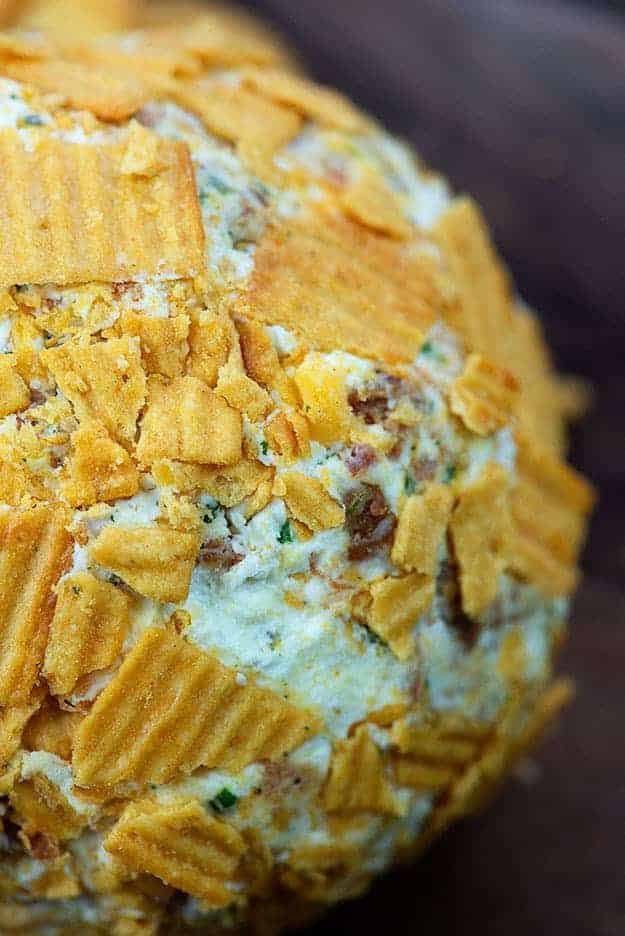 Let's talk about this bacon ranch cheese ball!
I made it for lunch the other day and I'm not mad about it.
It's got all of my favorite things – cream cheese, crispy fried bacon, ranch seasoning, and grated cheddar. How could you possibly not love this?
My husband asks for this bacon cheese ball all football season and, I dunno, I hear that's going to be starting up again soon? I guess I don't mind. Bring on the cheese balls!
How to make a cheese ball:
Gather up your ingredients. For this bacon ranch cheese ball, we'll start with cream cheese, grated cheddar, ranch seasoning powder, and bacon. You can fry up some bacon yourself or you can use the microwaveable bacon in a box. I usually go the easy route for this one. 😉
We're also going to need some cheese crackers for adding a little crunch to the outside of the cheese ball. I went with a ranch flavored cheese cracker, but any variety you like is fine here.
Get your cream cheese nice and soft by leaving it on the counter for 30 minutes or zapping it for 20 seconds in the microwave.
Add the cream cheese, cheddar, bacon, and ranch seasoning to a bowl and stir well to combine.
Lay a sheet of plastic wrap out on your counter and spoon the cheese mixture into the center. Bring up the sides of the plastic wrap around the cheese mixture and shape it into a ball.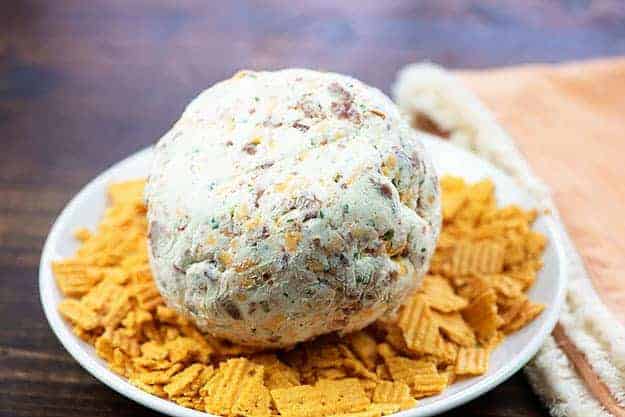 Chill the cheese ball for 30 minutes and then unwrap it and roll it in the crushed crackers.
I like to serve this bacon ranch cheese ball with Ritz crackers, but feel free to get creative and use whatever you like best!
If you like this bacon ranch cheese ball, you might also like…
Oreo Ball – this dessert cheese ball is always a hit!
Buffalo Chicken Cheese Ball – I love the spicy flavor of this one!
Peanut Butter Cheese Ball – if you love peanut butter, you have to try this cheese ball recipe!
Goat Cheese Balls – these little bite sized cheese balls start with goat cheese, bacon, and pecans. So good!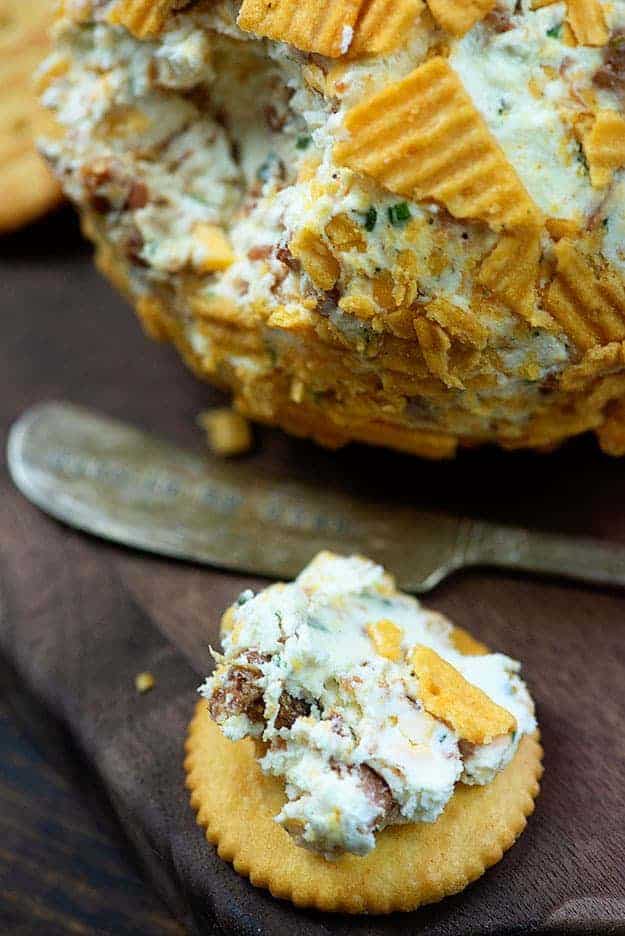 Bacon Ranch Cheese Ball
Servings: 12
Course: Snack
Cuisine: American
Keyword: appetizer, party
Calories: 310 kcal
This cheese ball is packed with crispy bacon and ranch flavor. I roll the cheese ball in crackers before serving for a pretty presentation, extra flavor, and loads of crunch.
Ingredients
16 ounces cream cheese softened
1 cup grated cheddar
1 cup crumbled cooked bacon
1 packet ranch dip powder
1 tablespoon chopped chives
1 cup cheese crackers
crackers and fresh veggies, for serving
Instructions
Add the cream cheese, cheddar, bacon, ranch seasoning, and chives to a mixing bowl and stir well to combine.

Lay a sheet of plastic wrap on your work surface and place the cheese mixture in the center. Fold the plastic wrap up around the cheese and form into a ball.

Refrigerate for 30 minutes to firm up.

Crush the cheese crackers into small pieces and place on a plate.

Remove the plastic wrap from the cheese ball and roll the cheese ball in the crackers to coat.

Serve with additional crackers and fresh vegetables.
Nutrition Facts
Bacon Ranch Cheese Ball
Amount Per Serving
Calories 310 Calories from Fat 198
% Daily Value*
Fat 22g34%
Saturated Fat 11g69%
Cholesterol 67mg22%
Sodium 680mg30%
Potassium 108mg3%
Carbohydrates 16g5%
Sugar 1g1%
Protein 9g18%
Vitamin A 615IU12%
Vitamin C 0.2mg0%
Calcium 132mg13%
Iron 0.3mg2%
* Percent Daily Values are based on a 2000 calorie diet.
Nutrition Disclaimer: All information presented on this site is intended for informational purposes only. I am not a certified nutritionist and any nutritional information shared on bunsinmyoven.com should only be used as a general guideline.