September 10, 2018
Creamy White Queso Dip – No Velveeta Needed!
This white queso dip is perfectly smooth and creamy and it uses no velveeta! It's the perfect cheese dip recipe for your next party!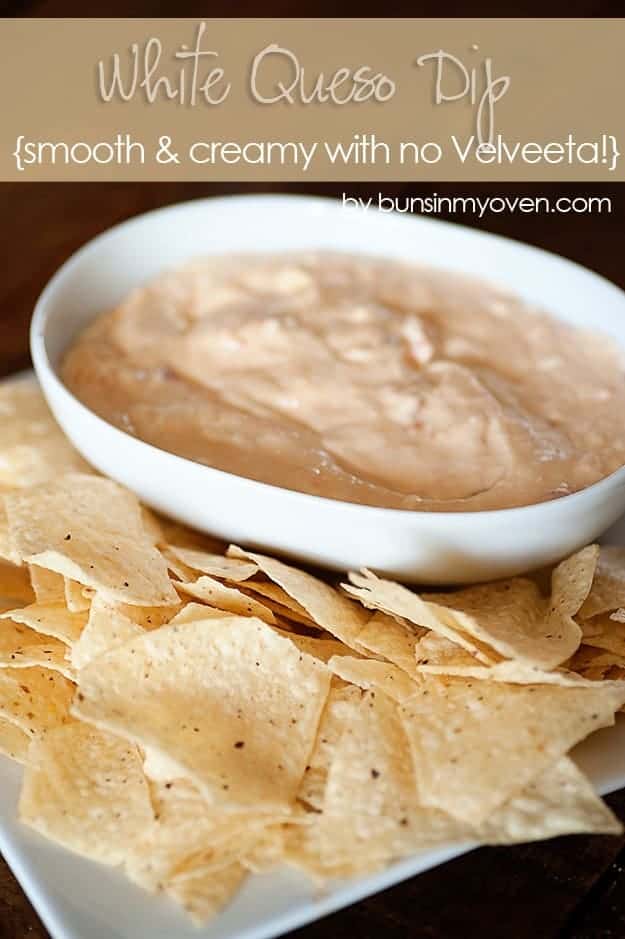 Guys, I love Velveeta just as much as the next person (maybe eve more?), but I also love cheese dips that are made from, you know, cheese. The real kind. That's not weirdly gelatinous.
So, I made this reeeeedonkulous (is that a word? I feel like it's not.) queso dip that is perfectly smooth, perfectly creamy, and oh yeah, perfectly perfect. You'll just have to taste it for yourself to see! 
I made a small test batch of this one evening and 5 minutes later my son and I had inhaled it and my husband was bleeding on the floor. I'm sorry, but the son and I don't like to share, husband. You should know that by now. Stay away from our cheese.
We've been married for, like, a million years. You'd think he would have figured that out by now. I will stab a person with the pointy end of my tortilla chip and I will feel no remorse. It's just the kind of person that I am, okay?
I've heard there are some football games coming up that are supposedly a big deal or something. I don't know. I just think maybe you should make some cheese dip. I mean, I only really watch football so that I have an excuse to eat dip. And also talk about other boys' butts in front of my husband. I'm not sure why that's so fun, but it is.
Not the dip recipe for you? No worries, I'm a dip maniac. I kind of consider it a food group. Give this pickle dip a try! Or maybe this Creamy Bacon Parmesan Dip. I mean, you can't go wrong with bacon dip.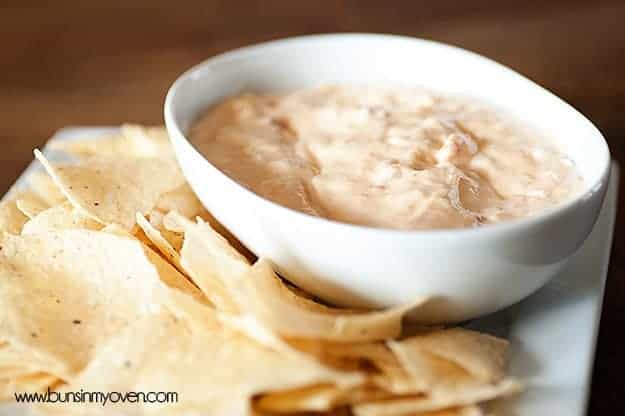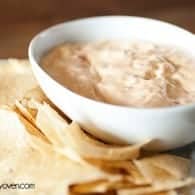 Creamy White Queso Dip
Servings: 16 servings
Course: Appetizer
Cuisine: Mexican
Keyword: easy appetizer recipes, easy dip recipes, game day recipes
Calories: 255 kcal
Creamy, cheesy perfection with no Velveeta!
Ingredients
16 ounces cream cheese softened
1/2 cup mayonnaise
2 cups grated Monterey Jack cheese
2 cups grated Parmesan
1 can Rotel Diced Tomatoes with Green Chiles drained
1/2 teaspoon salt
Instructions
Preheat oven to 425 degrees.

Add all of the ingredients to a large bowl and mix well to combine.

Spread cheese into an 8x8 baking dish and bake for 20 minutes or until hot and bubbly.

Serve with tortilla chips.
Nutrition Facts
Creamy White Queso Dip
Amount Per Serving
Calories 255 Calories from Fat 198
% Daily Value*
Fat 22g34%
Saturated Fat 11g69%
Cholesterol 57mg19%
Sodium 477mg21%
Potassium 116mg3%
Carbohydrates 2g1%
Sugar 1g1%
Protein 10g20%
Vitamin A 635IU13%
Vitamin C 2.5mg3%
Calcium 280mg28%
Iron 0.6mg3%
* Percent Daily Values are based on a 2000 calorie diet.
Nutrition Disclaimer: All information presented on this site is intended for informational purposes only. I am not a certified nutritionist and any nutritional information shared on bunsinmyoven.com should only be used as a general guideline.