Our one pot CHEESY BROCCOLI RICE WITH HAM is a family favorite! Ready in 30 minutes and it cooks in just one pot on the stove! This is total comfort food and perfect for using up leftover ham.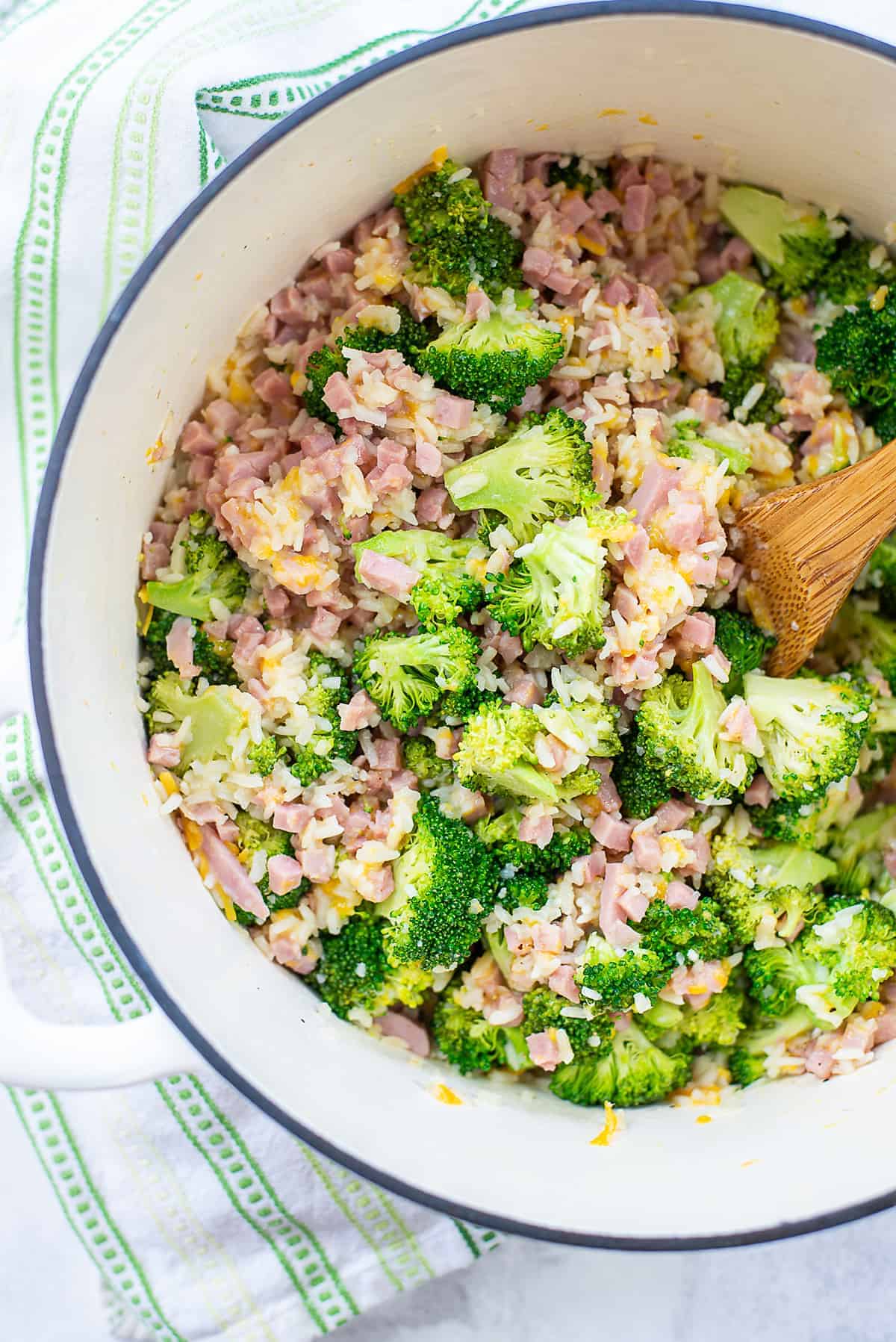 Let's talk about ham for a minute, shall we?
It's not only for Easter and Christmas, you guys.
It's for always. It's for anytime. It's for today.
Seriously, why do people save the ham for special occasions? I know that they are generally large and you end up with a ton of meat left over, but isn't that kind of fabulous? I usually get a 4 pound spiral sliced ham and we eat it for dinner, with eggs for breakfast, as a snack (it's so good straight from the fridge!), and in other recipes for the rest of the week.
So, this time around I used up some left over ham in rice for a quick, one dish dinner. I just modified the Cheesy Zucchini Rice I shared a while back and turned it into this delicious dinner. It was so good, you guys.
If you love rice like my family does, give my chicken and rice casserole and bacon fried rice a try too!
Ingredient Notes:
Rice – You'll want long grain white rice.
Chicken Broth – The rice will soak up all the chicken broth and add loads of flavor to it. Don't skip this ingredient, the rice just isn't the same without it!
Ham – This recipe is great for using up leftover ham! Or if you don't have any and are in a hurry, you can always use the pre-diced kind from the store.
Broccoli – Chop it up fairly small so that it's distributed nicely throughout the dish.
Cheese – We're using cheddar, but follow your heart and use what you love.
What Readers are Saying!
"I made this dish using brown rice and vegetable broth.
It was super delicious! A great way to use leftover ham!" – Amanda D.
How to Make Cheesy Broccoli Rice with Ham:
Prepare the Rice: To get started just heat up some oil in a medium sauce pan and add in the rice. Stir it well in the oil and let it toast for a few minutes over medium heat until it starts to turn golden.
Toasting it will add some extra flavor, but what is really going to make this rice taste great is the chicken broth. Pour in the broth and bring it to a boil. Then just turn the heat to low, cover, and cook for about ten more minutes.
This recipe is a lot like a ham casserole with rice and cheese, but without the can of condensed soup that usually gets added!
Broccoli & Ham: While the rice is cooking you can start chopping up the broccoli into bite sized pieces and dicing the ham. After the rice has cooked on low for ten minutes you can go ahead and add in the broccoli and ham.
Cover it back up and continue cooking for another five minutes before turning off the heat. Leave it covered for another ten minutes so that the rice can soak up all the broth and flavors.
Helpful Tip:
I've only used fresh broccoli in this recipe. It will steam well with the rice. Frozen broccoli may work, though we haven't tested it.
Add the Cheese: This cheesy stovetop rice wouldn't be complete without some shredded cheddar! Remove the lid, fluff the rice with a fork, and add in all that shredded cheddar. And since we want even more flavor go ahead and add in the butter and garlic powder.
Stir it well until the cheese starts to melt and then cover it again and let it set for another five minutes. And that's it! You can add more salt or pepper to taste, and if you want to thin out the mixture some you can add a little milk.
FAQs:
Can I make this recipe and store it for leftovers?
This should keep okay in the refrigerator for 3-4 days if it is tightly covered. If it seems a little dry when re-heating just add a little milk.
What can I use besides ham?
Cooked and chopped chicken would be a delicious swap for the ham in this recipe. Add additional seasonings, if needed.
MORE RICE RECIPES!
Stovetop Cheesy Broccoli Rice with Ham
Rice, ham, and broccoli all come together in this stove top casserole that's made in one pot in just 30 minutes. It's pure comfort food and the perfect way to use up leftover ham!
Prep5 minutes
Cook25 minutes
Total30 minutes
Ingredients
1 tablespoon olive oil
1 cup long-grain white rice
2 1/4 cups chicken broth
16 ounces broccoli florets
2 cups cooked diced ham
2 tablespoons butter
1 cup shredded sharp cheddar
1/2 teaspoon garlic powder
salt and pepper to taste
splash of milk as needed
Instructions
Heat the olive oil in a medium sauce pan over medium heat.

Add the rice and stir to coat. Toast the rice, stirring often, just until it starts to turn golden.

Pour in the chicken broth, bring to a boil, turn heat to low, and cover.

Cook, covered, for 10 minutes.

While the rice is cooking, chop the broccoli into small, bite-sized pieces.

After 10 minutes, add the broccoli and ham to the pot with the rice and cover again. Continue cooking for 5 minutes.

Turn off the heat and let set for 10 minutes without removing the lid.

Remove the lid, fluff the rice with a fork, and add the butter, cheddar, and garlic powder. Stir until well incorporated. Cover and let sit for 5 minutes more.

Stir again and add salt and pepper to taste and a splash of milk if you'd like to thin out the mixture a little bit, if needed.
Tips & Notes:
This recipe is perfect for using leftover ham, but it will also work well with the diced ham you can buy at the grocery store.
Nutrition Information:
Calories: 471kcal (24%)| Carbohydrates: 47g (16%)| Protein: 24g (48%)| Fat: 22g (34%)| Saturated Fat: 10g (63%)| Polyunsaturated Fat: 1g| Monounsaturated Fat: 7g| Trans Fat: 1g| Cholesterol: 75mg (25%)| Sodium: 1492mg (65%)| Potassium: 551mg (16%)| Fiber: 4g (17%)| Sugar: 3g (3%)| Vitamin A: 1167IU (23%)| Vitamin C: 110mg (133%)| Calcium: 280mg (28%)| Iron: 2mg (11%)