Our Soft Ginger Cookies are always a hit during the holiday season, with just the right amount of warm, spicy ginger goodness, these cookies are extra soft and chewy!
I know that ginger snaps are always a big hit with people, but I almost always prefer soft and chewy cookies.
These soft ginger cookies have a similar vibe to a ginger snap without all the…snap. 😉 They're soft, they're ultra chewy, they're loaded with ginger, and honestly they just taste like Christmas.
Pretty sure Santa will leave you an extra gift if you leave these out for him on Christmas Eve. At least, that's what I'm telling my kids.
I found these cookies in an old Taste of Home magazine…anyone else have piles of those magazines laying around? I dig through them anytime I'm in the mood for something new, but not really in the mood to experiment myself. I've found some real winners in there!
Whip up these ginger cookies, my snickerdoodles without cream of tartar, and our famous Christmas Crack for a delicious holiday. Oh, and don't forget the spiked eggnog!
Ingredient Notes:
This post contains affiliate links. As an Amazon associate and member of other qualifying programs, I earn from qualifying purchases.
Dry Ingredients – This ginger cookie dough starts with some pretty standard ingredients: flour, granulated white sugar, and baking soda.
Wet Ingredients – You'll also need some room temperature butter, molasses, and an egg. It's important to start with room temp butter or it won't mix as well.
Spices – These are ginger cookies so you will of course need some ground ginger. I'm also adding in ground cinnamon and cloves, plus a little bit of salt.
What We Love About This Recipe:
Ginger cookies are a classic Christmas cookie recipe and we love to serve them up at holiday parties!
These cookies are easy to make, no need to chill the dough, and they're ready to eat in no time!
It's so easy to whip up dessert with this cute hand mixer. It doesn't take up much space and is a must for any kitchen!
How to Make Ginger Cookie Dough:
Mix: This ginger dough comes together really easily with a hand mixer or stand mixer.
You'll just beat together butter and sugar, beat in some molasses and an egg, and then stir in the flour and spices.
Feel free to adjust the amount of ginger, cinnamon, and cloves based on your preferences. I'm not a huge fan of cloves fan, so I only add 1/4 teaspoon, but you can up to 1/2 teaspoon if you enjoy that flavor.
Roll: To get perfectly even sized cookies use a medium cookie scoop to scoop out the dough, and then roll the dough into balls. Next roll the balls of dough through some sugar, and then place them on a baking sheet.
These cookies will flatten out as they bake, so be sure to space them a couple of inches apart from each other.
Bake: After arranging the balls of dough on a prepared baking sheet you can start baking them at 350 degrees for 10 to 12 minutes or until they're golden brown and puffy!
Serve: Let the cookies cool before serving. They will flatten a bit as they cool. These ginger Christmas cookies are best served with a glass of cold milk!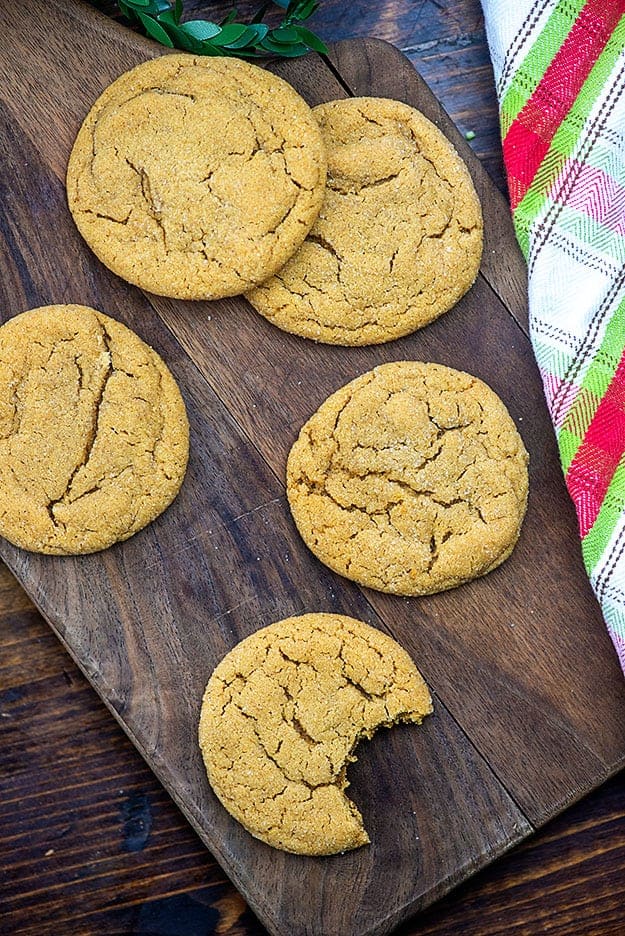 FAQs:
How to store ginger cookies?
These soft ginger cookies will stay nice and chewy at room temperature in an air-tight container for 3-4 days on the counter.

If you store these in a cookie jar with other cookies, they'll likely "share" some of their ginger flavor. I like to store them separately to avoid that!
Can ginger cookies be frozen?
You can freeze these ginger cookies in an air-tight container for up to 3 months. Thaw on the counter before serving.
Can I freeze the cookie dough?
You can also make the ginger cookie dough and freeze it before baking, if preferred. Place the balls of dough on a cookie sheet, freeze for 1 hour, and then transfer to an air-tight container. They'll require an extra minute or two to bake through if baking from frozen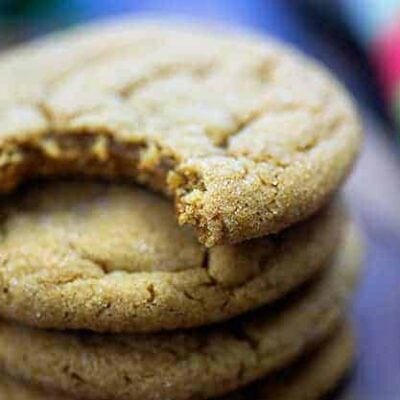 Soft Ginger Cookies
Soft, chewy, and loaded with ginger flavor! We most often make these during the holidays, but there's no need to limit them to once per year.
Prep15 minutes
Cook10 minutes
Total25 minutes
Ingredients
3/4 cup butter, room temperature
1 cup sugar
1 large egg
1/4 cup molasses
2 1/4 cups flour
2 teaspoons ground ginger
1 teaspoon baking soda
3/4 teaspoon ground cinnamon
1/4 teaspoon ground cloves
1/4 teaspoon salt
sugar, for rolling
Instructions
Preheat oven to 350 degrees. Line a baking sheet with parchment paper.

Add the butter and sugar to a bowl and beat with a mixer until smooth and creamy.

Add the egg and molasses and beat until combined.

Add the flour, ginger, baking soda, cinnamon, cloves, and salt to the bowl and beat until combined.

Use a medium cookie scoop to scoop out dough. Roll the dough between your hands to shape. Roll each cookie dough ball into sugar to coat the outsides.

Place on prepared baking sheet 2 inches apart. Bake for 10-12 minutes until golden brown and puffy. Cookies will flatten slightly as they cool.
Tips & Notes:
Store in an air-tight container for up to 4 days at room temperature.
Nutrition Information:
Serving: 1cookie| Calories: 112.08kcal (6%)| Carbohydrates: 16.08g (5%)| Protein: 1.27g (3%)| Fat: 4.89g (8%)| Saturated Fat: 2.99g (19%)| Cholesterol: 19.23mg (6%)| Sodium: 100.44mg (4%)| Potassium: 56.88mg (2%)| Fiber: 0.3g (1%)| Sugar: 8.79g (10%)| Vitamin A: 152.02IU (3%)| Calcium: 10.08mg (1%)| Iron: 0.63mg (4%)