This easy lasagna is made with layers of frozen cheese ravioli in place of traditional lasagna noodles. You're going to love how ooey gooey cheesy this ravioli lasagna bake is!

Okay, I have a very important question to ask you.
One that is probably going to cause a lot of controversy.
One that you will likely have super strong feelings about.
Ready?
Okay. Deep breath. Here goes.
When you make lasagna, do you use ricotta cheese or cottage cheese?
I know that a lot of you are angry that I'd even ask that question. Like, why is cottage cheese even an option, because everyone knows that their Italian grandmother uses ricotta and obviously that's the only way to make lasagna.
It's just…you guys. I often make lasagna with cottage cheese.
Don't leave me.
I love ricotta, but my husband? Not so much.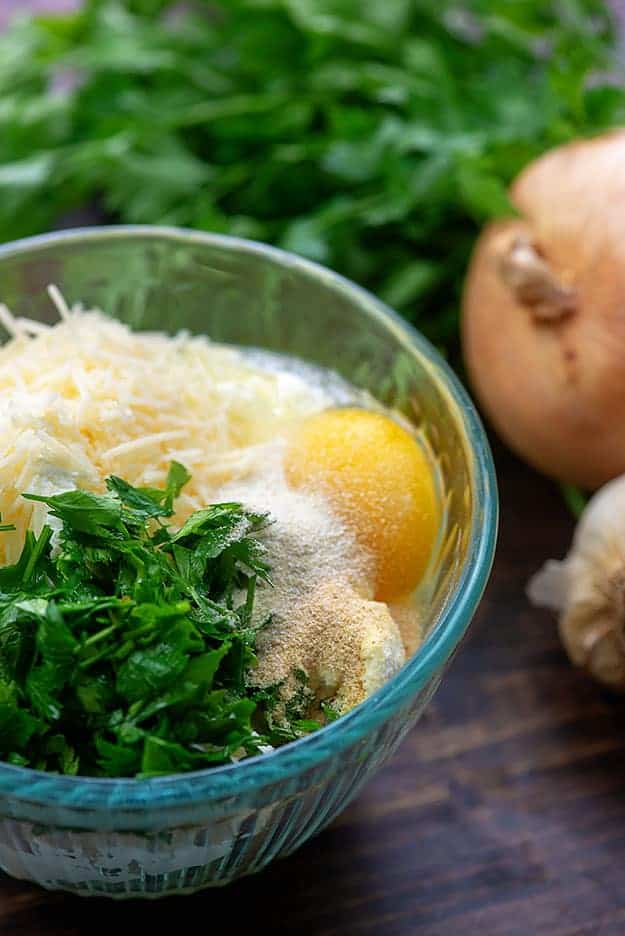 He grew up eating lasagna with cottage cheese and, while he loves restaurant lasagna made with ricotta, when it comes to homemade, he always requests cottage cheese.
So, while this recipe calls for ricotta, I can confirm that cottage cheese works as well. I've made it both ways. Personally, I think they're equally as delicious. But you do you!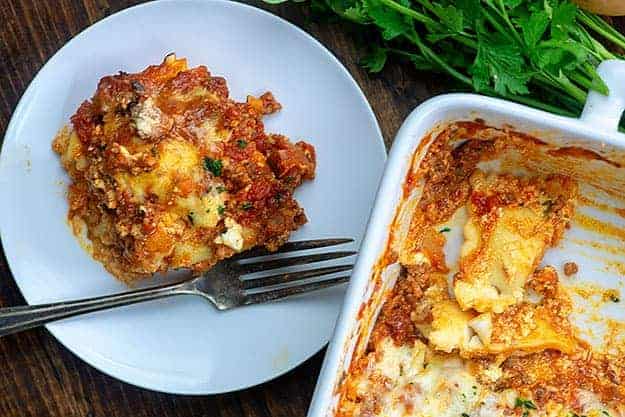 Keep your lasagna recipe easy with frozen cheese ravioli!
I know that they make no boil noodles and they're really super simple for making lasagna, but it seems like half the time my grocery store is sold out of no boil noodles. I hate dealing with boiling hot, sticky, floppy lasagna noodles. Haha!
This recipe eliminates the need for choosing between boiled or no boil noodles and just pops frozen cheese ravioli in the place of lasagana noodles.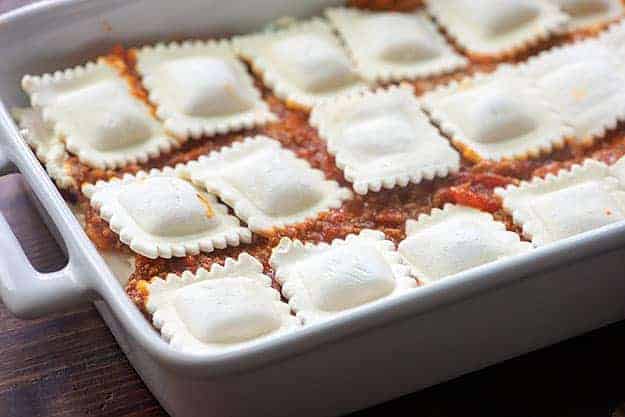 You can't go wrong replacing noodles with cheese ravioli, you know?
I've just used a five cheese ravioli from my grocer's freezer, but you can totally use any type of frozen ravioli you like. The spinach and cheese variety would be really good here too!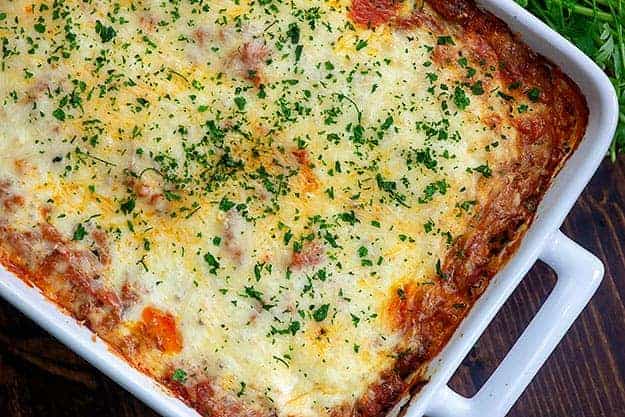 This easy lasagna is extra cheesy!
In my house, some cheese is good but more cheese is better. I'm willing to bet that your house is the same way. 😉
An important question that I hear a lot is "when making lasagna what goes on the bottom layer?"
The answer is sauce! You start with a thin layer of sauce on the bottom of your dish to keep the pasta moist and prevent it from sticking and getting crunchy.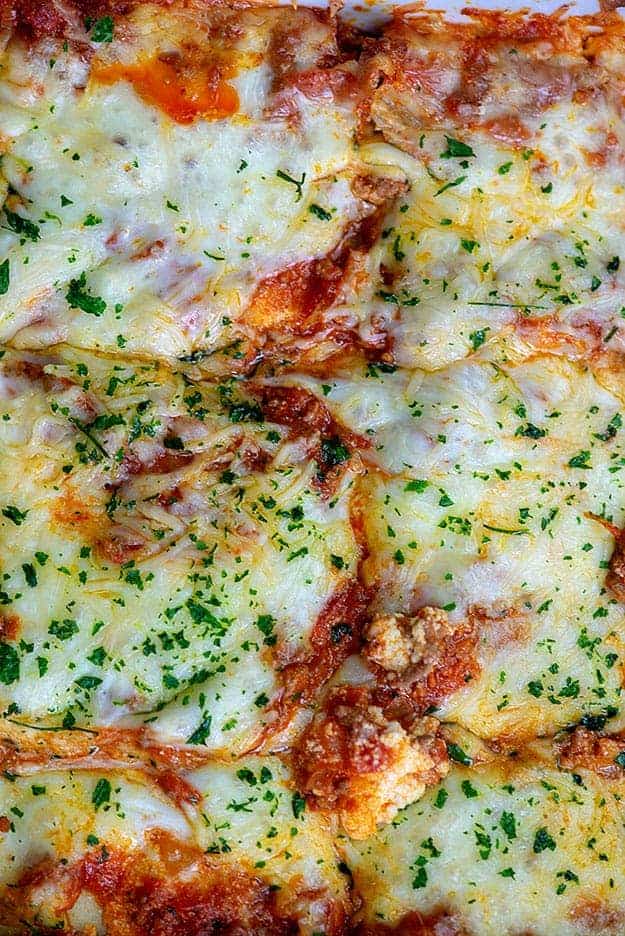 If you're wondering how to reheat lasagna, I recommend using the oven. Bake it, covered, at 350 degrees for about 20 minutes or until it's warmed through.
I'm using store bought sauce in my ravioli lasagna, but you can definitely sub in my homemade spaghetti sauce if you prefer.
I hope you guys give this easy lasagna recipe a try. It's a total hit in my house!
When you make this recipe, be sure to snap a pic and share it with me! You can tag it #bunsinmyoven on Instagram!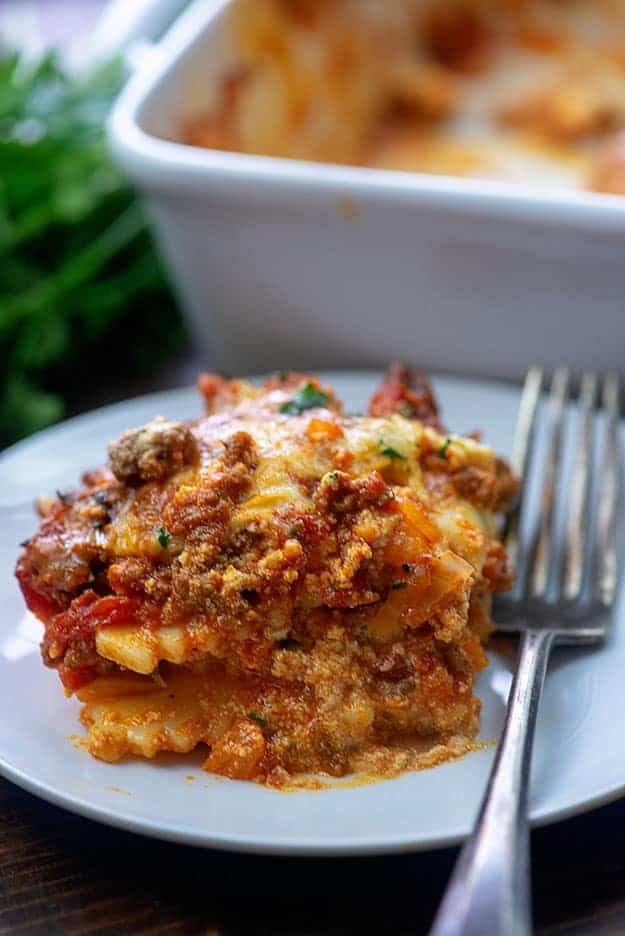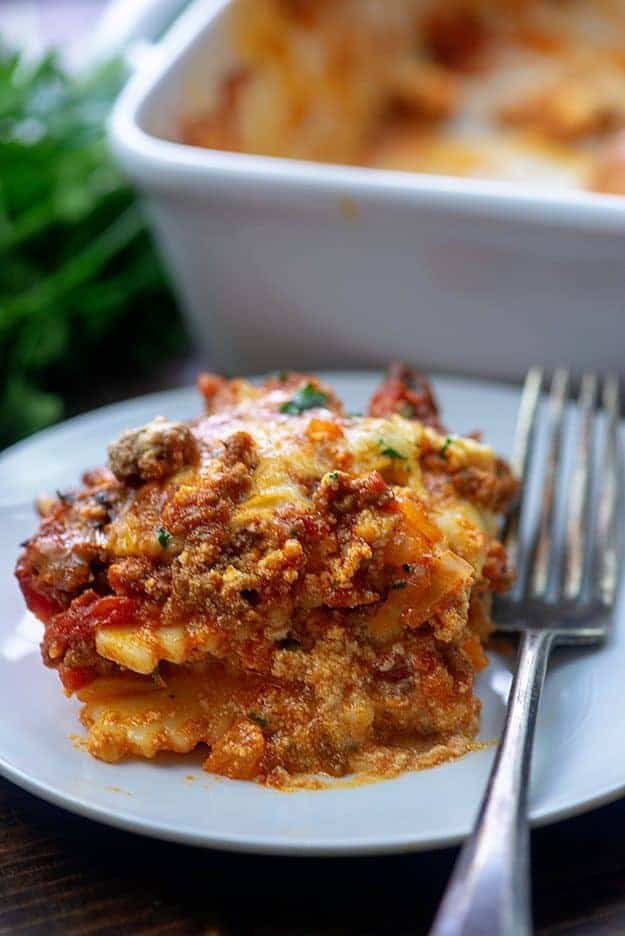 More pasta recipes to try:
Chicken Spaghetti: Cheesy comfort food!
Italian Pasta Salad: This one is LOADED with veggies, meats, and a simple homemade dressing.
Baked Spaghetti: My family's absolute favorite spaghetti dish!
Homemade Hamburger Helper: We love how easy this is!
Shrimp Alfredo: Hard to go wrong with this 20 minute dinner!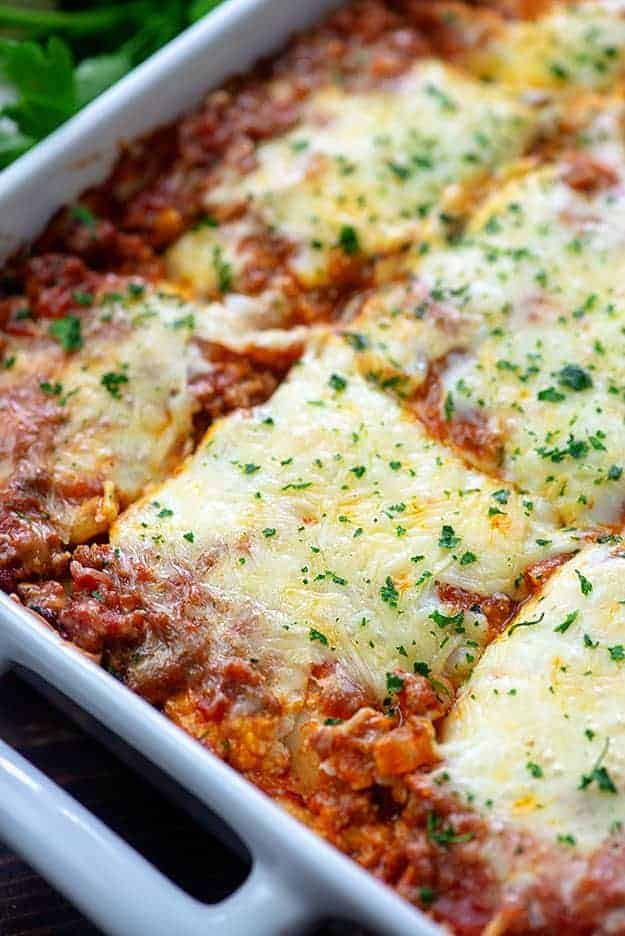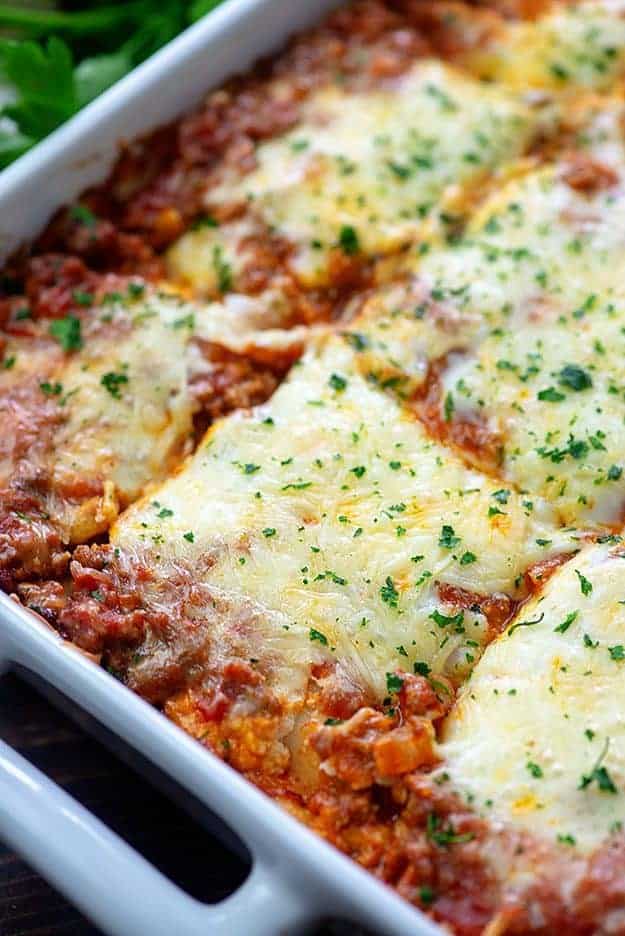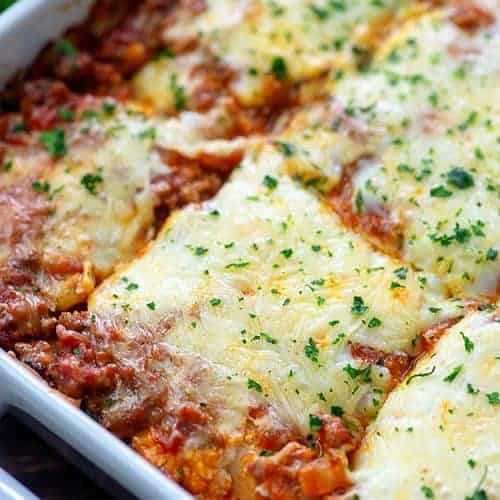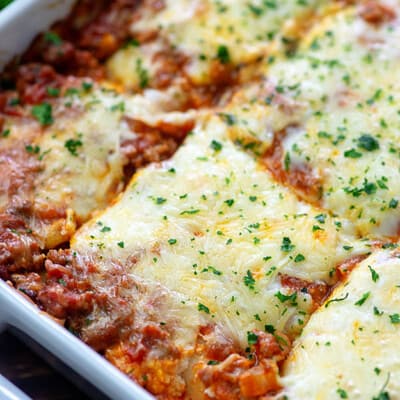 Ravioli Lasagna
Extra cheesy lasagna made with frozen ravioli instead of lasagna noodles!
Prep15 minutes
Cook50 minutes
Cooling Time10 minutes
Total1 hour 5 minutes
Ingredients
1 pound ground beef
1 small onion diced
24 ounces marinara
3 cloves garlic minced
2 cups ricotta cheese
1 large egg
¼ cup parmesan cheese
¼ cup chopped parsley
1 teaspoon garlic powder
½ teaspoon onion powder
25 ounces frozen cheese ravioli
2 cups shredded mozzarella
minced parsley for garnish
Instructions
Preheat oven to 350 degrees. Spray a 13x9 baking dish with non-stick spray.

Heat a large skillet over medium heat and add the ground beef and onion. Brown the beef, crumbling it as it cooks. Drain the grease from the pan.

Add the marinara sauce and garlic and simmer for 5 minutes, stirring often, over low heat.

While sauce is simmering, mix ricotta, egg, Parmesan, parsley, garlic powder, and onion powder in a small bowl.

Spoon 1/3 of the meat mixture into the prepared baking dish and spread across the bottom.

Top with a single layer of ravioli, ½ of the ricotta mixture, and 1/3 of the sauce. Repeat the layers, ending in marinara sauce.

Sprinkle the top with the shredded mozzarella. Cover tightly with foil and bake for 40 minutes. Remove cover and bake for 10 minutes more.

Remove from the oven and sprinkle with minced parsley.

Let set for 10 minutes before cutting and serving.
Tips & Notes:
You may swap in cottage cheese for the ricotta if you prefer. Use any variety of frozen ravioli that you like.
Nutrition Information:
Serving: 1slice| Calories: 604kcal (30%)| Carbohydrates: 40g (13%)| Protein: 34g (68%)| Fat: 33g (51%)| Saturated Fat: 15g (94%)| Cholesterol: 151mg (50%)| Sodium: 1172mg (51%)| Potassium: 499mg (14%)| Fiber: 3g (13%)| Sugar: 5g (6%)| Vitamin A: 935IU (19%)| Vitamin C: 8.4mg (10%)| Calcium: 316mg (32%)| Iron: 10.5mg (58%)