Pumpkin crunch cake is a perfect fall treat! It's loaded with pumpkin puree, pumpkin spice, and crunchy pecans. This recipe uses a cake mix to keep things so easy!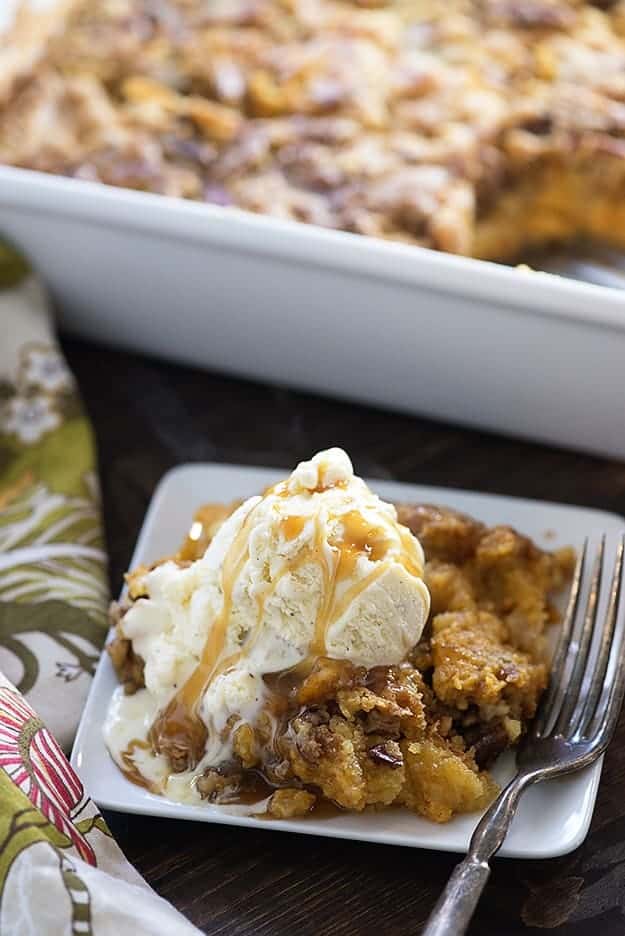 Let's talk about something that's real important, k?
Pumpkin season.
Lately, it seems super cool to be all anti-pumpkin.
I mean, it also seems super cool to be obsessed with pumpkin, which is why the anti-pumpkin people are coming out in full force to say "no, we will not stand for pumpkin spice macaroni and pumpkin spice shoelaces."
But, guys. I'm getting nervous.
I feel like we're about to have a full on Grease-style feud between two rival gangs and it's stressing me out.
Can't we all just get along? Can't we all just eat or not eat our pumpkin in peace, like respectable adults?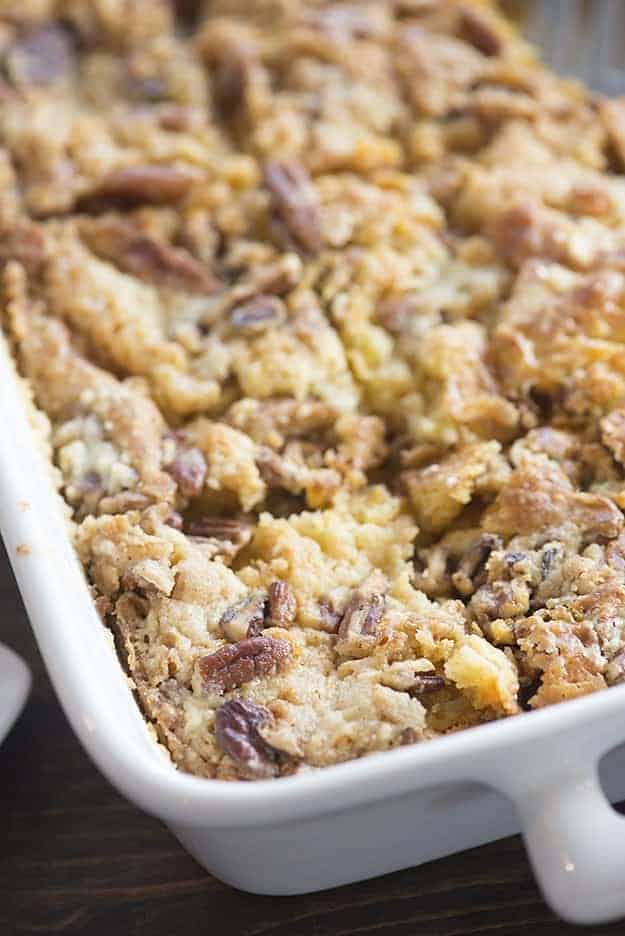 I'm clearly on Team Pumpkin and I even converted my mother-in-law over to Team Pumpkin with this recipe!
She's one of those crazy people that doesn't like pumpkin, but she LOVES this pumpkin crunch cake!
It's a cross between pie and cake, super simple to make, and perfect topped with a scoop of vanilla ice cream!
We're using our homemade pumpkin pie spice in this recipe. It's perfect in most pumpkin recipes, like our chocolate chip pumpkin bread and pumpkin coffee cake!
Ingredient Notes:
This post contains affiliate links. As an Amazon associate and member of other qualifying programs, I earn from qualifying purchases.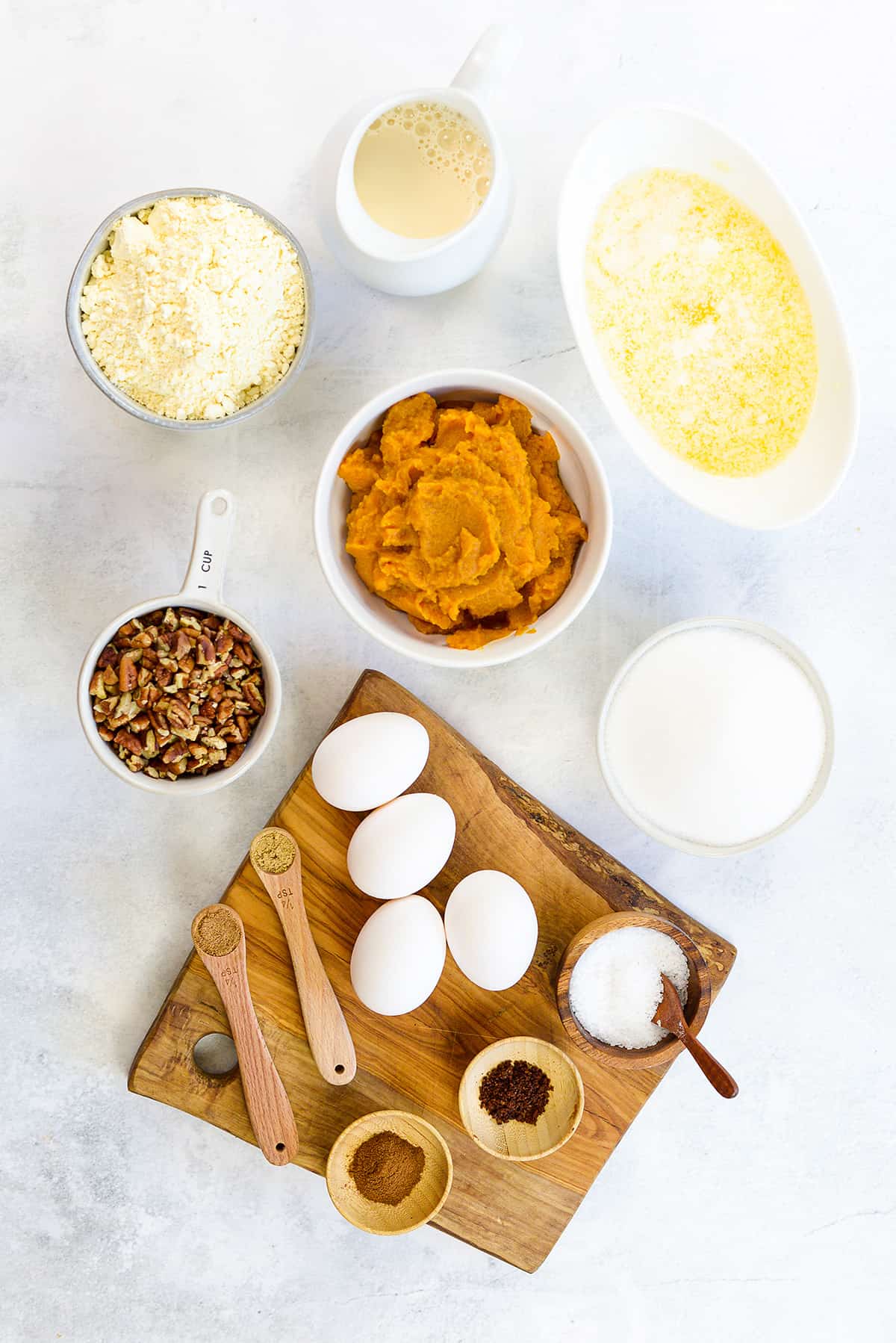 Pumpkin Puree – Look for the 100% pure pumpkin puree, and not the canned pumpkin pie filling which has added ingredients.
Yellow Cake Mix – I'm using only half of the bag of mix for this. You could also use the entire bag, it just makes this much more cake-like. I like it with a half bag of mix, because the custard-y pumpkin bottom shines through a lot more.
Pumpkin Pie Spice – You'll need cinnamon, nutmeg, ground ginger, and cloves to make the pumpkin spice that I've tweaked for this recipe. Store bought works too.
Milk, Eggs, & Sugar – Just like in pumpkin pie, we're using evaporated milk to make it so rich and creamy.
Pecans – We use chopped pecans on top, but we've also done walnuts and I've seen people with nut allergies use toffee bits.
What Readers are Saying!
"This recipe is to die for! I don't favor sweets but my husband does and we both loved this Pumpkin Crunch Cake. I followed the recipe to a T and it's light, savory, and has the perfect texture of cake, custard, and crunch." – Melissa
It's so easy to whip up dessert with this cute hand mixer. It doesn't take up much space and is a must for any kitchen!
How to Make Pumpkin Crunch Cake: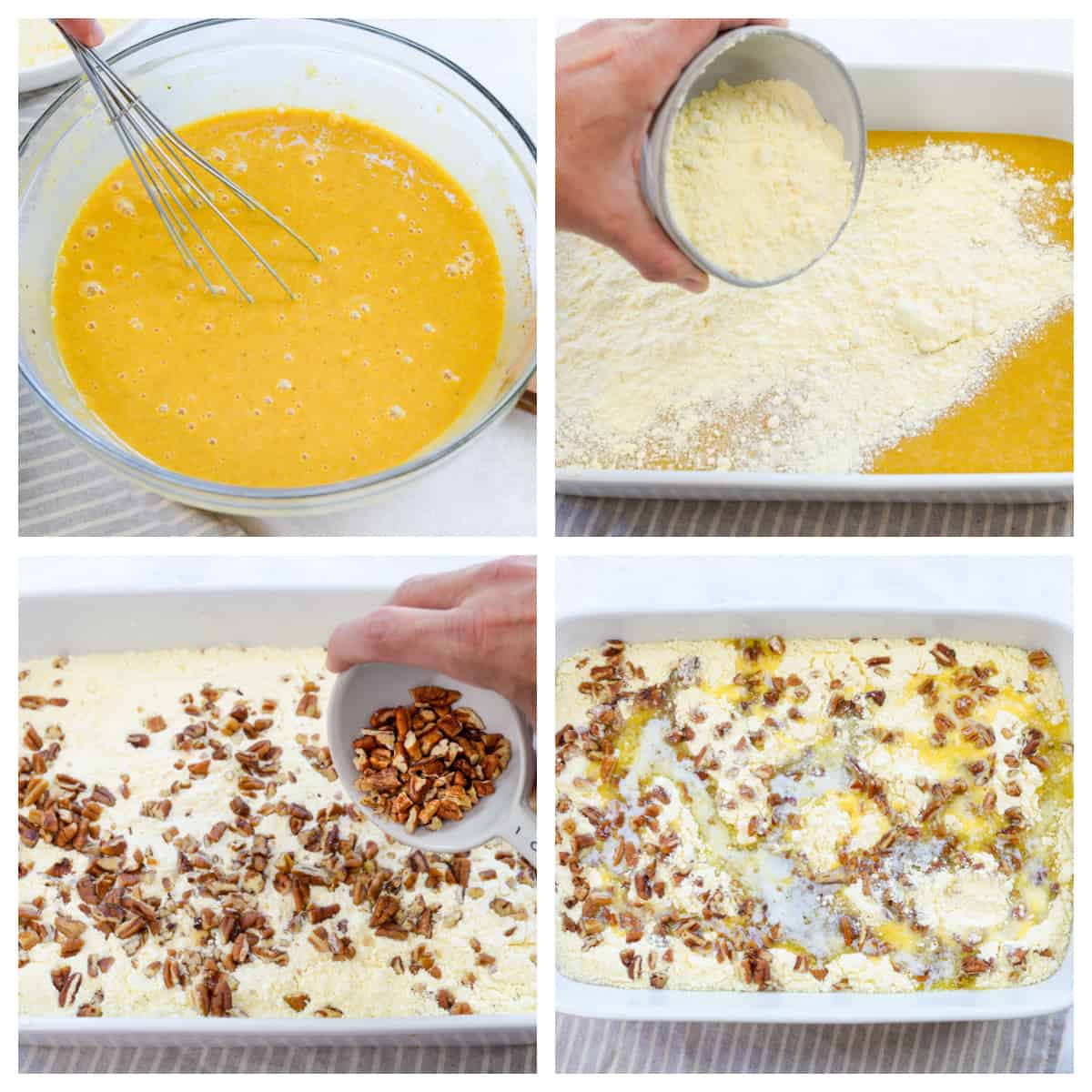 Pumpkin Custard: While your oven preheats you can start mixing together the pumpkin filling/custard like batter. Add the canned pumpkin puree, milk, eggs, sugar, and spices to a large bowl and beat together until well combined. Use a whisk or hand mixer – both work!
Cake Mix: Pour the pumpkin batter into a greased 9×13 baking dish and then start sprinkling the top of it with the yellow cake mix. I only use half a box, but you can use more if you want it to be more cake-like.
Top: To finish preparing this pumpkin crunch cake you'll sprinkle the the chopped pecans over the yellow cake mix. Finally, pour the melted butter evenly over the top of the cake!
Bake: It'll take about 60 to 70 minutes for the pumpkin crunch cake to finish baking, or until the top is lightly browned and the custard has set.
You can serve this cake warm or cold! It's pretty amazing fresh from the oven with a scoop of vanilla ice cream and some caramel sauce!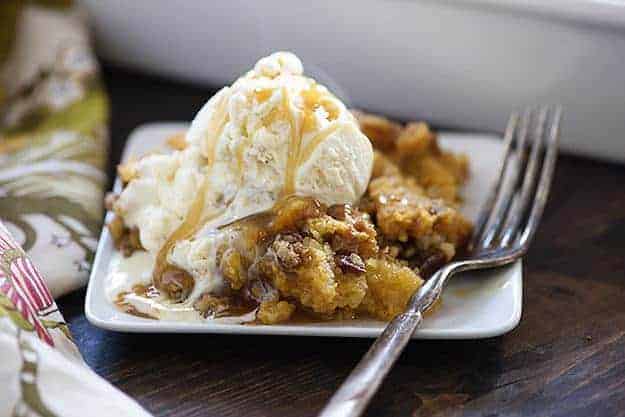 Variations:
Personally, I think our pumpkin crunch cake is perfect as is, but I know it can be fun to play around with recipes!
Some fun ideas include swapping the pecans for cookie pieces (Biscoff, gingersnaps, etc.), toffee bits, or walnuts.
Use a spice cake or butter pecan cake mix in place of the yellow cake mix.
Use a full box of cake mix for a more cake-like pumpkin crunch cake or use half the box (my preferred method) for a more pie-like pumpkin crunch cake!
Use 1 tsp. cinnamon, 1/4 tsp. nutmeg, 1/4 tsp. ginger, and a pinch of cloves in place of the pumpkin pie spice.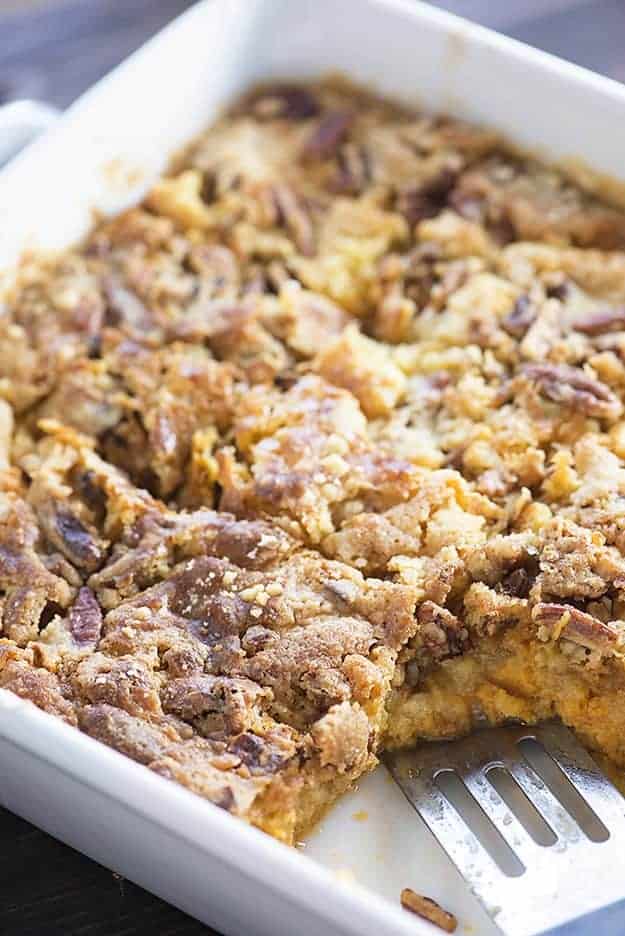 FAQ's:
How to store pumpkin crunch cake?
I store this in the fridge and it sets up nice and thick. In the video above and in these pictures, it was still warm, which is why it fell apart when I scooped it out. It holds it shape perfectly when cold!
Can I substitute a spice cake mix instead of yellow?
Absolutely! I prefer yellow, but many people make this with spice cake.
What is the sauce on top in your pictures?
I top my pumpkin crunch cake with ice cream and caramel sauce. It's also good with whipped cream or served plain!
I don't like nuts; what can I substitute?
You can skip the nuts entirely or substitute them with graham cracker or Biscoff pieces! Skor bits are also good, from what I hear.
Can I use the canned pumpkin pie filling instead of puree to make this even easier?
I haven't tried it myself and generally always use 100% pure pumpkin puree. I do think it would work though – just follow the recipe on the can for making pie, but add to the pan and sprinkle with the cake mix.
Can I reduce/omit the sugar in this recipe?
I've never tried it, so I can't really make recommendations on this.
MORE FALL PUMPKIN RECIPES!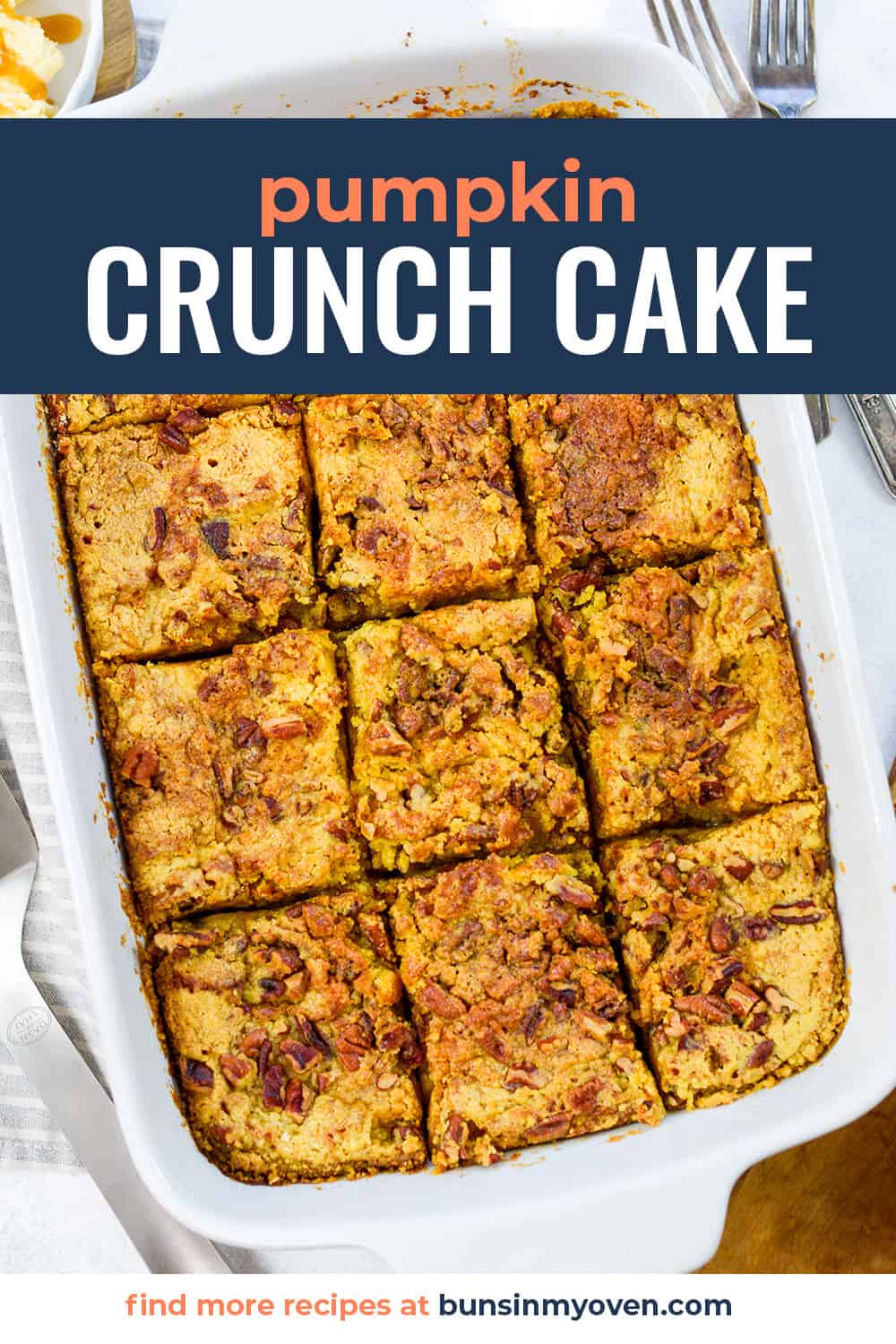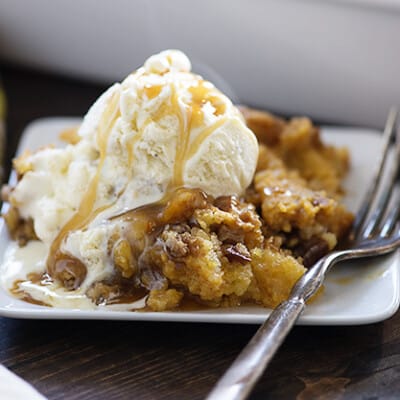 Pumpkin Crunch Cake
Pumpkin Crunch Cake has a creamy layer of pumpkin pie on bottom with a layer of cake and pecans on top. It's a simple Fall recipe that everyone raves about!
Prep10 minutes
Cook1 hour 10 minutes
Total1 hour 20 minutes
Ingredients
15 ounces canned pumpkin puree
12 ounces evaporated milk
4 large eggs
1 1/2 cups sugar
2 teaspoons pumpkin pie spice
1 teaspoon salt
1/2 box yellow cake mix see note
1 cup chopped pecans
1 cup butter melted
Instructions
Preheat oven to 350 degrees. Spray a 9×13 baking dish with non-stick spray.

In a large bowl, beat together the pumpkin, milk, eggs, sugar, and spices until well combined. Pour into the prepared baking dish.

Sprinkle the top with yellow cake mix. I prefer a half of a box, but use more if you want it to be very cakey.

Sprinkle with the chopped pecans.

Pour the melted butter evenly over the top of the cake.

Bake for 60-70 minutes or until the top is lightly browned and the custard is set.

Serve warm or cold. Store in the refrigerator.
Tips & Notes:
For a more cake like consistency, use the full box of cake mix. If you'd like to make your own spice mix, use 1 tsp. cinnamon, 1/4 tsp. nutmeg, 1/4 tsp. ginger, and a pinch of cloves.
Nutrition Information:
Calories: 530kcal (27%)| Carbohydrates: 68g (23%)| Protein: 7g (14%)| Fat: 27g (42%)| Saturated Fat: 13g (81%)| Cholesterol: 102mg (34%)| Sodium: 407mg (18%)| Fiber: 3g (13%)| Sugar: 48g (53%)