These PEANUT BUTTER OATMEAL CHOCOLATE CHIP COOKIES bake up super thick, soft, and chewy! They're beyond simple with every day ingredients, no chill time, and they're ready from start to finish in less than 30 minutes!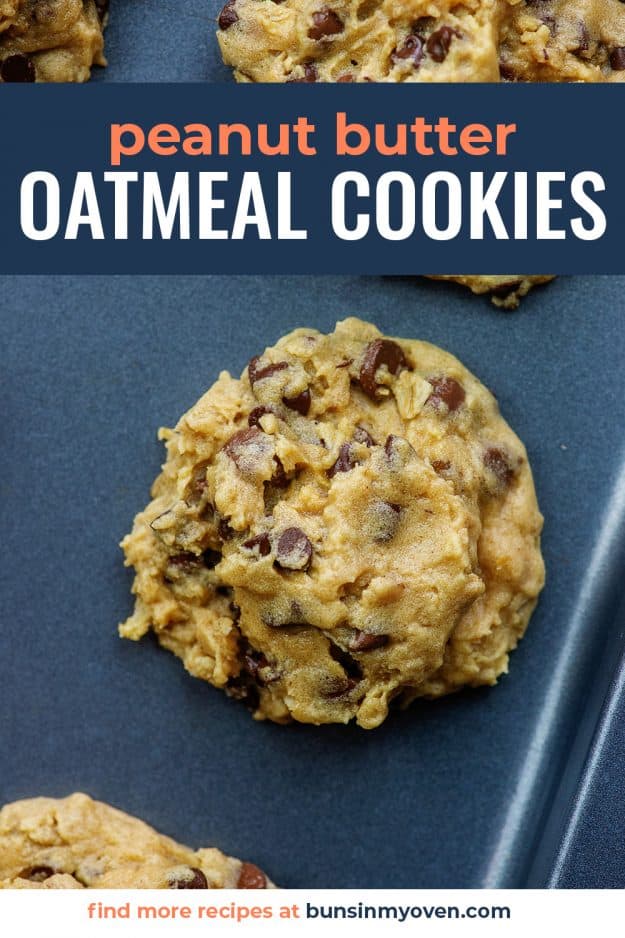 Lately it's been all cookies, all the time up in this house.
I don't know what my problem is, but I'm just addicted to the soft, buttery goodness that are my perfect chocolate chip cookies.
Of course, I can only make the same cookies so many times before I start seeking out crazy things to go throwing in the mixer. And by crazy things, I almost always mean peanut butter.
Am I the only one that wants to add peanut butter to pretty much everything? Probably not. Peanut butter is life, friends.

Anyway, I took the recipe for my monster cookies and I just barely doctored it up to make these peanut butter oatmeal chocolate chip cookies.
I mean, I already make those monster cookies alllllll the time. Why not give myself another reason to keep making them? These cookies have extra vanilla and more oats. The m&m candies are replaced with loads of mini chocolate chips that just melt in your mouth.
Why I Love These Cookies:
They're soft. Like melt in your mouth, almost fall apart in your hands soft. Of course, if you don't like that sort of thing, you can bake them for an extra minute or two. I love this in a cookie though.
They're loaded. These are literally bursting with chocolate chips. The dough could not hold another chocolate chip, so don't even try. These are perfect as is.
No chilling. When I want cookies, I don't want to wait an hour to eat them. I want them now. This recipe stays super puffy and thick with zero chill time. In fact, these pretty much stay in the same shape as when you place them on the baking sheet. If you want flatter cookies, you're going to need to flatten them with your hand before baking. Love that!
Those oats, though. They make me feel like I'm making smart choices. I mean, yes, it's a cookie. But it's a cookie with oats – how bad could it be? (Yes, I know I'm in denial. I don't care.)
Cookie Storage:
We bake up big batches of these cookies and keep them in a cookie jar on the counter. They stay soft and fresh for about 5 days.
Baking Cookies From Frozen:
We have also made this dough, scooped it out on to a baking sheet, and then frozen for an hour so that the dough holds it shape. Pop the frozen cookie dough balls into a freezer bag and store in your freezer until ready to bake!
To bake these peanut butter oatmeal chocolate chip cookies from frozen, place them on a baking sheet while the oven is preheating and then bake as directed. You'll likely need to add an extra minute or two to the bake time.
what readers are saying
"I don't normally leave comments for recipes, but I just had to for these cookies! These are so amazing, and flavorful. I decided to add a pinch of cinnamon that took them over the top. 10/10, will make again." – Kayla
Okay, friends, make these and report back. Are they as good as I think they are? Will you be making them again and again and again?
More cookie recipes!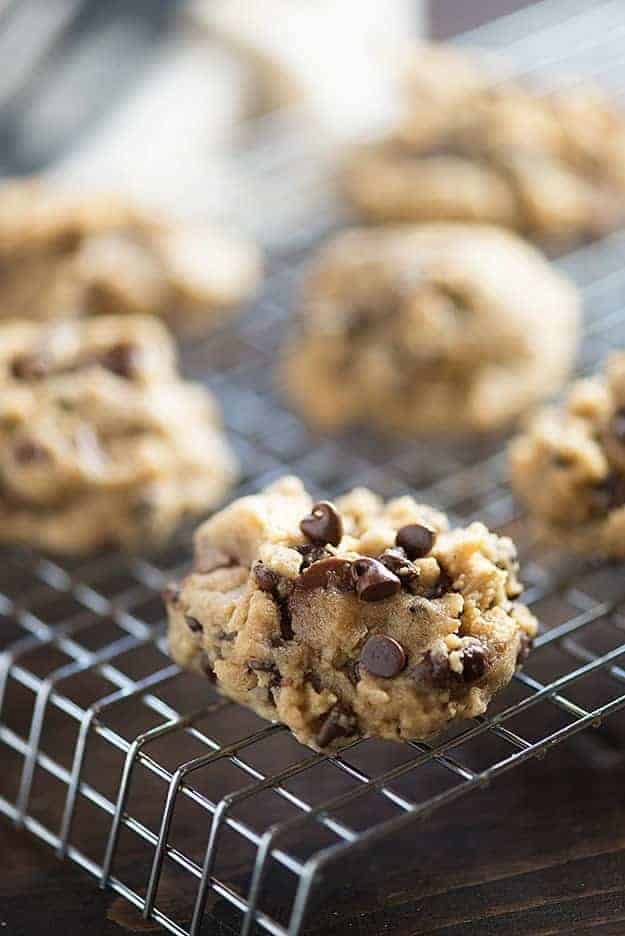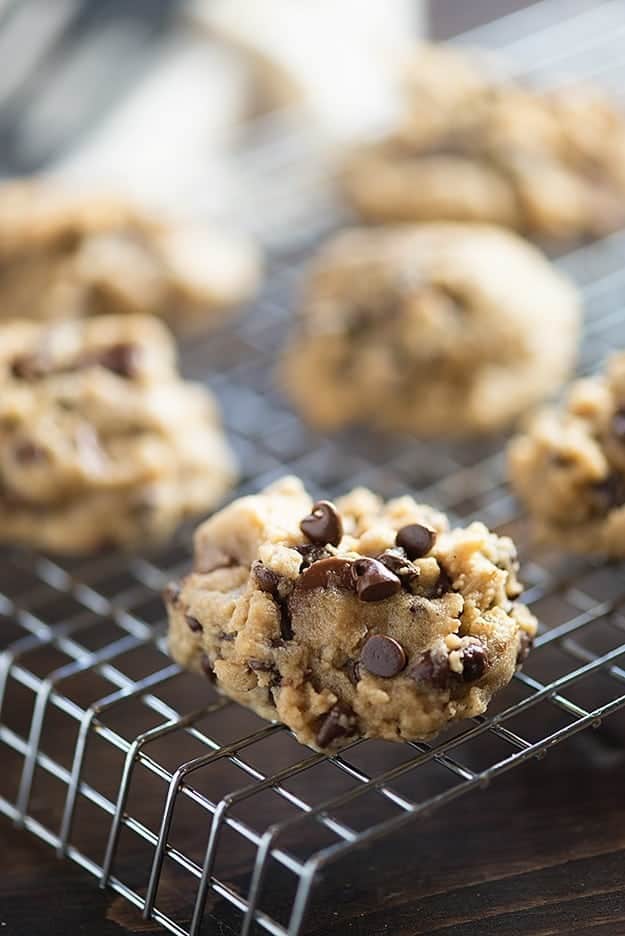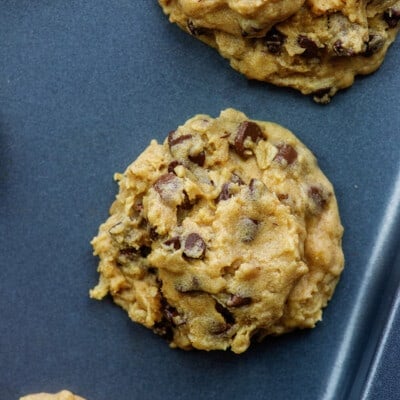 Peanut Butter Oatmeal Chocolate Chip Cookies
Thick, chewy, and absolutely packed with mini chocolate chips! These oatmeal peanut butter cookies are a favorite in our house. We love how soft they are and they're super easy and quick too.
Prep10 minutes
Cook8 minutes
Total18 minutes
Ingredients
1/2 cup butter softened
1/2 cup peanut butter
3/4 cup brown sugar
1/4 cup white sugar
1 large egg
2 teaspoons vanilla
1 cup flour
3/4 cup old fashioned oats
1 teaspoon baking soda
1/4 teaspoon salt
3/4 cup mini chocolate chips
1/2 cup regular chocolate chips
Instructions
Preheat oven to 350 degrees and line a cookie sheet with parchment paper.

In the bowl of a stand mixer, cream together the butter, peanut butter, and sugars until light and fluffy. Beat in the egg and vanilla.

In a medium bowl, combine the flour, oats, baking soda, and salt. Gradually add to the creamed mixture and beat until well combined.

Stir in the chocolate chips.

Use a medium cookie scoop to drop dough onto baking sheet 2 inches apart. Bake for 8 minutes exactly.

Let the cookies set on the baking sheet for 5 minutes to set up before transferring to a wire cooling rack.

Store in an airtight container for up to 5 days.
Nutrition Information:
Serving: 1cookie| Calories: 145kcal (7%)| Carbohydrates: 17g (6%)| Protein: 2g (4%)| Fat: 7g (11%)| Saturated Fat: 3g (19%)| Cholesterol: 15mg (5%)| Sodium: 110mg (5%)| Potassium: 66mg (2%)| Sugar: 11g (12%)| Vitamin A: 115IU (2%)| Calcium: 17mg (2%)| Iron: 0.7mg (4%)
This post was originally published March of 2016. It's been updated with new photos and a video.